Written by SGN Scoops Staff on August 25, 2020 – 9:15 am -
Nashville, TN  Family Music Group is excited to announce a monumental recording that is taking place and we are extremely blessed to be a part of it!  After the death of the beloved, Steve Gulley, FMG artist, Mark Wheeler wrote a song as a tribute to his friend.  "In The Resurrection Morning," has taken wings and is about to be a song that the world will hear and be blessed by.
A vocal and video recording is slated for Tuesday, Aug 25 in Sevierville, TN at Sound Biscuit Studio.  This will feature writer and featured vocalist Mark Wheeler (Marksmen), Barry Abernathy & Jim Van Cleve (Appalachian Road Show) ,Tim Stafford (Blue Highway), Vince Gill, Doyle Lawson (Doyle Lawson & Quicksilver), Jason Moore (Sideline) and Phil Ledbetter (All-Stars of Bluegrass).
Mark Wheeler says, "I was thinking about Steve the day he passed and sat down to write him a song (I had written with him but never written for him) and I just said what was on my heart and that's what came out.  I'll see him in that Resurrection Morning.  While in the studio we'll do the song and maybe tell some stories about Steve."
FMG President, Les Butler states, "What a whirlwind of activity!  Prior to Steve's passing, Mark and FMG have been working hard on a new album project.  This package will include 10 songs, a mix of past hits that have been enhanced, as well as several new songs.  This project also includes, "He Has."  This song has been recorded by the Talleys and was a Top 20 charting song for the Old Time Preachers QT.  This song has been sung at Campmeetings and Revivals all across America over the past couple of years, but Mark Wheeler and the Marksmen have never had an opportunity to record it for themselves.  We are excited to have "He Has," included in this special package.  This new project will also include Mark talking about each song and how he came to write them. This is something that every Gospel music fan will want for their collection."
Pen, Prayer and Praise, the Songs of Mark Wheeler, will be released from Family Music Group, this fall.
Tags:
Steve Gulley
Posted in
announcements
|
Comments Off

on Music Icons to Record a Tribute to Steve Gulley
Written by Staff on September 24, 2014 – 9:33 am -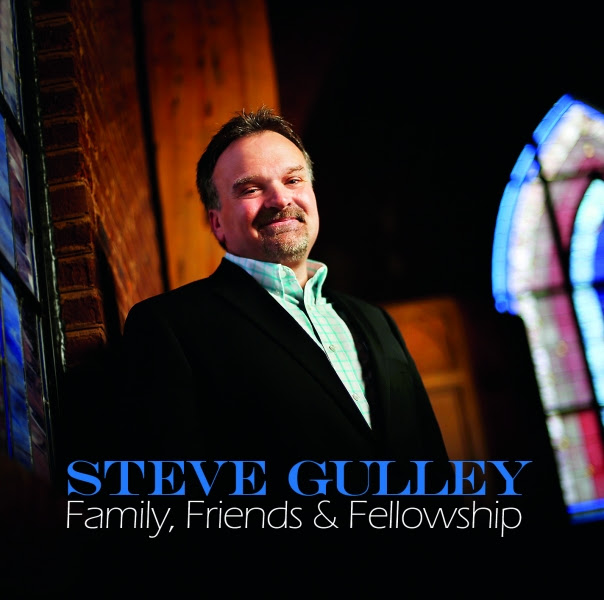 STEVE GULLEY ALBUM FEATURED ON BLUEGRASS JUNCTION'S
"GOSPEL TRAIN" RADIO SHOW, SEPTEMBER 28th
Also, November Front Porch Fellowship "Album Spotlight" On Solid Gospel Radio
"The album isn't purely bluegrass gospel. There's a lot of country gospel too. But it's a strong album by one of  bluegrasses best vocalists." –
Keith Lawrence, Owensboro Messenger-Inquirer / Bluegrass Notes
Nashville, TN (September 24, 2014) – Steve Gulley's album "Family, Friends & Fellowship" on Rural Rhythm Christian will be featured on Bluegrass Junction's "Gospel Train" show on Sunday September 28th.  The "Gospel Train" radio show is a weekly program that plays the finest bluegrass gospel music around and airs on Sunday's from 6:00 am to Noon on the Bluegrass Junction (Channel 61) from SiriusXM radio.  The program will feature Steve Gulley talking about "Family, Friends & Fellowship", playing songs from the album, and giving the listener the back story for each song.
In addition, "Family, Friends & Fellowship" will be the featured on Front Porch Fellowship with host Les Butler during the month of November.  Steve stopped by the Solid Gospel Radio offices earlier this month and talked with Butler about the album and the back stories relating to the songs.  Listeners can tune in to Front Porch Fellowship on Saturday and Sunday during November from 4-5pm CST on their local Solid Gospel affiliate, or at www.solidgospel.com to hear interviews and highlights from "Family, Friends & Fellowship" on Rural Rhythm Christian.
"Family, Friends & Fellowship" was released on July 22nd and is Steve's first gospel album in his long and successful music career.  Joining Steve on his "Family, Friends & Fellowship" album is an incredible list of family and friend All-Star performers and musicians who were hand-picked to help make the songs and their message come to life in the most special way possible.  Guest performers on this album include Doyle Lawson, Joe Mullins, Dale Ann Bradley, Rickey Wasson, Kenny & Amanda Smith, Les Butler, Don Gulley, Vic Graves, Debbie Gulley and Linda Gulley.  They are backed by an impressive list of musicians including Adam Steffey, Tim Stafford, Ron Stewart, Mark Fain, Phil Leadbetter, Alan Bibey, Jason Burleson, Brandon Godman, Stuart Wyrick, Scott Powers, Bryan Turner, Gary Robinson, Jr. and Mark Laws.
Produced by Steve Gulley and recorded at the Curve Recording Studios in Cumberland Gap, Tennessee, "Family, Friends & Fellowship" contains 14 songs with a wide range of songwriters including many Steve Gulley original songs along with songs written by contemporary songwriters and standards by Ronny Hinson, Hank Williams, G.T. Speer, E.M. Bartlett, Carl Story, Gary Kidwell and more.
Tags:
Bluegrass Junction
,
Bluegrass Music
,
Christian Music
,
Gospel Train
,
Les Butler
,
Rural Rhythm Christian
,
Solid Gospel
,
Steve Gulley
Posted in
announcements
,
artists
|
Comments Off

on STEVE GULLEY Album Featured On Bluegrass Junction's GOSPEL TRAIN Radio Show