Written by Staff on January 19, 2016 – 6:05 pm -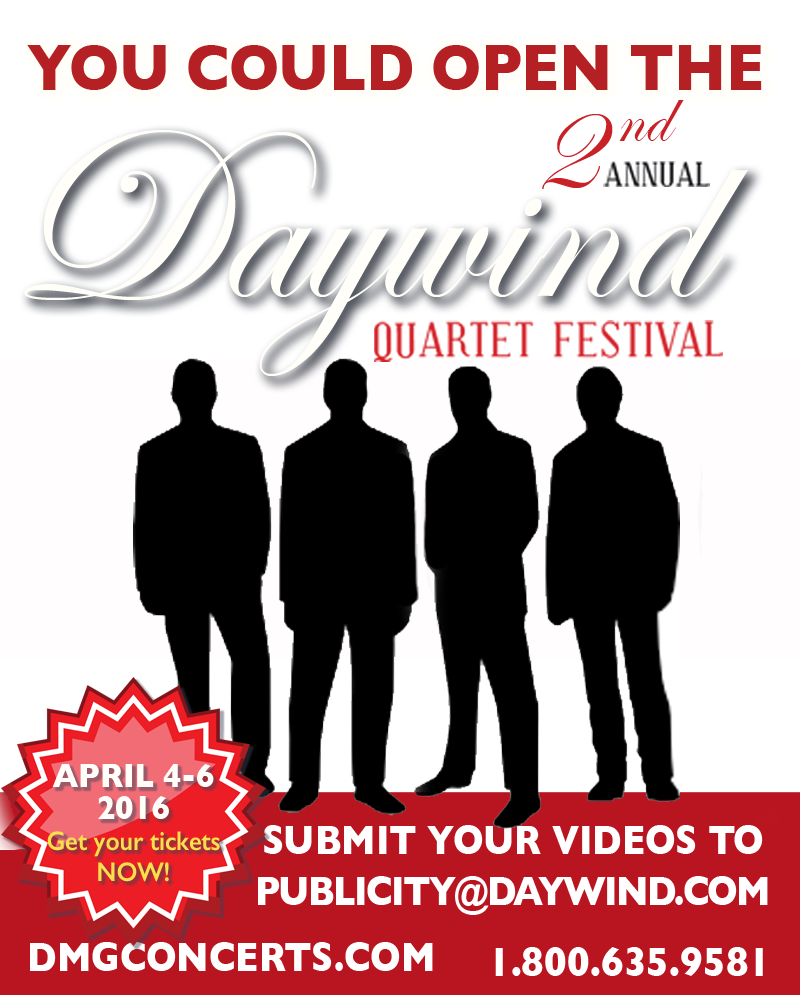 Hendersonville, TN (January 19th, 2016) –In celebration of the 2nd Annual Daywind Quartet Festival at The Greenbrier, Daywind Records is excited to announce the Quartet Talent Contest!
Daywind invites quartets from around the country to submit a video of an acappella performance of a public domain song (such as a hymn), up to 2 minutes in length, which Daywind will post onto its Daywind Records Facebook page. Quartets featured in the top five videos, as determined by number of Facebook likes, will be invited to perform at the Daywind Quartet Festival in April 2016! Attendees of the Quartet Festival will vote on their favorite quartet, and the winner will receive a 10-song soundtrack recording package from Daywind Studios.
To enter, send your video to publicity@daywind.com by February 5th, 2016. The videos will be posted onto Daywind's Facebook page on February 8th, 2016. Fans will have until February 26th to 'like' and 'share' their favorite video. The 'likes' will be totaled and winners announced on February 29th, 2016. The five top "like"-getting quartets will be invited to kick off the Daywind Quartet Festival at the Greenbrier on Monday, April 4th in White Sulphur Springs, WV, where attendees will vote on the top quartet from those performing to determine the winner of the recording package.
The Daywind Quartet Festival at the Greenbrier will be held on April 4-6, 2016, in White Sulphur Springs, WV. Held at the world-famous Greenbrier resort, the event 3-day event features Brian Free & Assurance, Legacy Five, Tribute, Triumphant, Blackwood Brothers, Ernie Haase & Signature Sound, Ball Brothers, Kingsmen, Inspirations, and the Guardians, as well as a presentation of the Quartet Night Across America production with the Gospel Greats' Paul Heil, scrap iron quartets and Q&A sessions with the artists.
The Greenbrier – which is an award-winning, four-star, luxury resort that is commonly referred to as "America's resort" – attempts to combine the graciousness of the past with the exceptional comforts of today. Guests have access to a multitude of amenities, including golf courses, carriage rides, horseback riding, a wide selection of dining options and tours of the historical bunker located on the grounds.
Tickets are available now, with seats starting at $80.
For more information on the Daywind Quartet Festival at the Greenbrier or to order tickets, visit www.dmgconcerts.com or call 1-800-635-9581.
For more news click here. 
Tags:
daywind
,
Greenbrier Quartet Festival
,
talent contest
Posted in
announcements
,
artists
|
Comments Off

on Daywind Records Announces Talent Contest In Anticipation of the Daywind Quartet Festival
Written by Scoops Staff on November 12, 2009 – 12:45 pm -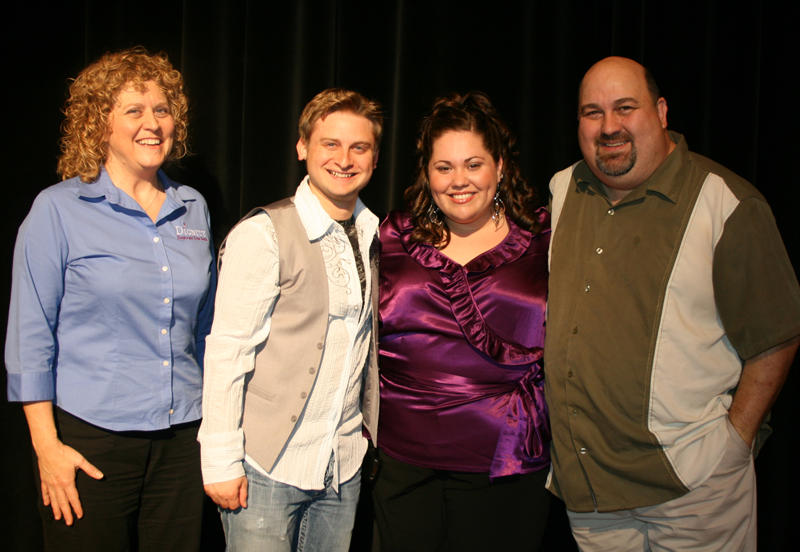 LOGAN, WEST VIRGINIA – Singers from near and far convened on the Coalfield Jamboree Saturday night in hopes of  signing a Nashville recording contract as Dignity Hospice hosted their annual Southern Gospel Talent Contest.
The event is a fundraiser for the 501c3 nonprofit organization based in Chapmanville, West Virginia. Dignity Hospice cares for terminally ill patients and family members of Logan, Mingo, Boone, Lincoln, and Wayne counties.
"We had some very talented contestants this year," said Mike Collins, marketing director for Dignity Hospice. "But I was more impressed with their attitudes and spirit. They supported one another, cheered for competitors from the audience, and truly represented the Savior they came to sing about."
This year's winner was Chelsea Price of Charleston, West Virginia. The interesting thing about Chelsea winning is the fact that she did not sign up for the contest herself—her pastor, Rev. Mike Pollard, signed her up without her knowledge and talked her into performing just a few days before the event.
Executives from Homeland Records were on hand to judge the event and found the task challenging. "There were so many artists that were so close," said Scott Godsey, General Manager of Homeland Records and event judge. "It really made our job difficult. We are looking forward to working with Chelsea, and watching her career blossom."
Chelsea will travel to Nashville to record her first project early next year.
Dignity Hospice has already scheduled next year's event for May 1, 2010. Soloists or groups are welcome to sign up now. The contest is limited to the first 40 contestants.
For more information about the Southern Gospel Talent Contest or Dignity Hospice, visit www.YourDignity.org or call 304-855-4764. 
Pictured L-R are Dignity Hospice Member Debbi Belcher; Homeland Records General Manager Scott Godsey; Talent Search Winner Chelsea Price and Event Coordinator and Director of Dignity Hospice Mike Collins.


Tags:
talent contest
Posted in
announcements
|
Comments Off

on Dignity Hospice Southern Gospel Talent Winner Announces