Written by Staff on April 3, 2020 – 1:47 pm -
The Guardians are thrilled to welcome new member, Scott Mullins. He joins Dean Hickman, Pat Barker, and John Darin Rowsey, after the recent retirement of Neil Uhrig. Many fans will know Scott from his days with the Anchormen.
The group posted this on their Facebook page, moments ago:
If you were listening to "The Gospel Greats," you heard Dean Hickman talk about our newest member. We welcome Scott Mullins to The Guardians!
Scott is no stranger to gospel music. His love for the music goes back to his childhood, and it's evident when he steps on the stage to sing.
"Scott Mullins has one of the most pleasing voices I've ever heard," says Pat Barker. "You're confident he knows exactly who he is singing for."
John Darin Rowsey adds, "As sad as we have been about the departure of longtime group member Neil Uhrig, we are equally as excited about Scott Mullins. He is a very talented singer and great addition to the Guardians!"
Dean Hickman, one of the founding members had this to say: "There are three qualifications you look for in a quartet man. First off, is he a Christian? Is he someone who believes in what he is singing? Does he display Christ likeness in everything he does? Secondly, is he easy to get along with? Is he someone you can travel with on a bus? Finally, can he sing? Well, Scott Mullins exemplifies all 3 and much more!"
Scott has this to say: "It is both a privilege and an honor to have the opportunity to sing with such an organization as The Guardians. I am so thankful that God has placed me with such fine gentlemen as Dean, John, and Pat, and I am looking forward to seeing what God has planned for the future."
The Guardians can't wait to see what the future holds!
Find out more about the Guardians HERE.
Did you know that you can receive the printed, full-color version of SGNScoops Magazine by subscription? Find out more 
HERE
.
Find SGNScoops Magazine On Facebook 
HERE.
You can download the latest edition of SGNScoops Magazine 
HERE.
Read the latest edition of SGNScoops Magazine online
HERE.
Listen To Today's Gospel Music
HERE
Tags:
Dean Hickman
,
gospel music
,
John Darin Rowsey
,
Pat Barker
,
Scott Mullins
,
Southern Gospel Music
,
The Anchormen
,
The Guardians
Posted in
announcements
,
artists
|
Comments Off

on The Guardians welcome new member Scott Mullins
Written by SGN Scoops Staff on February 11, 2019 – 9:09 am -
Nashville, TN- The Ever Popular Anchormen Quartet of Asheboro North Carolina have announced that Lead Vocalist Ronnie Bright will be leaving his position with the quartet to pursue other areas of ministry.  The Anchormen owner and manager  Tim Bullins states "We appreciate the time that Ronnie has given to our group as we continue in this ministry.  We often do not always like to embrace change, but when it occurs, we know that God has His divine will and perfect timing.  We pray for Ronnie and what God will do through his life and also we believe that The Anchormen will see the right candidate for this position as we turn another chapter of the legacy of our quartet.
Formed in 1979, The Anchormen have been at the forefront of gospel quartet music.  Their list of Top 40 songs that have spanned over 40 years have included such titles as "I've Been Touched", "I Feel Like Running My Last Mile Home", "Second Time Around", "Giver Of Life", and "Borrowed and Barely Used Tomb".  Performing more than 200 concerts per year throughout the US, The Anchormen sing Traditional Quartet Music that reaches all age groups of audiences in every concert.
We announce now that The Anchormen are currently holding auditions for the Lead Vocalist Position in their quartet.  Any male that is interested should send a demo by MP3 or WAV file along with a brief bio and a high res photo head shot to-
anchormenaudition@gmail.com
or to theiir promotion company in care of Eric Melton at
thechoicepromotions@gmail.com
.
  The quartet is located in central North Carolina and candidate must be willing to relocate or have availability to travel frequently to and from Asheboro North Carolina.
The Anchormen appreciate your prayers at this time as a decision will be made in the coming weeks!
Tags:
Southern Gospel News
,
The Anchormen
Posted in
announcements
|
Comments Off

on The Anchormen are Seeking a Lead Vocalist
Written by SGN Scoops Staff on August 30, 2016 – 7:19 am -
Chapel Valley Recording Artist The Anchormen are announcing today that Lead Vocalist Phillip Hughes is resigning from the quartet.
Anchormen owner Tim Bullins states that "We have accepted Phillip's resignation and although we are disappointed when any member of our group has to leave. However, with the recommendation of his physicians, Phillip feels this would be the better way to care for his health being a diabetic."
Bullins also states, "As a diabetic myself i totally understand his position. He and I have had numerous conversations about the lifestyle that comes with living on the road and trying to balance all of that with the health conditions. Under the circumstances we know this is a decision that had to be made.
Phillip has been a vital part of the Anchormen through the years with his two different stints with the group. We certainly wish him, his wife Starla, and their children Ross and Ryan God's abundant blessings to be with them. Phillip will remain with the quartet until a replacement is found.
Those interested in applying for the Lead position, are asked to send a resume and video along with contact information to: anchormenauditions@gmail.com
Find More Southern Gospel News HERE
Tags:
Phillip Hughes
,
Southern Gospel News
,
The Anchormen
Posted in
artists
|
Comments Off

on Phillip Hughes Departing From The Anchormen
Written by SGN Scoops Staff on April 14, 2016 – 12:26 pm -
One of Southern Gospel's premier quartets, The Anchormen, have just recently signed with Chapel Valley Music Group. The quartet, managed by Tim Bullins, has one of today's most dynamic vocal lineups. Featuring Terry Carter, Philip Hughes, Will Lane and Chris Jenkins, the group ministers in over 200 venues per year.
Since its inception in 1979, the quartet has had several awards and top radio hits including Come To The Fountain, I've Been Touched, I Feel Like Running, Come On In and their mega hit Giver of Life which reached the number one spot nationally.
What are people to expect when they hear The Anchormen in concert? Group manager Tim Bullins states, "Fans can expect high-energy singing and transparent testimonies along with songs ranging from old classics to today's favorites."
Co-owners of Chapel Valley, brothers Shane and Travis Roark state, ''We cannot wait for the public to hear their new CD. Even though this great quartet has had an illustrious and successful music career, we believe that they have better days ahead. Our company is looking forward to a wonderful relationship with the Anchormen. Richard Hyssong, our Marketing & Artist Director for Chapel Valley Music, will be working their radio and promotions. If you would like to interview the Anchormen, you may email him
at richard@chapelvalleystudio.com."
For more information about the Anchormen go to www.theanchormen.com . For booking contact Tim Bullins, anchormen@aol.com (336)736-8626.
For information concerning Chapel Valley Music, go to www.chapelvalleymusic.com
Tags:
Southern Gospel News
,
The Anchormen
Posted in
announcements
|
Comments Off

on The Anchormen Join the Chapel Valley Music Family
Written by SGN Scoops Staff on June 8, 2015 – 9:58 am -
Phillip Hughes who has occupied the tenor vocal position for the last 5 years with the Harvesters Quartet has resigned his position with the quartet. Phillip will be filling the lead vocalist position once again with the ever popular Anchormen of Asheboro North Carolina. Phillip was a vital member of The Anchormen when he joined the group in 1997 and remained for four years at the lead position. Hughes states "I have appreciated the time that I have spent with the Harvesters. I have grown in so many ways during my five years with Danny and the guys. God began dealing with my heart a few months back that He was opening a new opportunity and while the Harvesters were taking some time off, I was asked to come fill in with The Anchormen. I knew from that moment that God had arranged for me to return to the Anchormen on a full time basis. I am seeing great things occurring as The ministry of the Anchormen continues in this new chapter".
Phillip replaces the departing lead vocalist Jamie Caldwell. Jamie had recently notified The Anchormen that he had accepted a Pastorate of a thriving church in Georgia. Danny Parker owner of the Harvesters says "Phillip has been a wonderful asset to the quartet. His vocal talents, arranging abilities, stage presence and sound system knowledge will be greatly missed. While he will be missed with The Harvesters Quartet, we would like to wish him much success with his future endeavors." The Harvesters are currently in the process of filing the vacated tenor position and will be making that announcement in the near future.
Hughes joins Tenor Derrick Boyd, Baritone Terry Carter and Bass Will Lane and this combination brings a fresh quartet dynamic with the new lineup. Anchormen owner Tim Bullins states "I am delighted to make this announcement with the addition of Phillip making his return to the Anchormen. Philip was outstanding when he joined us the first time in 1997 but since then with his years singing with The Melody Masters, The Kingsmen and the Harvesters he is even more outstanding now. I am looking forward to all of the areas that we travel to, in fans hearing the new Anchormen lineup."
Tags:
Phillip Hughes
,
Southern Gospel News
,
The Anchormen
Posted in
announcements
|
Comments Off

on Phillip Hughes Joins The Anchormen
Written by SGN Scoops Staff on May 31, 2015 – 10:22 pm -
The members of The Anchormen are the guests on Gospel Music Today for the week of June 1. Ken and Jean Grady host southern gospel news and concert updates. The Feature Group is Living Water, and Jean reviews new recordings by The Griffins and The Nelons.  An article from Christian Voice magazine is the subject of this week's News Notes. The show features exclusive concert video of The Anchormen, recorded by Gospel Music Today's cameras at the The Absolutely Gospel Fan Fest, in Nashville, TN, and a visit to the Gospel Music Today Archives for an exclusive concert video of Forgiven Quartet at The Southern Gospel Worship Gathering, in Broken Arrow, OK.
The show is on KWHB TV47 in Oklahoma every
Sunday
at
4:30 PM
, and on Roku on FFE TV
Monday
at
8:00 PM
and AllNations TV
Tuesday
and
Wednesday
at
6:30 PM
. Check local TV schedule for Beaumont, TX, Tyler, TX. Atlanta, TX, and Morrilton, AR. The current edition of Gospel Music Today is online now at the Gospel Music Today website,
www.gospelmusictoday.com
.
Tags:
Forgiven Quartet
,
Gospel Music Today
,
Ken and Jean Grady
,
Southern Gospel News
,
The Anchormen
Posted in
video
|
Comments Off

on Gospel Music Today June 1 On sgnscoops.com
Written by SGN Scoops Staff on December 6, 2014 – 8:08 am -
Will Lane What Is Your Favorite Christmas Tradition?
My favorite tradition is the reading of the Christmas story of birth of Jesus from the bible with the whole family. This is the real Christmas story and it's always a great time when we share this with one another.
When I was younger, we would always put up a real Christmas tree. I love the smell of a real tree. Another memory is that my mom and dad always let me open one present on Christmas Eve.Mom would always make cookies to leave out for Santa. Now that I'm older I enjoy decorating my house for Christmas especially on the outside with our life size sleigh and Santa Claus.
Tags:
Christmas 2014
,
southern gospel
,
The Anchormen
,
Will Lane
Posted in
exclusive report
|
Comments Off

on Will Lane What Is Your Favorite Christmas Tradition?
Written by SGN Scoops Staff on May 10, 2012 – 9:48 am -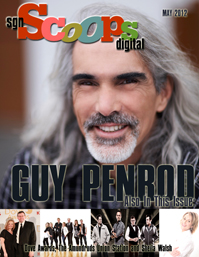 We are excited about the May issue of Scoops Magazine! We are featuring Guy Penrod as our cover story. Also in this issues we are highlighting Union Street, The Amundruds, Paul Harkey, Ken & Jean Grady and more. We have several special interest stories this month! Sheri Easter shares thoughts on Motherhood, Sheila Walsh talks about Women of Faith, Rhonda Frye shares SGNScoop's Experience at the 43 Annual Dove Awards and Sandi tells of an Easter Weekend filled with Gospel Music! As always, this issue includes Sandi Duncan Clark's New Music Reviews and this month Rhonda reviews Gaither Vocal Band's I AM A PROMISE Children's album complete with a video of kids in action. Tucked between the covers, there are articles of inspiration as well as what songs are topping the charts… Plus a whole lot more! We're proud of our staff for another issue well done! Please share with your family, fans and friends!
Find This Months Magazine Here
Tags:
43 Annual Dove Awards
,
Angela Griffin
,
Easter Weekend
,
Faith
,
family
,
Gaither Vocal Band
,
I AM A PROMISE
,
Jason Crabb
,
Jennifer Campbell
,
john mathis jr
,
Karen Peck & New River
,
Ken and Jean Grady
,
Lorraine Walker
,
Paul Harkey
,
Rhonda Frye
,
rob patz
,
Sandi Duncan Clark
,
Sheila Walsh
,
sheri easter
,
southern gospel concerts
,
Southern Gospel Music
,
Southern Gospel News
,
The Amundruds
,
The Anchormen
,
The Martins
,
Union Street
,
women of faith
Posted in
sgn scoops magazine
|
Comments Off

on May 2012 SGNScoops Magazine
Written by SGN Scoops Staff on April 19, 2011 – 5:06 pm -
Homeland Records ( a div. of Homeland Entertainment Group) is excited to announce the signing of one of
America's most prestigious Southern Gospel Music Quartets; The Anchormen of Goldsboro, NC.  The official signing took place this past weekend at an Anchormen concert in Kingsport, Tennessee.
Since 1979 The Anchormen have produced many award winning Top 40 hits as "I've Been Touched", "I Feel Like Running", "Second Time Around",  their number one hit" Giver of Life" and most recent Top 40 singles "All In A Sunday's Work" and "One Day I Will". Homeland Records along with the Anchormen group members are currently reviewing material for the project but have already recorded the first single from the yet to be released project "I Enter In" from the pen of Wayne Haun and Joel Lindsey that will be shipped to radio in late May.
Anchormen group owner Tim Bullins stated "The group is collectively excited about our relationship with Homeland Entertainment. The vision that we both share will enhance the awareness of our ministry not only to long time fans but to create new audiences as well."  Homeland Director of A/R Eric Melton also adds to that comment " The Anchormen have been great friends for many years. I have had the opportunity to work with their ministry in years past.  There have been numerous outstanding personal that have been a part of this group, but the current lineup of recent members and the return of former long standing members, I feel there is a renewed expectation in the Anchormen and Homeland is delighted to represent their music to the marketplace. We believe in what the ministry stands for and the tradition of quartet music that they strive to convey in every concert!"
The current roster or the Anchormen consists of Tenor Karl Rice, Bass Paul Harkey, and returning alumni, lead Dale Forbes and Baritone Terry Carter.  The Anchormen is booked exclusively by The Adoration Agency. For upcoming project information updates please visit, www.theanchormen.com or www.homelandentertainmentgroup.com
Tags:
Homeland entertainment Group
,
The Adoration Agency
,
The Anchormen
,
Tim Bullins
Posted in
announcements
,
christian entertainment
|
Comments Off

on Anchormen Sign With Homeland