Written by scoopsnews on March 4, 2017 – 7:31 am -
Happy Saturday!
Have you heard the buzz about the Bowling Sisters? These young girls did a fantastic job at their CD Release in Hendersonville, Tennessee on Wednesday, March 1.
Vonda Easley of SGN Scoops Social Media Team was in attendance. "These girls are anointed. They have got it!" stated Vonda.
Special thanks to Majestic Light Media for sharing this awesome video. Be Blessed!
Foe more Gospel music news click here.
Tags:
nashville
,
The Bowling Sisters
Posted in
announcements
,
artists
|
Comments Off

on The Bowling Sisters debut in Nashville
Written by scoopsnews on February 22, 2017 – 5:30 am -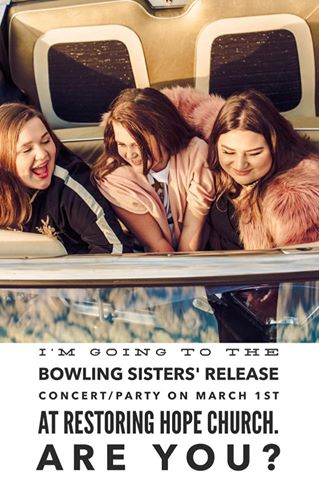 From The Bowling Sisters…..
Save the date!!!! Pre-order here to obtain free tickets.
VIP is full, but you can still come!
Order and you receive two free tickets to general admission.
Tags:
The Bowling Sisters
Posted in
announcements
|
Comments Off

on The Bowling Sisters… Don't Miss This!
Written by Staff on February 14, 2017 – 12:22 pm -
By Fayth Lore
While Hope Bowling has not been singing very long with her family, The Bowling Family, she is no stranger to Southern Gospel music. Hope's father, Mike Bowling, sang with various groups and eventually went into a solo career. Hope's mom, Kelly, sang with one of Southern Gospel's most loved families, The Crabb Family, for years. After the birth of their third child, Mike and Kelly began to tour as The Bowling Family. Hope began singing with her parents four years ago.  
I love seeing other young women singing for the Lord. So, I was so encouraged to see Hope standing on stage singing with her parents. Every time Hope walks on the stage, audiences across the country can't help but fall in love with her humble and sincere spirit. Her voice blends perfectly into that family harmony that is unbeatable.
On the Road
Hope shared with me that she had mixed emotions about joining the singing group. She was extremely excited to be sharing the stage with her parents, but it was also a bit scary for a 13 year old. Four years into road life, Hope says that her favorite part is getting to see the world and meet new people. Ironically, she says she is also a homebody, so there are moments when she really misses being home.
Hope has two younger sisters, Katelanne (13) and Gracie (10). The three sisters have begun to sing a song or two in Bowling Family Concerts across the country. When the three sisters take the stage, you can see their parent's faces light up with joy and pride.
Siblings have a special bond and Hope certainly shares that bond with her younger sisters. Hope said that if she could describe Katelanne in three words she would say funny, talented and creative. Hope would describe her youngest sister, Gracie as being spunky, determined and smart.


Answering the Hard Questions
If you have followed Southern Gospel Music for any time, you will remember about a tragedy that shook the lives of The Bowlings forever. It impacted the entire Southern Gospel industry, and sparked a national call to prayer. Recovery from their tragedy would have to be nothing short of a miracle. In 2010, The Bowling Family was heading down the highway in Belmont, NC, when all of a sudden their bus was hit head-on by a semi-truck going 60 miles per hour. This accident took a toll on the entire family, but Mike, Kelly and Katelanne suffered the most severe injuries. Hope was only 10 years old when everything happened, but she remembers that "It was a rough time."
Some people ask, "Why do bad things happen to good people"? That question could be asked under the circumstances of what The Bowling Family lived through. I asked Hope how the accident affected her spiritually and mentally.
"I didn't question, because I was a kid. I've been taught that all things work together for the good of those who love the Lord. I have seen this first hand through our accident. I believe we are changed for the better." Romans 8:28 has been a scripture that many Christians turn to in their time of suffering. As Christians, we understand that while not everything in life is good, God is working it all together for good. This biblical truth and promise of God is something to rejoice over.
Showing What Love Looks Like
First Corinthians 13:6 says: 'Charity rejoiceth not in iniquity, but rejoiceth in truth. Jesus has told us through the Bible that He is the way, the TRUTH and the life. In Him, we can find life and life more abundant. Even in the dark times of life, we can have a joy in knowing the truth. It seems like so many people in our world are desperate to find hope and fulfillment in their life. I asked Hope how she felt that Christians could help spread the Gospel to unbelievers.
"I think showing the love of Jesus is really important, and something we as Christians can forget. I'm always reminded that actions speak louder than words."

I have heard those words many times in my life too. Even Jesus spoke that faith without works is dead. It is obvious that in order to show the world what love looks like, it's important that we live out our faith and rejoice in the truth. This Christmas season, enjoy the warmth of family traditions. But, don't forget to spread the love of Jesus to a world in need of hope.


Pop Quiz for Hope Bowling
I love getting to know some of my most favorite Southern Gospel artists personally, and I'm sure you do too. So, I asked Hope some fun questions…
Fayth: Do you have any unknown talents or hobbies?
Hope: I play guitar. I love photography and playing around with makeup.
Fayth: Would you rather scroll through Instagram or check out the latest snapchat stories?
Hope: Scroll through Instagram.
Fayth: Would you rather eat your meal first or dessert?
Hope: Meal first.
Fayth: Would you rather ride the merry-go-round or the Fire-Hawk at King's Island?
Hope: I've never been on the Fire-Hawk, but I love roller coasters, so Fire-Hawk!
Fayth: Would you rather watch Pride and Prejudice or Tangled?
Hope: Pride and Prejudice.
Fayth: Would you rather DIY or just order from Etsy?
Hope: Order from Etsy. I'm a bit of an Etsy junky!


It is always a joy to chat with the young ladies in Southern Gospel music. If you enjoy reading words of spiritual inspiration and getting to know these girls more, be watching for the next issue of What Love Looks Like. 
Photo Credits: Candi Combs and Hope Bowling

By Fayth Lore
First published by SGNScoops magazine in December 2016. Feature has been edited.
For more information on The Bowling Family click here.
For the newest issue of the SGNScoops magazine click here.
For more Gospel music news click here.
Tags:
Fayth Lore
,
gospel music
,
Hope Bowling
,
The Bowling Family
,
The Bowling Sisters
,
What Love Looks Like
Posted in
artists
,
sgn scoops magazine
|
Comments Off

on What Love Looks Like Featuring Hope Bowling
Written by Staff on July 16, 2015 – 8:43 am -
By Tina Wakefield
There is no way to describe the impact a mother has on her family whether good or otherwise, a mother's presence is felt and missed. I recently spoke with one of Gospel music's mothers, Kelly Bowling, on life with her family on and off the road.
Kelly Bowling is no stranger to traveling with family, singing and ministering across this country as she traveled with The Crabb Family for many years. She grew up, met and married Mike Bowling all while traveling with her mother and family in a bus across many highways and states.
Kelly recalls traveling with her mother, Kathy Crabb Hannah, in those early days of married life. "Hope Bowling was the first grandchild that traveled with us. It was very special having my mother there, to help with Hope and playing dress up with my mother's make-up in the back of the bus. Watching my mother create a close bond with her was very special to me."
Kathy Hannah still boards the Bowling bus from time to time and travels with Kelly, Mike and the girls. Kelly says, "Not too much has changed, my mother helps me with the kids and she gets to be the fun one now with less pressure on her. I have a greater respect and appreciation for my mother now that I am the mother of this group and responsible for day- to-day requirements of this ministry."
Traveling with three kids is not an easy life and there are many sacrifices and obstacles to overcome. Confined in the space of a tour bus for extended time there is no privacy and the lack of space can be a challenge. Kelly says that for a mother, you worry about your kids missing so much that other children get to experience. "For a ministry family [the children miss the] Friday night outings that their friends go on, weekends at the park, at a playground or a movie. You feel guilty at times that your children are on a bus traveling to the next church to minister. I want my girls to not feel deprived of these things but appreciate a life of ministry, of reaching others in need of salvation, hope and encouragement. This life is a calling and I have built a lifetime of relationships on the road which I still have, and I can see that for my girls."
To help the Bowling girls with the life on the road, Kelly plans special outings with each daughter. "Being on the bus together we don't get a lot of one on one time with each other, so when we are home I'll take them out at times alone to shop, or a movie, or just time to spend with each one alone." On the bus the kids are usually on their Ipad, Ipod, teasing their cousin who travels with them or flipping from bunk to bunk. Time on the bus is family time with everyone just being silly, joking, and playing around.
In October of 2014, when an opportunity opened for a singer with the Bowlings, thoughts about how to fill the space presented a challenge. Then the unexpected happened: Hope Bowling, the oldest of Mike and Kelly's three girls, decided that she would like to fill that position. Kelly says, "I didn't see that coming. I had hoped that she would one day, and I knew she could. We were thrilled." The joke between Mike and Kelly is, "She works cheap!" Hope Bowling fills the position well and is a very talented and anointed young lady.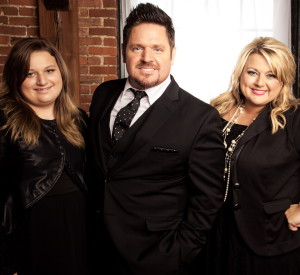 I asked Hope why she decided to join her family in ministry and she replied, "I love to see the faces of the people and how the lyrics of the songs touch them. I was excited when my parents presented the opportunity to me." At 15, she will be one of the young artists to watch and see what God has in store. We could literally take the scripture from Proverbs 22:6 that says, "train up a child in the way he should go, and when he is old he will not turn from it." Mike and Kelly Bowling are truly training up their girls in a ministry/Christ-centered life of giving of themselves. This lifestyle did not come by chance because the same could be said of Kathy Hannah who instilled the same lifestyle of ministry in Kelly and her family in their early lives.
This thought brings about the scripture from Proverbs 31 that states, "Her children arise up and call her blessed." Hope states that she admires her mom for her anointing and hard work ethic, and says, "she is someone I look up to." I asked about her grandmother Kathy and she said that her go-get-it attitude, work ethic, and genuine honesty with people, are traits she admires.
If Hope Bowling joining the family ministry is any sign of what is to come, then Gracie and Katelanne Bowling are worthy of our attention and prayers. I asked 11-year-old Katelanne what is the best and worst thing about traveling with her family. She says that she loves going to new places but the downside is that she doesn't get to spend time with her friends as much. Katelanne is not sure about what she wants for her future yet but loves to sing with her sisters, especially the song, "It Is Well With My Soul." She looks up to her mom for lots of reasons but says that cooking is not one of them, which this brought lots of laughter from all those listening. The best dish would have to be Kelly's lasagna and the worst would be spaghetti. Katelanne would love for everyone to know that her grandmother Kathy really likes to talk to people and loves Facebook. I asked her if there was anything she would change on their family bus and she replied, "Yes, my x-box and a private room."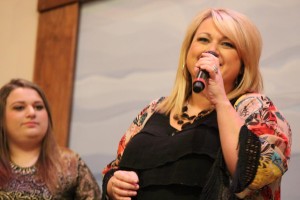 Gracie is the youngest of the three girls and perhaps the most vocal. Maybe you have seen the Gracie Show that Kathy Hannah posts on Facebook. If the Gracie Show is a taste of what is to come, we all better pay attention to her. When I asked Gracie what she wanted everyone to know about her mother she says, "She is a really nice person and really pretty." Gracie says about her grandmother, "She is not afraid to say what she thinks."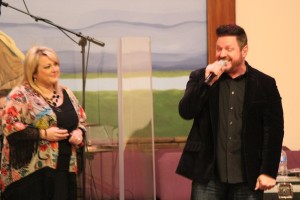 Gracie says that traveling is great because they get to visit lots of different places, her favorite of which is the beach. She says that she gets to go on cruises, which she enjoys. She is not sure what she would like to pursue in life yet but would love to be on Broadway. She would love to be able to travel to New York City to ride the subway and see the tall buildings.
Who knows what the future holds for the Bowling girls as they travel and minister with the family. One thing is for sure; after speaking with Kelly is that they are instilled with the Christ–centered life and the value of sowing into others. Proverbs 31:31 says of a mother, "Give her the fruit of her hands and let her own works praise her in the gates." Kathy Crabb Hannah sowed into the life of her daughter Kelly Bowling, and Kelly is sowing into the life of her daughters Hope, Katelanne, and Gracie.
"Even though the accolades are nice and appreciated, the focus must always be on God at all times," says Kelly. "Mike and I have the same priority and values. God must be the focus and center of all that we accomplish."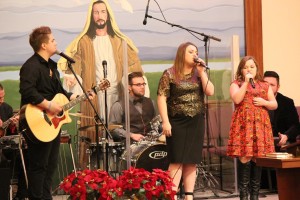 A life on the road is not an easy task but one that Kelly Bowling has embraced with her family. Her girls will debut their first CD this year, The Bowling Sisters and Kelly is now reaching out to speak at ladies' events along with Kathy who is currently conducting ladies' retreats. I am very excited to watch this family as God unfolds His plan in their lives. I am convinced that this is a family who strives to hear from God and accomplish what He puts in their spirit with total honesty and conviction in a time when compromise is an easy path to follow. I encourage you to contact The Bowling Family at www.bowlingsonline.com
By Tina Wakefield
In-Concert Photographs by Candi Combs
First published by SGN Scoops in May 2015. For current issues of SGN Scoops, visit the SGN Scoops mainpage.
Tags:
Christian life
,
Christian Mothers
,
gospel music
,
Kathy Crabb Hannah
,
Kelly Bowling
,
Mothers
,
The Bowling Family
,
The Bowling Sisters
Posted in
announcements
,
artists
,
christian entertainment
,
Christian interest
,
sgn scoops magazine
|
Comments Off

on Kelly Bowling – A Mother's Legacy