Written by Staff on April 29, 2019 – 6:07 pm -
I first met Danny Roberts when he started the Bluegrass Gospel band, The New Tradition.  I loved them. They were, as their name suggests, both new sounding, as well as traditional sounding. And wow, could that mandolin player tear up a mandolin.
Over the years, I interviewed them and featured them many times on my nationally syndicated radio show, Front Porch Fellowship. When they stopped traveling, I was bummed out. But that closed door lead to another open door.  
Danny and Andrea Roberts started going to my church, Middle Tennessee Baptist Church in Murfreesboro, Tenn. For several years we got to play side by side in the church band. Those were great days. Now, he's on the road full time with the multi-award winning, Grascals.  
Let's learn a little more about my friend, Danny Roberts.
Les Butler: What is your earliest musical memory? 
Danny Roberts: The earliest memories of playing music are with my Uncle Jim. He was one of the few relatives I had that played guitar and he was always open to sitting down with me and helping me learn new things. He always played guitar at his home church, so I had that influence from the start.
LB:What's the first instrument you tried to play? 
DR: Piano. When I was 12 years old, I broke my hip and had to homeschool that year and my mom was taking piano lessons. After a few days of playing, I decided I really liked playing an instrument but thought it should be guitar. Several years earlier my dad had bought a guitar and brought it home, but no one ever did anything with it, so I got it out and learned to play "Jingle Bells," (my favorite guitar instrumental that I had heard on a Buck Owens' Christmas record.)
LB: What instruments do you play? 
DR: Guitar, mandolin and fiddle.
LB: Who are your top three mandolin mentors? 
DR: Sam Bush, David Grisman and Bill Monroe.
LB: What's your band history, first band to current band? 
DR: First band would be the New Tradition, then Ronnie Reno and the Reno Tradition and now the Grascals.
LB: What is your favorite song to play and why? 
DR: This changes for me fairly often. Right now, my favorite song to play is "I've Been Redeemed," from the Grascals current CD, "Before Breakfast." I love the message in the song. It's in three-quarter time which is something the Grascals don't do a lot of, but I really like it, plus I get to kick it off with the mandolin.
LB: Do you write lyrics?  If so, what's the favorite song you've written?
DR: I do enjoy writing songs with lyrics and my favorite would probably be "Crucified by Me." I wrote it and recorded it several years ago. Recently it's been revived by a great young band called ClayBank and it's receiving a lot of airplay. The song is about a having a dream where I was committing a crime, but I wasn't paying for the crime – an innocent man was. That innocent man was Jesus.
LB: How do you give birth to your original instrumentals?  Do you have a favorite you've written? 
DR: The instrumentals I write usually come from a mood I'm in or from inspiration that I get from listening to other artists. If I must pick a favorite, I think it would be "Derrington Drive," off of my "Nighthawk" CD. The song was inspired by the tuning Bill Monroe did on his tune, "Get up John," and named in honor of Charlie Derrington – one of my best friends and mandolin building mentors. I've written several and many of them are special to me including "AndiWayne," and "Old Paths," from my "Mandolin Orchard" CD, and "Danielle's Waltz," from the "Nighthawk" recording.
LB: What's your biggest musical moment?
DR: I've been very blessed to have many, awesome musical moments and I'm so grateful for each of them. However, I think the one moment that may stand out just a little more than the rest was playing the Grand Ole Opry with Dolly Parton and having Porter Waggoner join us to sing a couple of their old duets. It just so happens that this was the last time that Porter and Dolly sang together because Porter passed away not too long after, so it's an extremely precious memory for me. Also, having the legendary Jordanaires join the Grascals on the stage of the Grand Ole Opry to perform our Dove Award nominated song "Did You Forget God Today" was also an amazing musical moment.
LB: Tell us about your wife and daughter, both of whom are very musical.
DR: I met my wife, Andrea, at a bluegrass festival where she was playing guitar and singing in her group Petticoat Junction (I was at the festival playing with New Tradition.) A few months after we first met, my band sold her band a utility trailer for hauling music equipment and, as they say, the rest is history. Andrea stopped traveling on the road after our daughter Jaelee was born and later started the Andrea Roberts Agency – a booking agency that books several top bluegrass bands including the Grascals.
Jaelee really didn't have much of a choice but to be in music being that's all that has ever gone on in our home since she was born. She started playing fiddle when she was four and now plays guitar, mandolin, piano, banjo and some bass. Jaelee has literally grown up singing in church which has been such a blessing and we're so thankful that she has that foundation…THE Foundation. She is a very talented singer and her first single, a gospel song called "All My Tears," will be released early in 2019.
LB: When you're not picking and singing, what are you doing?
DR: I have an instrument repair shop in my home and I repair stringed instruments. I also give music lessons to folks all ages and skill levels wanting to learn mandolin and guitar.
LB: Give us a brief testimony…
DR: When I was 12 years old I broke my hip and spent the next year on crutches and pretty much in the house. During that time my life was forever changed…that's when I started playing guitar and when I got saved. I had just turned 13 years old when I was attending a revival at my home church in Leitchfield, Kent., and the preacher preached on hell and preached it hot. I decided that was something I wanted no part of and accepted Christ as my Savior that night. There are a lot of decisions I've made in my life that I might change if I had the opportunity, but making the decision to accept God's gift of salvation is the single greatest decision of my life.
By Les Butler
Les Butler and Friends is published monthly by SGNScoops Magazine
Download the latest edition of SGNScoops Magazine
HERE
Tags:
Bluegrass Gospel
,
Danny Roberts
,
gospel music
,
Les Butler
,
Les Butler and Friends
,
THE GRASCALS
Posted in
artists
,
sgn scoops magazine
|
Comments Off

on Les Butler and Friends: Danny Roberts of the Grascals
Written by Scoops Staff on December 6, 2010 – 11:56 am -
Exclusive CD will feature guest artists joining in for some bluegrass fun
LEBANON, Tenn (December 6, 2010) Cracker Barrel Old Country Store is pleased to let you know that the next CD in its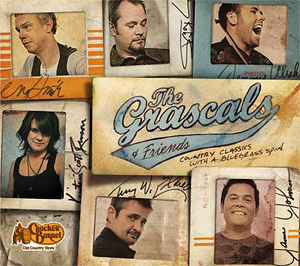 exclusive music program will feature some of the biggest names in country music joining up with one of the most beloved bands on today's bluegrass scene, The Grascals. The album, The Grascals & Friends – Country Classics With A Bluegrass Spin, has 13 country music songs on it that you have probably heard before, but most likely not like this.  The Grascals bring their own bluegrass style to the tunes and bring the different tracks to life with eight of their friends, including Brad Paisley, Dierks Bentley, Charlie Daniels and Dolly Parton.  The Grascals & Friends – Country Classics With A Bluegrass Spin will be available on January 10th, 2011, exclusively at all Cracker Barrel locations.
The bonus track, "I Am Strong," was written by Grascals band member Jamie Johnson and his wife Susanne Mumpower-Johnson along with Jenee Fleenor after The Grascals visited the St. Jude Children's Research Hospital® and were inspired by the stories and power of the children being treated there. "I Am Strong" is powerful in its message and artistic vision and brings together vocals from all of the artists who also appear separately with the Grascals on other tracks on this CD. In honor of the children and this song, Cracker Barrel is donating a percentage of the proceeds from this CD to St. Jude Children's Research Hospital.
"The Grascals are steeped in bluegrass tradition and at the same time are in touch with their contemporary audiences, bringing authenticity as well as freshness to the music," said Chris Ciavarra, Senior Vice President of Marketing for Cracker Barrel.  "We are pleased to be able to offer our guests this unique CD as the latest album in our exclusive music program."
The Grascals are frequent guests at Cracker Barrel as it provides a welcome stop along the way when they are out touring, which is most of the year. Ask any of the six band members what they like to eat when they stop in and there is no hesitation in the responses: chicken n' dumplins, the Sunrise Sampler, turnip greens or pinto beans….the answers go on and on.
The Grascals & Friends – Country Classics With A Bluegrass Spin will be the latest in Cracker Barrel's exclusive music program, which features numerous projects. In November of 2010, Cracker Barrel released Smokey Robinson's Now & Then which features six of his current songs and live versions of six of his classics that were recorded last year. It debuted at #19 on Billboard magazine's R&B chart. September saw the release of the self-titled Rodney Atkins, which includes four #1 hits, and also released Mandy Barnett's Winter Wonderland, which offers up all the authentic sounds of the  holiday traditions so many of us cherish. In July, the company released Craig Morgan's That's Why-Collector's Edition,and in May the release of Wynonna's Love Heals debuted at #7 on the Billboard Magazine Top Country Albums chart. February's release of Dailey & Vincent Sing the Statler Brothers debuted at #1 on Billboard's Top Bluegrass Albums chart, where it spent nine weeks in the top position and 18 weeks overall in one of the three top positions since its release on February 1st.  Releases in 2009 included November's Songs of Love and Heartache by Alan Jackson, September's release of an exclusive new version of The Foundation by the Zac Brown Band, August's George Jones' release of A Collection Of My Best Recollection, May's release of Montgomery Gentry's For Our Heroes, which debuted at #5 on Billboard Magazine's Top Country Albums chart, and March's release of Dolly Parton's Collector's Edition of Backwoods Barbie, which debuted at #9 on that chart. Over the last few years, Cracker Barrel has released exclusive CDs with Bill Gaither, Kenny Rogers, Ricky Skaggs, Aaron Tippin, Alison Krauss & Union Station, Josh Turner, Amy Grant, Sara Evans, and Charlie Daniels.
Click below to see track listing and guest artists.

Tags:
cracker barrel
,
THE GRASCALS
Posted in
new music
|
Comments Off

on THE GRASCALS & FRIENDS COMING TO CRACKER BARREL