Written by Staff on September 10, 2015 – 5:52 am -
Mark your calendar for a great round up!  – Host Pastor & ICCAN Int'l Director – Pastor Andy Starks. Round Up Coordinator – Jan Harbuck
OCTOBER 2nd
6:00 pm – Friday Night ICCAN Jam for all the Music Artist and fellowship meal…COWBOY CAJUN GUMBO! Artist will set up booths and get ready for the Saturday activities. There will also be a time of prayer together and sharing about each ministry.
OCTOBER 3rd
10AM – 11AM – Ministry Workshop for Pastors & Evangelist on Church/Ministry Tax/Law Issues.
11:00AM – 1:00PM – Church family and public is invited to the ICCAN Chuckwagon Cookout and Fellowship time.
1:00 pm – 5:00pm – ICCAN CONCERT in the church auditorium.
NOTE: If you are an ICCAN music artist and wish to participate in the concert please send an email to: iccan@live.com. To qualify to participate in Saturday afternoon concert and have a "free" booth for your ministry, you must be member of the the ICCAN Network and be up-to-date on your annual membership for 2015. Feel free to contact our office if you have questions (888-919-1717) and ask for Jan Harbuck.
OCTOBER 4th
10:30 AM – SUNDAY MORNING WORSHIP SERVICE
Special Speaker & Music by Tommy Brandt Ministries – Everyone Welcome!
Mark your calendar for a great round up! Held at the CORNERSTONE COWBOY CHURCH in New Iberia, LA – Host Pastor & ICCAN Int'l Director – Pastor Andy Starks. Round Up Coordinator – Jan Harbuck – 1-888-919-1717 or email iccan@live.com if you have questions.
Tags:
christian country
,
Higher vision
,
ICCAN
,
Jeff Dugan
,
Jen her book
,
just do goo higher vision
,
Mike Holmes
,
The Jamersons
,
Tommy Brandt and Tommy Brandt II
Posted in
announcements
,
artists
|
Comments Off

on ICCAN OCTOBER FALL REGIONAL ROUND UP (Louisiana – Texas…and ALL AROUND!)
Written by SGN Scoops Staff on April 28, 2014 – 8:59 am -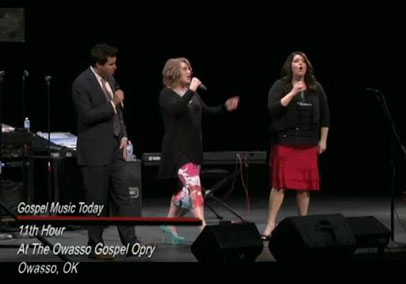 The Kingsmen are the guests on Gospel Music Today for the week of April 27. Ken and Jean Grady host southern gospel news and concert updates, the Feature Group is The Jamersons, and Jean reviews new recordings by Faith's Journey and The Freemans. An article about upcoming summer concerts is the subject of this week's Singing News Notes. The Lefevre Quartet sings, and the show includes exclusive video of 11th Hour, recorded by Gospel Music Today's cameras at The Owasso Gospel Opry, in Owasso, OK, and a visit to the Gospel Music Today Archives for a special clip of The Kingsmen Quartet singing "Beulah Land" at the Gospel Music Today On the Road Studio at NQC.
The show is on KWHB TV47 in Oklahoma every Sunday at 4:30 PM, and on Roku on FFE TV Monday at 8:00 PM and AllNations TV Tuesday and Wednesday at 6:30 PM. Check local TV schedule for Beaumont, TX, Tyler, TX. Atlanta, TX, and Morrilton, AR.
The current edition of Gospel Music Today is online now at the Gospel Music Today website, www.gospelmusictoday.com
Tags:
Freemans
,
Gospel Music Today
,
Ken & Jean Grady
,
Kingsmen
,
lefevre quartet
,
Southern Gospel News
,
The Jamersons
Posted in
video
|
Comments Off

on Gospel Music Today On SGNScoops April 28th