Written by SGN Scoops Staff on August 25, 2016 – 11:56 am -
Ft. Worth, TX – Up-and-coming Gospel group, the Matt Jones Group, is pleased to announce the addition of Mark Sargent; officially expanding the Texas-based duo into a trio.
Earlier this year, the Matt Jones Group announced plans to take the leap of faith into full-time ministry with current members Matt Jones and Lisa Dye.  With the continued growth of the ministry, owner Matt Jones felt led to seek out a baritone singer to provide an even fuller sound to the group's unique harmony.  Award-winning singer, songwriter and musician Mark Sargent, proved to be a perfect fit.
With over 37 years of experience, Mark comes to the Matt Jones Group with a long resume of involvement in Gospel music.  During his career, Mark has been a part of several groups, including the Pacesetters, the Hensleys, and Willing Heart, and has been privileged with the opportunity to share the stage with artists such as the Cathedrals, Gold City and the Hinsons.  In recent years, Mark has made his home in the Dallas-Ft. Worth area, serving as worship leader at several congregations in the metroplex.
"It is and has always been an honor for me to be in a position where my experience may benefit whoever has called on me," shares Mark Sargent. "I am a servant! I am very excited about the opportunity given by Matt Jones to be a part of this up-and-coming ministry.  I look forward to the future and to what God has in store!"
Matt Jones echoes Mark's sentiments, "We are excited to have Mark join us and look forward to the many ways in which God is going to use us in ministry together to bring glory to His name as we travel across the country. I am impressed with the deep commitment Mark holds to Christ and His calling on his life.  I believe Mark is the perfect piece of the puzzle to move us into this new season of ministry"
More Southern Gospel News
HERE
Tags:
Southern Gospel News
,
The Matt Jones Group
Posted in
artists
|
Comments Off

on The Matt Jones Group Announces Addition of Mark Sargent
Written by Staff on August 24, 2015 – 8:00 am -
The Matt Jones Group is a new duet on the Gospel music scene, hailing from the great state of Texas. Matt Jones and Lisa Dye have come from different Gospel music backgrounds to begin a new ministry together.
Vivian Belknap, writer for SGN Scoops, was at the Denton Gospelfest a few months back. Vivian had the privilege to hear this duo in one of their first
appearances together. Vivian wrote, "The concert began with Lisa Dye, a local singer from Grand Prairie Texas, the daughter of Glen Dye, who opened with 'The Holy Hills of Heaven,' and 'This Ship Was Made to Sail.' Then Matt Jones, a member of the King's River trio from Ft. Worth, Texas, joined her on stage. Not only did they sing a duet, but he also did a fine job on the keyboard."
We hope you enjoy this opportunity to get to know the Matt Jones Group!
SGN: Tell us about how The Matt Jones Group began in ministry?
MJG: Matt sang lead for a group KingsRiver for the last 10 years, and it was during that time that he studied the craft and learned as much as possible. As seasons of ministry change, Matt felt called to start his own group. He teamed up with good friend Lisa Dye to form The Matt Jones Group.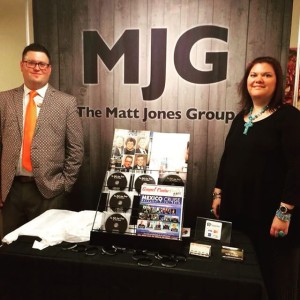 SGN: We would love to hear a funny "road story."
MJG: We were singing with a few other groups one evening and the group before us was singing and their emcee put his set list on top of our track machine. During a moment in their set he touched that paper and started about 10 different tracks at the same time. We thought the Lord was coming back!
SGN: Please share a little about each member.
MJG: Lisa Dye is carrying on a tradition of traveling and singing but is currently writing her own history in gospel music. She lives in Grand Prairie, TX with her two dogs, Abby and Maddi.
Matt Jones had a dream to sing gospel music and that dream came true in 2005 after graduating high school. He is now stepping out on faith and trusting God as he puts his very own group out on the road to sing gospel music and share the good news of Jesus. He lives in Aledo, TX.
SGN: If a church wanted to book you guys, how would they do that?
MJG: Go to 
www.themattjonesgroup.com
 There is a booking form on the home page and there is also a media page with references.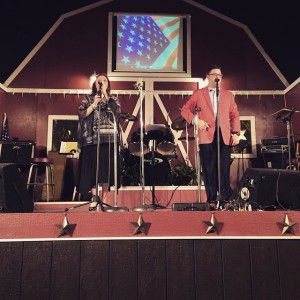 SGN: What are some future goals of The Matt Jones Group?
MJG: To broaden our ministry outside of the great state of Texas!
Thanks to Matt and Lisa for joining us for another SGN Scoops' Fast Five!
We hope you take the opportunity to visit their website, check out their schedule and listen to the music of this fine duo.
Tags:
Fast Five
,
gospel music
,
Lisa Dye
,
Matt Jones
,
sgn scoops
,
The Matt Jones Group
,
Vivian Belknap
Posted in
announcements
,
artists
,
christian entertainment
,
Christian interest
,
sgn scoops magazine
|
Comments Off

on SGN Scoops' Fast Five: The Matt Jones Group