Written by Staff on August 24, 2020 – 12:04 pm -
Many gospel music fans know Mike Moran of the Torchmen from Ontario. He has been singing for 50 years, telling thousands about the love of Jesus and living his faith with everyone he meets. Now it's our turn to pray for this man of God who has given so much to so many.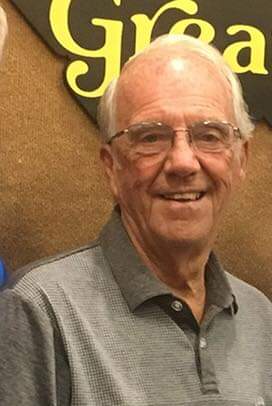 The Torchmen posted the following:
For over 50 yrs, Mike has been faithfully serving through gospel music, but this week we need to keep him in our prayers. He's scheduled for surgery on Wednesday to remove a mass from his kidney. He'll be off the road for a bit, but thankfully due to the pandemic, he won't miss too many engagements, but Mike doesn't like to miss any.
Please pray for Mike this week!
Be sure to follow the Torchmen for updates on Mike Moran.
Tags:
gospel music
,
Mike Moran
,
Quartet Music
,
Torchmen
Posted in
announcements
,
artists
|
Comments Off

on Please pray for Mike Moran of the Torchmen
Written by Staff on February 4, 2020 – 12:59 pm -
With the New Year came big changes for the Torchmen Quartet from St. Catharines, Ontario, Canada.
Last fall, long time lead singer of this beloved quartet, Jeff Tritton, announced that he would be stepping down after 10 years. The group made a bit of a shuffle, with Sandy MacGregor taking the lead part, and newcomer, Eric Lovell, assuming the tenor position. Jon Hisey will continue as bass singer.
Mike Moran, the longest serving member of the group, will be remaining at the baritone position. Mike has been with the group for 50 years, and was nominated for the 2019 J.D. Sumner Living Legend Diamond Award, presented by SGNScoops Magazine. To nominate Mike or any of the gentlemen for the 2020 Diamond Awards, click HERE.
The Torchmen have announced that they will be heading into the studio next month to work on a fresh project with the new lineup.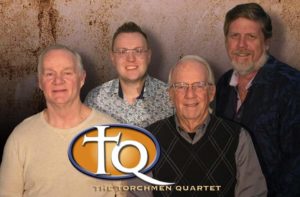 The Quartet would like to encourage as many of their fans and friends to hear their new lineup, so to facilitate this, the Torchmen are booking free will offering concerts during May and June. Their schedule is filling quickly, so look for them in your area this spring. For churches or other groups looking to invite the Torchmen to sing at their venue, please contact them quickly as openings are limited.
The Torchmen can be contacted at: frontporchgospel887@gmail.com
Look for the Torchmen on Facebook HERE
For more Gospel Music News, read the latest issue of the SGNScoops Magazine HERE.
Download SGNScoops Magazine PDF 
Here
Find SGNScoops Magazine On Facebook 
Here
Listen To Today's Gospel Music 
Here
Tags:
canada
,
Eric Lovell
,
gospel music
,
Jeff Tritton
,
Jon Hisey
,
Mike Moran
,
Ontario
,
Quartet Musicc
,
Sandy MacGregor
,
Southern Gospel Music
,
Torchmen
Posted in
announcements
,
artists
|
Comments Off

on The 2020 Torchmen welcome Eric Lovell
Written by Staff on July 6, 2019 – 7:03 am -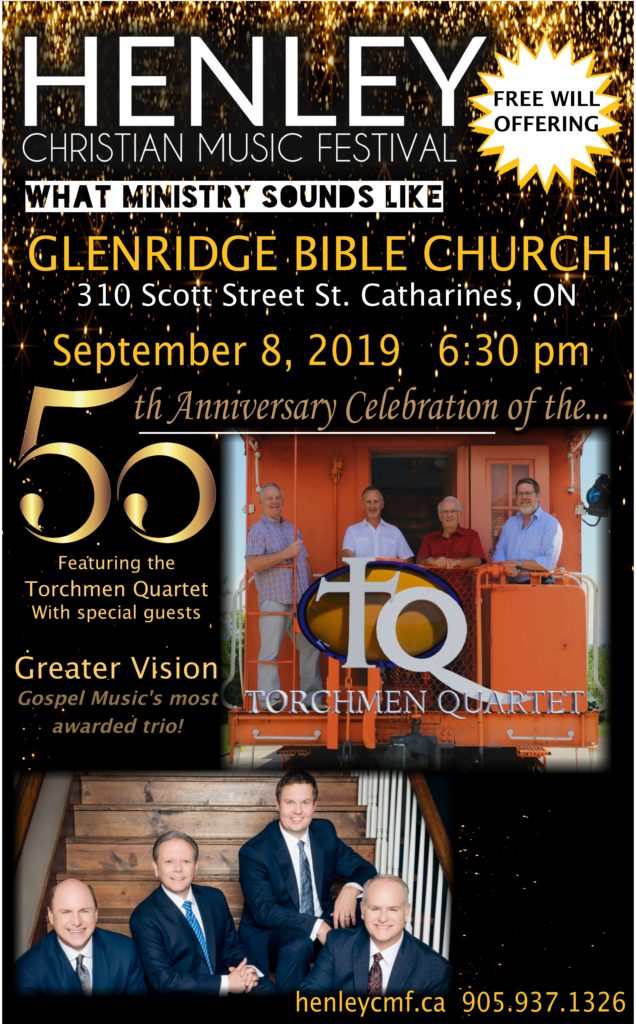 The Torchmen Quartet from Ontario, Canada, are celebrating 50 years in gospel music this year. Over the years they have made many friends and fans. Among these are gospel music artists, Greater Vision.
Greater Vision will be appearing with the Torchmen Quartet on Sunday September 8th, 2019, for the Torchmen's 50th Anniversary celebration concert.
This event will be held at Glenridge Bible Chapel, St. Catharines, Ontario, at 6:30 pm. The concert is free. An offering will be received during the evening.
Everyone is invited to help the Torchmen celebrate this incredible achievement. This event is being held as part of the Henley Christian Music Festival concert series.
For more information and directions go HERE.
About the Torchmen:
For 50 years the Torchmen have been celebrated as Canada's Gospel Quartet. Members include Mike Moran, Jon Hisey, Sandy McGregor, and Jeff Tritton. They regularly travel across Canada and the United States, and have many awards and accolades to their credit. To visit them online go here.
About Greater Vision:
This male trio, consisting of Gerald Wolfe, Rodney Griffin, Chris Allman, and Jon Epley, is the most awarded trio in the United States. From Morristown, Tenn., Greater Vision was formed in 1990 and continues to perform over 160 concerts every year across America, Canada, and abroad. For more information go HERE.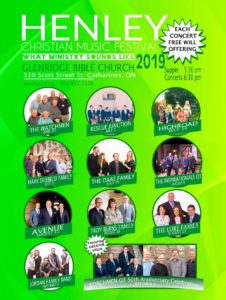 More About the Henley Christian Music Festival:
The Henley Christian Music Festival is a ministry of GBC, and is a year-round festival that brings the best in Southern Gospel music, and various genres of music to St. Catharines. The feature event is the Summer Series. This event runs from the last Sunday is June to the first Sunday in September and features a concert every Sunday night.  We will be serving BBQ at 5:30 on each night as well.  Every concert throughout the year starts at 6:30pm. There is no admission fee or tickets required for every event.  A free will offering is accepted. (From henleycmf.ca, July 6, 2019) For more information go HERE.
Read the June SGNScoops Magazine Online HERE
Download June SGNScoops Magazine On PDF
HERE
Find SGNScoops Magazine On Facebook
HERE
Listen To Todays Gospel Music
HERE
Tags:
Christian Music
,
gospel music
,
Greater Vision
,
Henley Christian Music Festival
,
Ontario
,
southern gospel
,
Torchmen
Posted in
announcements
,
artists
|
Comments Off

on The Torchmen celebrate 50 years with guests, Greater Vision
Written by Staff on October 14, 2018 – 5:57 pm -
The Gospel Music Association of Canada, begun in 1974, will present the 40th Annual Covenant Awards on January 24, 2019, at the Shaw Conference Centre in Edmonton, Alberta. The awards will be handed out in over 30 categories, during a ceremony featuring live performances from various nominees.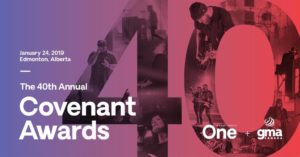 Some of the nominees in the Southern gospel and Country gospel categories include:
GROUP OF THE YEAR: West Of Here, Manic Drive, The Color, Canada's Double Portion, The Voyage
VIDEO OF THE YEAR: There Is More/Canada's Double Portion, In My Lifetim/Jordan St.Cyr, Born For Greatness/Warren Dean Flandez Feat. KJ Apa, Hiding Place/Addition [Andrew Marcus], Let It Be Love
The Color, Road To Greatness/Caleb Bloomfield AKA Xempt, Something To Say/Andrew Abbott
COUNTRY SONG OF THE YEAR: Heavenly Harvest/Rosemary Siemens, Billy Sprague & Joe Beck;  Voice Of Jesus/Tom Roe; Back To You/Michael Boucher, Jared Boucher, Nathan Boucher & Jordan Shew; Summertime, Summertime/Barbara Joy; Tornadoes/Michael Boucher, Jared Boucher, Nathan Boucher & Jordan Shew
SOUTHERN GOSPEL SONG OF THE YEAR: A Little Further Down The Line/Trevor Toews; Hands/ Christina Hemmerling, Debbie Hemmerling & Duncan A Hemmerling; Nothing But The Blood (Washes Over Me)/Barbara Joy & Robert Lowry (Public Domain); Voice Of Jesus/Tom Roe
COUNTRY / SOUTHERN GOSPEL ALBUM OF THE YEAR: Good Things/The Proverbs;
Faithful/Torchmen Quartet; Back To You/Open Sky; There Is More/Canada's Double Portion; Babies, Banjos & The Bible/Son Picked; Are You Ready/Tom Roe
For more information go to the GMA Canada website or Facebook page.
Read the September issue of SGNScoops Magazine HERE
Download The PDF Version Of SGNScoops Magazine HERE
Find SGNScoops Magazine On Facebook HERE
Listen To Todays Gospel Music HERE
Tags:
2018 Covenant Awards
,
Canada's Double Portion
,
Christian Music
,
GMA Canada
,
gospel music
,
Proverbs
,
southern gospel
,
Tom Roe
,
Torchmen
Posted in
announcements
,
artists
|
Comments Off

on GMA Canada announces nominees for 40th Annual Covenant Awards
Written by Staff on March 30, 2018 – 8:40 am -
The Torchmen Quartet: Faithful
Recorded at Crossroads Recording Studio, Grant Ave Studios
Producers: Chris Allman, Amy King, Jon Hisey
Label: Independent
Review by: Lorraine Walker
It was a pleasure to receive the latest album from the Torchmen Quartet, entitled "Faithful." Appropriately named, this recording talks about being faithful to the Lord Jesus every day, through every difficulty, and in every circumstance. I have known the TQ's members, Mike Moran, Jon Hisey, Sandy MacGregor and Jeff Tritton for a long time and can attest to the fact that these gentlemen have been faithful to their call and to the Lord.
From the very first play of the first cut on the project, this CD feels like the TQ you know and enjoy, but upscaled to an even better version of themselves. "It's An Everyday Thing," has the type of instrumentation and vocals that listeners of Torchmen projects are used to, with violin and steel guitar, and the melody line seems perfect for MacGregor, who handles the song with ease. Special note that the drums on this track were played by Michael Booth, who has an excellent touch on the toms. This tune was written by Rebecca J. Peck, who also wrote two more cuts on this album.
"Faithful Father" is an easy-listening quartet song, written by Rodney Griffith and Chris Binion. It's a good reminder that no matter what, our Heavenly Father is faithful; much more so than we can possibly be. I enjoy Tritton's vocals regardless of what he sings, and he adds his smooth tones to this song which is polished and so comforting to the ear and the heart.
"Crown Him King," a quartet favorite by Luther G. Presley and Wally Varner, is handled effortlessly by this seasoned group. So well, I'm almost positive they have recorded it before. The quartet has recorded over 30 projects and I don't claim to have every project, so it could well be that they have. Regardless, it is an excellent track.
"What If Someone" is another smooth Tritton song, written by Lanny Wolfe. It will make you wonder what if you had never been told about Jesus…and who you should be telling about Him today that may not hear about the Lord in any other way.
"I Want to Live Like Jesus," written by Ernie Haase and Dianne Wilkinson, has the flair and instrumentation of a Cathedral Quartet cut. I so enjoyed the precision and thought behind this tune.
Torchmen listeners may not be overly surprised at some song choices by MacGregor, but I have to admit, when I heard the opening strains of this song and realized what it was, I couldn't believe my ears. But what a treat! If you listened to Christian music in the '80s, you couldn't help but hear Twila Paris sing, "The Warrior is a Child." MacGregor takes this song to new places and it truly becomes a quartet song. Great job, gentlemen. Kudos to your producer, Chris Allman.
"Good Things" is another Rebecca Peck song, this time with David Jenkins. Another finger-snapping tune shows the men's crisp timing and more great vocals by Tritton.
"Reunion with You" begins with a melancholy tone in both lyric and notes, but sadness changes to hope with the chorus which reminds us that there will be an eternal reunion with our loved ones someday. This song by Tim Lanier immediately reminded me of my mom who passed away almost 8 years ago; however, the pang of separation never seems to diminish. Mike Moran tells this story with finesse and the ability to communicate emotion, thought and lyric, that has made him a favorite with Canadian audiences.
"Wonder Working God" lists among its writers the husband/wife team of Zane and Donna King. I prefer to listen to a new project without reading the liner first, so I knew this was a special cut even before reading that Donna was a part of it. She is one of the most talented people in Christian music and it seems that anything she is a part of becomes touched with a special sparkle that is all her own. One of my favorite cuts.
"I'm Gonna Keep Praying," another Rodney Griffith song, reminds us what a privilege it is to be able to talk to God any time, anywhere. Another easy-listening song that has powerful, understated lyrics. That may sound like an oxymoron but when you listen to the song, you will agree.
"What Kind of Man," another Dianne Wilkinson song, helps us look at the humanity of Jesus, which is not a subject often addressed by preachers, let alone Christian music. Well done, Dianne and Janice Crow. Well sung as well, as the harmonies are lovely.
"When the Preacher Gets to Preaching," written by Rebecca Peck and Christine Degazio, is a fun song that reminds me of the old-time pastors you hear about, the kind who preaches it so straight that the listeners' hair is parted. Those of us who have been privileged to sit under that kind of sermon totally get this song. Jon Hisey, great vocals! Totally enjoyed this song.
"Oh, What a Price," the last Peck/Jenkins song, is a beautiful ballad that should be picked up by those churches who present an Easter choir performance. Lyrically and melodically, this song catches the enormity and solemnity of the cost of salvation.
Chris Allman's comments on the liner indicate that he understands this quartet and his work on this project confirms it. Amy King and Jon Hisey, your talents are also greatly appreciated. For the rest of the album information, the reader is encouraged to buy a copy for themselves.
If you are a fan of Southern gospel music, or just like well done music of any kind, please pick up this album. Thanks so much, Torchmen Quartet, for continuing to raise the bar on your recorded music. Here's to another 50 years!
For more Reviews of Gospel Music, Download The PDF Version Of SGNScoops Magazine HERE
Find SGNScoops Magazine On Facebook HERE
Listen Online To The Best In Todays Gospel Music HERE
Tags:
Amy King
,
canada
,
Canada's premier gospel group
,
Chris Allman
,
Jon Hisey
,
Quartet Music
,
Rebecca Peck
,
Torchmen
,
Twila Paris
Posted in
artists
,
reviews
,
special feature
|
Comments Off

on The Torchmen Quartet prove "Faithful" after almost 50 years
Written by SGN Scoops on January 10, 2012 – 4:00 am -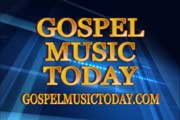 The guests on the current edition of Gospel Music Today are Mel Scarberry of Fair Haven Quartet, and the members of Mercy's Well. The Feature Group is The Paul Family, and Ken and Jean Grady host southern gospel news and concert updates. Ken and Jean visit Christ Church, in Grove, OK, to hear Tribute Quartet sing. Jean reviews a new CD by The Tacketts, and the show features singing by The Torchmen and Forgiven Trio. The latest show is online now at the Gospel Music Today website, www.gospelmusictoday.com.
Tags:
Forgiven Trio
,
Ken and Jean Grady
,
mercy's well
,
Southern Gospel Music
,
Southern Gospel News
,
The Paul Family
,
Torchmen
,
Tribute Quartet
Posted in
announcements
|
Comments Off

on Mercy's Well Special Guests on Gospel Music Today