Written by scoopsnews on October 2, 2018 – 11:42 am -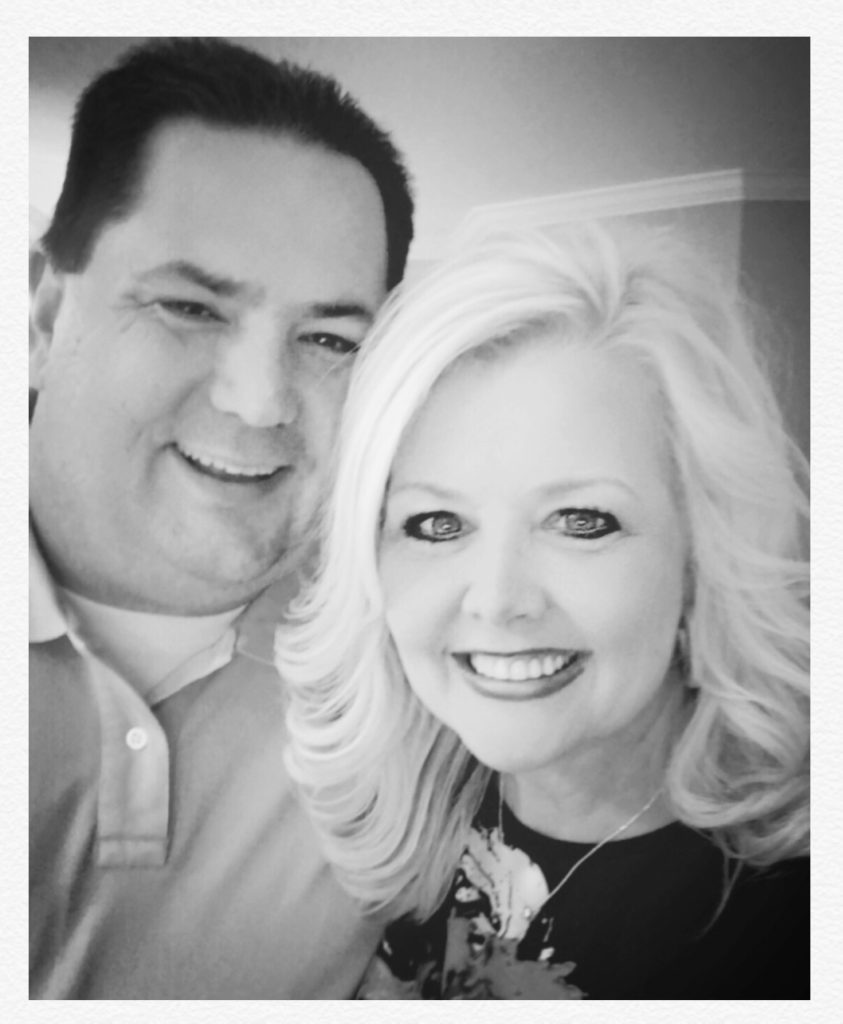 Vonda Kay Easley & Jack Armstrong, III will be married on Sunday, October Twenty- First Two Thousand Eighteen at People's Tabernacle Church, 64 Airways Blvd , Savannah, Tennessee. Pastor Josh Franks will officiate the wedding. The wedding will take place immediately after the morning service. Everyone is invited to attend. 
Wedding

 

reception will take place on November 30th , 6:00 PM at

 

"Old School Antiques" located at 47 Barfield School Drive in Lineville, Alabama. If you would like to celebrate this happy occasion with us, Please RSVP: Tajuana Gossage

 

– (256)-239-2168 or Paula Hendrick 256- (256) 405-8091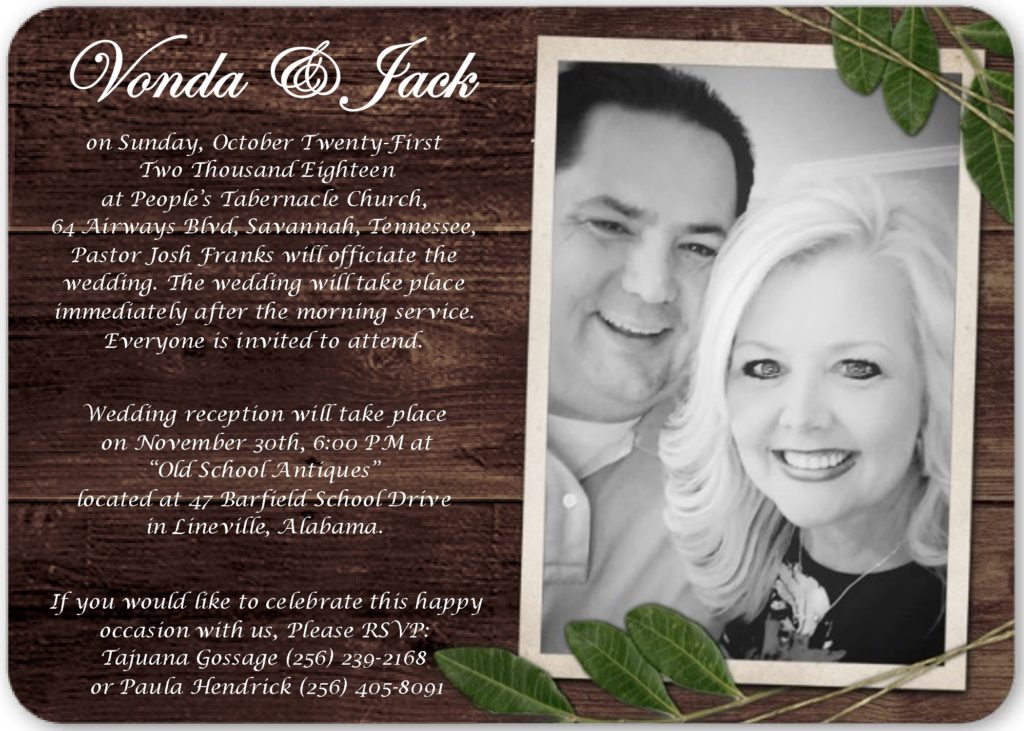 Tags:
Bibletones
,
Hope's Journey and SGN Scoops
,
Jack Armstrong
,
Strictly Southern with Vonda Easley
,
Vonda Easley
Posted in
announcements
|
Comments Off

on Congratulations to Vonda Easley and Jack Armstrong
Written by scoopsnews on September 24, 2018 – 4:26 pm -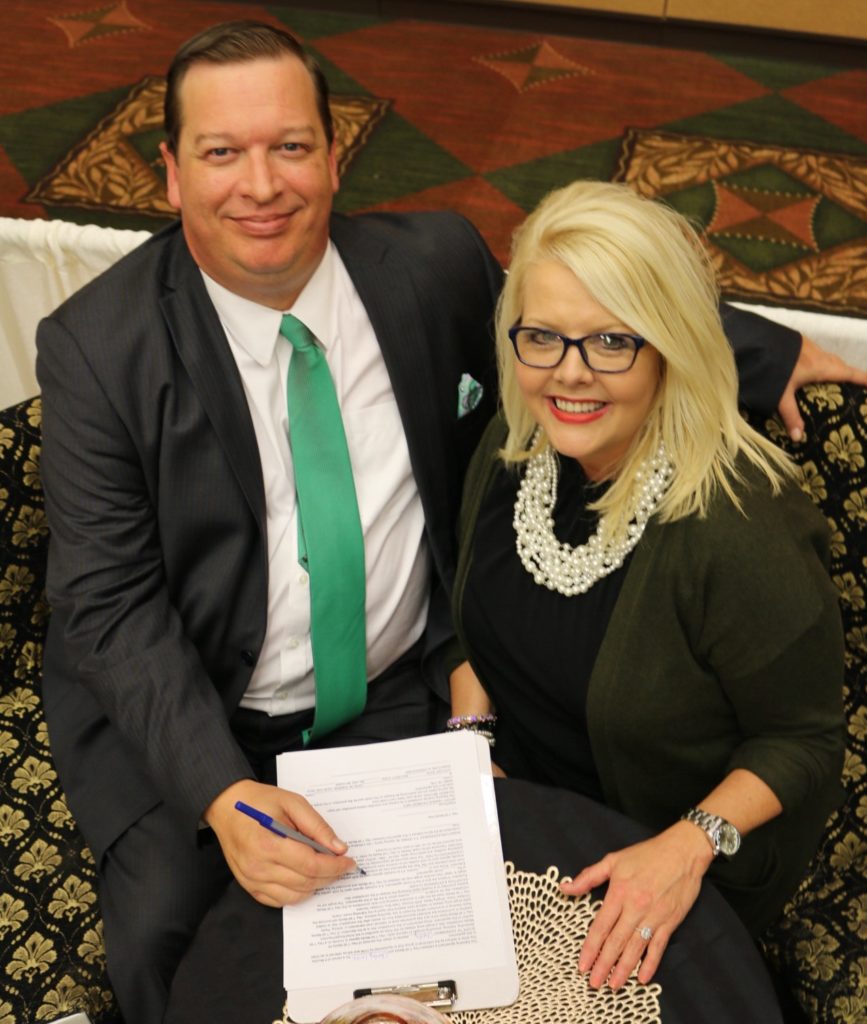 Heflin, AL (September 24tb ) – Vonda Easley and  Hey Y'all Media announce agreement of radio promotions with very talented soloist, Charley Lucas from Cleveland, Mississippi. The signing took place at The National Quartet Convention in Pigeon Forge, Tennessee today.
 Regarding the single, Vonda Easley states, "We are honored and excited to do radio promotions for Charley. He is a very talented singer and loves singing for the Lord."
The single  will be on the next compilation disc coming out in November.
Find Hey Y'all Media On Facebook here:
Tags:
Hey Ya'll Media
,
Vonda Easley
Posted in
announcements
|
Comments Off

on Hey Y'all Media Adds Charley Lucas
Written by scoopsnews on September 5, 2018 – 6:01 am -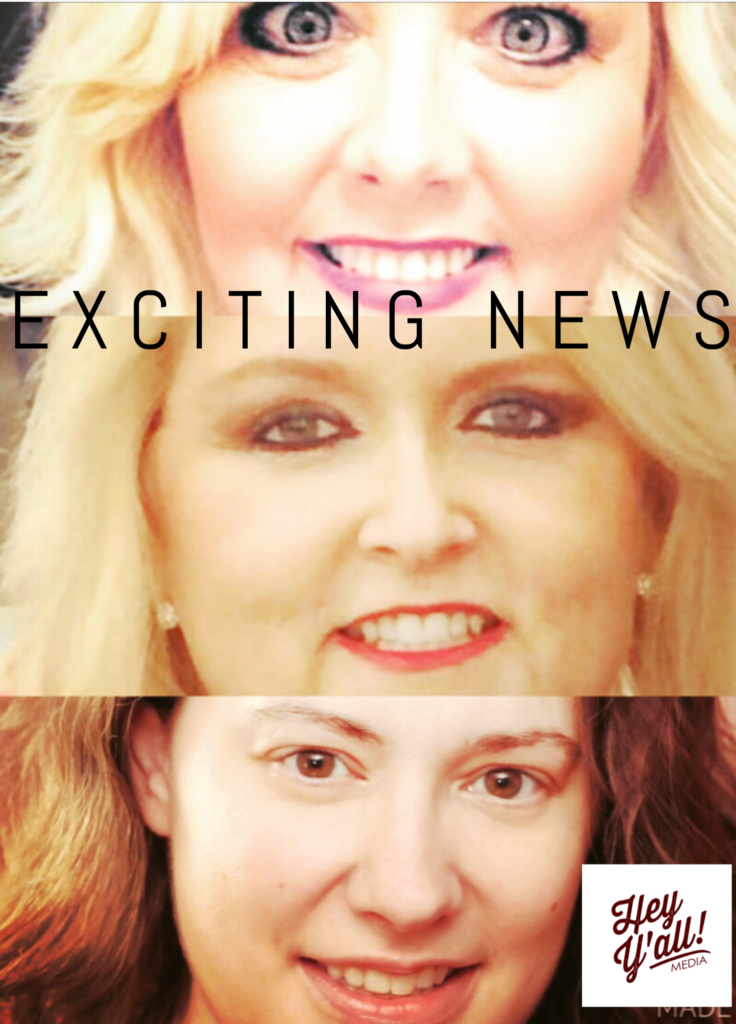 Vonda Easley, President and CEO of Hey Y'all Media welcomes Alicia Estis to the staff. Alicia lives on the Mississippi Gulf Coast with her husband and four children. She is a singer/songwriter and co-owner of gospel female trio, Mercy Fell.  She truly has a passion for Gospel Music and desires to encourage and support fellow artists in their ministries. Easley states, "We are so excited to have Alicia on board. This addition is going to allow more services for the artists. We are blessed, humbled, and honored at God's blessings here at Hey Y'all Media."
In addition to radio promotion, Hey Y'all Media will now offer graphic design, copyright assistance, and publishing. 
For more information on Hey Y'all Media, visit heyyallmedia.com.
Tags:
Hey Ya'll Media
,
Vonda Easley
Posted in
announcements
|
Comments Off

on Exciting News For Hey Y'all Media
Written by scoopsnews on August 11, 2018 – 7:39 am -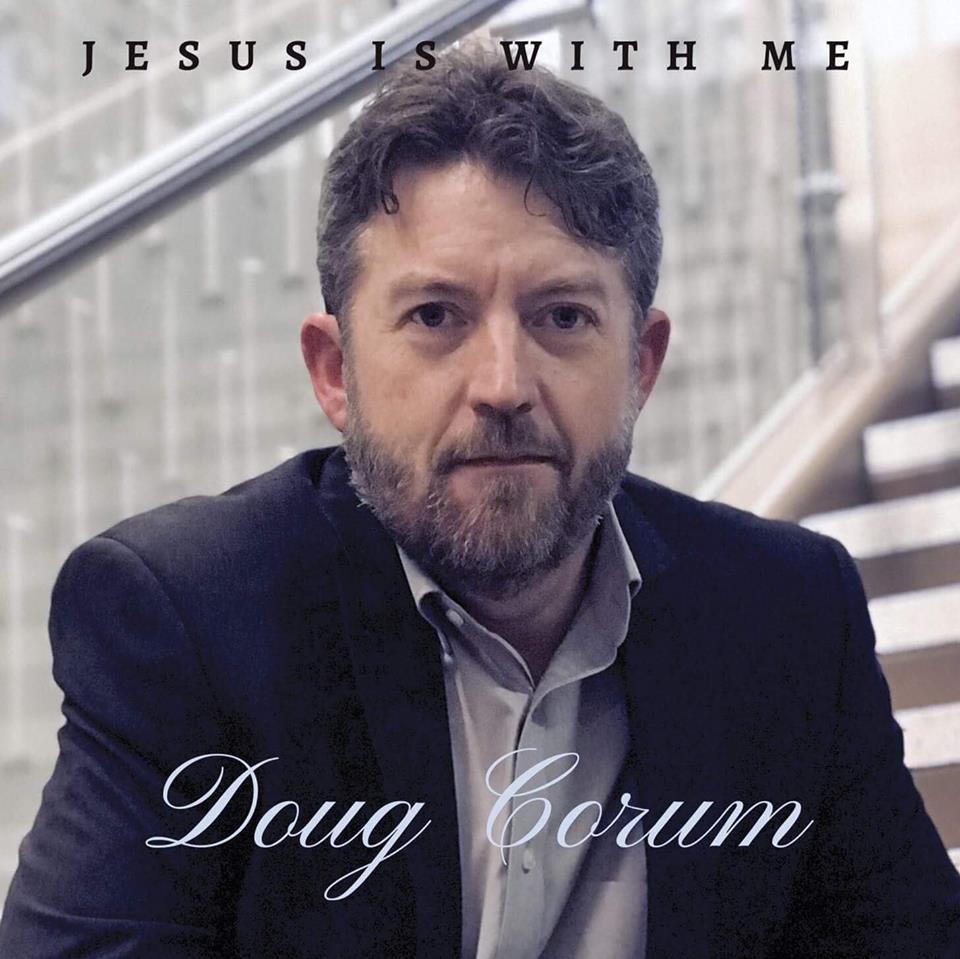 Welcome to the latest edition of SGN Scoops Fast Five. Recently we tracked down Doug Corum and gave him our Fast Five quiz. Now we all can learn a little more about this gifted Gospel singer! Doug makes his home in Stoneville, North Carolina.
1. Tell us how and when your ministry began.
Reign and Fire Ministries came together about three years ago as a result of God causing the paths to cross of three "misfits" saved by the blood of Jesus Christ.  Joshua Patterson and his wife Wendy had just come to our church, Saving Grace Ministries. Josh was the assistant pastor at that time and Wendy and I just seemed to speak the same language when it came to music. We would attend church services together and often stay late just talking about how the Spirit had moved in the church during the service and how we wanted to spread the gospel beyond the walls of our church. Pretty soon God began to open doors that would lead us to minister to folks that I believe could best relate to us, due to our own past mistakes and shortcomings. We just try to keep things simple and straight from God's word and the Holy Spirit takes care of everything else.
After the founding pastor of Saving Grace Ministries, Gary Grubbs, passed away, Josh became the senior pastor. That did slow things down some as far as opportunities for all three of us to go out and minister. I have done my best to push forward with Reign and Fire Ministries to carry the gospel of Jesus Christ through any and all open doors to bring glory to the name of Jesus and see souls saved.
2. At what age did you feel God calling you into the ministry?
I have felt like God gifted me with a special talent since I was very young. I started singing solos in church when I was four and playing ukulele and guitar when I was seven. I sang all through high school and college and music was a huge priority in my life. However it wasn't until the Holy Spirit began to make a change inside of me to make Jesus the number one priority in my life, that I began to understand what God's calling on my life was truly about. I remember the Spirit waking me up around 3:00 am one morning . I started listening to music on youtube and soon found myself watching and listening to Gerald Crabb preach. I clicked through several of his videos and they all seemed to speak to me a message that was loud and clear: "Go! And don't look back because faith doesn't have a back up plan, a plan B, or a lifeboat waiting behind you just in case you fail."
At 42 years old, sitting in my garage at 3:00 am in the morning, I asked God to give me the strength, courage, wisdom, and the necessary resources, to make the best record that I could make, and to guide me wherever He would have me to go to sing and tell people about Jesus. This was a huge step outside of my comfort zone but the only way that I knew I could fully understand and submit to God's calling. At that point I knew I would be fine even if I failed big for Jesus but I couldn't live with the regret of not knowing in my heart that I had given Him my very best effort.
I walked away from a 20 year career working in various human services roles. I had worked as an addictions counselor, a child protective services investigator, and as a school social worker. I truly believe that God is going to use all of those experiences I have had, to connect with people of all walks of life to see souls won and to let people know that there is always hope, if they keep their eyes on Jesus.
3. Tell us about your current radio single.
My current radio single is called, "Don't Let the Devil Ride." It was released to radio by Hey Ya'll Media. This is a song that my pastor and I ran across and used to joke about it because it made us want to dance or move to the groove a little, but as the time came to decide which songs would be recorded on my debut album "Jesus is with Me," this song was so different that it made the final cut. I sing hard and I love to sing in the Spirit, so this song seemed to fit me well. Praise God that the battle is His and the victory is ours, as we are no match for the devil without the blood of Jesus. I recall so many times in my own walk when a tiny compromise allowed the old devil right in and before you know it, the devil wants to drive and control your thoughts and actions, steering you away from God and into the darkness. Its a fun song with a very serious message.
4. Share your testimony.
When I was 13 years old, I lived with my grandparents because my parents had seperated and it was the only place that I could live and stay on a good schedule to attend school. I was an only child and just had to grow up really fast at age 13. My grandparents lived about a half mile up the road from a church and I would walk to church every time the doors opened with several of my neighborhood friends. I wish I could say it was all about the good preaching we heard and the choir music, but to be honest, it was the only thing we had to do, and the only place in walking distance that we got to see a lot of pretty girls that were our age. We had a great youth group of about 25 kids and very godly man, Hylton Webb, was our youth leader. I got saved and was baptised at age 13, there at Osborne Baptist Church. I have often thought back about the friends and fun we had in that youth group and now I can see how God used that youth group to keep many of us safe from the world. As I grew up and finished high school, I went on to be the first person from my family to graduate from a university. In 1997, I graduated from Appalachain State University in Boone, N.C. and moved back home to Eden, N.C. to go to work and settle down. I met my wife Vickie, and we were married in 2003. Before we were married we had started to attend Trinity Wesleyan Church. I led worship at Trinity for nearly 14 years before our pastor Wayne Johnson passed unexpectedly from a heart attack. In those 14 years we had gotten married in that church, adopted our two daughters who were dedicated and baptised in that church, and many other good memories were made there. After Wayne passed, God had a different plan for us as a family. We had already been down a very difficult road with our youngest daughter as she delt with severe emotional issues as a result of severe neglect prior to us adopting her. We had been through countless hopsitalizations with her and our home life was turned upside down. Before I knew it, I was drinking really bad in an effort to block out the pain and feelings of worthlessness. I had exhausted myself trying to figure out what it would take to fix our daughter and fix our family. Being a luke warm Christian is one of the most dangerous places that anyone can be. I look back now and if I had died during those 14 years that I impersonated a praise and worship leader, I would have been bound straight to a devil's hell!
God moved us on to another church, Saving Grace Ministries,  that we now call home. I reconnected with pastor Gary Grubbs who was a close friend from back in my much wilder days. Gary used to get me into the bars and clubs to play music when I was a teenager. The Lord had changed Gary and called him to preach. We would often joke that Pastor Gary used to get me into the clubs and now he was trying to make sure that I stayed my course to get into Heaven. On November 15, 2015, my wife and I, along with our oldest daughter, went to the altar and I asked Pastor Gary to anoint me on behalf of our youngest daughter who was in the hopsital. I also asked Gary to pray that the Lord would remove every seed of doubt from my faith. A change took place inside of me that day that I cannot explain. The Lord delivered me from drinking and listening to any worldy music. The Lord gave me His strength and helped me to stand even when we were getting terrible news from the hospital concerning our daughter. There were so many days and nights that all I could do was pray and cry out to God to help us as a family, to touch our child and calm the rage that was going on inside of her spirit. Through it all God never failed us! I can remember getting calls from counselors at the facility where our daughter was being treated, and they were basically stating that there was no hope of her ever living outside of an institution. I would hang up and pray that God would make a way. Praise God He did! On April 20, 2018, we picked our daughter up and we arrived at home at 2:00 am on April 21, 2018, on her 15th birthday. I praise God today for the trials and the valleys that He had to bring me through for me to see how much I desperately need Him everyday. I really don't know how I used to make it through a single day without Jesus being number one my life. Not just the obvious things, but every ounce of that old man had to die before I could become the man that God wants me to be today. I had known Jesus as my Savior since I was 13 years old, but it really came down to making Jesus the Lord of my life, trusting Him with every aspect of my life that placed me on the solid rock that I stand on today. Praise God for the precious blood of Jesus that paid my sin debt in full on the cross at Calvary. Nothing is impossible if you believe and trust in the finished work of the cross.
5. If our readers would like to book you or purchase product, how can they do that?
Feel free to call me directly (336) 613-8796, or email me through the website dougcorummusic.com for booking or other related questions.
CDs can be purchased through iTunes, CDBaby, or through the website.
Tags:
Don't Let The Devil Ride
,
Doug Corum
,
Doug Corum Music
,
Hey Ya'll Media
,
Vonda Easley
Posted in
announcements
|
Comments Off

on SGN SCOOPS FAST FIVE- Doug Corum
Written by scoopsnews on August 10, 2018 – 4:25 am -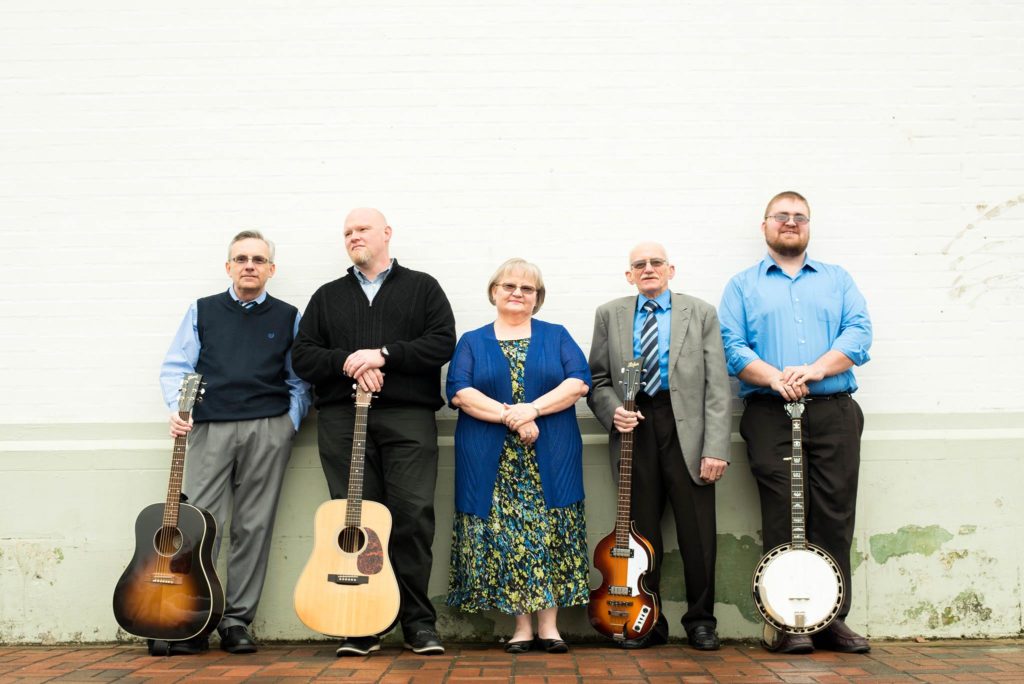 Heflin, Alabama 08-10-2017
Hey Ya'll Media and Eagle's Wings will be celebrating their first "Number 1 Song" at Creekside 2018. The song, King Jesus will be performed by the group for all in attendance. The song Charted in the Singing News Bluegrass Chart at #1 for the month of September. In addition, the song charted on the SGN Scoops Southern Gospel Chart.
"I am excited to see the success they are having on radio across the nation. Radio loves them and so do the fans," stated Vonda Easley, Hey Ya'll Media .
For more information on Eagle's Wings  visit FACEBOOK
Hey Ya'll Media  is home to such great artists as Josh and Ashley Franks, The Bibletones, Jordan's Bridge, and many more.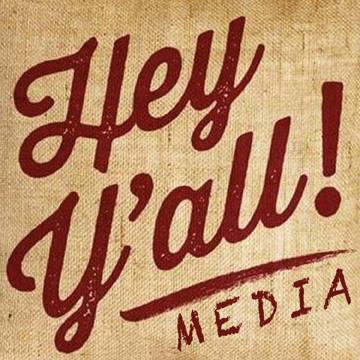 Everyone is invited. Please RSVP to: Vondaeasley@gmail.com. The party will take place on Thursday November 1 at 3 pm in the Showcase Hall.
Tags:
Eagle's Wings
,
Hey Ya'll Media
,
Vonda Easley
Posted in
announcements
|
Comments Off

on Hey Ya'll Media To Celebrate #1 Song With Eagle's Wings At Creekside 2018
Written by Staff on July 29, 2018 – 12:14 pm -
Heflin, Alabama (July 25, 2018) – Cody McCreary, lead singer for mixed trio, Hope's Journey, has announced his resignation. McCreary is known for his popular country style and ability to play many instruments during performances.
Hope's Journey owner, Vonda Easley, says, "As every member that has left Hope's Journey, Cody is family. I love his extended family as well and I will be his biggest cheerleader in his future endeavors."
McCreary previously played for the Freedom Quartet and his family group, the McCrearys. He plans to pursue new endeavors in a solo Christian Country setting. He states, "I am very thankful for the opportunity that Vonda Easley and Hope's Journey has given me to grow and train in my craft and I look forward to what the near future has to hold."
Hope's Journey is looking ahead with anticipation as well and Easley, along with Rhonda and Terry Wooten, will present the same strong, ministry-minded songs and testimony that their audience have come to expect from this trio.  Friends and fans will be able to continue to support Hope's Journey during this season of change by following along on their Facebook page here.
For booking information about Cody McCreary, contact him via e-mail at codymccrearymusic@gmail.com.
Tags:
christian country
,
Cody McCreary
,
gospel music
,
Hope's Journey
,
Rhonda and Terry Wooten
,
Vonda Easley
Posted in
announcements
,
artists
|
Comments Off

on McCreary to Depart Hope's Journey
Written by Staff on July 11, 2018 – 10:36 am -
Pigeon Forge, Tenn. ( 2018) – Vonda Easley, of Hey Y'all Media, invites all media present at the Creekside Gospel Music Convention to a special Media Appreciation Night. This private media-only event will be held after the evening concert on Wednesday, October 31, 2018.
Vonda Easley would like to treat all media representatives to pizza in the showcase venue following the concert.
"We are so excited at the number of DJs and media personnel that are making plans to be with us at Creekside 2018," says Easley. "We just wanted to show each one that their participation in the outreach of our music does not go unnoticed. You are appreciated!"
Media expecting to be present are asked to call Hey Y'all Media to register. Please call (256) 310–7892 or email vondaeasley@gmail.com to let Easley know you are planning on attending this event.
Creekside features musical showcases, evening concerts, the Jerry Goff Honors, Thea 2018 Diamond Awards and the Red Back Hymnal Choir. Midnight prayer is also planned for each evening.
For more information on Creekside 2018, visit www.sgnscoops.com or www.facebook.com/Creeksidegospelmusicconvention. VIP tickets can still be obtained by calling Rob Patz at 360.933.0741 or emailing rob@sgnscoops.com
Find SGNScoops Magazine On Facebook HERE
Tags:
Creekside
,
Hey Ya'll Media
,
rob patz
,
Vonda Easley
Posted in
announcements
,
artists
|
Comments Off

on Creekside welcomes Media to Appreciation Night
Written by SGN Scoops Staff on July 7, 2018 – 7:21 am -
Hebrews 13:2
Be not forgetful to entertain strangers: for thereby some have entertained angels unawares.
Jesus and his disciples often relied on others for shelter and food. He suggested that some strangers might even be angels sent from God.
Today, most strangers that we extend hospitality to are probably not angels, but we can't know if someday God will allow us to entertain an angel without us knowing it.
Today is a great time to practice hospitality. God may be using you. Are you ready to be used?
Psalm 91:9
 If you make the Lord your refuge,
if you make the Most High your shelter,
10 no evil will conquer you;
no plague will come near your home.
11 For he will order his angels
to protect you wherever you go.
12 They will hold you up with their hands
so you won't even hurt your foot on a stone.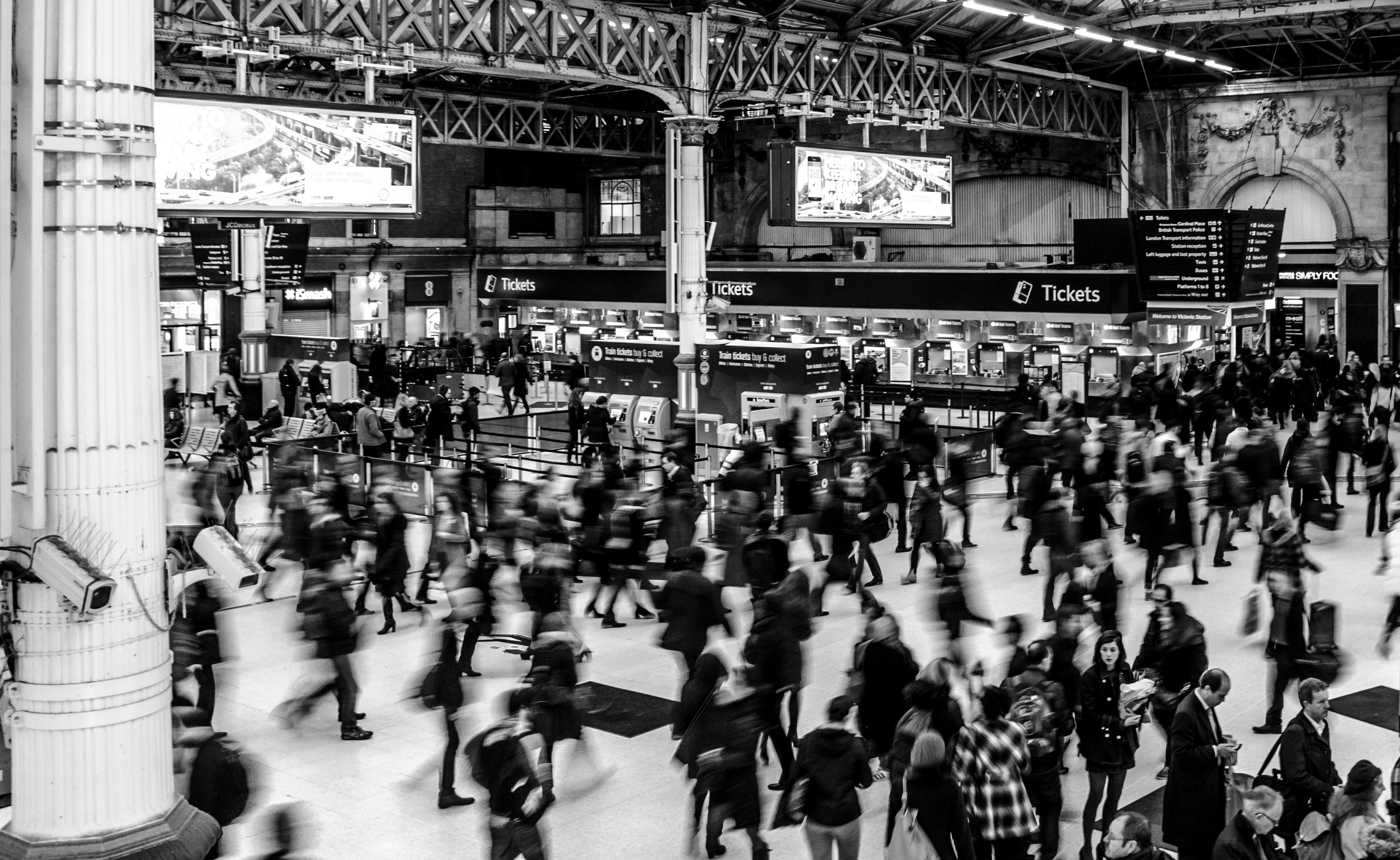 It is my prayer that you encounter the Lord is such a profound way that you will never be the same.
Vonda Easley
Weekend Word, SGN SCOOPS
Tags:
Vonda Easley
,
Weekend Word from SGN Scoops
Posted in
announcements
|
Comments Off

on Weekend Word From SGN Scoops
Written by Staff on June 30, 2018 – 6:50 am -
Vonda Easley is an integral part of SGNScoops and today is a very special day for her.
Please join us in wishing Vonda a very happy birthday today, June 30.
Thank you Vonda for everything you do for SGNScoops and WPIL. You are a very special lady and and a friend to so many.
Many blessings and celebrations today!
Read the June 2018 SGNScoops Magazine HERE.
Find SGNScoops Magazine On Facebook HERE
Download The PDF Version Of SGNScoops June 2018 Magazine HERE
Listen To The Best In Todays Gospel Music Online HERE
Tags:
gospel music
,
sgnscoops
,
Vonda Easley
,
WPIL
Posted in
announcements
,
artists
|
Comments Off

on Special day for Vonda Easley
Written by scoopsnews on May 26, 2018 – 5:15 am -
No matter your age, there's likely something that you fear.  It could be fear of the unknown, aging, being alone, losing a loved one, rejection or something more.
God's word says "Be strong. Take courage…because God, your God, is striding ahead of you. He's right there with you. He won't let you down; he won't leave you."
Deuteronomy 31:6
A prayer for you today:
Heavenly Father, it is so awesome to know that we can dwell in Your loving presence. Thank you for providing a place where fear has no power over us because Your mercy ensures forever. Touch the person reading this today Lord and give them peace and wisdom to get through this day..
In JESUS name……. Amen!
Until next week……
Happy Saturday Y'all!
V
Tags:
Beautifully Broken
,
Vonda Easley
,
Weekend Word from SGN Scoops
Posted in
announcements
|
Comments Off

on Weekend Word- "Fear Less, Pray More" by: Vonda Easley