Written by Staff on March 24, 2017 – 1:59 pm -
The social media phenomenon We Love Our Southern Gospel Music History (WLOSGMH) is holding a social gathering. Commonly referred to as the Convention, the Facebook group administrators have announced the talent line up for the two day event.
Held March 27 and 28, 2017 at the Clarion Hotel and Convention Center in Murfreesboro, TN the talent quartets, trios, soloists, some comedy and lots of surprises that will highlight the talent portion of the convention.
The WLOSGMH Convention begins Monday, March 27th. The evening begins with a dinner concert at 5:30 pm with7:00 pm concert following. The talent includes: Ann Downing, Williamsons, Sheltons, Collectors Quartet, Charlie Griffin, Administrators Quartet, Johnny Minick and Friends, Freedom Quartet.
Tuesday is a full day of activities! Beginning at 9:30 a.m. enjoy two video productions featuring some of the greatest gospel singing of all time. There will also be a short concert featuring some of the musicians who have joined us. This is always a fun time, because we never know who may decide to show up and entertain us. There will be instrumentalists, soloists, and possibly even a Scrap Iron Quartet or two. For those who have purchased the event package, lunch is provided.
Tuesday also features two of the convention highlights "Story Time with the Gospel Legends and Show & Tell." During this time the collectors will also have an opportunity to show some of their classic memorabilia from the gospel singing world; while gospel music road warriors tell some of their funniest stories.
Tuesday evening show begins at 6:00 with talent to include: Matt Felts, Harold Timmons, Jordan's Bridge, Ann Downing, McCray Dove, Jeff Stice, Williamsons, and a special tribute to some of our favorite singers by the Administrators and Collectors.Throughout the convention, various singers, collectors, and merchants will have their wares available for purchase. This is a one of a kind event to add interesting items to your gospel music collection.
We have listed the artist websites for your convenience. Get to know them and their music. You will find a wealth of talent, music, passion and as Granny says "just good people." Your support of these fine artists is greatly appreciated.
ARTIST:                      WEBSITE:
Ann Downing               www.anndowning.com
Charlie Griffin              www.CharlieGriffin.net
Ellen Marsh                  www.EllenMarshMusic.com
Freedom Quartet www.freedomquartet.com
Gospel Gallery/
Harold Timmons         www.facebook.com/thegospelgallery
Jeff Stice                       www.jeffsticemusic.com
Johnny Minick             www.johnnyminick.com
Jordan's Bridge            www.jordansbridge.com
Matt Felts                     www.facebook.com/felts3
McCray Dove               www.newdovebrothers.com
Rita Spillers                  www.facebook.com/themusiclady
The Sheltons                www.facebook.com/SheltonMusicPickensSC
The Williamsons         www.Williamsonsmusic.com
"This convention is an internet social gathering of friends." Administrator Harold Timmons says, "It is not a time for preaching, nor politics. It is not a church service, nor a political rally. Friends are in for two nights of fine Christian entertainment."
The Clarion Hotel is the convention headquarters. Located at 2227 Old Fort Parkway in Murfreesboro, TN. Contact the hotel at 615-896-2420 asking for the WE LOVE SOUTHERN GOSPEL MUSIC HISTORY CONVENTION ROOM DISCOUNT.
For complete fan package, concert tickets, hotel and event information visit www.facebook.com/groups/sgmhistory/.
For more Gospel music news, click here.
Tags:
Administrator's Quartet
,
Ann Downing
,
Charlie Griffin
,
Collector's Quartet
,
Freedom Quartet
,
Harold Timmons
,
Jeff Stice
,
Johnny Minick and Friends
,
Jordan's Bridge
,
Matt Felts
,
McCray Dove
,
Sheltons
,
We Love Our Southern Gospel Music History
,
Williamsons
,
WLOSGMH
,
WLOSGMH Convention
Posted in
announcements
,
artists
|
Comments Off

on WLOSGMH 2017 Convention includes the Williamsons, Freedom Quartet and more
Written by Staff on April 19, 2016 – 1:41 pm -
The March Facebook convention of the WE OUR LOVE SOUTHERN GOSPEL MUSIC HISTORY (WLOSGHM) truly went down with lots of music, memories, stories and excitement.
The Holiday Inn Airport Opryland hosted the event once again with full service in the quaint ballroom. Staging the intimate concerts and activities for the two day event was coordinated by WLOSGMH Admins (Harold Timmons, Ann Downing, John Crenshaw and Hannah Kennedy). Attendees enjoyed days filled with video clips, music performances, browsing/ shopping for that one of a kind collectible with fellowship and stories filled with lots of laughter.
Gospel music fans from across the USA attended the convention. By car, bus and plane fans arrived to find vendors with music and collectibles, fans clustered around renewing friendships while sipping coffee, flipping through records and photos and those conversations of what was.
The handing down of our history has been part of humanity since the beginning of time. Only in recent years has the fervor impacted gospel music. As the mantles of gospel music are being passed onto a newer generation, there are those who want the rich music history to impact the newbies. The WLOSGMH Convention does that and more.
Sharing how the NQC got started, what it was like to sing on stage with Hovie or to remember the iconic voice of Reverend J Bazzell Mull and the Mull Singing Convention on radio or TV gives pause to reflect and thanks for those who paved the way. The respect given to WB Nowlin, JG Whitfield, The Chuck Wagon Gang, Jimmie Davis, the Inspirationals, Weatherfords, Blue Ridge Quartet, Oak Ridge and Speers plus other is inspiring to hear with the tones of admiration and friendship. Added in the convention mix the concerts by legacy groups as the Blackwood Brothers Pine Ridge Boys and Sheltons just shows the impact and richness of southern gospel music.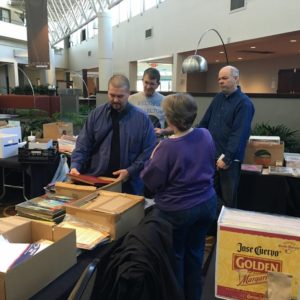 The Dove Brothers whose rise to fame centered on "classic" quartet music shows how people are demanding to remember and know the music. McCray Dove states, "I had a great time. Seen some friends I haven't seen in years. Enjoyed the singing and seeing and hearing the History of this great music we all love."
Among the talents who highlighted the WLOSGMH stage this convention are artists Jordans Bridge, Ellen Marsh, Gary Timbs, Jeff Stice, Buddy Burton, Charlie Griffin, Rita Spillers, Charles Yates, Harold Timmons and others. The reunion of the Downings proved to be another convention memory for countless fans.
Humor has always been a part of gospel music programs. From the history annals JD Sumner's classic record pitch to the amazing staging of "Go out to the Program," these performances brought countless ovations. Yet this year the
WLOSGMH Convention hosted tremendous unforgettable concert stands by the "Not So World Famous" Collectors Quartet and the skillful renditions of the Administrators Quartet. The clip board antics to those Timmons "I'm Gonna Sing" moments gave concert goers the perfect belly laugh multiple times over during the concerts or at the vendor tables.
Administrator Harold Timmons said, "I think a great time was had by all. I have not heard anything negative. There was a lot of fellowship between the collector tables."
Gospel music fan, historian and collector Dean Adkins from WV shares, "I loved the convention and camaraderie among the fans, vendors and artists. It was much like an extended family reunion. One of the highlights for me was being able to sing with my buddies in the Collectors Quartet."
From early morning coffee and donuts, mid-day quartet rehearsals, to late nights at the Waffle House, the convention is all about special friendships. It's laughing at the awkward moments, sharing the funny stories, and hugging the necks of old and new friends that
make this convention special." states John Crenshaw.
"This convention was a reunion for me. These people have become my family. It's hard to cram so many memories into just two days but somehow we did it. Most of my favorite moments were behind the scenes but a few of my favorite things were sharing 'The List' and singing on stage with the other administrators," states youngest page administrator Hannah Kennedy.
Gospel music fan Nancy Carollo says, "This convention has quickly become one of the highlight of the year for me. Visiting with old and new friends that I only see at these special events. Hearing the best music in the universe, and witnessing such a wonderful testimony, as Michael Helwig showed in concert!"
Collector Brent Joiner says, "The WLOSGMH Convention is the highlight of the year for Christina (Joiner's wife) and myself. Being able to sing with the greatest friends in the world in the Collectors Quartet, discussing SGM History, picking up the latest items for the music collection, seeing and visiting with amazing people, hearing great singing from artists like the Blackwood Brothers, Pine Ridge Boys, and others makes this event one of the greatest in Southern Gospel Music."
Artist and administrator Ann Downing states, "This is an important weekend for me. I haven't been in the mainstream of gospel music as far as a performer in a very long time, but I do have a history…and that history includes memories from early childhood 'til now. Gospel music has been very
good to me. I'm thankful! This convention offers me an opportunity to give back, in a way. I'm perhaps being selfish in saying the moments spent with Joy and Dony this year on the stage reliving those Downings' songs and memories have once again reminded me I've been blessed."
As the concert season rolls into high gear for 2016, people are asking when and where for the 2017 convention. Time will tell as more history is written what will happen at the next convention. Southern Gospel music history is the topic. The talent is the joy while the love of the music is the feature. We Love Our Southern Gospel Music History!
Find the Facebook page of We Love Our Southern Gospel Music History here.
More news.
Tags:
We Love Our Southern Gospel Music History
Posted in
announcements
,
artists
|
Comments Off

on WE LOVE OUR SOUTHERN GOSPEL MUSIC HISTORY Convention
Written by Staff on March 17, 2016 – 11:59 am -
THE NEXT THING TO GOSPEL MUSIC HEAVEN- A We Love Our Southern Gospel Music History (aka WLOSGMH) CONVENTION!
March 21 and 22, 2016. Those dates are marked down on the calendars of countless southern gospel fans that are converging in Nashville, TN for the social media convention WE LOVE OUR SOUTHERN GOSPEL MUSIC HISTORY.  This Facebook group is receiving global acclaim for their influx of history sharing and memorabilia with avid gospel music fans and followers.
Facebook group administrators (Harold Timmons, Ann Downing, John Crenshaw and Hannah Kennedy) are keeping the group true to their purpose with constant supervision of the Facebook group page. Historical photos, audio and video clips are shared with in-person stories about the music, artists and songs. Today, over thirty six thousand people enjoy the interactive Facebook group site.
This convention is a time where gospel music lovers are involved in dinner concerts, Q&A sessions, historical audio and video clip presentations, designated time for vendor shopping for that most wanted memorabilia and collector music. Vendors, collectors and gospel music fans will call the Holiday Inn Opryland-Airport home to this eclectic music convention.
Monday: Afternoon socializing and shopping starts the convention.  Then Ann Downing, convention music hosts the Pine Ridge Boys, Charlie Griffin, Collectors Quartet, the prestigious Blackwood Brothers, Jeff Stice and Ellen Marsh on the pianos, the award winning Dove Brothers are all performing during the dinner concert on Monday night.
Noted musician, Rita Spillers sets the tone for the evening as she provides piano music prior to the evening concert. What better way to start a night of gospel music than with a southern gospel piano master?
Tuesday: Tuesday morning and afternoon sessions will in include a presentation of old time pictures through the years, and a video presentation of many artists. The video will last about one and a half hours. Funny stories, questions and answers, and other topics are included. There is an anticipated Downings Reunion (afternoon concert) following lunch on Tuesday. While the evening concert features host music group the Pine Ridge Boys, the Administrators, Jordan River featuring the legendary Buddy Burton,  Harold Timmons, the ever popular Sheltons,  Gary Timbs, Jordans Bridge and Ann Downing.
WLOSGMH Administrator John Crenshaw shares, "A lot of extra time went into planning the convention right down to the video and audio clips. The presentations share a lot of the history and a few of those "you ought to been there" moments. We are excited to see so many group members in Nashville. It's gonna be two great music and fun-filled days.
Now available are concert only tickets for Monday and Tuesday nights, $20 per night. Meanwhile, lodging at the Holiday Inn is sold out on event nights. Other lodging is available at nearby hotels for convention goers attending the two day event.
The response has really picked up the last few weeks, states Harold Timmons. He continues, "The room block has been filled and people are asking for the concert tickets. Hard to believe, but some people are just hearing about the convention. The Holiday Inn Opryland-Airport has really been great to work with in the planning and execution of this event. It's really starting to get exciting!"
For more information on the two day event or single concert tickets are available contact Harold Timmons at 615-885-8000 or visit the websites below.
Vital links:
www.gospelgallery.com/WLOSGMH2016.htm
www.facebook.com/groups/sgmhistory/
More news
Tags:
We Love Our Southern Gospel Music History
,
WLOSGMH
Posted in
announcements
,
artists
|
Comments Off

on We Love Our Southern Gospel Music History Convention starts MONDAY
Written by Staff on March 7, 2016 – 3:01 pm -
The Facebook group, WE LOVE OUR SOUTHERN GOSPEL MUSIC HISTORY (WLOSGMH)  is a phenomenon. Over thirty six thousand members, hundreds of remarks, audio and video shares and photo posts are commonplace every day.  Friendships have been renewed, acquaintances become friendships and it all due to the love of southern gospel music.
Globally the group members span North and South America, Europe and even a few members from south East Asia. Each day, membership increases to relive those special one of a kind southern gospel moments and the historical music clips while sharing their music memorabilia and collections.
March 21-22, 2016 the Holiday Inn Airport-Opryland will host this annual convention of gospel music enthusiasts.  The two day event features concerts, Monday evening banquet, Tuesday luncheon buffet, Q & A sessions, videos, sing-alongs, conversations, time for browsing for the gospel music memorabilia and friendships.
The talent list is a who's who in gospel music. Featured is one of gospel music most acclaimed all-time quartets the Blackwood Brothers, convention music hosts the Pine Ridge Boys, the Sheltons, New Dove Brothers, the Downings, Jordan's Bridge, Gary Timbs, Jeff Stice, Collectors Quartet, Ellen Marsh, Buddy Burton, Charlie Griffin, Rita Spillers and convention hosts Harold Timmons, Ann Downing, John Crenshaw and Hannah Kennedy. During this convention the music history will be represented and shared by hundreds of years of experienced participants.
What makes this event so unique? Why is the interest so intense? There are other heritage events in gospel music. The NQC, Albert Brumley Gospel Sing, Grand Ol' Gospel Reunion, Singing At Sea and many more, too numerous to list. This event is the only one of its kind designed for a social media group that emphasizes the history of gospel music. It is the only event that features legacy artists whose music careers are rooted in gospel music. Those artists have and are still making contributions to our music.
The roots of gospel music start early to many fans and artists. Many enthusiasts were children who were 'dragged' to a concert by parents who were involved in church music or local groups. Others stumbled into a concert and the music bug just bit them. The WLOSGMH page administrators are no different in their exposure to southern gospel music.
Administrator, John Crenshaw (fan) remembers, "I was nine years old when I attended my first "all night sing" in Burlington, NC.  It was held on New Year's Eve, 1966.  Funny thing was, three of the WLOSGMH administrators were at the concert, but we didn't realize it until many years later.  HT and I were in the audience, and Ann was singing with the Speer Family.  Hannah was probably selling tickets, but we haven't confirmed that.
It was a great show with the Speers, Chuck Wagon Gang, Oak Ridge Boys, Blue Ridge Quartet, Harvesters, and LeFevres.
Not long after that, I was at the Reynolds Auditorium every time they had a concert.  This poster is from one of my favorites from 1969.  Although they were not on the printed advertisement, the Downings were there and tore up the place!  It was one of their first big NC performances." Crenshaw is an active gospel music fan and historian with an extensive collection of gospel music and memorabilia.
Administrator Ann Downing (singer) shares, "I was about 8 or 9 years old when I heard a reel to reel recordings of a little local group close to where I grew up in North Mississippi.  If my memory serves me right, the song was "Wait 'Til You See me in My New Home".  I'm sure it wasn't all that great, but I loved the harmony.  Up until then, about all I'd known was convention singing out of the Stamps-Baxter, Vaughn, et al songbooks, which I love to this day.
Shortly after that, I went with a member of this group to my first "quartet concert" in Columbus, MS.  The Statesmen and Blackwood Brothers were there…I was captivated. 
I'm so grateful that it's possible for a young cotton picker from a rural area to have a singing dream to come true." Downing was vocalist for the Speers, Downings and is currently a touring soloist.
Administrator Harold Timmons (musician) states, "My first gospel sing was in the 1954. I was only seven years old.  I think it was summer, because there either was no air conditioning in the building, or it was broken.  This was at Reynolds Auditorium in Winston-Salem.  There were many groups on the program, but my folks came to see the Chuck Wagon Gang for their first time.  The building was sold out and it was standing room only.  We were in the upper balcony, and folks were actually sitting on the steps in the balcony.  Every now and then, the emcee would announce that the fire department was going to shut the program down if folks did not get off the stairways in the balconies.

The CWG was late getting there.  While another group was on stage, a guitar amp sitting in a chair was slipped through the center of the back curtain.  There was
thunderous applause, I didn't know why, but that amp signaled to the rest of the audience that the CWG had arrived.  This was my only time to see Dad Carter perform with them.
My parents started going to other programs in the area, and I was fascinated.  When I got my driver's license, I took myself to many concerts all around.  I began collecting records of most all groups…78s, then 45s, then albums, and signed up for their newsletters.  By the 60s I had pretty well determined I wanted to be a gospel pianist someday, as I was hooked on this music.
I started taking piano lessons, went to the Stamps Quartet School of Music, and started making contacts, readying myself for this business." Timmons was instrumental in music staging with the Sheltons, Barnetts, Hemphills and Chuck Wagon Gang. He continues the gospel music connections with Gospel Gallery, selling collectibles and vintage gospel music.
The youngest administrator is 21 year old gospel music fan, Hannah Kennedy.
Kennedy says, "When I was 5, I went to my first gospel concert in Fort Wayne, IN. I was hooked right away. I wanted to learn all of the songs and know the names of every singer I heard. The living legends who traveled on Bill Gaither's Homecoming tours quickly became my heroes and my family graciously took me to as many concerts as possible so that I could see them.
Shown is a picture Hannah took of Jake Hess at the Gospel Barn in LaGrange, GA when she was 5. August 26, 2000. And one of her favorite Gaither concert posters.
Collector and fan, Brent Joiner says, a night or two before I was born, my parents were at a Southern Gospel concert so I've been around it my entire life.  My dad was a huge fan of Southern Gospel Music and that's where the love for the music began for me.  However, the Southern Gospel "bug" really bit me with full force when I was around 11 years old or so.
Joiner is shown with the ultra-rare albums, "Songs and Hymns by the Plainsmen" & "Sweet Beulah and" by the Statesmen Quartet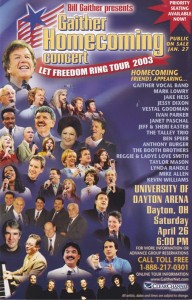 During my teenage years any money I earned through allowances, etc. I used on buying Southern Gospel Music.  As well, the Grand Old Gospel Reunion videos were really where I started learning the history of the Southern Gospel genre and enjoyed it tremendously.
My all-time favorite group is the Statesmen Quartet and my all-time favorite singer is Jake Hess.  My wife, Christina, also loves Southern Gospel Music and when we got married in 2004 that's when I decided that collecting was "my calling".  I'm always looking for the next item to add to my collection, which most of the time is on a daily basis.
Another one of my daily activities is being involved in the "We Love Our Southern Gospel Music History" Facebook page.  As far as my collecting, I collect everything associated with Southern
Gospel Music… vinyls, CD's, cassettes, books, etc.  One of my favorites pieces in my collection is the the marquee off of the Statesmen Quartet's bus.  At the inaugural "We Love Our Southern Gospel Music History Convention" in March 2015, I was able to get my hands on two of my most wanted recordings; "Sweet Beulah Land" by the Statesmen and "Songs & Hymns" (infamous red vinyl) by the Plainsmen Quartet.  These two recordings are extremely rare to find, and I had been looking for them for a long time, so to add them to my collection was a thrill.  By the way, the "WLOSGMH" Convention is one of the greatest new events in Southern Gospel Music to come along in a long time.  I love Southern Gospel Music and being able to discuss it with my wife and friends, (who are like family) John Crenshaw, Dean Adkins, Harold Timmons, Hannah Kennedy, Aaron Rich, and many others is one of the great joys of my life.
Gospel music fan Nancy Carollo exclaims, "As a young teenager, in the mid to late 50's, my older sister and I traveled 90 miles to Nashville on the first Friday of each month, to the Ryman Auditorium for the Wally Fowler all night sings.  I followed southern gospel music till I married and moved to New York state in 1960, where southern gospel music wasn't a familiar thing.  I more or less lost track of southern gospel music until 1993.  On a visit back to Tennessee, I went to see JD Sumner and the Stamps at Loretta Lynn Dude Ranch.  My love for southern gospel music was rekindled.  The match that really reignited the fire, was in 1996.  On our way back to NY after my Mother's funeral in Tennesse, we stopped in Auburn, IN for a concert of The Statesmen, Blackwoods, Stamps, Speers, and Nelons…just a little taste of Heaven.  At this point, there is no turning back!"
As most can see young and old are bitten by the gospel music bug. The love shared by these countless fans is exciting and contagious to newcomers.
There are still limited packages available for the two day event. Also single concert tickets are available. For more information contact Harold Timmons at 615-885-8000 or visit the websites below.
Vital links:
www.gospelgallery.com/WLOSGMH2016.htm
www.facebook.com/groups/sgmhistory/
More news.
Tags:
Ann Downing
,
Hemphills
,
Jake Hess
,
southern gospel
,
We Love Our Southern Gospel Music History
,
WLOSGMH
Posted in
announcements
,
artists
|
Comments Off

on WLOSGMH Convention is Contagious To Social Gospel Music Lovers!