Written by scoopsnews on May 25, 2019 – 6:57 am -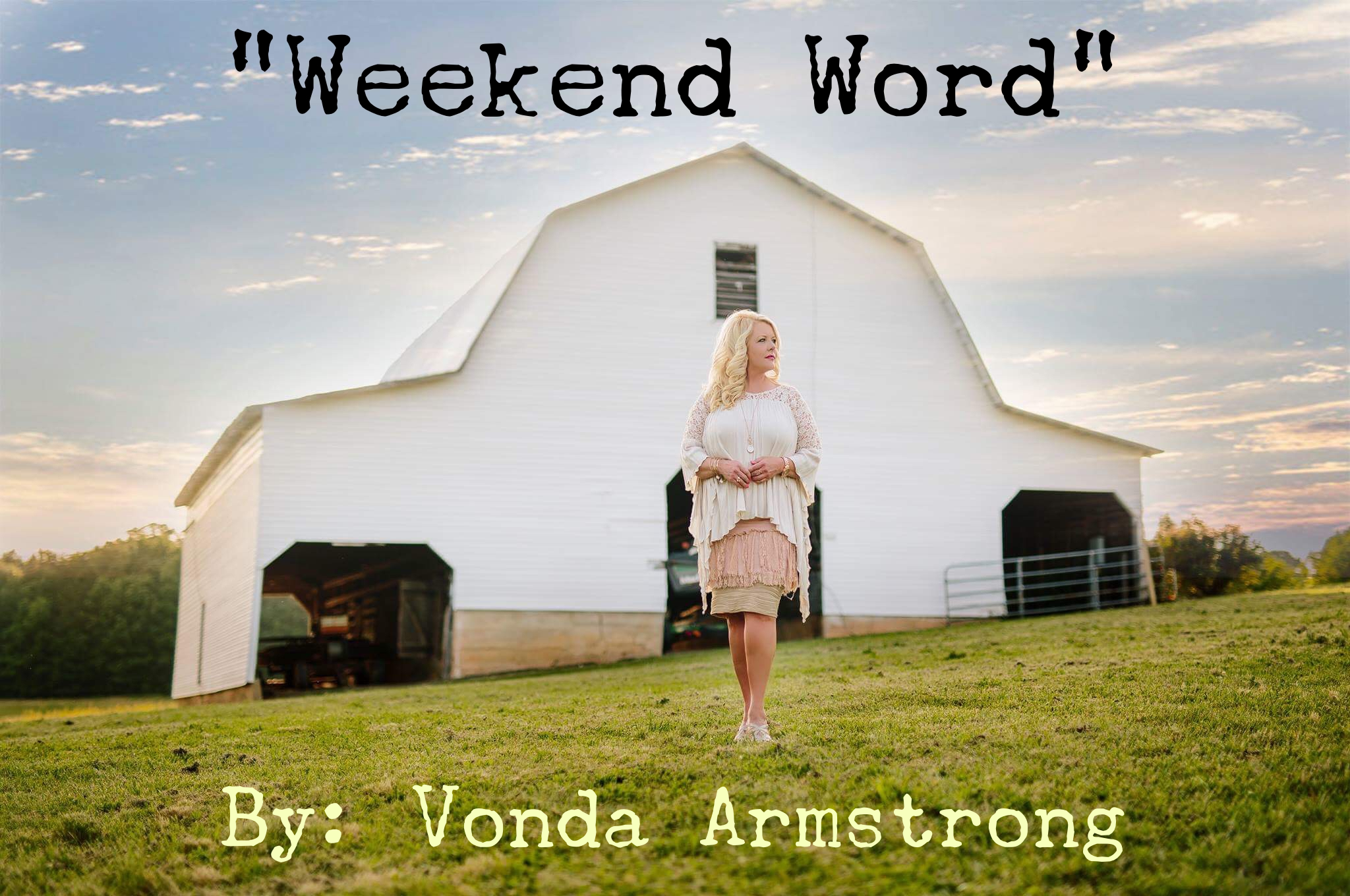 "We know what real love is because Jesus gave up his life for us. So we also ought to give up our lives for our brothers and sisters." 1 John 3:16
In scripture and in military service, the willingness to give up one's life is not dependent on the worthiness of the people who benefit from the honorable act.  Memorial Day is an important holiday that remembers those that died for our country, and serves to remind people of the costly price of war.
"But God showed his great love for us by sending Christ to die for us while we were still sinners." Romans 5:8
We are blessed to be living in a free society. May we honor our American soldiers for the liberty we have in this country. May we also give thanks to Almighty God for the freedom we have to spend eternity with Him because of His gift of forgiveness through the death, burial and resurrection of Jesus Christ.
Do You KNOW HIM?
God has made it possible for YOU to know Him and experience an amazing change in your own life. If you would like to speak with someone about this, Inbox us HERE
If you have a prayer request, type it in the comment box below. I will pray for you!
Hope you all have a wonderful weekend! You know I always like to leave you with a song so I couldn't find one more appropriate than Triumphant Quartet  singing "Let's All Stand For America"
Until next week, Jesus loves you and so do I!
Vonda
For the best in Southern Gospel News: HERE
More about Vonda: HERE
Tags:
Weekend word
,
Weekend Word With Vonda Armstrong
,
Weekend Word- Vonda Armstrong
Posted in
announcements
,
Weekend Word
|
Comments Off

on Weekend Word With Vonda Armstrong- A Day To Honor Life
Written by scoopsnews on January 5, 2019 – 6:38 am -
Psalm 55:22
Cast your cares on the Lord and He Will sustain you; He will never let the righteous fall.
Our shoulders were not designed to carry heavy loads, but the first step is to recognize that something is weighing us down.
God's promise is to sustain us! Be encouraged today and cast your cares upon Jesus. He will supply all your needs according to His riches in glory!
Tags:
Weekend word
,
Weekend Word- Vonda Armstrong
Posted in
announcements
|
Comments Off

on Weekend Word- Cast Your Cares On Jesus
Written by scoopsnews on December 29, 2018 – 10:34 am -
Without hope we can literally become sick. Sick in our minds and souls. This sickness can lead to discouragement, depression, and the feeling of hopelessness. How do we find hope? Where do we look for it? 
Our HOPE is found in Jesus!
Hope takes Faith!
Here's Gold City…..
Tags:
All My Hope
,
Gold City Quartet
,
Hope
,
Weekend word
Posted in
announcements
|
Comments Off

on Weekend Word- Hope Takes Faith
Written by Staff on July 28, 2018 – 9:07 am -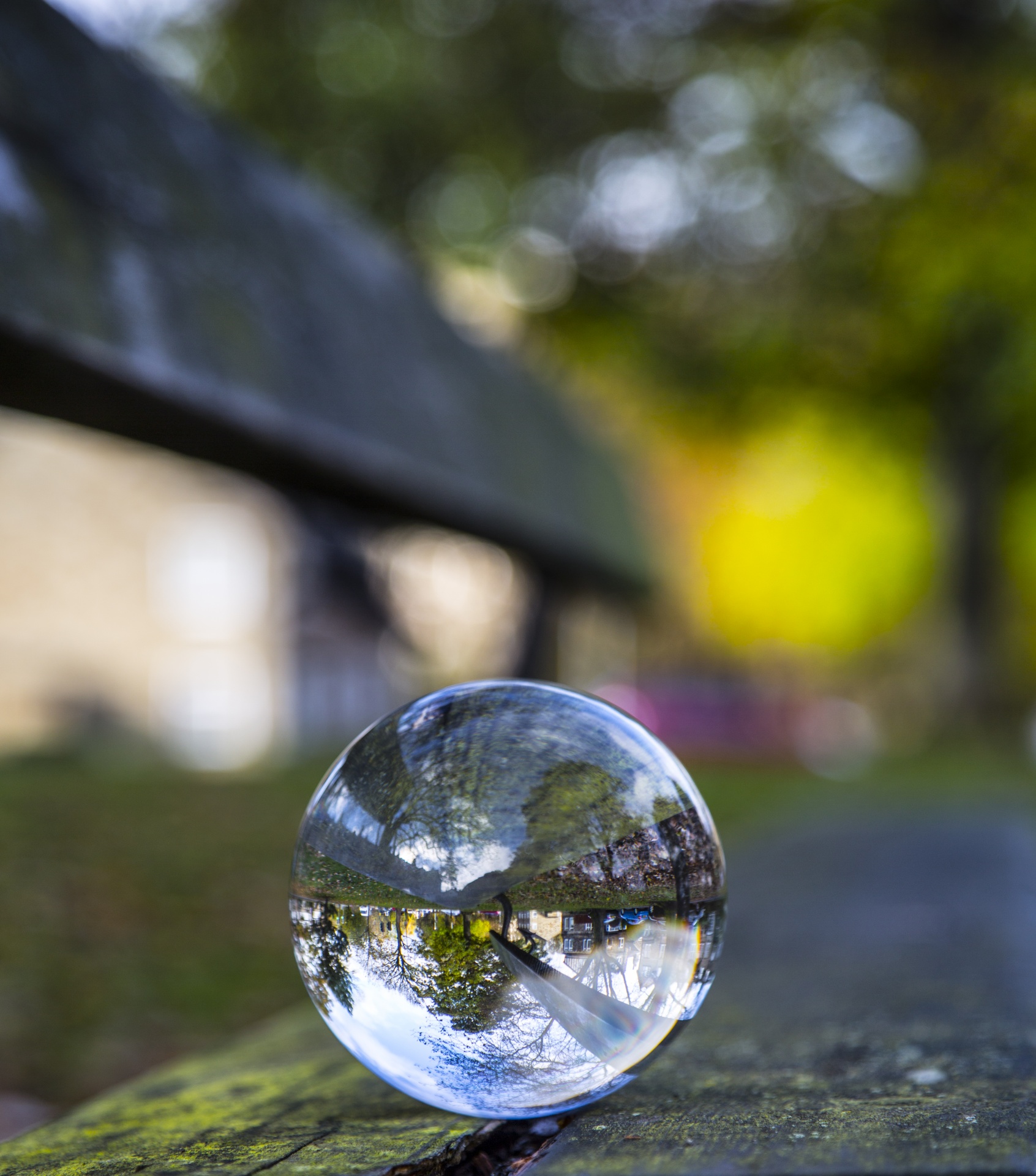 Weekend Word from SGNScoopsDoes anyone notice what we do? Do we always have to act like Christians?
The Apostle Paul mentioned in his letter to the Hebrews in the New Testament that we as Christians are surrounded by a great cloud of witnesses. Not only are those that have passed on before us witnesses to the lives that are led by Christ, but each of us has witnesses to how we live. We may not all have the great audiences that attend gospel concerts with artists such as the Perrys, watching and listening to us, but we have family, friends, neighbors and strangers who pass by us, that notice how we conduct ourselves.
I recently heard another story about a Christian who was not acting justly, loving mercy or offering hope in their conduct. It hurt me to discover that this ordinary person, thinking no one was watching, was underhand in their business dealings. I'm sure you have heard those kinds of stories too and were saddened by them.
Would someone who is always with you for every moment of every day discover that you are true to your label as "Christian," or would they wonder about your commitment when they saw you lie, cheat, or steal. It gives me pause to think that someone who knew me intimately would think that I wasn't being true to that which others assume I am because I claim to know Christ.
You know where I am going with this. There is someone who knows absolutely everything I do, say, think, and believe. Jesus is living in my heart and knows when I talk trash about someone behind their back or speak rudely to the cashier. He knows all of my business. He knows all of my thoughts. He even knows my deepest beliefs about God and all those around me.
What would you do differently if you kept in mind that Jesus knows everything? What would I have to confess if I really believed in the omniscience of the Almighty?
I hope and pray that we each grasp the reality of God in this world and in our lives. If you are unsure about whether you know Jesus as your Savior and Lord, please email me at lorraine@sgnscoops.com He wants to know you, inside and all, good and bad, and he wants to draw you closer to him. Trust his love today.
By Lorraine Walker . Excerpted from the Editor's  Last  Word, SGNScoops Magazine July 2018.
Tags:
Faith
,
Weekend word
Posted in
announcements
|
Comments Off

on Weekend Word from SGNScoops
Written by Staff on July 21, 2018 – 7:49 am -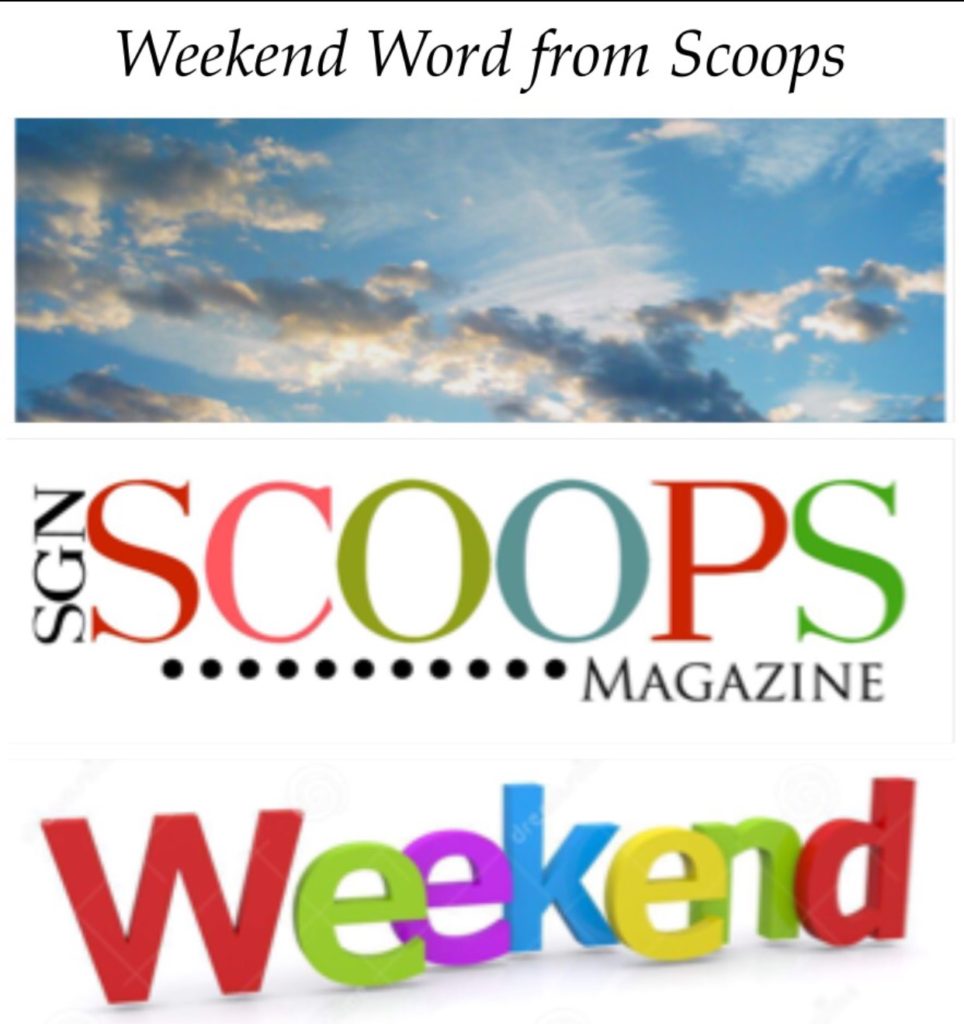 Weekend Word
Weekend Word From SGN Scoops "Are YOU a Person Of Prayer?"
"'Now Elijah said to Ahab, 'Go up, eat and drink; for there is the sound of the roar of a heavy shower.' So, Ahab went up to eat and drink. But Elijah went up to the top of Carmel; and he crouched down on the earth and put his face between his knees. … It came about at the seventh time, that he said, 'Behold, a cloud as small as a man's hand is coming up from the sea.' And he said, 'Go up, say to Ahab, "Prepare your chariot and go down, so that the heavy shower does not stop you.'"
1 Kings 18: 41, 42 & 44
What does it take to become a person of  prayer and faith like Elijah?
Righteousness. (James 5:15) To be righteous means to be right with God, walking with and trusting God – even when it isn't popular. James tells us that the prayer of a righteous man accomplishes a lot.
Persistence. (James 4:2b) Elijah prayed persistently in God's will – and this is key. Too often we pray for things we want rather than things God wants. It comes down to the motives behind our prayers – is it about ME or about GOD?
Faith. Elijah prayed with great faith. From overcoming the prophets of Baal (850 of them to 1 of him), to informing the King of Israel that he better hurry on home before getting caught in the storm when it hadn't rained in over three years – Elijah had incredible faith.
Today, what our homes and families, churches and communities need now more than ever before are people who pray powerful prayers.  Just like Elijah, an ordinary man who believed in an extraordinary God. You too can become a person of powerful prayer. (Right From The Heart Ministries- One Minute Devotions)
There is power in prayer!
Tags:
Power
,
Prayer
,
sgn scoops
,
Weekend word
Posted in
sgn scoops magazine
,
special feature
|
Comments Off

on Weekend Word: There is Power in Prayer
Written by scoopsnews on February 17, 2018 – 9:31 am -
"Trust in the Lord with all your heart, and do not lean on your own understanding. In all your ways acknowledge Him, and He will make your paths straight." Proverbs 3:5-6
If your future feels uncertain, and worry keeps occupying too much room in your mind , Remember God is already in all of our tomorrows. He knows our way, and He has a plan. And we can be assured it's always the best one for us.
God never asks us to figure it all out on our own. He just asks us to trust Him.
Love this song by The Dunaways about Trusting God…..
Tags:
.
,
Weekend word
Posted in
announcements
|
Comments Off

on Place Your Trust in The Lord….
Written by scoopsnews on December 30, 2017 – 6:47 am -
Weekend Word
Hebrews 13:2
Be not forgetful to entertain strangers: for thereby some have entertained angels unawares.
Jesus and his disciples often relied on others for shelter and food. He suggested that some strangers might even be angels sent from God.
Today, most strangers that we extend hospitality to are probably not angels, but we can't know if someday God will allow us to entertain an angel without us knowing it.
Today is a great time to practice hospitality. God may be using you. Are you ready to be used?
Psalm 91:9
 If you make the Lord your refuge,
if you make the Most High your shelter,
10 no evil will conquer you;
no plague will come near your home.
11 For he will order his angels
to protect you wherever you go.
12 They will hold you up with their hands
so you won't even hurt your foot on a stone.
It is my prayer that you encounter the Lord is such a profound way that you will never be the same.
Vonda Easley
Weekend Word, SGN SCOOPS
Tags:
Southern Gospel News
,
Vonda Easley
,
Weekend word
Posted in
announcements
|
Comments Off

on Weekend Word from SGN SCOOPS
Written by scoopsnews on August 19, 2017 – 7:20 am -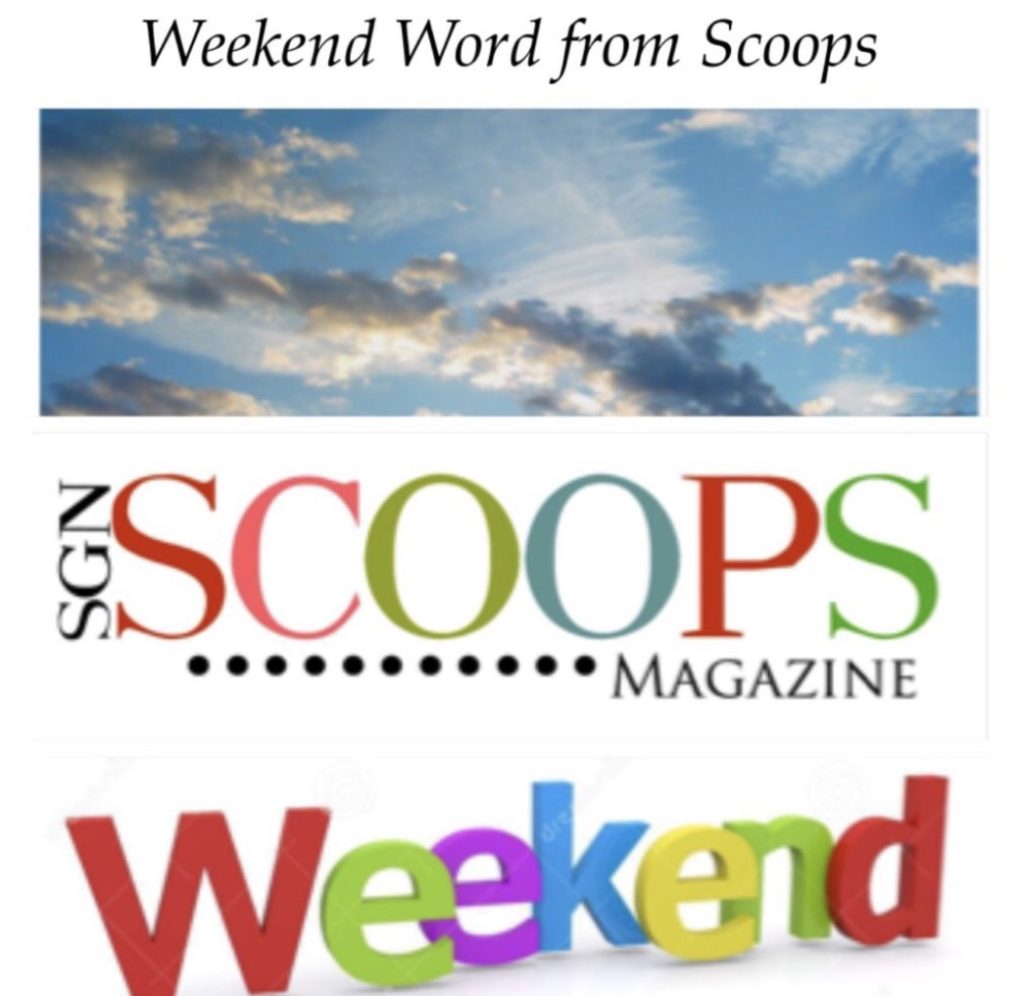 Weekend Word taken from Rev Allen Smith's book , "One Day AT A Time"
James 1:3-4
James 1:3-4
King James Version (KJV)
3 Knowing this, that the trying of your faith worketh patience.
4 But let patience have her perfect work, that ye may be perfect and entire, wanting nothing.
If we have genuine faith, testing will come our way. This Develops and strengthens the faith we have.
We should not be discouraged when testing comes our way. God is working to make you mature and complete with him.
Rev Allen Smith was born in the little town of Neoga, IL in 1951. From October of 1993 until July of 2010, Rev Smith was the publisher of SGN SCOOPS DIGITAL MAGAZINE. HE is currently the founder and President of Lighthouse International Ministries.
His Book, "One Day at a Time", can be purchased HERE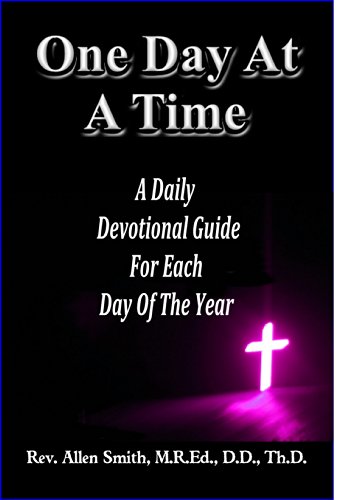 Tags:
Weekend word
Posted in
announcements
|
Comments Off

on Weekend Word From SGN SCOOPS
Written by scoopsnews on June 24, 2017 – 6:01 am -
If you could see as Jesus sees, would you change the way you view yourself?
Jesus always welcomes those who no one else takes in. He invites the ones that no one else invites.
Scripture says, "You are a chosen people, a royal priesthood, a holy nation, God's special possession, that you may declare the praises of him you called you out of the darkness and into his wonderful light." 1 Peter 2:9
Praise God , We are a chosen people! We are precious and valuable to HIM.
Have a great day and share this message with someone that is not feeling like they belong.
For more Christian interest articles click here.
For inspirational articles in the latest SGNScoops Magazine click here.
Tags:
Belong
,
Weekend word
,
Weekend Word from SGN Scoops
Posted in
announcements
,
Christian interest
|
Comments Off

on Weekend Word from SGN Scoops- Belonging
Written by scoopsnews on July 9, 2016 – 6:54 am -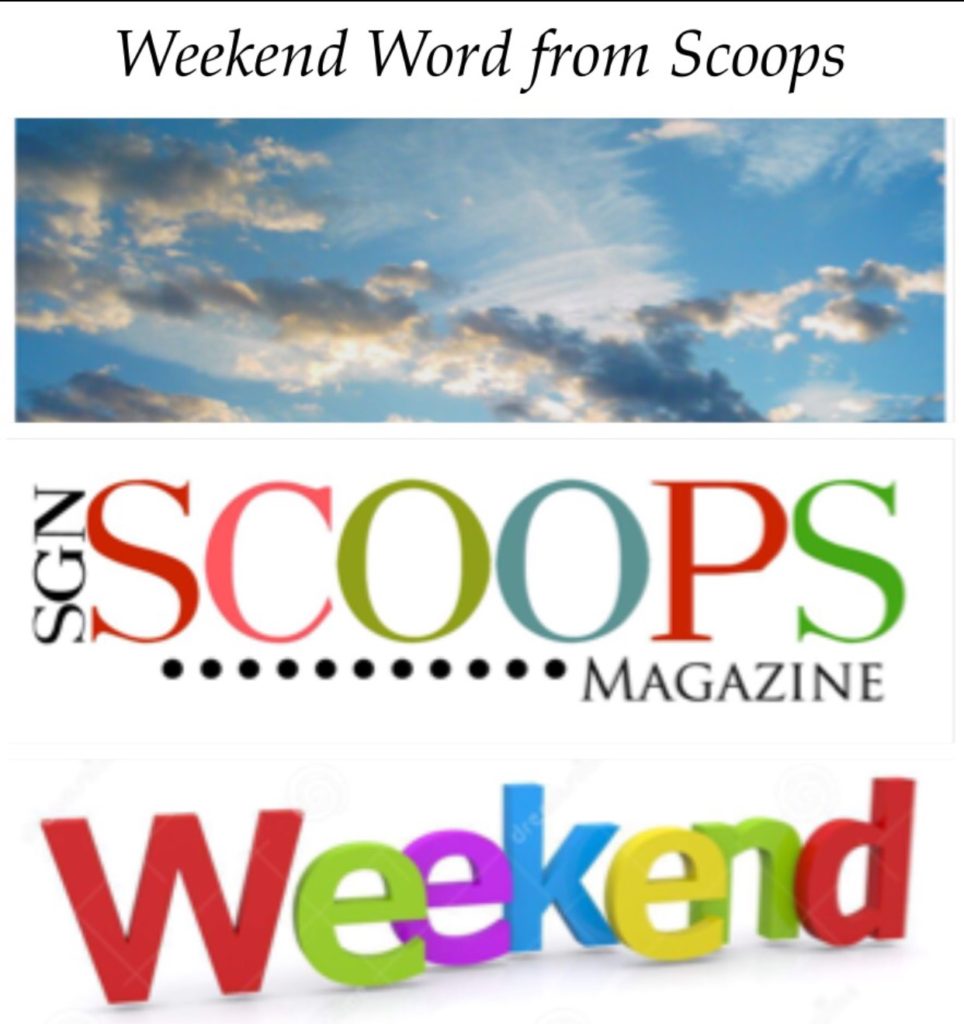 Psalms 40
1 I waited patiently for the Lord; and he inclined unto me, and heard my cry.
2 He brought me up also out of an horrible pit, out of the miry clay, and set my feet upon a rock, and established my goings.
3 And he hath put a new song in my mouth, even praise unto our God: many shall see it, and fear, and shall trust in the Lord
In a time of trouble in our great nation let us not forget that the Father's shoulders are broad enough for you to cry on, strong enough to absorb with compassion the desires of your soul and needs of your broken heart. But they are also able to lift you from the quicksand of old hurts and wounds, setting your "feet upon a rock" and putting "a new song" in your heart.
Tags:
Weekend word
Posted in
announcements
|
Comments Off

on Weekend Word from SGN Scoops…