Written by SGN Scoops Staff on January 12, 2013 – 2:31 pm -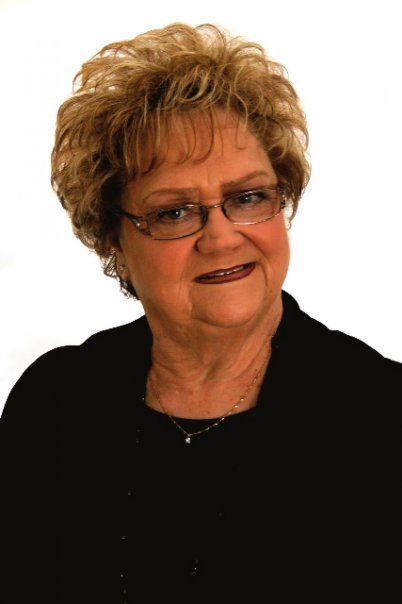 A Special Message from Lily Fern Weatherford
January 12, 2013
After much prayer and thought, my years of traveling with the Weatherfords will be coming to a close at the end of May, 2013. I turned 84 this past November, and have just celebrated my 70th year in full time ministry. i will be making our annual Florida tour that will last through February as well as one more tour to California and once that is completed at the end of May, I will be retiring. I have sold my home in Paoli, OK and will be moving to Broken Arrow, OK, where my daughter, Susan, and her husband Tim are living.
I feel that this is what the Lord wants for my life at this time. Over the past several years, there have been so many changes in the economy and and state of the country that it has become financially unfeasible for me to continue on in the same manner of ministry. Churches and pastors have changed their way of ministry and are not supporting the Southern Gospel groups as they have in the past. The Weatherfords have always depended on the church and free will love offerings to keep us going. Fuel prices are outrageous as well as other costs of keeping on the road. All these things have caused me to come to this decision.
Steve is planning to continue in some form. He will be making announcements as to the future of the Weatherfords. Steve has been faithful to the Weatherfords for 37 years and he wishes to carry on. I would appreciate it if you would support him as you have supported us with your love and prayers. You can contact him through his website at theweatherfords.com.
Please come out to these final dates and see us if you possible can. Our schedule is at www.lilyweatherford.com. I will be putting updates on my website, as well as on my Facebook page.
Sincerely,
Lily Fern Weatherford
Tags:
Faith
,
Lily Fern Weatherford
,
southern gospel concerts
,
Southern Gospel News
,
Steve Weatherford
,
West Coast Tour
Posted in
announcements
|
Comments Off

on A Special Message from Lily Fern Weatherford
Written by SGN Scoops Staff on November 16, 2011 – 1:24 pm -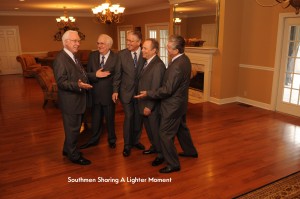 Going "Coast to Coast"
The Southmen Quartet has become one of gospel music's busiest groups. They spent much of September and October on West Coast tour that took them through Arkansas, Oklahoma, Texas, New Mexico, Arizona, and California. From there, it
was on to Dollywood, TN for eight shows, into the Carolinas, followed by dates into Virginia, then north to Indiana, Ohio, and Illinois. Added to that is work on an upcoming project, along with their new TV show "Singin' Down South."
The guys have had little time at home this year. The Southmen manager, Jim Hefner, stated that the Lord had truly blessed the group this year having seen miraculous things from souls saved to physical healings. This has been by far the busiest year ever and he also said that 2012 is shaping up to be even busier with plans underway for another
West Coast tour and their first-ever Canadian trip. Asked when the group would slow down – Hefner
answered "when it stops being fun." Keep track of the guys at www.thesouthmenquartet.com. For bookings, contact The Beckie Simmons Agency at
www.bsaworld.com. Phone 615-595-7500.
Tags:
Jim Hefner
,
Southern Gospel Music
,
Southern Gospel News
,
The Southmen Quartet
,
West Coast Tour
Posted in
announcements
,
Christian interest
|
Comments Off

on THE SOUTHMEN QUARTET
Written by SGN Scoops Staff on March 15, 2011 – 10:38 am -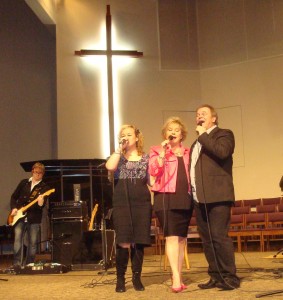 Concert Review By
Gary Hagen
It has been almost a week since Jeff and Sheri Easter and Ryan Seaton finished up their West Coast Tour.  Reflecting back on their concert in Vancouver Washington at the First Church of God it was a very unpredictable good time for everyone.  What I mean by that is that when the concert was first announced people wondered how such a performance would pan out with such two different singing styles.  As a volunteer ticket seller, when the sales at first were a little slow I myself began to question such a match up.  But when the time got closer and the sales picked up the Southern Gospel fans came through just like they always do here in the Portland OR/ Vancouver WA area.  Over 500 people were in attendance and they were wowed.
Ryan Seaton started off the first set and did a great job.  His smooth vocal performance was appreciated and I then knew why there were so many young faces in the crowd which normally doesn't happen at a SG concert.  Not everyone in the Southern Gospel fan base appreciates the crooning style but the majority on that night were there in part to see and hear Mr. Ryan Seaton along with Jeff and Sheri.  When Morgan, Jeff, Sheri and Madison Easter took the stage it lit up again.  One can never tire of their enthusiasm and talent with country and blue grass sounds galore.
Before the concert my wife, Kathie and myself were busy helping stuff flyers, getting the food for the Meet and Greet and setting up the tables.  When Brandon Beene brought Jeff and Sheri into the meet and greet room the VIP ticket holders erupted with applause and appreciation.  They relished the time the Easters took to tell some personal things about their lives and of course the witticisms that Jeff always comes up with.  What a guy and what a character.
After intermission Ryan again started off the second half.  He also took some time for personal revelations about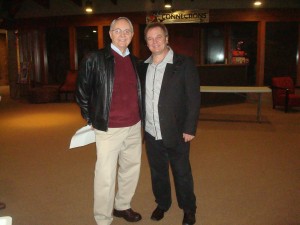 himself and his family.  One thing about gospel groups and relating to the audience like that it is very humbling.  It is nice for the ordinary person to see that just because someone has a God given talent, they are just as human as you and me.  They have the same problems and trials in life that we, that are not so talented, have.  Ryan then introduced Jeff and Sheri and again the stage was electrified!  Sheri told of her fight with cancer and then sang a song especially for someone in the audience that had lost a family member.  The song was "She Loved" one of my favorites, about how we want someone to look at us when we are gone.  Morgan and Madison were able to showcase their voice talents individually at different times in the concert and it shows that the talent sure runs in the family.  Ryan joined them for the last part of the concert and attempted to teach them a EHSS song and dance routine that was very entertaining.  All in all I think everyone, except for the little old lady with the hearing aid and walker that complained about the sound, enjoyed the concert immensely and hope that The Easters and Ryan Seaton will not be strangers to the West Coast for too long!
SouthernGospelPDX.com
Tags:
Jeff Easter
,
Portland
,
ryan seaton
,
sheri easter
,
Vancouver Washington
,
West Coast Tour
Posted in
christian entertainment
,
exclusive report
,
reviews
|
Comments Off

on Exclusive Concert Review Jeff and Sheri Easter and Ryan Seaton