Written by scoopsnews on June 28, 2016 – 12:37 pm -
From Weston ; (1 Hr ago)
Pray NOW
She's back in surgery!! Looking forward to seeing that beautiful smile in about 2 hours!! Thank you all for the prayers!! #PrayersForChristy
Tags:
Weston & Christy Hinson
Posted in
announcements
|
Comments Off

on Pray for Christy…..
Written by scoopsnews on June 15, 2016 – 6:45 pm -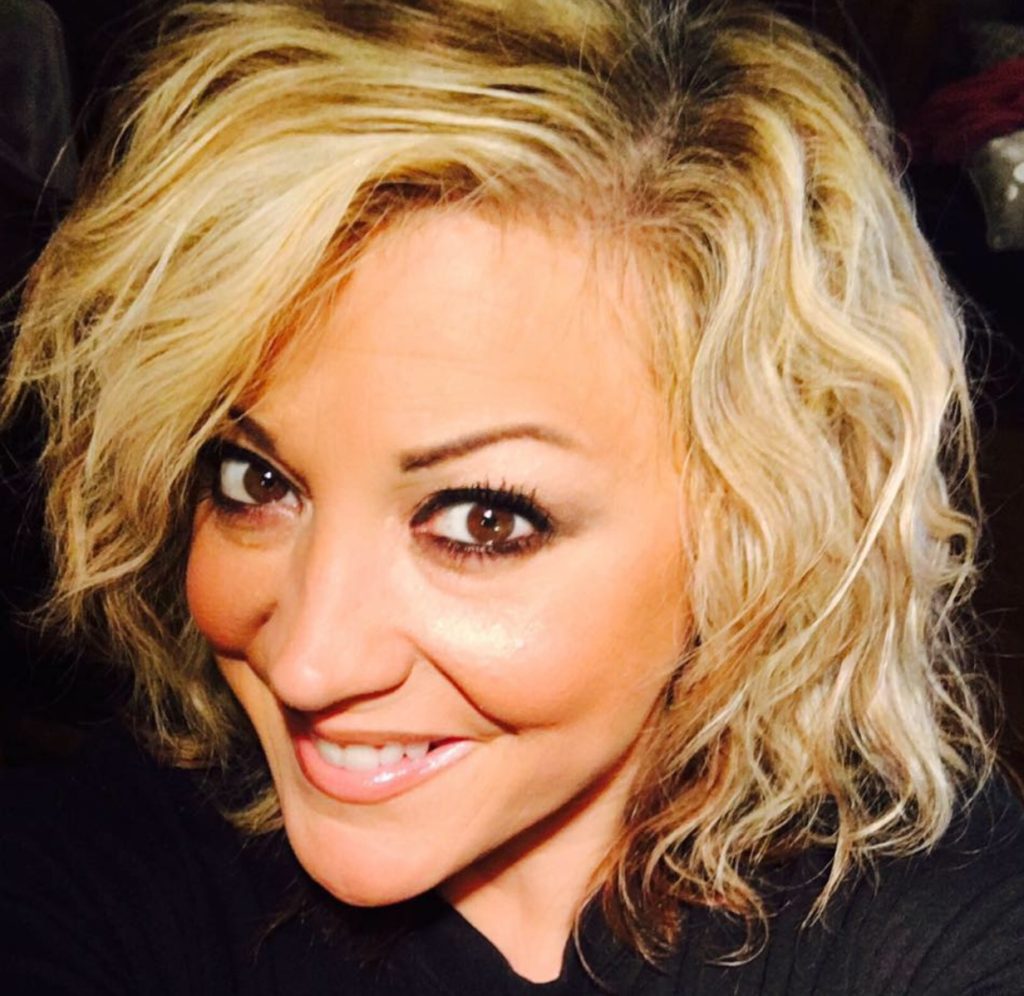 From Christy:
The surgeon was amazed at the fact that my family Doctor and Endocrinologist did what they did and found this Cancer. He said in a year we would have been looking at a whole different situation. (God Knew). Then my family dr refused the 1st referral to a surgeon and sends me to this wonderful 5 star rated surgeon. Who let me know that saving my voice is important to him. He did let me know of the risk. He sent me for a scan to see if the cancer had spread to the Lymph nodes and praise the Lord!! It came back only showing the mass on the Thyroid!! So June 28th say a special prayer over my surgeon and his hands as he will be removing my Thyroid. I do believe that God ordered my steps to these doctors for a reason! He cares for me and what the devil tries to take from me ..my God gives back but even better!! Love you all for you caring and your prayers!! #ontheothersideofthis
Tags:
Weston & Christy Hinson
Posted in
announcements
|
Comments Off

on Update on Christy ….. "God Knew!"
Written by SGN Scoops Staff on February 10, 2014 – 3:23 pm -
Hinsons singing Hinsons! After many years of speculation and countless requests, Weston & Christy Hinson are taking a night to tip their hat to the rich heritage that helped shaped who they are in the Gospel Music field today… The Original Hinsons! Come join them on March 7, 2014 for a night of familiar songs and hallelujah atmosphere with live music and Special Guest, Ronny Hinson, of the Original Hinsons, to share the stage in an event that is sure to be talked about for a long time after it is over…A Night To Remember THE HINSONS!!
March 7, 2014 – 7pm (Doors will open at 6pm) Kidd-Key Auditorium 400 Elm St, Sherman, TX 75090
Tickets are available through iTickets and are priced as follows: Advanced Purchased Tickets are $22 for Artist Circle and $17 for General Reserved Tickets purchased at the door are $25 for Artist Circle and $20 for General Reserved Children under 12 are $10 Children 2 and under are FREE To purchase tickets or get more information please call (214) 929-3592 Or BUY INSTANTLY ONLINE at http://www.itickets.com/events/321721.html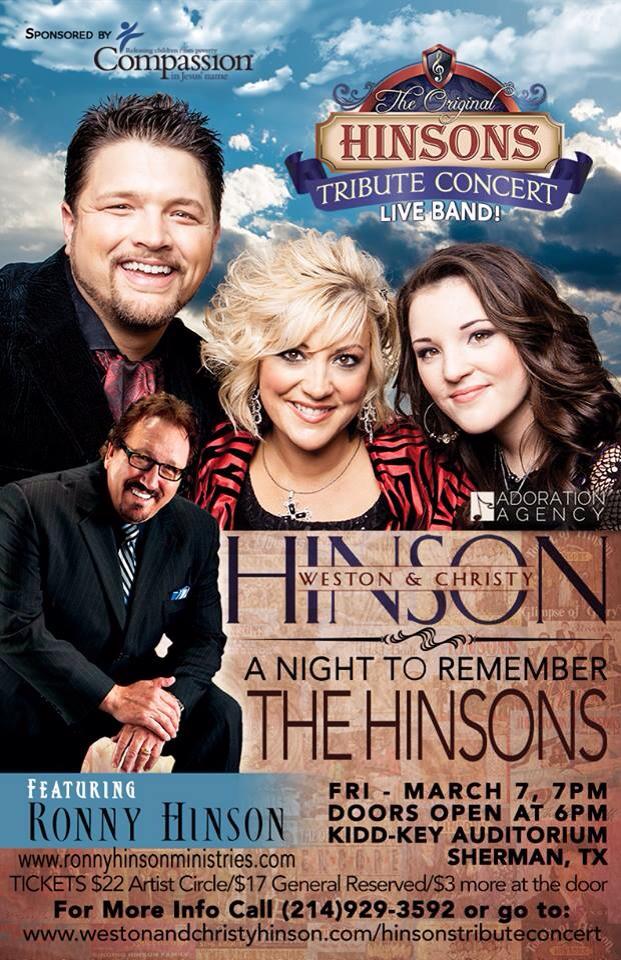 Tags:
hinsons
,
Ronnie Hinson
,
Southern Gospel Concert
,
Southern Gospel News
,
Weston & Christy Hinson
Posted in
announcements
|
Comments Off

on Hinsons Tribute Concert
Written by SGN Scoops on January 25, 2014 – 6:13 am -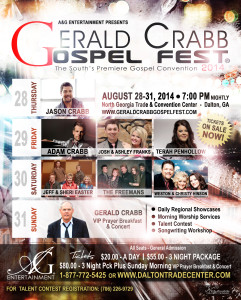 Ripley, Mississippi (Jan 20, 2014)  Gerald Crabb and Alisa Asbury of A&G Entertainment are pleased to announce plans are underway for Southern Gospel's newest Gospel Music event, Gerald Crabb's Gospel Fest. Gospel Music artists and fans will gather on Labor Day weekend 2014, August 28, 29, 30 and 31st, at the Dalton Trade and Convention Center in Dalton, Georgia to experience the best in Southern Gospel Music, Crabb-style! Gerald Crabb commented, "I am so excited about our first Gerald Crabb's Gospel Fest. It will feature morning worship services that will include special guests, artist seminars, a talent search, and lots of great Gospel music. It will be very similar to the Crabb Fest that was held in years past in Owensboro, Kentucky. You will not want to miss this event."
In the mid 90's, Crabb Fest was launched in a church parking and grew into a four-day major event with the Saturday night attendances reaching 5,000 or more. Several artists such as Joseph Habedank and Josh Franks were discovered at Crabb Fest talent contests and many memories were made as the best artists in all of Gospel Music performed.  "Everyone looked forward to Crabb Fest each year," Crabb stated. "It was a great time to fellowship with one another, and to be spiritually uplifted as well as a time to enjoy great music. I believe Southern Gospel music fans are going to love that we are bringing back the spirit of Crabb Fest to our new event."
During Gerald Crabb's Gospel Fest there will also be afternoon showcases featuring regional artists. "We were thrilled with the response from artists from many states wanting to participate in this year's event," Alisa Asbury remarked. "These groups are greatly talented and have thriving music ministries. It is a pleasure to help them expand their fan-base and give them opportunities to take their ministries to a new level. We're also excited to host a talent contest that will allow rising new artists a chance to expose their talents to industry professionals."
The evening performance line-up is stellar.  Thursday night's concert will feature the Grammy award winning artist, Jason Crabb. On Friday evening, the Gaither Vocal Band's new lead singer, Adam Crabb will perform along with Crabb Family vocalist, Terah Crabb Penhollow and the popular duo, Josh and Ashley Franks.  Saturday's schedule includes multi award winning Jeff and Sheri Easter, The Freemans and Weston and Christy Hinson. On Sunday morning, legendary Gerald Crabb will wrap up the weekend with a prayer breakfast and concert.
Ticket prices are $20 per day, $55 for a 3 day package, $80 for all 3 days plus Sunday morning's prayer breakfast and concert with Gerald Crabb. To purchase tickets, visit http://www.daltontradecenter.com/ or call 1-877-772-5425. For more information about Gerald Crabb's Gospel Fest, visit www.geraldcrabbgospelfest.com.
Tags:
A&G Entertainment
,
Adam Crabb
,
Alisa Asbury
,
Dalton Trade and Convention Center
,
Gaither Vocal Band
,
gerald crabb
,
Terah Crabb Penhollow
,
The Easters
,
the freemans
,
Weston & Christy Hinson
Posted in
announcements
|
Comments Off

on A&G Entertainment Announces Gerald Crabb's Gospel Fest
Written by SGN Scoops on August 24, 2012 – 10:43 am -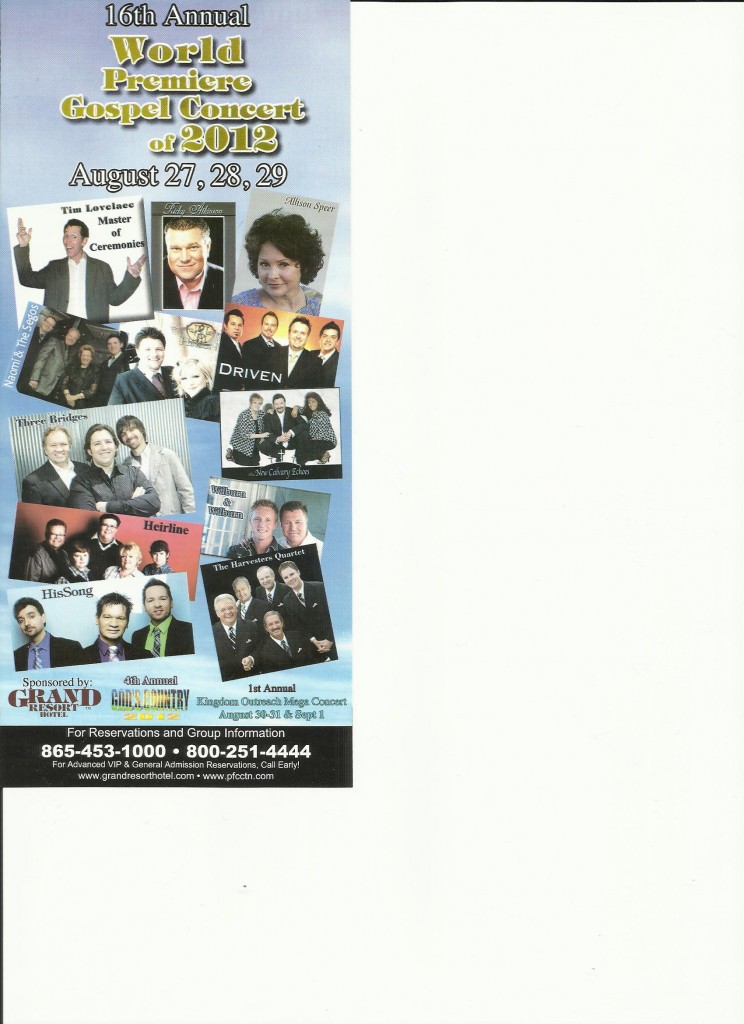 World Premiere Gospel Concert of 2012 will have over 100 great performers in southern gospel quartets, trios, duets and solos on stage at the Grand Resort Convention Center Monday, August 27th , Tuesday, August 28th  and Wednesday, August 29th.
Tim Lovelace will be the host for this awesome 3-day event.  Each day there will be two four-hour shows with the first one starting at 1:00 PM and ending at 5:00 PM.  The second show will begin at 7:00 PM and end around 11:00 PM. Six great shows in all will thrill any gospel music lover. Popular demand has made this the 16th year of this filmed-for-television event.
An added feature this year will be a chapel service each mornings at 10:00.  There will be praise and worship and sharing of the Word by various ministers.
There will be 100+ great gospel singers as well as special surprise guest appearances with other stars and comedy acts.  A few of the groups performing are Tim Lovelace, Chuck Wagon Gang, Harvesters Quartet, Allison Durham Speer, Heirline, HisSong, Wilburn and Wilburn, Naomi and The Segos, Beyond The Ashes, Diplomats, Driven Quartet, Three Bridges, Weston & Christy Hinson, Ann Downing and many, many more.
Don't miss this great time of gospel music, inspiration, fun and fellowship in the Smokies.
Call now to purchase your tickets and make reservations at 865-453-1000 or 1-800-251-4444.  Be sure to ask for Reservations.
Tags:
Allison Durahm Speer
,
Ann Downing
,
Beyond the Ashes
,
Church Wagon Gang
,
Diplomats
,
Faith Pearcey
,
Grand Resort Hotel
,
Harvesters Quartet
,
Southern Gospel News
,
Tim Lovelace
,
Weston & Christy Hinson
,
wilburn & wilburn
Posted in
announcements
,
gospel events
|
Comments Off

on Stage is Being Set For…..WORLD PREMIERE GOSPEL CONCERT 2012 in Pigeon Forge