Written by Staff on August 7, 2020 – 11:44 am -
Nashville, TN (August 7th, 2020) –Up-and-coming Gospel trio, Avenue, is proud to announce its newest members.
In a video release this morning, industry veteran Kasey Kemp welcomed two newcomers to the group. Mississippi native Kyle Smith will be stepping in as the trio's lead singer while accomplished vocalist Daniel Rivera takes the tenor position.
The new line up has already spent time in the studio together working on brand new music, including a new single that is expected to be at radio next month.
For more information about the new group members, as well as the future of Avenue, watch the video link below:
To find out more about Avenue, visit avenuemusic.net.
Did you know that you can receive the printed, full-color version of SGNScoops Magazine by subscription? Find out more 
HERE
.
Find SGNScoops Magazine On Facebook 
HERE.
You can download the latest edition of SGNScoops Magazine 
HERE.
Read the latest edition of SGNScoops Magazine online
HERE
.
Listen To Today's Gospel Music
HERE
Tags:
Avenue
,
Avenue Trio
,
gospel music
,
Kasey Kemp
,
Southern Gospel Music
Posted in
announcements
,
artists
|
Comments Off

on Avenue Welcomes New Members
Written by Staff on August 25, 2019 – 2:06 pm -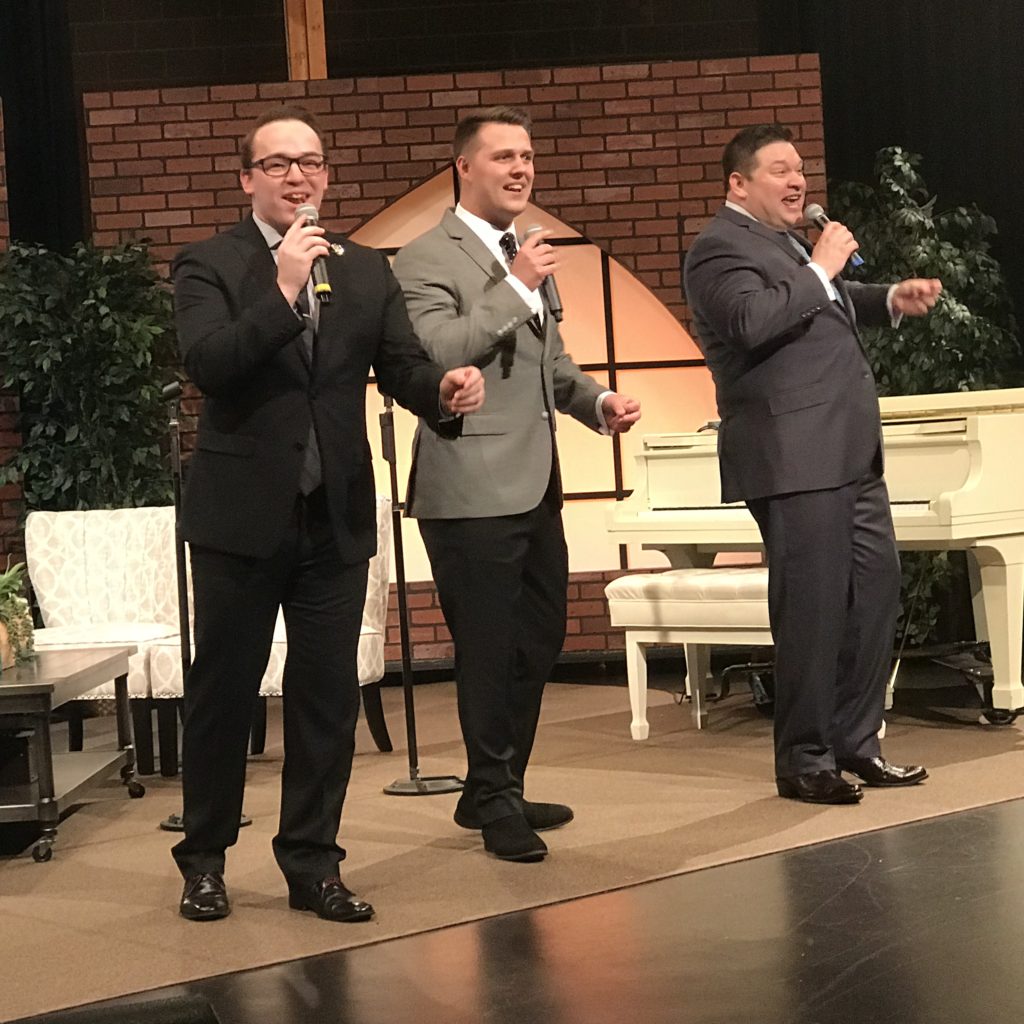 Recently, I had the opportunity to catch up with an up-and-coming trio in Atlanta when they were in town to tape Gospel Music USA at WATC TV. Avenue, based out of Nashville, Tenn., is climbing the radio charts across the country.
LP
Formed by Kasey Kemp, a name known to many in gospel music, Avenue records on the Song Garden Label. Their current project, "Songs For Every Mile," includes the radio singles, "One Of These Mornings" and "Reach the World," the latter which was originally recorded by the Bishops. 
"We sang ("Reach the World") 20 years, four times a week, (for) many years," says Mark Bishop. "(I'm) proud Avenue has put their touch on it and recorded it."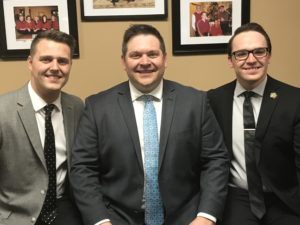 Kemp was a member of Naomi and The Segos for several years, as well as with the Toney Brothers, and Allegiance. In Avenue, he is joined by Jacob Lagesse who sings lead, and Corey Lackey, on tenor. 
Lagesse and Kemp sang together in Allegiance, and they met Jacob through their pastor, Steve Hurst. Steve Hurst and Gary Casto helped Kemp create Avenue. 

"We are passionate about the Gospel and music," says Kemp. "We believe music is a great avenue in which to share the gospel. Plus, those of us that are born again are on the avenue to heaven."  
Avenue recently made their first appearance in Akron, Ohio, opening their concert with the popular gospel song, "The Heavenly Choir." 
Kemp is pleasantly surprised at the reception Avenue has received. "We choose songs that everyone is familiar with and that we feel would work together well on stage," says Kemp. "Our first project was meant to be nothing more than a table project; meaning no radio releases. However, when it was complete, we felt it deserved more than (being) just a piece to sell on our table. We sent 'One Of Those Mornings' to radio and it topped out at number 23." The song was on national charts for two months.
Kasey is the oldest member of the group. He is married to Haley and they have two children, Avaline, age two, and Autry, four months old. Growing up, Kemp was influenced by the Cathedrals. He took private vocal, piano and trumpet lessons as a child, and also went to the Steve Hurst School of Music. Avenue's audiences are blessed when Kemp brings out his trumpet during their performance on stage. 
Lackey, 24, is a college student who is majoring in business management. Being from Wayne, Michigan, Lackey has been influenced musically by a trio with its roots also in Michigan, the Booth Brothers. The group's tenor has great support in his career from his parents, sisters and brother.
Lagesse, 22, just graduated from Trevecca University in Nashville, where he studied music business and performed in school musicals. He likes to spend his time off at the beach or at a baseball field. When asked about special memories at university, Lagesse says, "Not sure on embarrassing college moments, but one of my highlights was getting to perform on the Grand Ole Opry stage." His experiences have seasoned both his vocals and performance ability.
All three artists in this group are ready for this moment that God has brought them together to be his avenue to share his love to the world, including the audience of WATC TV. Avenue's "Gospel Music USA" episode is scheduled to air July 27.  
WATC TV has taped over 200 episodes of "Gospel Music USA" with more than 80 artists and airs on numerous stations across the nation. It airs in the Atlanta area on Saturday afternoons at 2:30 p.m.(EST)., and is also available on the internet at www.watc.tv.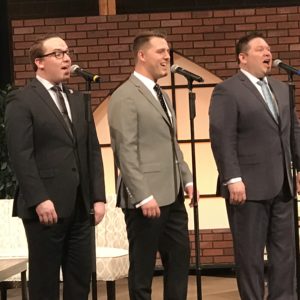 This powerful trio's strong vocals are sure to put them on the charts often and to grace stages across the country. Find out more about Avenue at avenuetrio.com 
By Robert York
First published by SGNScoops Magazine in June 2019
For more Gospel music features read the latest SGNScoops Magazine HERE.
Download SGNScoops Magazine In PDF
Here
Find SGNScoops Magazine On Facebook
Here
Listen To Todays Gospel Music
Here
Tags:
Avenue
,
Christian Music
,
Corey Lackey
,
gospel music
,
Jacob Lagesse
,
Kasey Kemp
,
Southern Gospel Music
,
Trio
Posted in
artists
,
sgn scoops magazine
|
Comments Off

on Avenue Trio is singing songs along every mile
Written by Staff on June 28, 2019 – 4:08 pm -
Editor's Last Word By Lorraine Walker for June 2019
Here is the June edition of SGNScoops Magazine and we are halfway through another year. It's hard to believe we are almost finished the second decade of the second millennium. I'm relieved to see sunshine and blue skies today, as we've been deluged with rainstorms ever since it stopped snowing, or so it seems. I hope that today we've brought some light into your day through SGNScoops and the artists we have introduced in its pages. 
The New Speer Family graced our cover and John Herndon had the pleasure of speaking to the members of this fantastic group which is rejuvenating the celebrated sounds of the original Speer Family. I also had the pleasure of speaking to various members through email even though I've never personally met them. Allison Durham Speer communicates like few are able to, regardless of the type of music. If you ever had any doubt that faith in God can move mountains, one look at the smile on her face will assure you of her belief in a God who does the impossible. 
John Schneider is also an artist we have never featured before, but Jimmy Reno has introduced a man who has struggled with many losses, yet retained his faith in God. Schneider's anticipated new release, "Recycled Grace," is bound to be heartfelt and eloquent. 
One artist that readers will already be familiar with is 11th Hour since member Jaquita Lindsey was on our writing team for some time. The group itself has been featured in the past and now Rob Patz has asked them to join the Creekside Gospel Music Convention family of artists. This trio is loved by so many and their songs continue to light up the charts months after release. 
We appreciate the time all of these artists and writers took to tell the story of faith through music, along with new trio Avenue, as well as pianist virtuoso Jeff Stice, who both spoke with our esteemed writer, Robert York. Les Butler is also highly valued here, as he brings a touch of Bluegrass to our pages, through the story of Randy Spencer of the King James Boys. What a great issue, along with Jennifer Campbell showing us the greatness of our Heavenly Father in this month where we celebrate Father's Day. Randall Hamm, Vonda Easley, and Rob Patz also lent their talent and pens, and we salute our whole staff, including our creative and design team.
I don't often get a chance to visit with our SGNScoops team, but recently I went with my sister Joan, our proofreader and all-around error-catcher, to enjoy an afternoon with Vonda and Jack Armstrong. We had a good time with this fun couple and we appreciated that they would carve out a few hours in their too-short Niagara trip to visit with us. Vonda and I have been acquainted for several years but don't really get to chat very often. We met Jack for the first time and I was reminded that regardless of accent, a sense of humor is something that connects people. A like spirit is also a positive connection and we all enjoyed the time of discussion and fun.
Strengthening relationships is something we all need to do, to either have an opportunity to show the love of Jesus to an unbeliever, or to build our own faith circle with people we trust. If you are an introvert like me, you find it difficult to step beyond basic greetings with your neighbors or the cashier you see regularly at your favorite store. Perhaps you are an extrovert who loves to chat but finds the deeper realities harder to discuss. It's a learning curve for all of us to gain the trust of those around us enough to have the right to discuss our faith. I'm still learning and beyond talking about the random raccoon that appears to ravage our roofs, I haven't built that many friendships on my street. But I'm trying.
I'm so glad we have the encouragement of gospel music, whatever style we happen to listen to, on any given day, to lift our spirits and strengthen us with the message of Jesus to face that day, whether we are asked to become uncomfortable or just watch for raccoons. Jesus loves us. The world needs to be reminded of that. 
Thank you, as always, for spending your time with us at SGNScoops. We appreciate our readers and we know that we wouldn't be here without you. If you are struggling and need encouragement, or need to hear more about the love of Jesus, please write to me or anyone on our staff. We read every note and email. Please write to me at lorraine@sgnscoops.com
By Lorraine Walker, Editor, SGNScoops Magazine
First published in the SGNScoops Magazine in June 2019.
Read the June SGNScoops Magazine Online HERE
Download June SGNScoops Magazine On PDF
HERE
Listen To Todays Gospel Music
HERE
Tags:
11th Hour
,
Avenue
,
Bluegrass Gospel
,
Christian Country Music
,
gospel music
,
Jeff Stice
,
John Schneider
,
Les Butler
,
Lorraine Walker
,
New Speer Family
,
SGNScoops Magazine
,
Southern Gospel Music
Posted in
sgn scoops magazine
,
special feature
|
Comments Off

on Lorraine Walker: June issue of SGNScoops and building relationships
Written by Staff on June 21, 2019 – 7:47 am -
Kasey Kemp of Avenue Trio recently announced changes to the group through a video on the group's Facebook Page.
Avenue Trio is losing Corey Lakey from the singing lineup. June 9, 2019, was the last engagement for Lackey, who has been with the group from the beginning. The tenor confirmed that he is stepping back from singing but will still be very much involved with gospel music, as well as continuing his involvement with the Steve Hurst School of Music.
Kemp has confirmed that Riley Harrison Clark will be temporarily filling in for the trio, as they continue to audition vocalists for this position.
For more information on this powerful gospel music trio, click HERE.
Avenue released their first album, "Songs For Every Mile," one year ago. Spokesman Kasey Kemp is an ordained minister and has been involved with Southern Gospel Music for 17 years. The trio records with Song Garden Music and is booked by the Dominion Agency. Avenue can also be found on Twitter, Instagram and other media outlets.
Read the May SGNScoops Magazine Online HERE
Download SGNScoops Magazine On PDF
HERE
Listen To Todays Gospel Music
HERE
Tags:
Avenue
,
Avenue Trio
,
Corey Lackey
,
gospel music
,
Jacob Lagesse
,
Kasey Kemp
,
Southern Gospel Music
Posted in
announcements
,
artists
|
Comments Off

on Avenue Trio announces changes
Written by Staff on May 24, 2019 – 7:12 am -
Jantina de Haan Baksten recently went Beyond the Song to talk to Kasey Kemp of Avenue gospel trio about the song, "Reach the World." Avenue is a male trio with members Kasey Kemp, Corey Lackey, and Jacob Lagesse, making their home in Nashville, Tennessee. Their latest album with Song Garden Music Group is called, "Songs for Every Mile," which includes the track "Reach the World."
What does the song mean to you?
Kasey Kemp tells us, "Traveling and singing in a gospel music group is lots of fun!  You get to sing the music you love, with the people that you love, all while traveling to places and meeting people you might not get to otherwise. However, as much fun as it is, there has to be more to it than enjoying the road life. After a while, the miles get long, your heart yearns for loved ones that are at home and your body gets extremely exhausted from your day to day routine. It's in these moments that you must remember why you do what you do. In 1 Samuel 17:29, David says, "Is there not a cause?" That question is the answer to what the song, 'Reach The World,' means to me and why we as Avenue recorded it.

"Our group started out of a strong desire to "Reach The World" with the gospel of Jesus Christ, a desire that continues today," Kemp asserts.
What is the message of the song?
"'Reach The World,' reminds us that all Christians are given the great  ommission in Matthew 28:16-20. We are reminded that while we are only one voice, that voice reaches another and another and so on. Before long there is a mighty chorus singing about the life changing power of Jesus Christ," says Kemp.
He concludes, "'Reach The World' is my personal anthem and the theme our group is built on. Christians, let's remember that we have an important job to do.  Each voice is another chance to reach the world."
We hope you enjoy this song by Avenue Trio. Find out more about Avenue HERE.
Thanks again to Jantina for another look Beyond the Song.
Download the latest edition of SGNScoops Magazine
HERE
Tags:
Avenue
,
Avenue Trio
,
gospel music
,
Kasey Kemp
,
Reach the World
,
Southern Gospel Music
Posted in
announcements
,
artists
|
Comments Off

on Beyond the Song: Avenue sings "Reach the World"
Written by Staff on January 21, 2019 – 4:25 pm -
Hendersonville, TN (January 20, 2019) – The world of Southern Gospel has grown with the birth of Autry Clark Kemp.  Autry was born Friday, January 18, 2019, to proud parents Kasey Kemp of Avenue and Haley Kemp.  Big sister, Avaline is also proud of her baby brother.
Shortly following the birth, Autry began showing signs of respiratory distress.  As a precautionary measure, the baby was admitted to the neonatal intensive care unit at a Nashville area hospital.  Reports indicate significant improvement as Autry is breathing with little assistance.  Autry was delivered at 37 weeks to avoid diabetes-related complications.  Haley Kemp, a Type 2 diabetic, is recovering well following the Caesarian section delivery.
"We know that God has Autry in his hands.  Your friendship and love encourage us more than you will ever know," commented Kasey Kemp.
Avenue and the Kemp family ask for continued prayers on their behalf.
The Southern gospel group Avenue is comprised of Kasey Kemp, who sings baritone; the lead part is sung by Jacob Lagesse, while the tenor part is carried by Corey Lackey.  Avenue expects to continue their ministry dates as scheduled.
Read the latest issue of the SGNScoops Magazine HERE.
Download SGNScoops Magazine PDF 
Here
Find SGNScoops Magazine On Facebook 
Here
Listen To Today's Gospel Music 
Here
Tags:
Avenue
,
gospel music
,
Gospel Trio
,
Kasey Kemp
Posted in
announcements
,
artists
|
Comments Off

on Gospel trio Avenue welcomes new baby, requests Prayer