Written by scoopsnews on September 29, 2020 – 7:47 pm -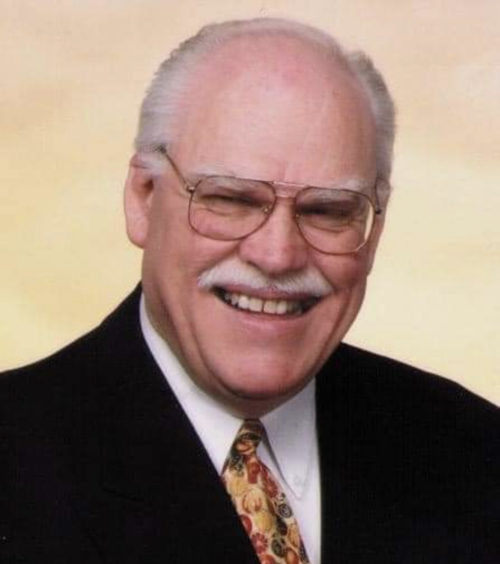 From the Blackwood Brothers Quartet :
Big John Hall has passed away. Please keep his family in prayer.
We at SGN Scoops are saddened to hear another legend has passed.
Please pray for the family.
Tags:
Big John Hall
Posted in
announcements
|
Comments Off

on Please Pray For The Hall Family
Written by SGN Scoops Staff on March 20, 2020 – 6:37 am -
From Facebook
Please Keep John Hall in your prayers he had open heart surgery for me. This past Tuesday morning. Good thing I'm tough. Ha,,,, using a long vein out of my leg an one near the heart, the head surgeon will construct the three main arteries supplying the heart. God has spread that knowledge to the surgeons willing to ask for it.
Prayers please,,,for no mistakes.
Here we are,,, still enjoying life: 75.
Also Keep Praying For Sandi Patty Go REHERE
Tags:
Big John Hall
Posted in
announcements
|
Comments Off

on Pray For John Hall
Written by Staff on May 4, 2016 – 6:30 pm -
Anyone who has been associated with Southern Gospel Music for any length of time will know the name Big John Hall.   This great baritone/bass singer has been around the Gospel music circuit since the early 1960's and probably before that.
In the early days, he was probably best known for his great bass singing with the Stamps Quartet.  This was before J.D. Sumner bought the group, and changed it to J.D. Sumner and the Stamps Quartet.  He also sang bass for the Blackwood Brothers from 1965-1968.   After leaving the Blackwood Brothers, John Hall began a solo career and has been featured on many of the Gaither videos.
One of my favorite moments on one of the Gaither videos was watching the faces of some of the younger bass singers, when John Hall was asked to come and sing "How Big Is God."   You could see them looking with admiration and awe.
John Hall has recorded many great records.   Included in the list are: Here Come The McDuff Brothers with Big John Hall; I Don't Know Why; If God is Dead; I am Loved; Life In Jesus Name; Light of the World; The Lord Liveth; Portrait In Sound; Reason I Praise; Rise And Be Healed; and many more.
There are many great bass singers singing today. My own personal opinion is that many bass singers can really hit those low notes, but they are not great soloists. George Younce was an exception and so is John Hall. Big John can take a song and give it his own personal touch, and you can understand every word.
My late father was not too knowledgeable on Southern Gospel Music but every once in a while he would ask me, "What's that Big John Hall doing these days?"  He loved John Hall's singing.
I was asked to run the audio for Big John at a concert a few years back at my home church in Peterborough and I was struck by his professionalism. I had set up a microphone for him, an SM57. On the pulpit was another mic, I can't remember the brand, but John asked me if he could use that microphone instead. After hearing the sound that came out of that mic during practice, well, let's just say, the man knew what he was doing.
I had the privilege of talking with John Hall recently and he told me that he had been in London, Ontario, with the new Blackwood Brothers with Jimmy Blackwood. John had been asked to attend as well as Bill Shaw and to join in with the group! John said, "It sounded as good as the old Blackwood Brothers."  Wow! I wish I had been there!
What is Big John Hall doing these days?   He is still very busy, traveling and singing in many churches.
John Hall has a heart for ministry, and was quoted by Jerrell Millar, editor of the Remnant magazine, as saying,  "he has a voice sent from Heaven for days such as this"(1) (referring to a revival meeting, that John Hall was asked to sing at). In 1989 he was asked to come to Dothan, Alabama, to participate with Dudley Hall in a series of meetings at the Auditorium there. What happened in that meeting had a long-lasting effect on the body of Christ in the Southeast Corner of Alabama. John was asked to come and be the worship leader.
John Hall then led the worship in what was supposed to be just a few meetings organized by the local churches in that southern city. It was as predictable as afternoon thunderstorms in Alabama but the lightening was supplied by God. Night after night Big John took the mic and led people into the realm of the spirit where they had never been. It was revival as they had never seen it before.  That was in 1989 and the flow and move of God has only increased.
You can hear John's deep baritone voice as it sings in a majestic rhythm but what is coming through that voice is not just a normal deep voice. Big John will tell you it takes more than talent to sing before thousands of hungry people each week. The responsibility of change and the mantle of freedom comes along with the voice these days. (2)
Big John Hall considers his voice secondary to his ministry. Sharing Christ and leading a congregation in worship is first in his life. John and his wife Judy attend Calvary Cathedral, in Fort Worth Texas.
I'm not a bass singer. I've tried. I'm a baritone. But if I were a bass, I would want my voice to sound like Big John Hall.
By Philip Foster. Find out more about Phil here.
First published 2012/09/17 on www.sgmradio.com
Tags:
Big John Hall
,
Blackwood Brothers
,
Stamps Quartet
Posted in
artists
,
SGM Radio
|
Comments Off

on Big John Hall: A Voice Sent From Heaven
Written by Staff on February 18, 2014 – 4:47 pm -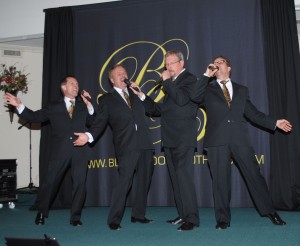 The Blackwood Brothers Quartet
Concert Review by Vivian Belknap
Thursday, February 13, 2014
Grand Prairie, Texas
How many quartets can say they are celebrating 80 years of classic southern gospel music?  In 2014, Billy Blackwood continues the legacy started in 1934 by his Dad, James Blackwood.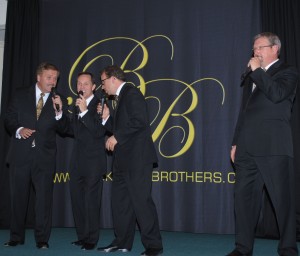 I had the great privilege to attend a concert featuring Billy Blackwood and The Blackwood Brothers Quartet, February 13, 2014, hosted by Pastor Bill Webb and the Bible Believer's Assembly of God Church in Grand Prairie, Texas. Those in attendance were treated with what Pastor Webb told Billy earlier in the afternoon would be "a night like never before."
The Quartet consists of lead singer, Billy Blackwood; Wayne Little, tenor; Butch Owens, bass and Michael Helwig, baritone.
The "night like never before" began with the classic feel of "The Joy of Knowing Jesus." The presence of the Holy Spirit was sweetly strong as the concert continued with songs like "The Old Country Church," "It Is No Secret" and "The Lighthouse."  Billy introduced a new song he wrote, "That's What Heaven Will Be."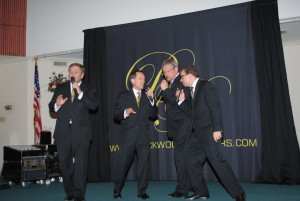 As though it couldn't get any better, Billy shared his heart. He proclaimed the goodness and grace of our Father through Jesus. He said, "Gospel music is not defined by the music, but by the message. The message makes it gospel music."  Then we heard the majestic orchestration of "Declaration of Dependence," from their album "Sweet Songs About Heaven." The song strongly declares our dependence on Jesus.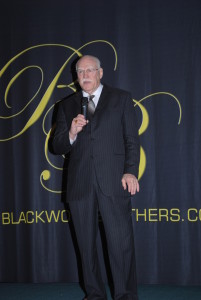 Big John Hall was in the audience and Billy asked him to come to the stage. As John walked on stage, with tears in his eyes, he said, "Your dad never missed a note; he never missed a beat; never, ever." Such a sweet time we got to see between these two men. Then we were blessed to hear John sing, "How Big is God."
The evening ended with the quartet singing a medley of audience requested songs. Then Billy closed in prayer; the presence of our Lord was amazing as Billy said, "I don't want to leave Your presence." "There's a Sweet Spirit in This Place," was the final song.  Was it a night like never before? YES!
Billy Blackwood not only resembles his dad physically, but like James Blackwood, he is a gentleman on the stage, behind the product table and in the parking lot.
When you have the opportunity to see them in concert, you will leave blessed and renewed in spirit.
For The Blackwood Brothers tour schedule and other information, click on to http://www.blackwoodbrothers.com/
Tags:
Big John Hall
,
Billy Blackwood
,
Blackwood Brothers Quartet
,
Butch Owens
,
Christian Music
,
February 2014
,
gospel music
,
Michael Helwig
,
southern gospel
,
Wayne Little
Posted in
announcements
,
gospel events
,
reviews
|
Comments Off

on The Blackwood Brothers Quartet: A Night Like Never Before