Written by Staff on January 18, 2020 – 5:16 pm -
Well known Gospel music teacher and supporter, Charles Novell, passed away early Friday morning, January 17, 2020, leaving behind his wife, son, and daughter.
On January 17, 2020,  Charles Novell's son Rob posted the following on Facebook: My Dad completed his race around 12:30am this morning. Earlier in the evening we were gathered around his bed singing songs of praise and worship. As we sang "What A Day That Will Be" I celebrated the words in the second verse… "no more sickness, no more pain". My Dad received his complete healing this morning. We've talked and shared stories about Dad this week. He was a man that encouraged, motivated, invested in and gave his all to everyone he ever met. He was my Dad, my hero, my teacher, my example, and my biggest supporter. He taught me how to be a husband, a father, a musician and most importantly a Christian by his Godly example. Please keep my Mom, my Sister and our family in your prayers over the next several days.
I will be sharing details over the next several days but we will have a visitation in Georgia and a service in Ohio next week. As far as today…. for my Dad…. this is going to be his "Best Day Yet". Let's head to class!!
Bill Dykes, a close friend of Charles, wrote the following biography of this beloved man:
Dr. Charles Novell is a graduate of the world famous Cincinnati Conservatory of Music and
holds a Doctorate of Music degree. He has been involved in gospel music as a songwriter, arranger, recording producer, and performing for several decades. He has produced over 2,500 albums in his career and has arranged and been a vocal coach for numerous groups, soloists and choir over the years. Charles began teaching in the Stamps Conservatory of Music in the early 60's. He soon became the Dean of the school. In 1978, JD Sumner handed the school over to Charles and he ran the school with Cecil Blackwood under the name the National School of Christian Music. In 1986, Charles changed the name of the school to Christian Music Conference. In 2005, the school went through one more name change to the Charles Novell School of Music which still runs today under the direction of his son, Rob Novell. I will miss my dear friend but know he is well now and happy with his Savior Jesus Christ at home in Heaven!! — Bill Dykes
Please join SGNScoops in praying for peace and comfort for the family and friends of Charles Novell.
Tags:
Bill Dykes
,
Charles Novell
,
gospel music
Posted in
announcements
,
artists
|
Comments Off

on Charles Novell completes his race
Written by Staff on March 25, 2019 – 11:09 am -
Praise Fest Chambersburg will be held at the Open Door Church, Chambersburg, Pennsylvania, on April 27, 2019, at 7:00 p.m. Tickets are free.
Featured guests include Tank Tackett, Brave and Mighty, Crystal River, the Gabriels, Bill Rappe, Tony Waters, Tommy Boyd, Bill Dykes, and Rod Horner and Friends.
The Open Door Church is located at 600 Miller Street, Chambersburg, Penn.
For more information, call 717-264-3266.
For more Gospel Music news, read the latest SGNScoops Magazine HERE
Download The PDF Of SGNScoops Magazine
HERE
Find SGNScoops Magazine On Facebook
HERE
Listen To The Best In Today's Gospel Music
HERE
Tags:
Bill Dykes
,
Bill Rappe
,
Brave and Mighty
,
Crystal River
,
gospel music
,
Praise Fest
,
Rod Horner
,
Tank Tackett
,
the Gabriels
,
Tommy Boyd
,
Tony Waters
,
worship
Posted in
announcements
,
artists
|
Comments Off

on Praise Fest in Chambersburg, Pennsylvania, to feature Tank Tackett, Rod Horner, Crystal River
Written by Staff on October 15, 2015 – 7:37 am -
Pigeon Forge TN (October 13, 2015) – The 2015 Creekside Gospel Music Convention will host a very special evening on Monday, November 2nd. Lou Wills Hildreth will honor Dr. Jerry Goff and the Singing Goffs during the four-day event at Pigeon Forge TN, November 2nd through 5th, 2015.
Jerry and the Singing Goffs were well known for their great singing, songs that still are being sung today, and the communication excellence of Dr. Jerry Goff. One of best-known lineups was Jerry Goff, Tank Tackett and Bill Dykes. Other members included Barry Hess, Gary Buckles, Art Ross, Wally Goff, Bobby Howard, Gary Valentine, Dave Thomas, David Harvell, Dave Rowland, David Hoskins and Gene Jones, among others.They had several hits including "I'll See You In The Rapture," "Please Search The Book Again" and "I Am Blessed." The most memorable part of their concerts was when Dr. Goff brought out his trumpet and thrilled the audience with his playing. Now it's time to show our appreciation for his work in Southern Gospel music.
"Wow!" says Dr. Jerry Goff. "I was truly excited to learn about a night to honor The Singing Goffs at the Creekside Gospel Convention, but it's also humbling to receive such honor from your peers. They are the ones who know you best."
Lou Hildreth, part of the legendary Wills Family, says, "It gives me great pleasure to honor my longtime friends, Jerry and the Singing Goffs, on Monday night,  November 2nd at Creekside Gospel Music Convention in Pigeon Forge. Dr. Jerry Goff is known and respected by the Gospel music industry and fans as a great singer, an MC who set the banner high, a preacher of the gospel, a television legend and pioneer, a trumpet player who left us overwhelmed with the beauty of the
moment, a songwriter who expressed our deepest concerns, and a Godly man who consistently presented top talent as Jerry and The Goffs. We appreciate Creekside GMC for the opportunity to present this honor!"
"I am excited that Jerry Goff and The Singing Goffs are being honored during the Creekside Gospel Music Convention," says Patricia Mathis, Vice President of WATC in Atlanta, GA. "I saw first hand how much the audience loved and were blessed by the music of Jerry and the group. I still remember the excitement and enjoyment of the audience when Jerry made his entrance from the back of the room to the stage by blowing the trumpet and shaking hands with those in attendance. I hope everyone will attend this wonderful celebration."
Rob Patz, Publisher of SGN Scoops says, "We are so happy to host the Lou Hildreth Honors and to welcome Dr. Jerry Goff to Creekside. He and his group made inroads in Gospel music and a night to honor them is long overdue. We hope all of his friends, fans and family are able to travel to Pigeon Forge for this event."
Creekside Gospel Music Convention begins November 2nd at the Smoky Mountain Convention Center. Daily showcases, jam sessions, nightly concerts and Midnight Prayer are all scheduled from Monday until Thursday. The 2015 Diamond Awards are held on Tuesday, November 3rd. Creekside tickets are free but must be reserved. For more information on tickets and lodging visit www.creeksidegospelmusicconvention.com or call Rob Patz at 360.933.0741. Free tickets are available at:https://www.eventbrite.com/e/creekside-gospel-music-convention-2015-in-pigeon-forge-tn-tickets-18436621431
Tags:
2015 Creekside Gospel Music Convention
,
2015 Diamond Awards
,
Bill Dykes
,
Dr. Jerry Goff
,
Jerry and the Singing Goffs
,
Lou Wills Hildreth
,
Patricia Mathis
,
Tank Tackett
Posted in
announcements
,
artists
|
Comments Off

on Jerry and the Singing Goffs to be honored at Creekside 2015
Written by SGN Scoops Staff on January 21, 2013 – 3:53 pm -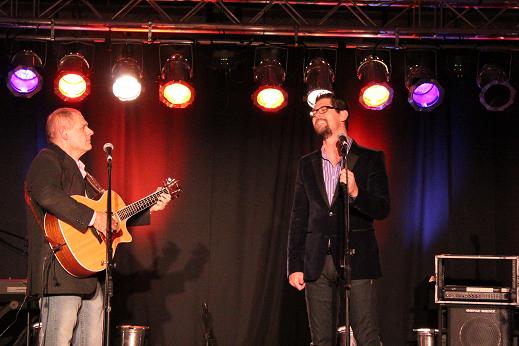 Atlanta, GA.(January 21, 2013) – WATC Television out of Atlanta, Georgia, will be airing the SGNScoops' 2012 Diamond Awards Celebration held at Creekside Gospel Music Convention on October 30, 2012. Coastal Media Group hosted the event to honor Gospel music's finest artists as chosen by the readers of SGNScoops digital magazine. The gala event was emceed by Christy Sutherland and Daniel Ball and included performances by Sheri Easter, Gerald Crabb, Jason Crabb, Crosby Lane and Watts, Rowsey and Bean, among others. Many of these special moments will be shown on this TV Special to be aired Saturday, January 26th at 1:00pm EST.
Patricia Mathis and her crew of WATC TV, Atlanta's TV 57, recorded the 2012 Diamond Awards. Mathis is excited about airing the TV Special and said, "You will not want to miss this wonderful program featuring great gospel music artists, presenters, award winners and interviews of the artists by Bill Dykes. If you are out of the Atlanta, Georgia viewing area, you can view it online at www.watc.tv."
Rob Patz, CEO of Coastal Media Group and publisher of SGNScoops commented, "The Diamond Awards are always a special time of honoring the Gospel artists that fill our world with the music we love. We are glad to be able to share the 2012 ceremony with fans across the nation and the world by television and internet. We are grateful to Patricia and WATC for their professionalism, experience and dedication in airing quality Gospel music programs. We had a great time at the Awards and we hope everyone will tune in and watch!"
About WATC TV: WATC TV provides Atlanta with a mix of family, Christian and educational programming. It is known to viewers as the home of Atlanta Live and is seen over the air throughout the metro Atlanta market and also in over one million cable and satellite homes. WATC is the home of many original series and has been honored with numerous Angel and Telly Awards, as well as receiving it first EMMY in 2010. The station's programming can be seen around the world via video streaming located on the WATC website at http://www.watc.tv/
About Creekside Gospel Music Convention: Creekside Gospel Music Convention held it's inaugural event at the Smoky Mountain Convention Center, Pigeon Forge, Tennessee from October 29 through 31, 2012. The CGMC is presented by SGN Scoops and Coastal Media Group at Pigeon Forge and is the home of The Diamond Awards and other special events. Next year's dates are October 28, 29 and 30th, 2013. For more information on Creekside Gospel Music Convention visit http://www.creeksidegospelmusicconvention.com/
About SGNScoops: SGNScoops Digital is a fully-downloadable monthly magazine that exists to promote the gospel by unveiling what is intriguing and real about Southern Gospel and Christian Country music. SGNScoops offers music news and views as well as concert and book reviews, inspirational articles and features reaching beyond our gospel music world. SGNScoops is the home of the Diamond Awards, a fan-based annual awards program recognizing the best in Southern Gospel and Christian Country music. SGN Scoops is always digital, always free. For more information: https://www.sgnscoops.com/
Tags:
Atlanta
,
Atlanta's TV 57
,
Bill Dykes
,
christy sutherland
,
Creekside Gospel Music Convention
,
Crosby Lane
,
Daniel Ball
,
Diamond Award
,
gerald crabb
,
Jason Crabb
,
Pigeon Forge
,
rob patz
,
Smoky Mountain Convention Center
,
WATC
Posted in
announcements
,
video
|
Comments Off

on DIAMOND AWARDS TO BE AIRED JANUARY 26, 2013 ON WATC
Written by SGN Scoops on October 25, 2012 – 5:45 pm -
Franklin, TN-10/25/2012: Pathway Records is pleased to announce the new Pathway Recording and the first single release from
Dennise Dittman, "Power Of His Love" produced by Bill Dykes, which will be released to 750 radio stations countrywide.
Bill Traylor, President of Pathway Records says, "Dennise's voice is extraordinary! In all my years of producing gospel music, I can only recall one time hearing such talent, and that was Sandy Patti.  You will hear many great things from Dennise in the future".
The new single was shipped to radio stations last month on Mansion Radio Hits Volume 6. Dennise is very excited to join in on this journey with her friends at Pathway Entertainment and Pathway Records.  Dennise comments, "It's truly a blessing!"
For more information on Dennise Dittman and her upcoming album and performances, visit her website: http://dennisenicholedittman.net/
Tags:
Bill Dykes
,
bill Traylor
,
Mansion Entertainment
,
Pathway Records
,
Southern Gospel News
Posted in
announcements
,
new music
|
Comments Off

on Pathway Record's, Dennise Dittman To Release New Recording And First Radio Single With Pathway Entertainment.
Written by SGN Scoops Staff on April 13, 2012 – 9:42 am -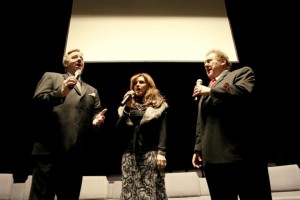 {EHA-Nashville, TN} Bill Dykes recently regrouped Chariot by bringing on board Tank Tackett and Darlene Chapman. The former Cathedrals member says the group is enjoying traveling and performing around the country. Members, Darlene Chapman and Tank Tackett, joined Bill in the Pathway Records studio recently to work on a brand new project. This week, Bill signed on with Ray Cooper Group to represent the trio with bookings. He notes, "It's a pleasure for Chariot to sign with Ray Cooper Group. We are looking forward to a great summer of singing and fellowship all over the country!" Ray Cooper notes, "It's certainly an honor to work with such a talented group. I feel blessed and excited to do my small part with such an anointed trio." Chariot is scheduled to sing April 14 at Landmark Baptist Church in Cincinatti, OH; along with Tammy Robinette, Steven Doan, the Perkins Family, and more. For more info on Chariot: www.Chariotmusic.org For more on Ray Cooper Group: 615-601-1056 or 256-616-5221
Tags:
Bill Dykes
,
Darlene Chapman
,
Ray Cooper Group
,
Soutehrn Gospel
,
Southern Gospel Concert
,
Southern Gospel News
,
Tank Tackett
Posted in
announcements
,
artists
|
Comments Off

on Chariot to Release New Project, Signs with Ray Cooper Group for Booking
Written by SGN Scoops on February 7, 2012 – 11:11 am -
{EHA-Nashville, TN} Soloist, and former Cathedrals member, Bill Dykes, regroups Chariot this month with former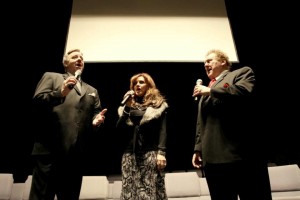 member and friend, Tank Tackett, and new member, Darlene Chapman. Bill formed the music group in Cincinnati Ohio in 1985 with Tank, Larry Orrell, and Charles Novell.The group took their music all over the globe and traveled for 15 years. Others who traveled with the group at different times were George Amon Webster, Roy Trimble, Roger and Becky Horne, Toni Clay, Scooter Simmons, and Jim Chapmen. For 15 years the group traveled and now with it's reformation, Bill says Darlene Chapman was the right person to fill the female vocal position. Darlene was formerly with Young Harmony and Gold Harbor. Tank Tackett has traveled with the Statemen, Jerry and the Goffs, and many others. He recently has been on the Southern Gospel Times magazine charts (Top 40) with "When God Dipped His Pen." Bill notes, "Now after 12 years, "Chariot" is back with a new vision, nothing but Gospel Music and Gospel Music Events. Tank and I have wanted to do this for a while ever since we started getting together to do the" Goff Reunion Concert." We are so excited to have" Chariot" back together again and look forward to what God has for us in His service!"
Bill Dykes
Legacy One LLC
8467 Sunfish Lane
Maineville, OH 45039
239-404-7675
Church Consulting:
– Financing
– Media
– Marketing
– Senior Living Facility Development
Senior Travel & Cruises
Music Ministry
Tags:
Bill Dykes
,
Chariot
,
Darlene Chapman
,
eha-nashville
,
Southern Gospel News
,
Tank Tackett
Posted in
announcements
|
Comments Off

on Bill Dykes Brings Back "Chariot"
Written by SGN Scoops on December 19, 2011 – 4:18 am -
{EHA-Nashville, TN} Mansion Entertainment's Patriot Quartet of Salvisa, KY, completed their latest project this month in the TBN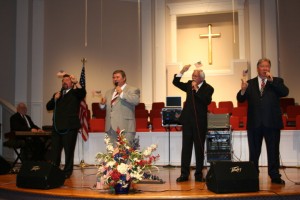 studios in Hendersonville, TN and signed with EHA-Nashville. Producers, John Mathis, Jr. and Bill Dykes, (Manor House) noted their confidence and excitement in continuing to work with this established quartet that continues their music ministry that started as a trio in 1996. Their trademark is to stand for "God and Country" and to uplift and encourage in song. Traditionally, their style is similiar to the The Statesmen, The Blackwood Brothers, and the original Oak Ridge Boys quartets. Original songs, stability, and consistency keep the Patriot Quartet in the forefront as one of the region's most beloved groups. They took their ministry to a national level in early 2011 with their Mansion signing and release of "Dedicated to the Cause" project. "Songs of Comfort" ministers to those mourning a loss and especially those who have suffered through the death of a loved-one. They are currently filling their 2012 calendar and accepting booking dates. Manor House Executive Director, Bill Dykes notes, "It's an honor to work with this group of men who are not only dedicated to the ministry, but are on fire to keep our quartet style of music alive and well for future generations. They are a blessing to promote!"
For more info:
Patriot Quartet
399 Currens Road
Salvisa, Kentucky 40372
Darrell Gabhart
Night: 859-865-4420
Day: 502-598-9928 for Booking
Cell: 502-680-1429
Press kit or additional info:
Office@EHA-Nashville.com, Evie Hawkins 615-545-1241
Tags:
Bill Dykes
,
eha-nashville
,
Evie Hawkins
,
john mathis jr
,
Manor House
,
patriot quartet
,
Southern Gospel Music
,
Southern Gospel News
Posted in
announcements
|
Comments Off

on Patriot Quartet Completes New Project and Signs with EHA-Nashville
Written by SGN Scoops on December 7, 2011 – 3:35 pm -
{EHA-Nashville, TN} Pathway Records artist, Bill Dykes, releases his "Revival"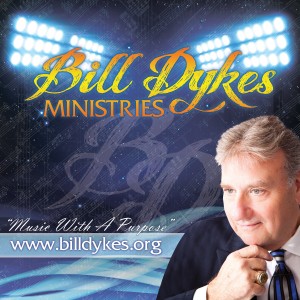 project this month, and fans have been voicing their approval of what could be his best recording yet. Years of working with some of Southern Gospel's most notable groups has chisled out his place with fans and historians in the business. A short list of his background includes; The Cathedrals, The Goffs, Coy Cook & The Senators, and The Rhythm Masters. He has performed in events led by Jerry Falwell, Pat Robinson, Rex Humbard, Billy Graham, Oral Roberts, and Paul Conn. Recording and performing on four #1 songs, garnering three Dove nominations, a Gospel Music News Award, owning his own group; Chariot, opening for Mike Huckabee, and achieving Gold status with his "This is Love," is only a brief overview of his 45 years of dedication, contributions, and accolades that will be stamped in the pages of Gospel Music history.
Dykes's passion for his music led him into marketing, media, and financial consulting that would not only secure his involvement in the industry, but would change the course of many of his clients' paths to success. His expertise in banking and finance has given him the opportunity to reach out to a multitude of churches and ministries in distress. A position as Chief Marketing Officer for Christian Televison Network, Sky Angel, allowed him to design and implement its sales and marketing initiatives. Previously, he served as Executive Vice President, Business Development at Church Mortgage Acceptance Co., LLC (CMAC) where he played a key role in providing over $2 billion in financing to churches nationwide in need of refinancing, renovation, or expansion. Dykes studied finance at the University of Cincinnati and vocal performance at the Conservatory of Music in Cincinnati. He attended seminary at Tennessee Temple University in Chattanooga, Tennessee, received his Doctorate of Divinity from Heritage Baptist University, and serves on the Board of Trustees at Davis College in Binghamton, NY.
Dykes was brought on board by The Mansion Entertainment in 2010 to spearhead the development of Manor House Music and Cheyenne Record labels. In addition, his expertise as Executive Director has enabled him to revive Impact Records, the first Gospel label to garner Gold status, with the Gaither's "Allelujah: Praise Gathering."
Dykes says, "I feel really good about this project. Revival starts with each of us as individuals and I hope to pass along that passion and fire that I feel when I share the songs on my project. I truly felt an awakening and the spirit of revival as I recorded it. It's been a lifelong blessing to be a part of the message that stirs souls to Christ. I am also blessed to be getting a top-knotch project done with Pathway Records. Thank you to those who support my ministry and make blessings like these happen.
Dykes continues to travel to speaking and singing engagements across the country and is frequently asked to MC concerts and events. He and wife, Jae Lynne, reside in Cincinnati, OH where they attend Landmark Baptist Church.
info on Pathway Records: www.thePathwayRecords.com
Contact/More info on Bill Dykes: www.BillDykes.org
Promoters can receive a free press kit by emailing: Office@EHA-Nashville.com or Evie Hawkins 615-545-1241
Tags:
Bill Dykes
,
eha-nashville
,
Evie Hawkins
,
Impact Records
,
Manor House Music
,
Mansion Entertainment
,
Pathway Records
,
Southern Gospel Music
,
Southern Gospel News
Posted in
new music
|
Comments Off

on Bill Dykes Releases "Revival" Project