Written by scoopsnews on April 27, 2016 – 8:56 am -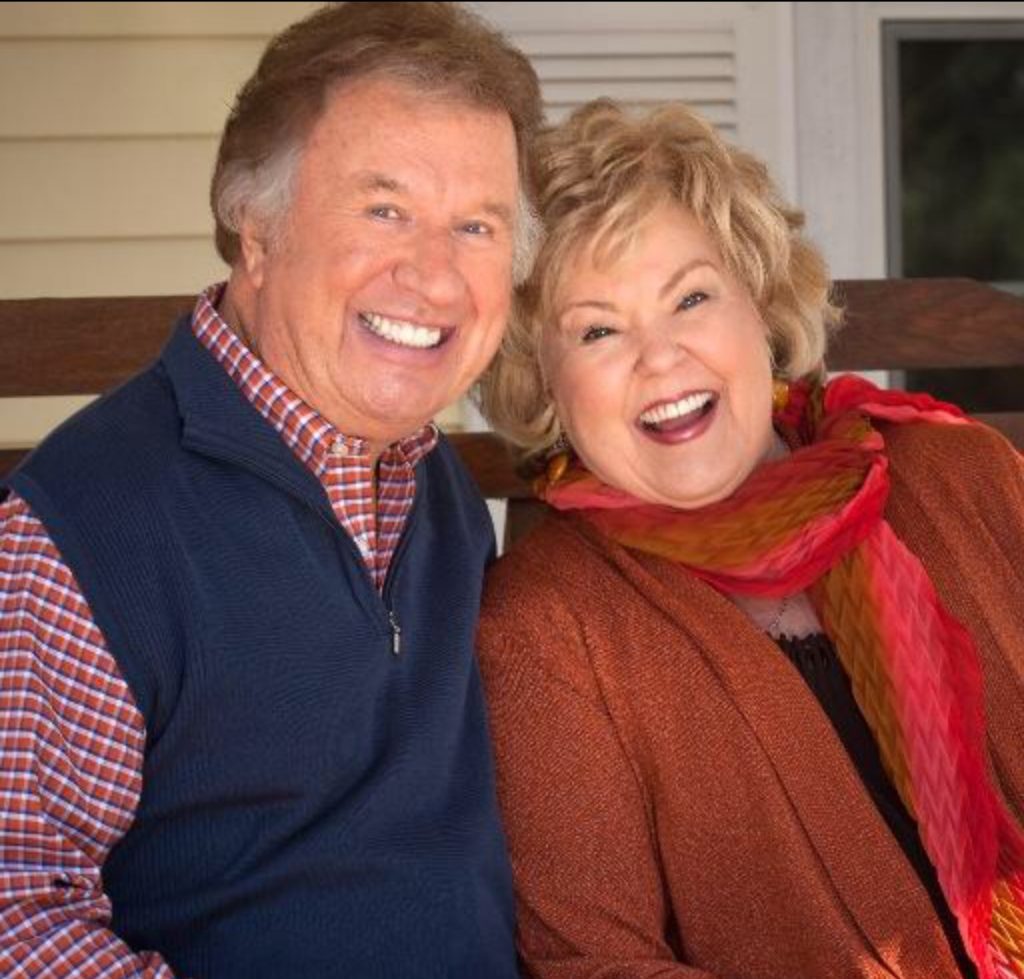 "Old friends – like a rare piece of gold. Old Friends – make it great to grow old…" – Gloria Gaither
Who are you grateful for today?

— Gaither Music Co. (@Gaithermusic) April 26, 2016
Tweet of the Day!
Watch This:
Tags:
Bill & Gloria Gaither
Posted in
announcements
|
Comments Off

on Tweet of the Day!
Written by SGN Scoops Staff on May 31, 2013 – 1:11 pm -
May 31, 2013 (Nashville, TN) – The Telly Awards has named The Nelons as a Silver Telly winner in the 34th Annual Telly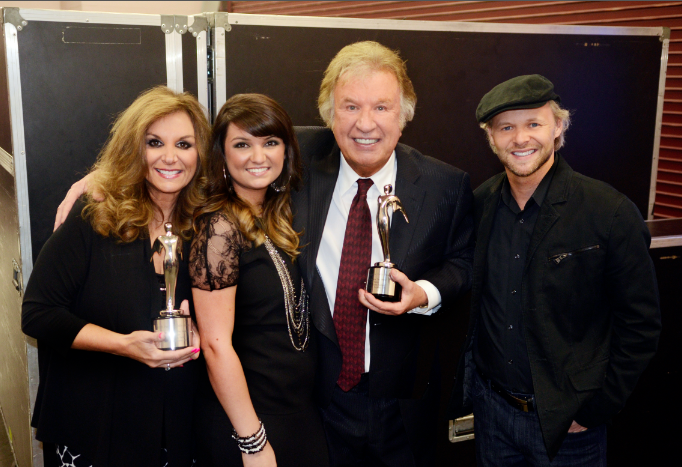 Awards for the music video for "Excuse Me, Are You Jesus?" With nearly 12,000 entries from all 50 states and 5 continents, the project won the Silver Telly in the Internet/Online Video-Music Video category.
The true-to-life story, put to song by legendary Christian music icons Bill & Gloria Gaither and Country music superstar Larry Gatlin tells the story of a man who makes a startling revelation upon missing his home-bound flight. Point Light Pictures, LLC was brought to the task of making the story come to life.
"Point Light Pictures did an amazing job visually telling the story that Bill & Gloria Gaither and Larry Gatlin so eloquently put to music," stated Kelly Nelon Clark. "This award is an honor and we are grateful to those who voted for the video."
"It is always a joy to work with the Nelons and I'm grateful to be part of their journey, " said Bill Gaither "Co-writing the song 'Excuse Me, Are You Jesus?' with my wife, Gloria, and our dear friend Larry Gatlin, then co-producing the Nelons album on which the song was included, was an honor. I would still make music if there were no awards, but it is always a thrill to be a part of something that is recognized by the artistic community in this way."
"The Nelons are just fantastic and the video is STELLAR," commented Larry Gatlin. "Add to that the honor of being asked to collaborate with two iconic writers like Bill & Gloria Gaither – especially Gloria – well, I am greatly blessed and highly favored! Congrats and thanks for allowing me to be a small part of this!"
The Telly Awards program was founded in 1979 and is the premier award honoring outstanding local, regional, and cable TV commercials and programs, the finest video and film productions, and online commercials, video and films. Winners represent the best work of the most respected advertising agencies, production companies, television stations, cable operators, and corporate video departments in the world.
For it's 34th season, The Telly Awards once again joined forces with YouTube to give the public the power to view and rate videos submitted as part of the People's Telly Awards. In addition to recognition from the Silver Telly Council, the judging panel that selects the Telly Awards winners, the Internet community helps decide the People's Telly Awards winners.
"The Telly Awards has a mission to honor the very best in film and video," said Linda Day, Executive Director of the Telly Awards. "The Nelons' accomplishment illustrates their creativity, skill, and dedication to their craft and serves as a testament to great film and video production."
A prestigious judging panel of over 500 accomplished industry professionals, each a past winner of a Silver Telly and a member of The Silver Telly Council, judged the competition, upholding the historical standard of excellence that Telly represents.
The Nelons have been recognized in the past for their innovative video accomplishments. In 1987, their concept video for "Famine In Their Land," was recognized with a New York Film Festival Bronze Award and won a DOVE award for Short Form Music Video of The Year.
Tags:
Bill & Gloria Gaither
,
Excuse Me Are You Jesus
,
gaither
,
Larry Gatlin
,
southern gospel
,
Southern Gospel News
,
The Telly Awards
Posted in
announcements
|
Comments Off

on THE NELONS HONORED WITH 2013 PEOPLE'S CHOICE SILVER TELLY AWARD
Written by SGN Scoops Staff on October 19, 2011 – 1:09 pm -
(Nashville, Tennessee) – The musical genius of Gordon Mote was honored with the 2011 Academy of Country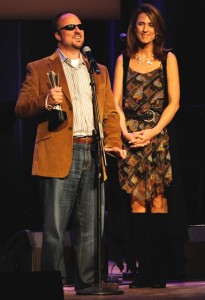 Music's Piano/Keyboard Player of the Year Award at the recent annual ACM Honors ceremony held at Nashville's historic Ryman Auditorium. Gordon, a seven-time nominee, was also honored with the coveted award in 2009.
Long recognized by the industry as one of Nashville's most talented studio musicians who seemingly knows no limits in effortlessly crossing musical styles and genres, Mote's talents can be heard on the recordings of some of the nation's premier performers, including Bill & Gloria Gaither and the Homecoming Friends, Billy Ray Cyrus, Blake Shelton, Scotty McCreery, Elvis Presley, The Hoppers, Brad Paisley, Ernie Haase & Signature Sound, George Jones, The Isaacs, Josh Turner, Alan Jackson, Keith Urban, Luke Bryan, Jason Crabb, Martina McBride, Reba McEntire, Rascal Flatts and Alison Krauss, just to name a few.
Since releasing his debut Southern Gospel recording in 2004, the talented singer and musician has enjoyed much success, including numerous Top 40 hits in multiple music genres and numerous Fan Award nominations. Mote's video release, "The Best of Gordon Mote," made its debut at Number 7 on the Billboard Music Video Chart in 2008. Mote's travels on tour are global – include stops in the US, Canada and Europe. He is a featured artist on the stage sharing his vocal and keyboard performances with music legend Bill Gaither and his Grammy Award winning Gaither Vocal Band and the Homecoming Friends.
The 5th Annual ACM HONORS represents an evening of musical tribute performances and special presentations celebrating the special honorees and non-televised category winners from the 46th Annual Academy of Country Music Awards, held earlier this year.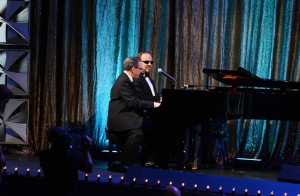 Fresh from his success at the ACM's presentation, Gordon had just enough time to place his latest trophy on the mantle before being called to more awards duties – this time to emceeing the Singing News Fan Awards / SGMA Hall of Fame Induction at Dollywood with Co-Host Gerald Wolfe of Greater Vision. Gordon delighted the Pigeon Forge crowd with his quick wit and humor-providing a show stopping moment when he settled down behind the keyboard for an impromptu piano duet with Gerald Wolfe.
Tags:
Alan Jackson
,
Bill & Gloria Gaither
,
Billboard Music Video Chart
,
Billy Ray Cyrus
,
Blake Shelton
,
Brad Paisley
,
Elvis Presley
,
Ernie Haase & Signature Sound
,
George Jones
,
Gerald Wolfe
,
gordon mote
,
Jason Crabb
,
Josh Turner
,
Keith Urban
,
Luke Bryan
,
Martina McBride
,
Rascal Flatts
,
Reba McEntire
,
Scotty McCreery
,
The Hoppers
,
the isaacs
Posted in
announcements
,
awards
|
Comments Off

on ACADEMY OF COUNTRY MUSIC AWARDS HONOR GORDON MOTE WITH 2011 ACM AWARD
Written by SGN Scoops on September 3, 2011 – 6:47 am -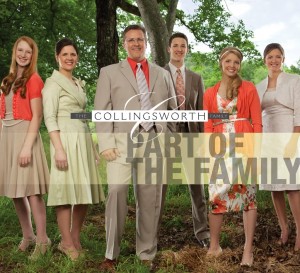 (Nashville, TN.) September 2, 2011 – StowTown Records (Provident-Integrity Distribution) is proud to announce the release of Part Of The Family from The Collingsworth Family available on September 6, 2011.
Phil and Kim Collingsworth can't help but smile when fans compare their group to the family singers in "The Sound of Music," the beloved classic family film. Of course, Phil and Kim only have four children, and are from the state of Ohio, not 1930s Austria. But a family group like this only comes along once in a generation, and when the quality of the music is this rich and timeless, everyone pays attention and tries to find ways to describe them. Ernie Haase, executive producer certainly noticed when they were featured on the Gaither Homecoming tour; he knew immediately that he wanted their compelling and memorable music to be part of the StowTown record label.
As the Collingsworth children have grown into teenagers and young adults, they are becoming award-winning artists in their own right, and Kim Collingsworth is widely known as a show-stopping piano performer. Concertgoers have grown to feel so connected to Phil, Kim, Brooklyn, Courtney, Phillip and Olivia, that they feel almost a "Part of the Family," appropriately the title of their new CD release. The Collingsworth Family continues to perform all over the world, sharing their story, their music, and their love for God.
The twelve-song project, Part of the Family, was produced by Wayne Haun and features stellar arrangements of songs penned by Bill & Gloria Gaither, Kenna West, Sue C. Smith, Daryl Williams and Lanny Wolf among others. The first single, "Tell The Mountain," is currently at radio stations across the country.
ABOUT THE COLLINGSWORTH FAMILY
Excitement, spiritual anointing, family-emphasis, and musical excellence are what you can expect to find when you experience The Collingsworth Family. Over their 25 years of ministry, their boundaries of influence have expanded as they have sung and played all over the United States as well as internationally. Their constant, persistent attention to cutting-edge arranging, musical excellence, and a proper balance of spiritual emphasis are the keys to success God has helped them tap. The family group is a favorite on the Gather Homecoming Tours and seen regularly on the Gaither video series.
Track Listing: Part Of The Family
God's Family
Tell The Mountain
Joy Unspeakable
Jesus Is All I Need
Nothing's Worrying Me
I Pray
At Calvary
I Found It All
Just Another Rainy Day
Praise You
That's The Place I'm Longing To Go
The Resurrection Morn
Tags:
Bill & Gloria Gaither
,
Ernie Haase
,
Gaither Homecoming Tour
,
Kenna West
,
Southern Gospel Music
,
Southern Gospel News
,
StowTown Records
,
The Cllingsworth Family
,
Wayne Haun
Posted in
new music
|
Comments Off

on StowTown Records to Release PART OF THE FAMILY From THE COLLINGSWORTH FAMILY September 6