Written by Staff on June 11, 2015 – 4:35 pm -
By Charlie Griffin
When you speak of Gospel music, there are many great names mentioned. Some names are even generational names of Gospel music such as Speer, Nelon, Easter, Hopper, Goodman and the list goes on. But when you mention the name Stewart, those in the southeast will know it is a heritage name for bass singers.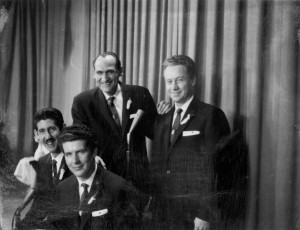 The Blue Ridge Quartet (L to R: Jim Stewart, Kenny Gates, Elmo Fagg, Ed Sprouse.)
First generation, Charles Ed Stewart, sang with the Smith Quartet and Singing Hills. He was known for a resounding bass and singing the old Convention songs the Stamps Baxter way. Second generation, Jim Stewart, came along, singing bass too. Big Jim was often noted as the bass singer with the booming low notes. His tenure included stints with the Calvary Quartet, Blue Ridge Quartet and Pine Ridge Boys. Then the third generation, Larry Stewart, started following in the family bass singing footsteps. But his story took a few turns, giving a powerful testimony that really mirrors the lives of so many people.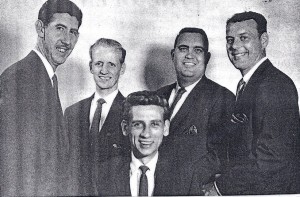 The Pine Ridge Boys 1963: (L to R: Jim Stewart, Wayne Shuford, Darius Shuford-seated, Charles Burke, Miles Cooper.)
Larry Stewart recently shared his experiences of getting started in Gospel music. As a high school sixteen-year-old in chorus, he was offered a job to sing bass with the Bob Hulsey Singers. Larry says, "The piano player was in chorus too and knew I could sing the bass part. It wasn't too low as they sang everything pretty high. But that was my first taste of Gospel singing, although I had been around it all my life."
A year or so later, Larry began singing with the Golden Chords. Marion Lanford and three of his children plus the four piece band made up this group. "They wanted a young person to sing bass and they called me." It was with the Golden Chords that Stewart recorded his first album. He continues, "Marion promoted a lot of Gospel concerts back in the day with the Rex Nelon Singers. I heard this song and later it became my song too, 'I Love To Call His Name.'" Larry then sang with The Seekers from Seneca, SC. But that was a short lived experience.
Graduating from high school in 1979, Larry got a call from Homer Wofford, who owned the Singing Americans. Larry states, "I drove to Asheville, tried out and was selected. I drove every week to Asheville to practice. But we never sang anywhere. I got tired of that and quit. But as fate would have it, Charlie Burke bought the group and moved it to Maiden, NC. He calls me three times to come sing bass. But I said no. I mean, I had already gone down that road. Yet after the third time I turned him down, one month later he signed a record contract." Larry admits, "I really thought my chance had come and gone. I didn't sing much after that."
Tags:
anchormen
,
Blue Ridge Quartet
,
Dwayne Burke
,
gospel music
,
Larry Stewart
,
Pine Ridge Boys
,
Quartet Music
,
Singing Americans
Posted in
announcements
,
artists
,
christian entertainment
,
Christian interest
,
exclusive report
,
sgn scoops magazine
,
special feature
|
Comments Off

on Larry Stewart: A Gospel Bass Singer's Testimony