Written by Staff on August 6, 2019 – 10:19 am -
Johnson City, Tennessee – Prominent concert promotions company, IMC has announced plans to present a new Praisefest event in Branson, MO, in the fall of 2020. Eight years ago the successful promotions team conceived the idea of presenting an exciting weekend of Gospel music in the Ozark Mountains town of Branson, Missouri, a city that is famously known for its diverse entertainment theaters. That first year the event took place at the state-of-the-art Mansion Theatre.
Due to the overwhelming success of the event, which has been held annually each Spring for the past seven years, IMC Concerts has announced plans to  produce a Praisefest event that will also take place in the Fall of the year. The new Praisefest Branson Fall Retreat will take place October 26 through 28, 2020, and will also be held at the Mansion Theater.
"We think this new event will be a great choice for people who have told us their schedules simply will not allow them to come to our Spring event," states IMC President Landon Beene. "We also believe many of the people who attend Praisefest Branson every year in March will want to come back again for the Fall Retreat because they love it so much."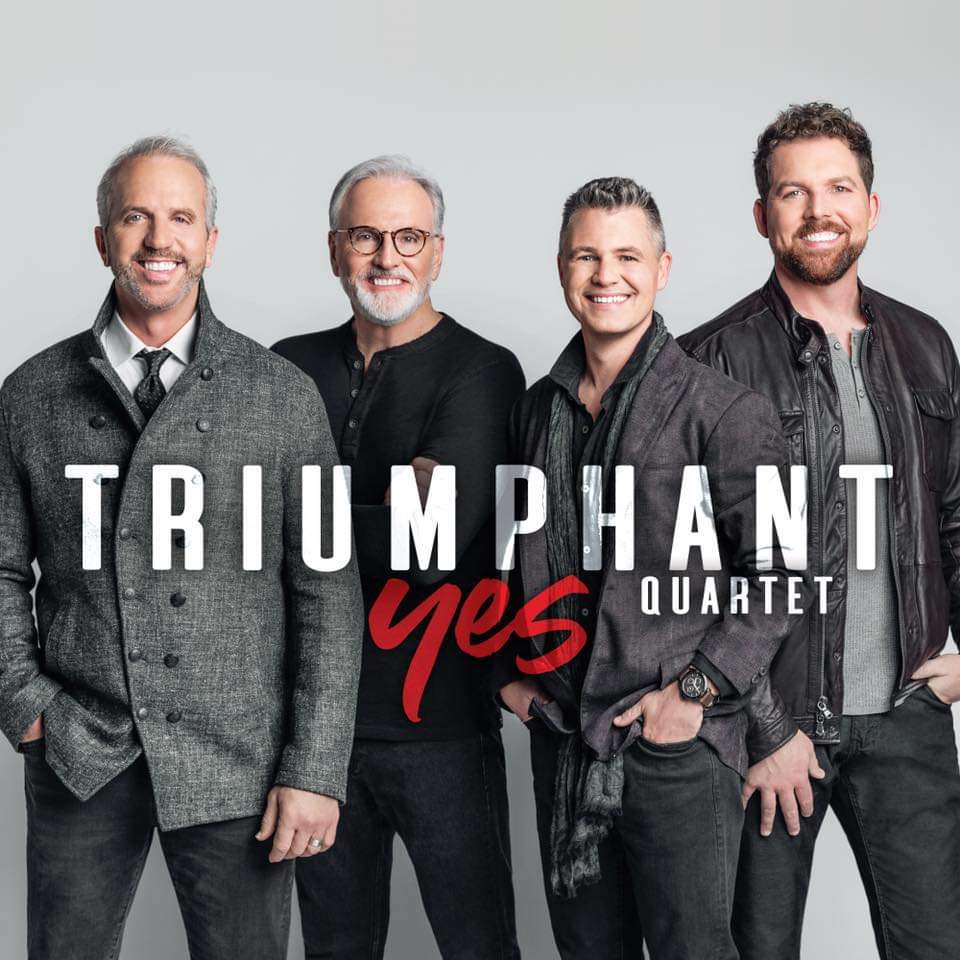 The 2020 Praisefest Branson Fall Retreat will include performances by such popular recording artists as Greater Vision, The Triumphant Quartet, The Hoppers, The Isaacs, The Whisnants, The Perrys, Brian Free & Assurance, The Nelons, The Ball Brothers, Joseph Habedank and The Erwins. Renowned speaker, Jim Cymbala, Pastor of The Brooklyn Tabernacle in Brooklyn, N.Y., will also be featured, as well as popular singer/songwriter and Christian comedian, Mark Lowry. "We're really excited to be able to provide another opportunity for people to get together for a few days to enjoy some great Gospel music, lots of laughs, great fellowship and wonderful worship experiences in a unique atmosphere," states Greater Vision's Gerald Wolfe.
"This event has the potential to be the largest Gospel music event of its kind in the Midwest during the Fall season," Beene states. "We are expecting seating to fill quickly so we are recommending people reserve their seats sooner, rather than later." Registrations for this new event will begin Monday, October 7, 2019.
For more Gospel Music news read the latest issue of the SGNScoops Magazine HERE.
Download the latest SGNScoops Magazine PDF Here
Find SGNScoops Magazine On Facebook Here
Listen To Today's Gospel Music Here
Tags:
branson
,
Brian Free & Assurance
,
Greater Vision
,
Joseph Habedank
,
Missouri
,
Praisefest Branson Fall Retreat
,
The Ball Brothers
,
The Erwins
,
The Hoppers
,
the isaacs
,
the nelons
,
the perrys
,
The Triumphant Quartet
,
The Whisnants
Posted in
announcements
,
artists
|
Comments Off

on IMC CONCERTS ANNOUNCES PLANS FOR PRAISEFEST BRANSON FALL RETREAT
Written by Staff on January 26, 2016 – 7:27 am -
Jammin' for Jesus closed out their season on Sunday, December 6th, at the beautiful Doug Gabriel Theater in Branson, Missouri. Jammin' for Jesus is held the first Sunday afternoon of every month from April to December. The final show of the 2015 season was hosted by a wonderfully talented group of entertainers that included theatre host, Doug Gabriel, Kevin Shorey, and Tammy Joplin. The audience enjoyed a variety of gospel music performances by artists such as saxophonist, Gary Dooms, Billy Hale, McKay Project, Kevin Rowe, David Mays, Anita French-Kidd Stahl, David Wood, and Mike McAdoo. The audience was also treated to a special surprise appearance by country music legend, Barbara Fairchild.
"Jammin' is always lots of fun and we enjoy coming back and being a part of the show. It is everything you would expect from a Branson event", commented Dennis McKay of McKay Project.
Jammin' for Jesus is produced by Phyllis Rotrock and each month they partner with local charities and organizations to provide support and give back to the community. Instead of charging an admission fee, Jammin' for Jesus asks those that attend to bring items to meet a need. The Jammin' for Jesus held in December partnered with Jesus Was Homeless and collected Christmas gifts for children.
If you are ever in the Branson area on the first Sunday between April and December, check out Jammin' for Jesus at The Doug Gabriel Theatre (behind Olive Garden).
For more news click here.
Tags:
Barbara Fairchild
,
branson
,
McKay Project
Posted in
announcements
,
artists
|
Comments Off

on Barbara Fairchild and McKay Project at Jammin' for Jesus
Written by Staff on January 4, 2016 – 3:38 pm -
The Branson Chapter of the Country Gospel Music Association (CGMA) held their annual Christmas Banquet at the Stone Castle Hotel and Conference
Center in Branson, Missouri on December 5th. The event was hosted by President and Founder, Billy Hale and his wife, Donna.
The festivities began with a delicious meal followed by a time of prayer and an encouraging word from The Word by Billy Hale. Special musical guest, Cathy J. Reynolds from Illinois, stirred up our
Christmas spirits with her joyful music and theatrical narration about Jesus' birthday.
The program also featured performances by various CGMA artists from across the region as they shared wonderful Christmas music and testimonies about this special season of celebration.
For more information about the CGMA or to locate a chapter near you, look them up on Facebook at Country Gospel Music Association (https://www.facebook.com/countrygospelmusicassociation) or contact Billy and Donna Hale at (417) 336-1919.
Country Gospel Music Association
COUNTRY GOSPEL MINISTRIES, INC.
President and Founder Billy Hale and his wife, Donna
 According to their
website:
 "
Country Gospel Ministries  Inc. ( CGM )
is a 501(c)3 organization intending to act as a Spiritual partner to those ministering with Country Gospel music. Ours is a Divine call, not a chosen venture. We have no personal ambition or financial pursuit. All that we attempt is for the artists well-being and His glory. We are funded by those who believe in our calling and wish to further the ministry aspect of this genre. There is no charge for our service or financial demand upon anyone we serve.
Country Gospel Music Association (CGMA)
is the vehicle for our fellowship and functions. It was designed to act as a home base for those in Country Gospel Ministry, bring them together so they can minister to one another, and represent them in the marketplace."
Thanks to Cathy J. Reynolds and Billy Hale for pictures.
By Leslie McKay
For more news visit SGN Scoops on Facebook
Tags:
branson
,
CGMA
,
Christmas Banquet
,
Country Gospel Music Association
Posted in
announcements
,
artists
|
Comments Off

on Country Gospel Music Association holds annual Christmas Banquet
Written by scoopsnews on December 15, 2015 – 8:37 am -
The Blackwood Show is moving to the Starlight Theater in Branson MO in 2016. Their kids and grandkids are all in Branson. Their current Christmas show in Pigeon Forge, Tennessee is awesome. Donna's testimony will generate tears of joy because she is a WINNER in the battle agains Cancer.
The new lineup will consist of  daughter Andrea Blackwood Carter as the alto. Tommy Fairchild from the Oak Ridge boys and Blackwood Brothers fame is piano and baritone. Jamie Layton will be the bass singer. He sings with the Statler Brothers review in Branson right now. Eddy Bolton from  Three Bridges and Speer Family fame is on first tenor.
Listen below to RW and Donna as they tell you about the move!
Tags:
branson
,
Donna Blackwood
,
RW Blackwood
,
Starlight Theater
,
The Blackwood Show
,
The Blackwoods
Posted in
announcements
|
Comments Off

on News From RW and Donna Blackwood
Written by Staff on December 22, 2014 – 2:46 pm -
By Lynn Mills
Though the holiday season is quickly passing, the spirit of Christmas resides in the hearts of those who believe the wondrous story and live to share its joy. Looking back on the weeks leading up to the Christmas season there are numerous concerts each year where your favorite carols are sung by your favorite artists. Though it's true that many groups reserve the majority of December for Christmas vacation; it is becoming more popular for a few groups to team up with their friends and hit the road at the beginning of the month for a special Christmas tour. For the winter of 2014, another pairing was added to the roster of SGM Christmas tours, hailing by the name of Home For Christmas; featuring the Mark Trammell Quartet and The Whisnants.
Home For Christmas was first introduced to fans in late October when the pre-sale for the Home For Christmas CD was put on the market. This project brought together The Whisnants and The Mark Trammell Quartet (MTQ) in a combination of 12 Christmas songs both old and new that showcased both groups on one recording. At the beginning of November, MTQ and the Whisnants hosted an online Launch Party over the course of 12 hours on Facebook where they shared Christmas memories, traditions and personal thoughts concerning the songs on the new Christmas project via videos, photos and posts from both group's members. Shortly after Thanksgiving, they hit the road and performed their very first official tour together!
The inaugural concert occurred on the Showboat Branson Belle as a part of the Carols On The Belle Series. It was a balmy 70 degrees out in Branson, Missouri! But more than that, the folks that came on board filled the Showboat to capacity; the first Home For Christmas concert was sold out! When the Mark Trammell Quartet and Whisnants took the stage everyone gathered around for their opening tunes, "The Faithful Medley," and "Unspeakable Joy." After a few words from Susan, Jeff and Mark, the Whisnants sang a few of their contributions to the CD: "Without Christ There's No Christmas," and a ballad, "I Call Him Lord." The Mark Trammell Quartet came up and gave the crowd a little variety in musical taste; they sang their hillbilly tune, "O Beautiful Star Of Bethlehem" and the more refined arrangement of "God Rest Ye Merry Gentlemen."
The Whisnants, who had been listening to MTQ sing from where they were seated on black stools, returned to the spotlight to sing their new upbeat tune, "Jesus Brought Joy To The World." Mark Trammell also explained to the audience why they sing.
It is worthy to note the diversity of the crowd on the Showboat – a bus from Michigan brought a good amount of Asian folk, many Indian couples were present and others who came for the classic Branson tour and sightseeing staples. The crowd, therefore, was not made of your typical Southern Gospel fans, so an explanation was due!
Mark also shared about being raised in a pastor's home and how one would expect his mother's favorite Christmas song to be a traditional carol…but it wasn't. It was the classic "Christmas Song". Mark went on to croon the first few lines from this well-known song. While he was doing his best impression of Perry Como, the others were doing their best to steal the spotlight. This came about in the form of Santa hats, which were distributed in a quiet fashion to all the group members seated behind Mark. Susan decided to share and plopped her hat, complete with tiara, on Mark's head. After a bit of waltzing and other comical antics from those who were obviously bored with Mark singing his solo, Trammell gave up and sang, "I'm gonna' kill them when this is over…!"
From those humorous moments, the singers moved to a sincere reading of the Christmas story in Luke. Mark turned the pages of his black leather Bible to the second chapter and told of how the Savior came to be born in this world. "Silent Night," followed this. Susan, the only lady on stage, sang this carol from the viewpoint of a mother. Afterwards, she asked the audience to sing "Away In A Manger," with her. A sweet sound echoed through the boat.
As the evening came to a close, Mark Trammell had the crowd on the edge of their seat by a powerful arrangement of "O Holy Night." An equally powerful message followed as Susan introduced her solo, "If You Could See What I See," and the thought behind the message.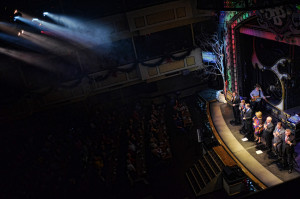 "People come up to me all the time," Susan began, "They say, 'I love Christmas, but it's a lonely time for me; I lost my husband, I lost my wife, I lost my kid, I lost my mom…it's lonely'." She went on to say that in 2013 on December the 23rd her father-in-law went home to heaven. "A lot of people felt sorry for us," she went on, "But we had a friend who wrote this song and sent it to us on Christmas Eve. If God gave us one glimpse into heaven, we would never wish them back." Susan sang that comforting message and prayed. As the Showboat came back into dock MTQ and the Whisnants left everyone with this tune: "Christmas Time's A Comin'!"

The next night, the Home For Christmas Tour went to Arkansas where they sang a full concert at Beryl Baptist Church. Though this wasn't the last stop on the tour, this is where my ability to follow ended. The difference between the Showboat and this concert was that they had more time at the church and material was added. One of those additions was a fun performance of "The 12 Days of Christmas." Susan and Mark beckoned 12 volunteers from the audience (the pastor, who is an accomplished bass vocalist, being one of them) and soon a line formed at the foot of the stage. Aaron Hise and Nick Trammell distributed cards with each part written on them and the fun began! It would be impossible to re-tell everything that made us laugh – but we had a great time! Another highlight of the evening was Austin Whisnant singing a song Susan originally recorded, called "Even Then," and Ethan's solo of "Strange Way To Save The World."
"Home For Christmas" is a must see for fans who love Christmas music. It is impossible to miss the sincerity of those ministering on stage. Nothing is scripted – it's all from the heart. Whether the moment is funny, reflective or serious, the heart behind it shines through. This is Christmas. This is the way we think of the holiday when we close our eyes and picture a homey, old-fashioned Christmas tree set in the midst of children at play and Christ where He ought to be: in the center of it all. Home For Christmas offers songs you want to hear, the new ones you'll be humming after you hear them the first time, the singers you love and the sincerity of the Christmas story, all creating memories you won't easily forget!
If you are interested in bringing the Home For Christmas Tour to your area in 2015, contact The Harper Agency for more info at: http://www.harperagency.com/ or call 615-851-4500.
For more artist features and concert reviews by Lynn Mills and others, view the latest SGN Scoops magazine at www.sgnscoops.com
Tags:
branson
,
Christian Music
,
christmas
,
christmas music
,
gospel music
,
Home For the Holidays
,
mark trammell
,
mark trammell quartet
,
susan whisnant
,
Whisnants
Posted in
artists
,
concert reviews
,
gospel events
,
sgn scoops magazine
|
Comments Off

on Home For The Holidays with the Mark Trammell Quartet and the Whisnants
Written by Staff on August 12, 2014 – 8:14 am -
By Joshua Heston – Special to SGN Scoops
"Precious memories how they linger / How they ever flood my soul / In the stillness, of the midnight / Precious sacred scenes unfold." — J.B.F. Wright, 1925
Branson, MO —Traditional gospel music and Ozark Mountain culture go together mighty well. From brush arbor singing schools to pine-enshrouded churches where country folks sang from well-worn hymnals every Sunday morning, the sweet sounds of gospel music form an emotional basis for many of us; reminders of childhood, dinners on the ground, exciting tent revivals, and for some, simple evening singings as the family would gather together and let their voices ring.
But times change. People change. The world, it seems, simply picked up its pace and recordings, radio, TV, internet, and job and family responsibilities removed the opportunity to spend time with family and friends. The chance to leave an industrious world outside — even for just a few hours — was lost. Tattered hymnbooks were replaced by projection screens and four-part harmony swapped for an endless stream of praise and worship songs. Families didn't gather around a piano anymore and besides, the music on the radio, then the entertainment on TV, then the library of digital music, was all more professional, more polished, and never required practice but simply the touch of a button.
Gone for most was the shape note singing, the tent revivals, and the conventions. Conventions? No, not Tupperware conventions. A generation or two ago, gospel music conventions, specifically quartet conventions, were commonplace. Small and large, these gatherings originated from 19th century songbook companies' efforts to sell books. This was after the Civil War and the population was ready to embrace music that spoke of hope and peace.
Professional quartets traveled from church to church, then from convention to convention, stunning largely rural audiences with the now-trademark sounds of a powerful, rumbling bass, soaring tenor, lead and baritone vocals. As quartets polished their skills and styles, white Southern gospel music was born. With it, of course, came those singing conventions, the largest of which ultimately became the National Quartet Convention, an event that packed out the Ellis Auditorium in Memphis for many years. Here was the equivalent of a rock concert arena. Thousands of fans pouring into the venue to see gospel music greats like J.D. Sumner, James Blackwood of the Blackwood Brothers, and more.
"When we've been there ten thousand years / Bright shining as the sun / We've no less days to sing God's praise / Than when we've first begun." — John Newton, Amazing Grace
Like many other elements of our rural population, Southern gospel conventions became fewer and farther between in the last generation. Now, the words "singing convention" are typically met with a bit of bewilderment. Southern gospel is still a small but powerful genre of music but many of the artists now travel from church to church, not from convention to convention.
The National Quartet Convention is still going strong, moving this year from Louisville to Pigeon Forge, Tennessee, but Southern gospel singing west of the Mississippi? Western region groups have struggled for years, honing their styles, their harmonies, their ministries, but laboring largely in the shadow of "top tier" groups with more convention affiliation in the east. Now, the efforts of Branson-based Jonathan Edwards (of Faith's Journey), Donnie Williamson (of Wetumka, Oklahoma-based The Williamsons), Ava Kasich (Texas-born Beacon award winning soloist) and Rob Patz (of the Seattle-based SGN Scoops Digital gospel music magazine) teamed up to create a heartland Southern gospel convention here in Branson.
"For most of us who do gospel music, the goal is to see lives changed. But we can't do that if we don't have people to sing to. One of the goals of the convention is to expose more groups of the Midwest to an audience," says Williamson. "That's why we honored The Lesters during the first night of the convention. We want to highlight the quality of groups from this area."
"Near the cross I'll watch and wait / Hoping, trusting ever / Till I reach the golden strand / Just beyond the river." — Fanny Crosby, Jesus Keep Me Near the Cross Read more »
Tags:
Ava Kasich
,
branson
,
Brian Lester
,
Donnie Williamson
,
Faith's Journey
,
jonathan edwards
,
Joshua Heston
,
Missouri
,
Ozark Gospel Music Convention
,
rob patz
,
sgn scoops
,
State Of The Ozarks Magazine
,
THE LESTERS
,
The Williamsons
Posted in
announcements
,
gospel events
,
sgn scoops magazine
|
Comments Off

on Ozark Gospel Music Convention 2014
Written by Staff on April 10, 2014 – 2:16 pm -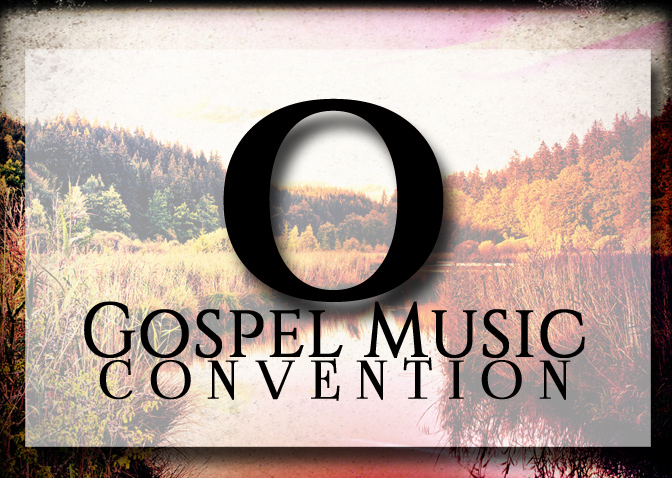 Branson, Missouri (April 10, 2014) – It was announced this morning that the very first Ozark Gospel Music Convention (OGMC) in Branson, Missouri is 
sold  out
. This event will take place May 5th -7th at the beautiful Stone Castle Hotel and Conference Center in Branson.
OGMC Board Member, Jonathan Edwards, states: "I am overwhelmed at the response to this event in its first year and look forward to having these great fans and artists in my home town!"
Rob Patz of Coastal Media is also thrilled to be a part of this new event. "It is great to see how the fans and artists have caught our vision and are as excited as we are about this new Convention. I can't wait to hear some of my favorite artists like The Lesters, Omega, and Weston and Christy Hinson. Great speakers, terrific singers, eager fans…you can't have a better recipe than that for an exciting event!"
The Ozark Gospel Music Convention will be a yearly event. Fans are encouraged to make plans now to attend the Ozark Gospel Music Convention 2015. More information can be found at 
www.ozarkgospelmusicconvention.com
Tags:
branson
,
jonathan edwards
,
Missouri
,
Ozark Gospel Music Convention
,
rob patz
Posted in
announcements
|
Comments Off

on Inaugural Ozark Gospel Music Convention Sold Out!
Written by SGN Scoops Staff on September 17, 2013 – 3:03 pm -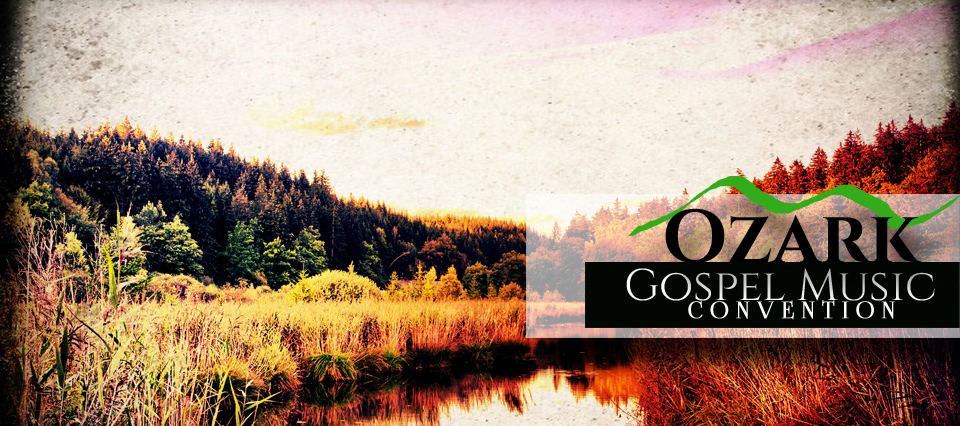 Branson Mo (September 17, 2013) – A fabulous new Gospel music event will be held in Branson, Missouri this coming Spring. The Ozark Gospel Music Convention will be held May 5, 6 and 7, 2014 at The Stone Castle Hotel and Conference Center. Admission is free and all Gospel music fans are encouraged to make their vacation plans now.
The Ozark Gospel Music Convention will be hosted by partners Rob Patz, CEO of Coastal Music Group and publisher of SGN Scoops, award-winning Gospel soloist Ava Kasich and well-known industry personality, Jonathan Edwards. The fourth member of the team spear-heading this festival is Donnie Williamson, of Gospel music's family group, The Williamsons.
Jonathan Edwards, who will be also be singing at the Convention with his trio, Faith's Journey, says, "I am thrilled about having some of the best artist in Southern Gospel music coming to an event in Branson. I am looking forward to the music the ministry and the fellowship during these three days." Ava Kasich is also anticipating a wonderful celebration of music. "I am so honored to be a part of The Ozark Gospel Music Convention and to be associated with such a great group of Christian folks!" says Kasich.
Donnie Williamson is already working hard with the team on events surrounding the Convention. "Well, what can I say? I am so excited for The Williamsons to be part of the Ozark Gospel Music Convention. The most beautiful music in the world – Gospel – will be performed at the most beautiful place in the world, Branson, Missouri. This will be the perfect opportunity to make the family part of a fun filled three days that will create a lifetime of memories." Williamson continues, "Several of the finest groups in the Midwest will be performing along with great chapel services and other activities. And, there will be plenty of time available to see the wonderful sights of the Ozarks while there."
Rob Patz is thrilled to be partnering with this group of artists to present the OGMC."Our team came together with a common goal, to present Gospel music to as many people as possible in one of the most beautiful spots in the U.S. We want to present three days of entertainment, ministry and fellowship, all for free and all to glorify the name of Christ," says Patz. "Come be with us on May 5 through 7 in the land of the Ozarks!"
https://www.facebook.com/ozarkgospelmusicconvention
Tags:
Ava Kasich
,
branson
,
jonathan edwards
,
rob patz
,
southern gospel concerts
,
Southern Gospel News
,
The Ozark Gospel Music Convention
,
The Williamsons
Posted in
announcements
,
christian entertainment
|
Comments Off

on Brand New Concert Event Comes To Branson Missouri, Spring 2014
Written by SGN Scoops Staff on July 5, 2012 – 9:38 pm -
Heart To Heart, the multi-award winning singer/songwriter duo based out of Branson, MO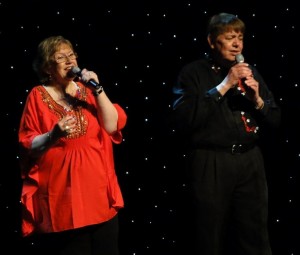 (and formerly of Malden, MO), known as "The Heart and Soul of Branson" was honored on June
23, to be awarded the National 2012 AGAPE Fan Award for Duo of the Year during ceremonies
held near Dallas, Texas.
Sharon and Jerry Mays, 2010 GMA/IMMERSE-Nashville Duet & Vocal Group of the
Year and 2011 Country Gospel Int'l. Choice Awards Duo of the Year, brought home the coveted
AGAPE Fan award after performing several times during the week to crowds with rousing
applause and standing ovations. Sharon and Jerry said with a smile, "It's a God thing! We
couldn't sing a note or write a word without Him working through us. We are so thankful to our
fans for believing in us. Without them as well as the radio DJs, theaters, churches, community
events and industry folks, we could not do what we do.
Heart To Heart are currently on several national Top 20 Charts with their songs "If That
Don't Make You Wanna Go Home" and "Pieces To Peace;" and their original "Pieces To Peace"
hit No. 1 on the RadioActive Airplay Charts in June. They were also honored to write "Father
Who Cares" for America's Got Talent Top 5 Group, Voices of Glory.
Heart To Heart are regularly featured artists in Branson at The Night Light Theater (owned
by the Barbara Fairchild Family); Treasure Lake Resort and Branson Radio Live. When not in
Branson, they are Winter Texan/Snowbird Artists in the Rio Grand Valley each winter and spend
the remainder of their full-time Gospel and Family Music Ministry time serving churches and
community events throughout the nation and songwriting.
If that is not enough, Heart To Heart are Dove and Grammy nominees and host their own
radio show, "The Branson Gospel Groove." airing on several internet stations to include
LCInternetRadio.com; ToPraiseHim.com; ActsRadio.com and CGCRadio.com to name a few.
Sharon also writes a monthly feature article in the Country Gospel Connection Magazine
called "An A-Mays-Ing Report."
Tags:
AGAPE Fan Award
,
Barbara Fairchild
,
branson
,
GMA/IMMERSE-Nashville
,
Heart to Heart
,
Jerry Mays
,
southern gospel
,
Southern Gospel News
Posted in
christian entertainment
,
contests
|
Comments Off

on HEART TO HEART, MULTI-AWARD WINNING SINGER/SONGWRITER BRANSON DUO WINS COVETED 2012 AGAPE FAN AWARD FOR DUO OF THE YEAR
Written by Scoops Staff on June 23, 2011 – 1:03 pm -
Four-day event to include Dino, HisSong and others and will benefit Convoy Of Hope Disaster Relief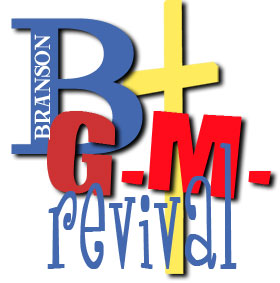 BRANSON, Mo. – (June 23, 2011) – The Branson Gospel Music Revival (formerly Convention) is returning to Branson, Missouri for the third time next week. The four-day annual event heads to a new venue this year, the Tri-Lakes Center, 2527 State Highway 248 in Branson.
Taking place Tuesday, June 28 – Friday, July 1, the gospel celebration consists of daily matinee and evening concerts featuring approximately 75 Gospel musicians from across the United States.
Dino, HisSong, Beyond the Ashes, Kenny Bishop, Ann Downing, Mike Allen, The Williamsons, Praise Incorporated, 2nd Generation, Voices of Glory, Jay Stone Singers, McMillan and Life, Rod Burton, Lynda Lynn, Sunday Edition, Mystery Men, and more will be part of the Revival, which organizers say puts the spotlight on the gospel message.
Also returning will be the popular SGN Scoops Diamond Awards, as well as the Tribute to Albert Brumley and  "Piano Praise" segments. Additionally, a  "New Faces" afternoon concert geared toward teens and those "young at heart" has been added. A Branson GMR Prayer Team, who will pray with audience members and artists alike during the week, is a new addition this year as well.
"We continue to learn and grow and are striving to make this an even more enjoyable event, one that continues to attract new people to this great city every summer," co-owner and host Rod Burton stated. "Meanwhile, our focus continues to be on fostering a time of refreshing and encouragement for our artists as well as the audience."
Having won the "Pacesetter of the Year" award from AbsolutelyGospel.com for the second consecutive year, Burton and his wife and partner, Kelly Burton, look forward to building on the success of what they still consider a very new event.
"It has been a true honor to receive some Gospel industry accolades," Kelly mentions. "What we hope that sort of recognition translates to is more people coming to hear the truly fantastic artists who gather here with us in Branson every summer, so they can receive the message of faith being offered through gospel music."
On that note, the couple has announced that Wednesday, June 29, will be "Disaster Relief Night" at the Revival, with a portion of all ticket and program book proceeds going to aid victims of Branson and Hollister area flooding as well as the recent catastrophic tornado in Joplin, Missouri. Donations will be made to the Assemblies of God relief organization Convoy of Hope, which has already provided substantial assistance throughout the region.
Concerts are scheduled daily Tuesday, June 28 through Friday, July 1 from noon-4:00 p.m. and again from 6:00 p.m.-10:30 p.m. Ticket prices start at $18.00 per day for adults and can be purchased by calling the Tri Lakes Center at 1-800-785-1550 or 417-336-0219.
More information about Branson Gospel Music Revival can be found at www.BransonGMR.com or by calling 615-530-3726.
Tags:
2nd generation
,
Albert Brumley
,
Ann Downing
,
Beyond the Ashes
,
branson
,
Branson Gospel Music Revival
,
convoy of hope
,
Dino
,
hissong
,
jay stone singers
,
Kenny Bishop
,
lynda lynn
,
McMillan and Life
,
mike allen
,
mystery men
,
Praise Incorporated
,
rod burton
,
SGN Scoops Diamond Awards
,
sunday edition
,
The Williamsons
,
voices of glory
Posted in
announcements
,
gospel events
|
Comments Off

on Branson Gospel Music Revival To Be Held At Tri-Lakes Center Next Week