Written by scoopsnews on October 2, 2016 – 3:06 pm -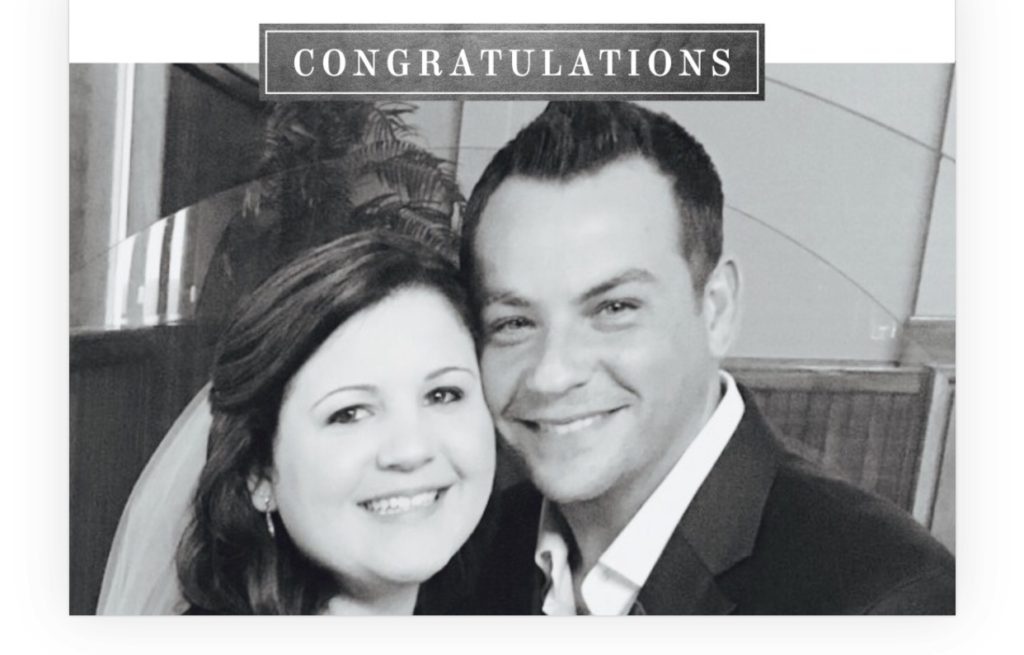 Friday, Sept. 30th, Amber and Brian were married in a small ceremony surrounded by family and friends. They are excited to begin their journey through life together.
Congratulations!
Tags:
Brian Alvey
Posted in
announcements
|
Comments Off

on Congratulations Brian and Amber Alvey❤️
Written by Staff on August 16, 2016 – 6:05 pm -
The Kingdom Heirs have posted the following news on their website:
"Brian Alvey, baritone for the Kingdom Heirs, recently resigned his position and is currently pursuing other interests at this time. The Kingdom Heirs wish Brian well in his future endeavors. Immediately, Andy Stringfield, our piano player, will be filling in until further notice. No auditions will be held at this time. Thank you and God Bless!"
Brian Alvey joined the Dollywood group in April 2015.
About the Kingdom Heirs
The Quartet's website tells us: "The Kingdom Heirs have been nominated many times for industry awards such as The SGMA Awards, Dove Awards and The Singing News Fan Awards. Winning Newcomer Group of the Year in 1989, the group has been a constant favorite. The latest award is 2014 Band of the Year, which the band also won in 2002, 2004, 2005, 2006 and 2013. They have also had many top ten songs, and currently have had 38 top 5 songs in a row and 11 number 1 songs including their latest number #1 song,"I'll Know I'm Home", "The Borrowed Tomb", "Just Beyond The Sunset" (Nominated for Song of the Year), "Just Preach Jesus" (Nominated for Song of the Year), "Tell Me Why" and "He Locked The Gates" . Over the past years they have had 28 songs nominated for Song of the Year. With a nine-month schedule performing to thousands of people a year at Dollywood, the group also tours for eight weeks, January through March. All of their tour scheduling is done in house. Recording for Crossroads Marketing on the Sonlite Records label, they are distributed nationally in retail, Christian Book Stores and Internet. Their latest recordings include, Redeeming The Time, We Will Stand Our Ground, By Request, Songs From The Redbook, The Heart of Christmas, Its Christmas, When You Look at Me, True To the Call and White Christmas." See more on the Kingdom Heirs' website here.
See more Gospel music news here.
Tags:
Andy Stringfield
,
Brian Alvey
,
Kingdom Heirs
Posted in
announcements
,
artists
|
Comments Off

on Kingdom Heirs announce changes
Written by Staff on April 15, 2015 – 12:46 pm -
April 15, 2015 – Arden, NC -The Kingdom Heirs are very happy to announce the hiring of Brian Alvey as their new baritone singer. Kries French, owner/manger of the Kingdom Heirs states "A lot of prayer and consideration went into our decision and we are thrilled to welcome Brian and his family, into our family."  

French continues, "During our time on the road this winter, we had the privilege to audition close to 60 men who traveled many miles for this chance and we thank each of you so much. We feel that God has led us to the man He wants for us."
"We are honored to have entered our 30th year of partnership with The Kingdom Heirs", states Sonlite records President Chris White. "We are excited to continue this relationship with a new recording the group is already working on for an October release."
The Kingdom Heirs ask you to please help us in welcoming Brian and his family to the Kingdom Heir family. Brian will start his tenure with the group at Dollywood immediately. The Kingdom Heirs would like to invite everyone to come and experience this new era of music and ministry.
Tags:
Brian Alvey
,
Dollywood
,
gospel music
,
Kingdom Heirs
,
Lauren Talley
,
southern gospel
,
Tribute
Posted in
announcements
,
artists
|
Comments Off

on Kingdom Heirs Announce New Baritone
Written by Staff on April 14, 2015 – 12:29 pm -
Back in September 2014,  the Kingdom Heirs' baritone singer resigned from the group. Andy Stringfield, pianist for the group, started filling both positions –
singing and playing – during the remainder of the season at Dollywood. Traveling during their off season, the group began the search for a new baritone. The double duty for Andy was a great load for one person to do.
The Kingdom Heirs auditioned around 60 men who had applied for the position.  With their touring season ending, they narrowed the search down to three men.
With the opening of Dollywood's 30th year and Kingdom Heirs' 30th year singing at the park, they were scheduled for weekend shows
during the month of April, which was Dollywood's International Festival. To make the final decision for the baritone position they brought each of the selected men to sing on four shows per weekend.
Bryan Walker, known for being a contestant on the TV series American Idol and as a member of The Perrys, was the first one to appear on stage with The Kingdom Heirs. Following Bryan came Loren Harris, another of the Perrys' former members.  The third and final singer to audition, was Brian Alvey, who is known through the music industry.  He sang with Tribute Quartet and is married to
Lauren Talley.
You can visit the Kingdom Heirs' website and find photos and video clips of these three on stage with The Kingdom Heirs.
Who will be the new baritone for the Kingdom Heirs? Whomever it is will be the singer that God lays on the heart of the men to select.  Everyone has a voice in the selection, and any one of these three vocalists will be a great choice for the position. 
By Robert York
Special to SGN Scoops website
Tags:
Andy Stringfield
,
Brian Alvey
,
Bryan Walker
,
Christian Music
,
Dollywood
,
gospel music
,
Kingdom Heirs
,
Loren Harris
,
southern gospel
Posted in
announcements
,
artists
,
christian entertainment
,
Christian interest
|
Comments Off

on KINGDOM HEIRS NARROW SEARCH
Written by SGN Scoops on October 14, 2011 – 4:38 am -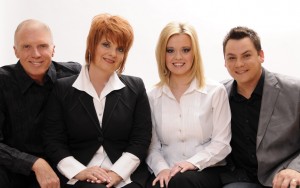 Goodlettsville, TN – One of Christian music's leading booking agencies, The Harper Agency, has announced the signing of popular vocal group, The Talleys (pictured in attached jpg), to their talent roster. The announcement comes on the heels of yet another major change for The Talleys when they transitioned from a trio to a quartet in September with the addition of  Brian Alvey. Alvey, who married multi-award winning group member, Lauren Talley, in June, made his official debut on stage with the family Labor Day weekend in Gatlinburg, TN. "Brian not only brings an impressive vocal ability to the group," group manager, Roger Talley stated, "but he adds a new excitement to the stage with his proficiency as a multi-talented musician. We love his testimony and his heart for ministry."
The East Tennessee based musical family, consisting of the mother/father team of Roger and Debra Talley, as well as daughter, Lauren and now son-in-law, Brian, has enjoyed numerous honors and accolades over the years, including 10 Number one radio singles, making them one of Christian music's most beloved families.
The Harper Agency is pleased to add The Talleys to their roster of fine artists, wich also includes numerous notable family groups.  "Being a family business," Harper Agency representative, Jeff Harper comments, "we understand the dynamics of working together to achieve a common goal.  The Talleys, with their unique sound, are a perfect example of what happens when family blends music and ministry harmoniously." 
Jeff's brother, Ed Harper shared those sentiments."I've known Roger and Debra for nearly 30 years, and of course, I love and admire Lauren's exceptional vocal ability. We are honored to have the opportunity to work with and represent such an outstanding family. We look forward to being a part of their future for many years."
Joining The Harper Agency marks a major change for the popular group, ending their long-time association with Fay Shedd and the Artist Direction Agency, who first began working with the senior Talleys in the early 1980s. "We would like to express our appreciation to Fay Shedd for the many years of hard work and friendship, but we are excited about the opportunity to work with the Harper Agency. We have long respected Ed and Jeff Harper, and we look forward to a new season of ministry. We encourage and invite all of our promoter and pastor friends across the country to contact the Harper Agency to reserve your place on the Talleys' schedule."
The Harper Agency may be reached by calling 615-851-4500 or visiting www.harperagency.com . The Agency is currently scheduling 2012 dates for The Talleys.
Tags:
Brian Alvey
,
Debra Talley
,
Harper Agency
,
Lauren Talley
,
roger talley
,
Southern Gospel Music
,
Southern Gospel News
,
The Talley's
Posted in
announcements
|
Comments Off

on Harper Agency Adds Talleys To Artist Roster