Written by SGN Scoops Staff on January 28, 2020 – 9:59 am -
Update From Lana Chandler
Tim's Update: We made it to the doctor/hospital safely and he is being admitted this morning. We are requesting URGENT PRAYER! He is facing surgery this evening at 6 pm. We are asking God to heal the infection in the bone, so that less of it will need removed. Thank you for all of the prayers you've prayed and continue to pray today for this miracle.
Keep Updated HERE
Tags:
Chandlers
,
Tim Chandler
Posted in
announcements
|
Comments Off

on Keep Praying For Tim Chandler
Written by Staff on June 20, 2019 – 10:27 am -
The Kingsmen and the Chandlers featured in the April 2019 SGNScoops edition of Randall Reviews It, by Randall Hamm
Friends:

April showers bring May flowers and also bring new gospel releases. This month brings only two, but they are dandies. One is a pre-release review of the new Kingsmen CD "Victory Shout," and the other is a new album, "Seasons," from an up-and-coming family group, the Chandlers.

Make sure to visit these groups at their Facebook homes and find out more about them. Also get copies of their albums to enjoy for yourself.

As always, if you enjoy the reviews, pick up this music, or download it, wherever you get good gospel music.
Please send your latest releases for review to Randall Hamm, c/o Q-100 WFLQ-FM, P.O. Box 100, French Lick, Ind., 47432.


Randall


Now…let the reviews begin!
The Kingsmen
"Victory Shout"
2019 Horizon Records
Songs: "Running To Win" (Sandy Knight BMI); "Just Climb" (Karen Gillespie-Adina Bowman-Gene Ezell BMI); "I've Ever Been Glad" (Regina Walden BMI); "Victory Shout" (Kenna Turner West – Jason Cox BMI); "Dear John" (Jason Cox – Joseph Habedank – Kenna Turner West BMI); "It Still Changes Me" (Chris Binion – Matthew Lawson BMI); "King Of Kings" (Rebecca J Peck – Dianne Wilkinson BMI); "Prodigal Son" (Larry W Gatlin BMI); "You'll Move Mountains For Me" (Karen Gillespie – Rachel McCutcheon BMI); "That's Where You'll Find Me" (Kenna Turner West – Jason Cox BMI)

It's been two years since the Kingsmen released "They Don't Know," and since then three quarters of the quartet has changed. Josh Horrell who had replaced tenor Chris Jenkins, has now gone and has been replaced once again by Chris Jenkins. Bob Sellers, lead, left to start a solo ministry and is singing select dates with the Old Time Preachers Quartet. Randy Crawford, baritone, resigned due to health reasons. In Bob and Randy's place, the quartet welcomed new baritone Alan Kendall and lead Chris Bryant.
Songs from established songwriters such as Sandy Knight,  Kenna Turner West and Dianne Wilkinson, and newcomers Karen Gillespie and Rachel McCutcheon, make this Kingsmen album a must listen.
The album opens with a mid tempo Sandy Knight composition "Running To Win," that will make you want to keep in the race. "Just Climb," slows down the pace to feature what could be a single down the road. "I've Ever Been Glad," features Kingsmen bass Ray Dean Reese and he sings the fire out of it. "Victory Shout," is the first single pulled and is off to a fine start.
One of the highlights of the CD is the re-recording of the "Prodigal Son," that was first recorded in 1980 for their "Chartbreakers" LP. Listening to the new version and the original, Ray has not lost a step or a note. This, I hope, will become a single; it's so good.
Some strong songs and some strong singing from a new batch of Kingsmen will thrill longtime fans, and make fans of folks who may not have been fans before now. Visit the Kingsmen at facebook.com/kingsmenquartet/ and get a copy of "Victory Shout" when it's released and request "Victory Shout" at your local Gospel radio station.

This CD is not available yet; it will be released on June 7th and will be well worth the wait.

Strongest Songs: "Victory Shout," "Prodigal Son," "Just Climb"
The Chandlers
"Seasons"
Producer: Shane Roark
Executive Producers: Tim and Lana Chandler
2019 Upper Room Records

Songs: "Anchor Of My Soul" (Jackie Jellison Nichols BMI);  "He Made A Way" (Tim Chandler BMI); "Who Would You Be" (Tiffany Chandler  BMI); "All The Way" (Tim Chandler – Lana Jellison Chandler – Tiffany Chandler BMI); "I Don't Deserve" (Tim Chandler BMI); "Better" (Tiffany Chandler BMI); "Turn Back To Jesus" (Lana Jellison Chandler BMI); "Go Answer The Door" (Tim Chandler – Lana Jellison Chandler – Tiffany Chandler BMI); "Seasons" (Tim Chandler BMI); "My Savior First of All" (Fanny J. Crosby PD)


The Chandlers are a family group based out of Greenfield, Tennessee. They are: mom, Lana Chandler; dad, Tim Chandler; and their daughters, Lyndsey and  Tiffany Chandler. Many may know Lana as Lana Jellison of the group the Jellisons in the 80's and 90's. This group as such has been around a few years, but Tim and Lana have been around since 1992 as Tim and Lana Chandler, their daughters have joined the group in the last few years, and they are now known as the Chandlers.
I first became aware of the Chandlers in the early years of N.Q.C. at Pigeon Forge, seeing them at the showcase. They absolutely blew me away, and that same year they were signed by Chapel Valley, to the Upper Room Record division.
This is another great album the Chandlers have recorded with Chapel Valley. All songs but one are written by the Chandlers.
Great family harmony right off the bat with the first song "Anchor of My Soul," that tells us that "the one I'm serving, he's the 'Anchor of My Soul.'" Tim is featured on "He Made A Way," a bluesy number of the one who always makes the way.
"Who Would You Be," asks the question: If I had lived in Christ's time, who would I be? Lana is featured on "All The Way," and the sound that the Chandlers are known for, which is "get with it McGruders-style music," is heard on this song, and that's quite a compliment.
"Better" is my first choice for a radio single; upbeat and a wah-wah guitar make for a great retro sound. It's catchy, plus has a great message to boot.
"Turn Back To Jesus," "Go Answer The Door," "Seasons," and an a cappella reading of Fanny Crosby's "My Savior First of All," close out the CD. There's nothing finer than when the Chandlers go a cappella. Their last release featured an a cappella version of "Softly and Tenderly" with a new part, and that made it a fresh, new song that sparkled.
Since the passing of Priscilla and Carroll McGruder, I thought that the style of the McGruders would no longer be around. Boy, was I wrong. The Chandlers have a great anointing to carry on this style, both in their writing and singing.
Make sure, DJs, if you're looking for someone fresh to add to your playlist, may I recommend the Chandlers. If you as a fan of Southern gospel music are looking for someone new to discover, may I recommend the Chandlers.
Visit the Chandlers at facebook.com/TheChandlersMusic and get a copy of "Seasons" at thechandlersmusic.com/

Strongest Songs: "He Made A Way," "Who Would You Be," "Better"

Reviewed by Randall Hamm for April 2019 SGNScoops Magazine
Read the May SGNScoops Magazine Online HERE
Download SGNScoops Magazine On PDF
HERE
Find SGNScoops Magazine On Facebook
HERE
Listen To Todays Gospel Music
HERE
Tags:
Chandlers
,
gospel music
,
Kingsmen
,
Randall Hamm
,
Randall Reviews It
,
Seasons
,
Southern Gospel Music
,
Victory Shout
Posted in
artists
,
new music
|
Comments Off

on Kingsmen and Chandlers reviewed by Randall Hamm
Written by Staff on May 8, 2018 – 3:26 pm -
The Chandlers are one of the up-and-coming family groups in Southern Gospel music. In the last two years alone they have accomplished great things. In 2015, they were a NQC showcase winner. In 2016, during the Diamond Awards, they received the Sunrise Award. To follow along with these accomplishments, they have also had the honor of singing at NQC and Dollywood, and have even begun their own television show titled, "It's Your Time, with the Chandlers." Their group consists of Tim Chandler, and his wife Lana, and their two daughters, Tiffany and Lyndsey.
While awards and chart hitting is a dream of many Southern Gospel artists, one major accomplishment the Chandlers have been proud of this year, is a type of ceremony they have included in their scheduled performances. They label this special time as "The Dump."
The Dump is much like an altar call but is so personal and life altering. This is a time where anyone can come to the altar and hold their burdens, insecurities, fears, and their failures in their hands. Tim will pray a special prayer asking God for deliverance. As he prays, he asks that God will take these specific requests and remove them so the person holding them can move past them and further their walk with Christ and no longer be pinned down by these setbacks. As he finishes his prayer, he then counts to three. At the count, everyone then turns their hands and dumps their specific concerns at the altar to be left and not picked up again.
This ceremony was created when Lana Chandler herself was burdened when a loving family member walked out of her life. Lana said she was broken and dealt with emotional stress for 11 months. During this trying time, Lana said she felt like she was having a hard time trying to minister to people, when she was struggling herself.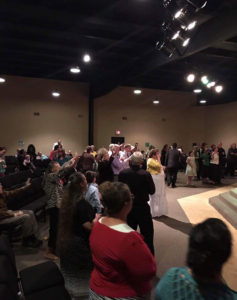 It was then she realized she was singing to herself and it was time to practice what she preached. Lana describes this moment and the days that were to come as, "worshipping her way to victory."
In Lana's own words: "In order to have a burning testimony, ministry, etc., you have to go through the fire." As Lana dealt with the hurt and burdens from this trial in her life and her family, she focused on her own walk with God and began testifying of how God had delivered her and how she didn't have to carry this burden anymore.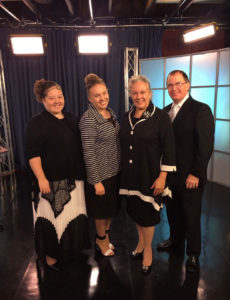 Tim and Lana both agreed, that although it is very easy to question God, repentance must come first.  "In order for God to hear us, we need to make sure we are where we need to be with God," Tim said.
As the trial seemed to diminish, Tim and Lana utilized this trial and used what God had done for them, to help others find their own deliverance. By creating this dump ceremony in their performances, they started to see change in people and saw God move each time.
Tim preaches using the scripture 1 Corinthians 10:13.  He delivers a message that describes the phrase, "God won't give you more than you can handle," as being misunderstood. In fact, this verse reads: "that ye may be able to bear it."  This is where Tim eludes that God will never leave or forsake us, but while we will face troubles, we have to find a way of escape. God's plan is not for us to stay in that trying time. They also include one of their songs called, "My Last Tear."
This part of the service has truly proven to be remarkable to the Chandlers. Lana recalls one instance where a woman came to the altar, was prayed over, and dumped her burdens. Lana says she saw the whole demeanor of the woman's face and countenance changing, and she realized this was truly helping others find deliverance. In one recent service, 12 people were standing at the altar ready to dump their burdens. Lana mentioned that we are all God's clay and each time someone finds hope in this part of the service, it's like God putting the clay back on the wheel and saying, "You aren't going to be that anymore, however I'm going to use you to be something else."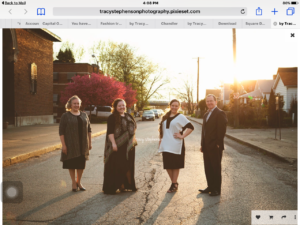 Since the Chandlers have agreed to make this a part of their service when they feel led and when the Holy Spirit moves, God has also moved for them. The family member in Lana's life wrote her a letter of apology which began the healing process for Lana. However, the biggest personal move through Christ for Lana was the humbling moment of realizing that because she went through this trial and found deliverance, others will be able to experience the same peace she found in Christ. Lana tells their audiences that, "Life doesn't stop for our trials and tribulations." She encourages others to find their hope and rest in Jesus and to give Him their burdens, just like she did.    
The Chandlers are still praying for God's plan and will in their ministry as they continue to travel. They have traveled overseas, to Canada, and all over the United States. They are only a few states shy of covering all 50 states in the U.S.  They are even scheduled to sing in Serbia in 2018. They just released their second single, "Somebody Give Him Some Praise," from their latest CD.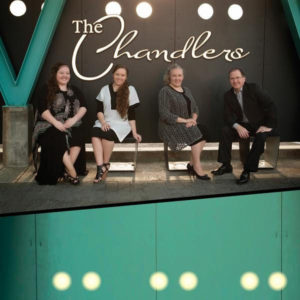 With all the excitement and new beginnings ahead, when you meet a family like the Chandlers you realize their sole purpose in their ministry can be summed up in one word: Jesus. Just as their most requested song is titled, "He Will Come Through," that is the message behind their music, the purpose behind their special ceremony, and the depiction of who the Chandlers are. A message to everyone that you've not gone too far for Jesus, because once you give Him your burdens, He will come through for you.
Photographs courtesy of The Chandlers and Meagan Pledger.
By Sarah Murray
First published by SGNScoops Magazine in March 2018
READ The latest PDF Version Of SGNScoops Magazine here.
Download The latest PDF Version Of SGNScoops Magazine HERE
Find SGNScoops Magazine On Facebook HERE
Listen Online To The Best In Todays Gospel Music HERE
Tags:
Chandlers
,
nqc
,
Sarah Murray
Posted in
artists
,
sgn scoops magazine
|
Comments Off

on The Chandlers: Living a Life of Surrender
Written by SGN Scoops Staff on January 5, 2016 – 5:28 am -
The Chandlers have started their 1st recording with the Chapel Valley Recording Company! We spent the day in the studio with Shane Roark charting and arranging our songs. There will be 9 new original songs on this project. The musicians will be tracking tomorrow. Thank you for your prayers for God's blessings and anointing on this CD.
Find More About The Chandlers Here
Tags:
Chandlers
,
chapel valley
,
Southern Gospel News
Posted in
announcements
|
Comments Off

on Chandlers In Studio