Written by Staff on August 29, 2018 – 5:57 pm -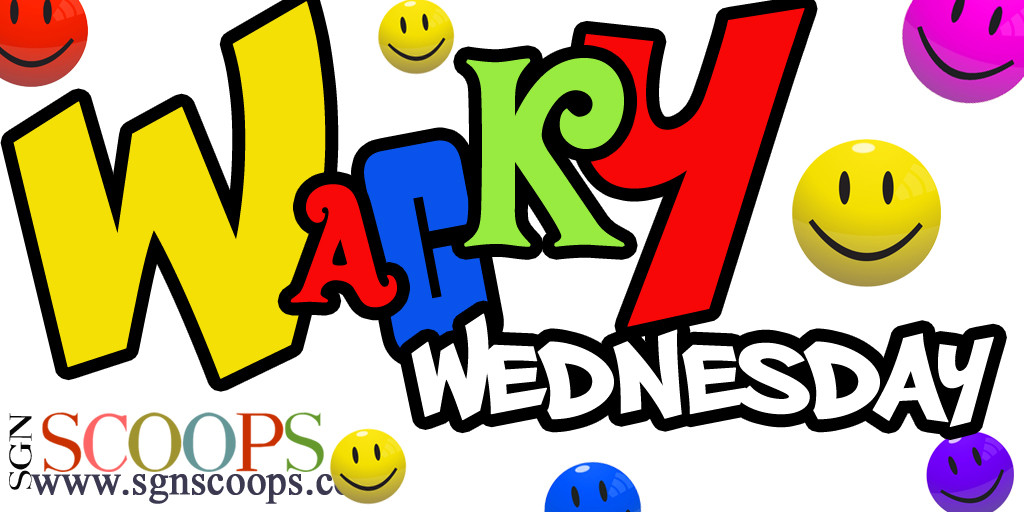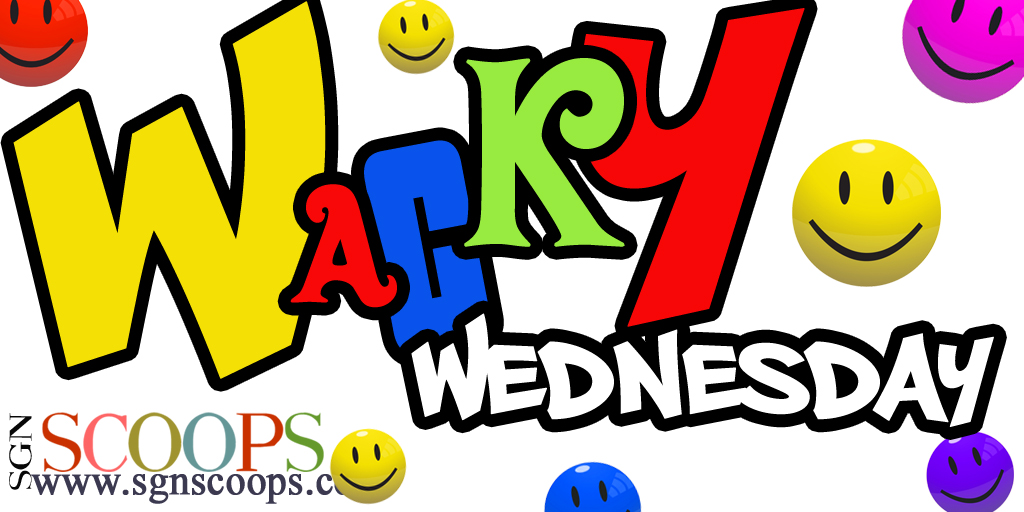 Wacky Wednesday with Gospel Artists returns this month with some interesting questions for our panel. Special thanks to our friend Jantina de Haan for collecting all of these great answers.
As you know, Wacky Wednesday features questions that you might not find in regular artist interviews and answers that you might not see printed anywhere else…
Today our Wednesday is more unusual rather than wacky, as we talk to the unique Matt Linton. Matt recently appeared on the Abraham Productions' Gatlinburg Gathering stage,  both as a soloist and as part of the grande finale. He is with Chapel Valley records, but makes his home in  Fredericton, New Brunswick, Canada. Matt is an ordained minister and is married with three children.
Wacky Wednesday with Matt Linton
WW: Who taught you to tie your tie for the first time?
ML: My youth pastor.
WW: Who puts on the kettle first thing in the morning?
ML: My wife
WW: Do your spend devotional time separately or as group on the bus?
ML: Separately
WW: If you could change jobs for one day, what would that be?
ML: Police officer
WW: What foreign country is on your bucket-list to visit? 
ML: Australia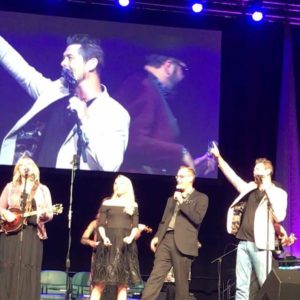 WW: If a quartet would step on your door to sing, who would you choose?
ML: Gaither Vocal Band
WW: Do you get recognized when you visit a shopping mall in a place where you're singing? 
ML: Sometimes
WW: What's in your CD player at the moment?
ML: Karen Peck and New River
WW: If you had $10,000 to give to a mission, where would you donate your money?
ML: To starting new churches
WW: How many miles do you travel a year on the bus?
ML: 75,000 miles!
Thanks Matt Linton!
We hope you have enjoyed Wacky Wednesday with Matt Linton. You can find out more about Matt here.
Be watching SGNScoops website for the next Wacky Wednesday !
Read the full SGNScoops August  Magazine Here.
Download the PDF of SGNScoops Magazine HERE
Find SGNScoops On Facebook HERE
Listen To Today's Gospel Music Online HERE
Tags:
Abraham Productions
,
Chapel Valey
,
Christian Music
,
Gatlinburg Gathering
,
gospel music
,
Matt Linton
Posted in
announcements
,
SGNScoops Wacky Wednesday
|
Comments Off

on Wacky Wednesday with Matt Linton
Written by Staff on November 15, 2017 – 3:36 pm -
Sharps Chapel, TN – Chapel Valley's own Shane Roark and his fiancé, Jacqueline Ratliff are excited to announce their upcoming wedding. They will be married in a private ceremony in Pigeon Forge on December 8, 2017. Shane and Jacqueline welcome your prayers as they begin their life together as husband and wife.
There is a special bond between Shane and Jacqueline because of their mutual appreciation for Southern Gospel music. Originally from north Florida, Jacqueline grew up singing in church and moved to Tennessee to pursue a career in the music industry. Jacqueline sang with her cousin, Brian Norris, who formed the group Chapel Road. She has also done studio work singing background vocals and has worked for several theaters in Pigeon Forge, Tennessee. "When I met Shane, I didn't realize how diverse the music world was. I am so excited that God has led me to a man with such a passion for music and who works so closely in the development of innovative things in the Southern Gospel music industry. I'm thrilled to be a part of his life and it will be a joy to be at his side as God continues to use Him," Jacqueline shared.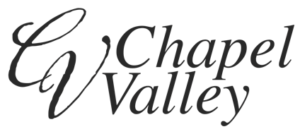 Shane resides in east Tennessee near Knoxville and is the co-owner of Chapel Valley music. He started playing sessions at age 16 and worked in multiple studios before launching Chapel Valley 18 years ago. Shane's incredible voice and instrumental talent allows him to arrange and produce music that is unparalleled. He has been producing music for 25 years, and is well respected among his colleagues and clients alike. "Chapel Valley is my passion and my calling. I look forward to having Jacqueline by my side as I continue to seek God's ever-unfolding plan for my life and my career," said Shane. Shane has three children, Madissen, Makenna and Branson.
Shane and Jacqueline will be foregoing registering at shops, stores and other registries. In lieu of gift registries, they would be honored to accept gift cards as they build their life together. Some of their favorites are:  Walmart, Target, Home Depot, Cheddars, Texas Roadhouse, Olive Garden, Chic-Fil-A and fuel cards. Cards can be mailed to Chapel Valley, Post Office Box 99, Sharps Chapel, TN 37866.
Mark 10:9 says, "What therefore God hath joined together, let not man put asunder." May God bless this union and the entire Roark family as they celebrate the love Shane and Jacqueline have been blessed with.
Media contact:  Marcie Gray
publicity@chapelvalleystudio.com
For the latest issue of SGNScoops Magazine click here.
For the latest Gospel music news click here.
For online Gospel music radio click here.
Tags:
Chapel Valey
,
gospel music
,
Shane Roark
Posted in
announcements
,
artists
|
Comments Off

on CHAPEL VALLEY'S CEO, SHANE ROARK AND JACQUELINE RATLIFF ANNOUNCE UPCOMING WEDDING
Written by Rhonda on October 5, 2010 – 11:55 am -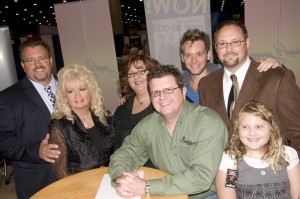 Sharps Chapel, TN- Sunday Drive and Chapel Valley have officially reached a recording agreement. Even though the group has only been known by their current name since 2007, they are not strangers to the music industry. Eric and Charlotte Baker, along with Ernie Fergusen travelled with Charlotte's mom for seven years as the Son's family. Through their ministry they have had much success, and have seen many come to Christ. They have also had several hit songs including a top 20 in 2004.
 
Chapel Valley is excited to have the group join there family of artists. Their new CD is scheduled to be released by the middle of 2011 with a radio single following on one of the Chapel Valley compilation discs.
 
                                         Contest With Great Prizes:
Along with changing record companies by joining Chapel Valley, they also are looking to change their group name.  They are  starting a contest by taking suggestions, so if anyone has an idea for a  new group name,  email Eric at sundaydriveministry@msn.com. The contest started on Ocotober 1st and will finish December 1st. Send as many ideas to them that you might have. If Eric, Charlotte, and Ernie choose your name, then you will recieve:
 
2 free tickets to Fan Fair in Pigeon Forge, TN,
1 autograghed picture and CD of the goup
The winner's name will be printed in the credits of their new CD.
 
Sunday Drive – Welcome to Chapel Valley!
Tags:
Chapel Valey
,
Eric Baker
,
Ernie Fergusen
,
Sunday Drive
Posted in
announcements
|
Comments Off

on Chapel Valley Signs Sunday Drive