Written by Staff on September 8, 2016 – 5:22 pm -
Evening Benefits the Nashville Rescue Mission, All-Star Lineup also features Country Greats Mo Pitney and Lorrie Morgan along with Grammy Award-Winning Nashville Symphony
Tickets On Sale Now, Event Held Sunday, October 2, 2016, at Schermerhorn Symphony Center
NASHVILLE, Tenn. — Jim Gray (conductor, Nashville Symphony) along with the Grammy® award-winning Nashville Symphony, are gearing up for this year's Music with a Mission on Sunday, October 2, 2016, at 7:00 p.m. at the beautiful Schermerhorn Symphony Center with proceeds benefiting Nashville Rescue Mission. The Mission serves over 2,000 meals a day, and provides over 800 men, women, and children experiencing homelessness with safe shelter each night.
"This is our sixth year in presenting Music with a Mission with proceeds benefiting those who find help and hope at Nashville Rescue Mission," shared Jim Gray, conductor of the Nashville Symphony. "This year's line-up features some all-star performers crossing a variety of genres. Performers include, country music singer and member of the Grand Ole Opry, Lorrie Morgan; country music singer-songwriter Mo Pitney; GRAMMY® winning Contemporary Christian singer and songwriter Chris Tomlin; author, actor, songwriter, and Christian music artist, GRAMMY® winner Jason Crabb; and last but certainly not least, Ghanaian-born singer and songwriter Ruby Amanfu. We are so excited about this year's show. It will be a magical night that will entertain young and old alike while helping an extremely worthy cause."
"We appreciate the tremendous support we continue to receive from Nashville's entertainment community," said Rev. Glenn Cranfield, president and CEO of Nashville Rescue Mission. "This event is a wonderful opportunity for the community to enjoy an impressive night of musical entertainment, while also giving help and hope to the homeless. Each day the Mission serves over 2,000 meals to hungry and homeless men, women, and children. And while helping the homeless might start with a meal at the Mission, we offer that and so much more. We are grateful for our donors, volunteers, and everyone who plays a role in helping us meet the needs of those we serve. We could not do this without you."
Jim Gray will conduct the award-winning Nashville Symphony. This event is also made possible through the generosity of sponsors and performers. Missy & Rick Baker are this year's Presenting Sponsor. This year's Patron Sponsor is a generous, but anonymous donor. Southern Lawn Equipment is this year's Meet & Greet Sponsor. All Music with a Mission performers are donating their time and talent to the event, with proceeds benefiting Nashville Rescue Mission. The Schermerhorn Symphony Center is located at One Symphony Place, Nashville, TN 37201.
Tickets for this benefit are now on sale, with general admission seating starting at $39. Visit www.nashvillesymphony.org to purchase tickets or call the box office at 615-687-6400. Before the show, attendees will have an opportunity to bid in a silent auction that includes items donated by performing and other celebrity artists. The silent auction will feature many unique items including concert tickets and backstage passes; and autographed items from performing and celebrity artists, including Tim McGraw and Alan Jackson. For more information, visit nashvillerescuemission.org. Proceeds will benefit Nashville Rescue Mission.
###
About Nashville Rescue Mission
Nashville Rescue Mission is a Christ-centered community dedicated to providing hope for today, hope for tomorrow, and hope for eternity to the hungry, homeless, and hurting. We provide meals, safe shelter, and clothing to those in need, as well as support and long-term assistance for those struggling with homelessness, addictions, and other life-debilitating problems. With a focus on two ministries—Guest Services Ministries and Recovery Ministries—the Mission operates almost entirely from donated foods, materials, and the generous contributions from individuals, churches, and organizations. Established in 1954, Nashville Rescue Mission is a faith-based, 501(c)(3) nonprofit, and does not accept any government funds. We are located at 639 Lafayette Street, Nashville, TN 37203. Visit nashvillerescuemission.org to learn more.
Artists' websites for additional information:
Lorrie Morgan—http://lorrie.com
Mo Pitney—http://www.mopitney.com
Chris Tomlin—http://christomlin.com
Jason Crabb—http://jasoncrabb.com
Ruby Amanfu—http://rubyamanfu.com
For more Gospel music news, click here.
Tags:
Chris Tomlin
,
Jason Crabb
,
Nashville Rescue Mission
Posted in
announcements
,
artists
|
Comments Off

on Grammy Winners Chris Tomlin and Jason Crabb To Headline Sixth Annual Music With A Mission
Written by SGN Scoops on September 27, 2012 – 8:09 am -
NASHVILLE, Tenn.— Hymns for the Christian Life, the highly-anticipated fourth U.S. release from preeminent Irish modern hymn writers and recording artists Keith & Kristyn Getty, will bow October 9. Produced by Charlie Peacock (The Civil Wars, Switchfoot) and Ed Cash (Chris Tomlin, Kari Jobe), the 12-song project explores such themes as work, family, money, community and social action, showcasing Irish melodies as well as American bluegrass and country music influences.
This original collection is highlighted by a special 10th anniversary recording of "In Christ Alone," featuring 27-time GRAMMY® Award-winner Alison Krauss. Penned by Keith Getty and Stuart Townend, the world-renowned modern hymn has been recorded by numerous artists over the past decade—including Owl City, Natalie Grant and Newsboys—and is a classic sung in churches around the globe.
In addition, bluegrass icon Ricky Skaggs joins the couple on "Simple Living (A Rich Young Man)." Written by Keith & Kristyn Getty and Stuart Townend, the song is based on the Bible story of the rich young ruler. Clannad's Moya Brennan, one of Ireland's most beloved recording artists, also contributes to Hymns for the Christian Life, singing a traditional Gaelic lullaby as part of "A Mother's Prayer." Keith & Kristyn Getty, along with Fionan de Barra (Broadway's Riverdance), penned the piece for their young daughter, Eliza Joy.
"The concept for these songs began two years ago when we took a break from touring and settled in Nashville," says Keith Getty. "Amid conversations with friends and coworkers around our dinner table and on our porch, we found ourselves discussing the challenges of the Christian life. We pondered ideas such as, 'What does it mean to succeed in your job but not make it your god? How do I handle doubt? In what way should I pray for my children? What is our responsibility for the care of others inside and outside our community?' We believe the Gospel story touches every part of life, so these new songs are a reflection of those conversations and us turning to the Gospel for guidance."
"We hope Hymns for the Christian Life also reflects our continuing goal to write modern hymns for the Church," adds Kristyn Getty. "What excites us most about the work we do is seeing a song used by a congregation and hoping it becomes part of the soundtrack that follows a believer through life."
Keith & Kristyn Getty are among the preeminent modern hymn composers of this generation. Writers of an acclaimed repertoire of 21st century hymns revered both for their theologically astute lyrics and universally beloved melodies, the couple's popular U.S. recordings include In Christ Alone, Awaken The Dawn and Joy – An Irish Christmas. They have shared their music at Franklin Graham crusades, the GMA Dove Awards, The Third Lausanne Conference on World Evangelization, as well as feature performances at London's Royal Albert Hall and the legendary Grand Ole Opry, among many other noted platforms. Keith & Kristyn Getty, along with their band—an ensemble of some of the top names in Irish and American folk music—are in the midst of their Hymns for the Christian Life Tour, which is hitting multiple U.S. cities this fall.
Hymns for the Christian Life, a Getty Music release, will be distributed by EMI CMG Distribution. EMI CMG Distribution is the exclusive North American distributor of Getty Music products to all Christian and general market channels as well as the exclusive worldwide distributor to all digital channels.
For further information, visit www.gettymusic.com or www.turningpointpr.com.
Tags:
Allison Krauss
,
Charlie Peacock
,
Chris Tomlin
,
emi cmg distribution
,
Getty Music
,
GMA Dove Awards
,
Hymns
,
kari jobe
,
Keith & kristyn Getty
,
Ricky Skaggs
Posted in
announcements
,
new music
|
Comments Off

on KEITH & KRISTYN GETTY JOINED BY ALISON KRAUSS AND RICKY SKAGGS ON HIGHLY-ANTICIPATED HYMNS FOR THE CHRISTIAN LIFE
Written by SGN Scoops Staff on April 22, 2011 – 10:19 am -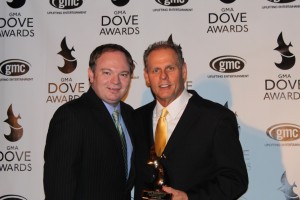 Hendersonville, TN (April 21, 2011) – The 42nd annual GMA Dove Awards celebrated another great year in Gospel music last night at the historic Fox Theatre in Atlanta, Georgia.   Hosted by Sherri Shepherd, the sold out crowd enjoyed performances by some of the top artists in the industry, including Chris Tomlin, Kirk Franklin, Steven Curtis Chapman, Natalie Grant, Jason Crabb, Ernie Haase & Signature Sound and many more.   The top winners of the night were Francesca Battistelli, Chris August, Point of Grace and Jason Crabb, with each receiving three Dove Awards.   The final award of the evening, Song of the Year, was presented to Jason Crabb's, "Sometimes I Cry," written by his father, Daywind songwriter, Gerald Crabb and published through Christian Taylor Music.   Gerald was also awarded overall Songwriter of the Year: a category in which fellow nominees included Chris August, Jason Ingram, Joel Lindsey and Wayne Haun.
The Pre-Show Ceremony, held on Wednesday afternoon in the Fox Theatre's Egyptian Ballroom, was hosted by Jason Crabb and featured performances by Guy Penrod, Nicole C. Mullen, and others.  Highlights of the afternoon included an impromptu moment when Jason Crabb invited his brother, Aaron, and Karen Peck Gooch to join him on stage for an incredible rendition of "Through the Fire" that brought the crowd to its feet.  Brian Free sang his hit song, "Never Walk Alone," during a special segment honoring industry professionals and artists who have passed away this year, including his own mother and father.
The 42nd Annual GMA Dove Awards will be televised on the Gospel Music Channel, Easter Sunday, April 24th, at 8:00 p.m ET.
Daywind Music Group is based in Hendersonville, TN and is distributed worldwide through New Day Christian Distribution.  Daywind is home to such great artists as Legacy Five and the Perrys, and writers such as Kenna West and Marty Funderburk, among others.  For more information on Daywind Records, visit daywindrecords.com.
Tags:
Chris Tomlin
,
Ernie Haase & Signature Sound
,
gerald crabb
,
Jason Crabb
,
Kirk Franklin
,
Natalie Grant
,
Steven Curtis Chapman
,
Wayne Haun
Posted in
announcements
,
christian entertainment
|
Comments Off

on Daywind Songwriter Gerald Crabb Brings Home Multiple GMA Dove Awards