Written by scoopsnews on September 14, 2019 – 11:25 am -

Happy Saturday Y'all!
What do you have planned this weekend?
Its a typical busy weekend for me, but I managed to find some grandbaby time. I'm hanging out with "Eli Superman" today and Princess Priscilla. One of the greatest blessings here on this earth is Grandchildren. Who would agree?
Earlier Eli put on his Superman cape and jumped in the car with me. I said, " Eli, I'm so glad I have Superman traveling with me today."  He responded by telling me that Superman could do anything because he has  "Super Powers.'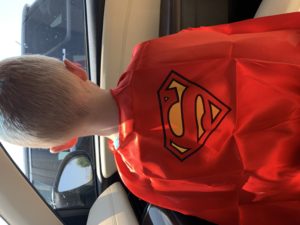 A little later our conversation shifted to Jesus. Priscilla said, "Jesus can do anything, except one thing."
She looked at me with a cute grin and she said, "He can't stop loving us."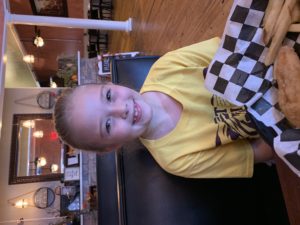 Out of the mouth of babes……
Whatever you have done, wherever you have been….. He loves you.
Listen to this message in song by Christian Davis.
Tags:
Christian Davis
Posted in
announcements
|
Comments Off

on Weekend Word With Vonda Armstrong
Written by scoopsnews on March 6, 2018 – 10:53 am -
---
At a very young age, Christian and those close to him knew there was a special calling on his life. Christian began to sing at age 3 and throughout his childhood he learned to play various instruments. As Christian grew older and made a commitment to use his talents for the purpose which they were given, God placed a unique smooth bass vocal on him that usually takes many years of seasoning.
During his musical career, Christian began singing professionally in 1998, as bass vocalist with The Sounds of Liberty, while attending Liberty University, traveling to many churches and venues around the country. Later that year Dr. Jerry Falwell, with Christians' persuasion, formed the Old Time Gospel Hour Quartet, which Christian began as the original bass singer. He has since sung with other quartets such as the Old Friends Quartet (while George Younce was ill), Christian Brothers Quartet, and Mercy's Mark. In addition to his music career, Christian served as the Assistant Director of Recruiting for Southwestern Baptist Theological Seminary in Fort Worth, Texas in 2006.
Christian has witnessed countless souls come to know Jesus as their Savior and has seen hearts and lives changed by the power of God. He believes the most important thing he can do is reach souls and touch the hearts and lives of people through the instrument He gave him, his voice. Along his journey, Christian has suffered personal hardships and as a result, God has given him a special heart for people who are hurting and trying to fill the emptiness in their own lives.
Find Out More About Christian Country Expo HERE
Check this out:
Tags:
CCX 2018
,
Christian Davis
Posted in
announcements
|
Comments Off

on Christian Country Expo Welcomes Christian Davis
Written by SGN Scoops Staff on December 19, 2017 – 6:23 am -
Multi Dove Award winning and Grammy nominated artist Christian Davis signs with Turnberry Records and Management Team, a division of The Bluegrass Standard Magazine. It is a rarity in any genre of musical entertainment that someone comes along with an individual talent that can captivate an audience for an entire performance. Even more of a rarity is when someone comes along with not only the God given talent, but the heart and compassion to make a difference.
Over the past 10 years, Christian has endeared himself to a wide audience as gospel, bluegrass and country fans have embraced his deep, rich vocals and easy-going personality on and off stage.  Fans have marveled at his vocal talent and he quickly became a crowd favorite at shows across the world.
Davis states "Joining Turnberry Records is genuinely exciting for me!  Not only is Turnberry my first solo record label, but Keith was the first promoter who booked me and my band after departing Dailey & Vincent as he gave me a platform to bring this incredible music to life.  Keith's association with the music industry has long defined his values and I am honored that he has welcomed me to the Turnberry Family. The label has embraced my personal evolution as an artist and performer in the Gospel, Bluegrass and Country genres allowing me to continue to inspire and enrich the lives of people all across the world.  I am overjoyed to partner with Turnberry as we cross new horizons musically and personally!"
Embarking on a new solo venture, Christian's next album will meld styles of "traditional back porch bluegrass" with a little bit of "new grass."  The new album is being co-produced by Christian Davis and Keith Barnacastle along with Grammy award winning producer, Wayne Haun.  The album is slated to release in early 2018.
The Bluegrass Standard Magazine couldn't be prouder to represent and be a part of this amazing journey.  For more information, please visit christiandavisonline.com or thebluegrassstandard.com
Tags:
Christian Country News
,
Christian Davis
Posted in
artists
|
Comments Off

on CHRISTIAN DAVIS SIGNS WITH TURNBERRY RECORDS
Written by SGN Scoops Staff on September 5, 2013 – 3:14 pm -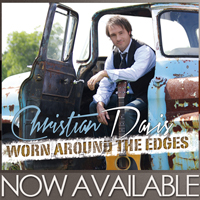 NASHVILLE, TN (Press Release) – Christian Davis proudly announces the launching of a new state of the art website christiandavisonline.com. This redesigned site is the creation of Bobby Davenport of Dalex Design Group. The multi-faceted site is very user friendly as it provides biographical information, appearance schedule, online song clips, photos, media, online store featuring album download availability and a page featuring the latest news regarding his ministry.
"I am so excited to be doing what God has called me to do in both areas of being a member of Dailey and Vincent and continuing select solo dates when available." states Christian. "It was time to take my web presence to the next level and Bobby has captured exactly what I wanted to achieve that mission."
Christian Davis is booked exclusively by the Adoration Agency, a division of Michael Davis and Associates.
Call 615-590-7453 to schedule a concert in your area. For more information, please visit http://www.christiandavisonline.com/.
Tags:
Adoration Agency
,
Christian Davis
,
Dailey and Vincent
,
southern gospel
,
Southern Gospel News
Posted in
announcements
|
Comments Off

on Christian Davis Proudly Announces The Launching Of A New State Of The Art Website
Written by SGN Scoops Staff on September 7, 2012 – 9:47 am -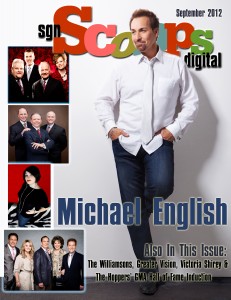 We are very excited to present 2012's NQC Edition of SGNScoops Magazine! This month we're shining the spotlight on Michael English, Greater Vision, Victoria Shirey, Christian Davis, Cassie Shaffer-Hymes, Omega and The Williamsons. Enjoy the coverage on the 2012 GMA's Hall of Fame Induction, the 42 Annual Seminole Gospel Sing, St Jude's Benefit Singing as well as a concert story on TaRanda Greene. Get ready for new music coming out this fall too! Sandi Duncan Clark shares the newest CD's on the market! Enjoy memories with Ms Lou Hildreth and also find several articles of inspiration. Check out the latest on the Creekside Gospel Music Convention and don't forget to watch Rob's Publishers Point and Media Minute! With more than 100 years combined gospel music industry experience, our talented staff has done a GREAT job again this month to promote the gospel by unveiling what is intriguing and real about Southern Gospel and Christian Country music. Our prayer is that you are encouraged. Enjoy September's issue and please share with your friends!
Download The Magazine Here
Tags:
2012 GMA's Hall of Fame Induction
,
42 Annual Seminole Gospel Sing
,
Cassie Shaffer-Hymes
,
Christian Davis
,
Creekside Gospel Music Convention
,
gaither
,
Greater Vision
,
hoppers
,
john mathis jr
,
Laura Kennedy
,
Laurette Willis
,
Michael English
,
national Quartet Convention
,
nqc
,
Omega
,
Rhonda Frye
,
rob patz
,
Sandi Duncan Clark
,
southern gospel concerts
,
Southern Gospel News
,
St Jude's Benefit Singing
,
stephen hill
,
Taranda Greene
,
The Williamsons
,
Victoria Shirey
Posted in
sgn scoops magazine
|
Comments Off

on September 2012 SGNScoops Magazine