Written by Staff on August 13, 2017 – 4:40 pm -
There are some names in the Southern Gospel Music industry that are synonymous with Southern Gospel. One such name is Hinson.
Weston Hinson and his wife Christy, along with daughter Jordan and newest vocalist Logan Smith, currently carry on the family legacy left by the original Hinsons.
We recently caught up with the group. Their feedback is as follows …
Jimmy Reno: The original Hinsons were a legendary group in Southern Gospel and turned out numerous hits like "The Lighthouse," "Call Me Gone," "That I Could Still Go Free," and so many others. Does the Hinson Family follow in the same style of songs and arrangements, or do you feel your ministry is moving in a different musical direction of its own while still reaching back to the roots laid by the original Hinsons? 
Weston Hinson: I think it's important to draw from influences while at the same time be true to who you are, and I believe if my dad were alive he would tell me, "be yourself."
Reno: Kenny Hinson won numerous awards and impacted so many other artists with his voice and ministry, including myself. Growing up with your father achieving so much success in the Southern and Country Gospel genres, Weston, how soon did you know that your calling would also be in singing?
Weston: I think being in and around music and ministry my whole life, I may have looked over – or to be honest, didn't take being called seriously – until I reached my early 20s. It would be easy to see the success of my dad and assume his children would want to follow in that, but I wanted to make sure success and accolades were not the reason I followed the call of God on my life. I can assure you it's not why my dad followed the call either.
Tags:
Christy Hinson
,
gospel music
,
Hinson Family
,
Jordy Hinson
,
Logan Smith
,
Weston Hinson
Posted in
artists
,
Christian interest
,
sgn scoops magazine
|
Comments Off

on Catching up with the Hinson Family  
Written by Staff on January 6, 2017 – 2:30 pm -
Caddo Mills, TX – The Hinson Family has welcomed renowned soloist Logan Smith to their ranks. Logan periodically filled in with the family throughout 2016 beginning in May when Christy Hinson, the soprano of the group, was diagnosed and underwent surgery and treatment for Thyroid Cancer.
"We began to see the versatility that we had with Logan in the mix and the many different ways that we can arrange harmonies having 4 people that have such wide ranges and can each hear and sing so many different parts!" – Weston Hinson, Lead Vocals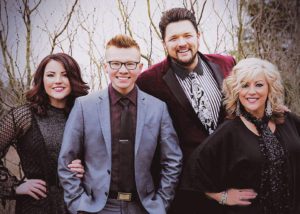 Logan will be joining The Family in the studio in the coming weeks to finish their latest recording with Song Garden Music Group. This project will be the group's sixth in their discography and first to include four vocalists since the 2009 release of "Home With You Tonight" when they were known as "Weston Hinson & By Faith."
"I am honored to be a part of a group and family with such a rich musical heritage! God has put together a dynamic ministry team here and we have such good chemistry together both on and off the stage. I am excited to see all the doors that God opens and where He takes us!" – Logan Smith
A memorable moment took place during a Christmas concert performed by the Hinson Family and Logan Smith at Community Church of Praise, Logan's home church in Stockbridge, Georgia. After a duet performance of the song "It Feels Like Christmas Again," written by Sheri Easter, Logan proposed to his girlfriend of six months, Jordan Honea of the Hinson Family … and she said yes!
"I am going to be inheriting a wonderful young man for a son-in-law and am so excited about seeing what the future holds for these two crazy love birds," said Weston, stepdad to Jordan.
In addition to his main role with The Hinson Family, Logan will continue his solo ministry and will honor his current scheduled solo appearances.
For more information on The Hinson Family click here.
For more Gospel music news click here.
Tags:
christian country
,
Christy Hinson
,
gospel music
,
Hinson Family
,
Jordy Hinson
,
Logan Smith
,
Weston Hinson
Posted in
announcements
,
artists
|
Comments Off

on THE HINSON FAMILY OFFICIALLY WELCOMES LOGAN SMITH
Written by SGN Scoops Staff on June 27, 2016 – 10:14 pm -
Update on Christy:
Surgery is tomorrow at 1:30pm! We appreciate your prayers and continued support through this time!! God bless you all!!
Keep Up On Southern Gospel HERE
Tags:
Christy Hinson
,
Southern Gospel News
Posted in
artists
|
Comments Off

on Update On Christy Hinson