Written by Staff on November 21, 2014 – 11:17 am -
By Robert York
Voices Won celebrated their 13th Anniversary with a weekend of great Southern Gospel music. Voices Won is a trio from Dalton, GA consisting of three brothers; Jaron who is the oldest and writes most of the songs they sing; Shantell who is the middle brother and also their military man having served in the Air Force, and Staclynn, who is the youngest and mom's favorite. They opened the concert each evening which was held at Crosspoint Christian Center in Dalton, GA​.
Opening night included the story-telling Mark Bishop who shared a lot of his story songs, pleasing the audience. He even sang a few that he had not written. Winners of five 2014 Diamond Awards, Karen Peck and New River took the stage singing from their Revival CD and a few all-time favorites, ending their program with "Four Days Late."
Saturday night, Voices Won took a few requests from the audience after they had sung. Then, on to the stage popped the group that has a record of having number-one songs, The McKameys. They made up different singing groups out of their stage personnel. As usual, The McKameys came away pleasing the crowd.
Up next was another fan favorite, Triumphant Quartet. Of course, during their set, Clayton had to have his way and sing "The Old White Flag."
Tissues, napkins, hankies and even toilet paper came out of women's purses when he sang. With both these groups performing, it was a sold out show. Folks had to make room for the standing crowd as very few seats were left
Danny Jones emceed the two-night event. Voices Won's mother, Regina and father, Aaron did a great job preparing meals both nights for folks to enjoy before the concert. If you didn't want a full meal they also had hot dogs and barbeque sandwiches as well as pinto beans and cornbread.
Voices Won is already preparing for their 14th Anniversary, which is always held the second Friday and Saturday night in November. For more information visit
http://voiceswon.com/.
Thanks to Robert York for this concert review.
For more concert reviews and artist features, read the SGN Scoops digital magazine found at https://www.sgnscoops.com/
Tags:
concert review
,
gospel music
,
karen peck and new river
,
Mark Bishop
,
Robert York
,
southern gospel
,
The Mckameys
,
triumphant quartet
,
Voices Won
Posted in
announcements
,
artists
,
sgn scoops magazine
|
Comments Off

on Voices Won Celebrates 13th Anniversary
Written by Staff on October 30, 2014 – 12:30 pm -
By Candi Combs
The colorful Virginia mountains in October seem to cry out the glory of God's creation. Out of a desire to bring folks home, a small Virginia church asked The Williamsons to lead them in an old-fashioned Homecoming. The Williamsons came all the way from Oklahoma to the base of the Blue Ridge Mountains to share their special family style sound of Gospel music.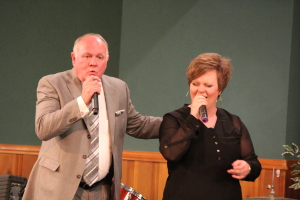 Donnie Williamson is the group's leader both on and off the platform, and sings baritone. His lovely and talented wife, Lisa, joins him by carrying the soprano vocals. Karl Rice, who stands beside Darin Hebert singing bass, shares lead and tenor parts alternatively with Lisa.
The program opened with the new single, "I've Got to Tell Somebody." This tune focused the attention of everyone in the room with the clear message that everything sung would be focused on salvation in Jesus. Donnie introduced the next song as a brand new selection, written by Lisa and titled "It Was the Word" from the latest release, Tell Somebody.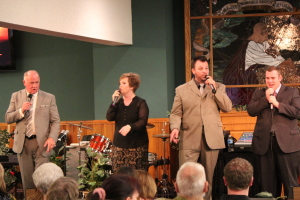 After sharing the new music, Lisa demonstrated the group's versatility when she began singing the classic, "We Shall Behold Him." Each member of the group took a verse and gave this special song a full range of delivery.
A concert with The Williamsons is truly a family affair. Daughters Olivia, age five, and Sadie, aged nine, also had an opportunity to sing with Mom and Dad. Sadie harmonized with Donnie in a tender arrangement of "Minute by Minute." These girls have their parents' ear for tight harmony and no doubt they will be participating in the ministry on a much greater level in the future.
Further demonstrating the mixed talent of the group, Rice was featured on the harmonica with Donnie providing the keyboard accompaniment on the song "Blood Stained Banner."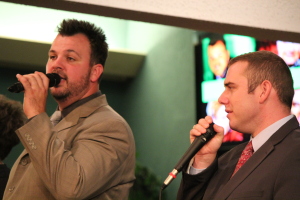 "The Gospel still works", said Donnie. This is such a simple statement to one of today's truths. Demonstrating the point, the Williamsons sang a Dawn Moss classic, "I Need You More Today." Moss was in the house and was completely flattered that Donnie included her song in the program.
Hebert was featured on "Way Down Deep in My Soul" with emphasis on 'deep'! He has no problem laying down the deepest of tones. The floors as well as the pews were picking up the reverberation. From new music to old, and from young to elderly, the Williamsons had now included everyone in the concert. Other engaging tunes included "Searching" and "I Know Who Holds Tomorrow."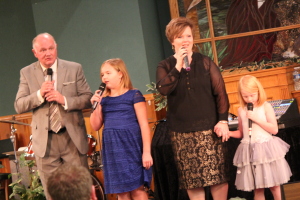 Rice shared the testimony of his youth when he surrendered his life to following Jesus. Speaking from the depth of his soul, the altar began to fill with people. Yes, it was an old-fashioned, soul-searching, altar invitation!
And now the Williamsons had shown why the latest chapter of their ministry is called, "Tell Somebody." In a recent interview, Donnie stated, "I believe this is the most powerful music we have ever recorded. The music is filled with the message of Christ that will uplift those who listen and touch them no matter where they are in life." On this day in Virginia, they had certainly done that!
For the Williamsons' tour schedule, visit www.williamsonsmusic.com . All pictures courtesy of Candi Combs.
For more concert reviews and artist features, see the latest SGN Scoops magazine. Visit www.sgnscoops.com
Tags:
Candi Combs
,
concert review
,
gospel music
,
southern gospel
,
The Williamsons
,
Virginia
Posted in
announcements
,
artists
|
Comments Off

on Candi's Catch-ups: The Williamsons
Written by Staff on August 29, 2014 – 7:23 am -
By Candace Combs
Christian people everywhere, in every culture, need to worship the Creator. Worship comes in many forms, music perhaps being one of the greatest. Charles Billingsley, Worship leader at Thomas Road Church and Artist-in-residence at Liberty University in Lynchburg, VA, presented to a full house the release of his new project, Only Jesus.
Billingsley, formerly the lead singer with NewSong, has continuously dedicated his ministry and teaching to the art of worship.   This latest edition is completely engrossed in leading listeners to forget about the stage, forget the instruments and completely focus on worship of Jesus. Thus the title: Only Jesus.
The title track is completely titled, "Jesus, Only Jesus" and features the familiar voices of Travis Cottrell, Michael O'Brien, and Southern Gospel favorite, Guy Penrod. This collaboration with these voices features the best of each genre of Christian music today. Hopefully, this won't be the last!
Thomas Road Church dedicated the evening to the ministry of an international humanitarian relief organization named World Help (worldhelp.net). The evening opened with a bouncy children's choir representing every corner of the world. The group performs nationally as Children of the World. They were a special treat with their culturally inspired clothing representing the nations of their origin.
When Billingsley took the stage, he had a full compliment of stage band and the worship choir from Thomas Road Church.   The program opened with traditional worship songs that was joined with the over 5,000 in attendance.   Billingsley communicated that he would be leading us from early traditional songs of the faith, leading from the great sacrifice of the Cross, to the glorious Resurrection.
"Great is Thy Faithfulness" was performed with a contemporary yet traditional arrangement. Billingsley sang the familiar, "It is Well," with a full force of power. While the arrangement is the same sung for years in churches, Billingsley's rendition exudes great power from his smooth voice, into an offering of faith.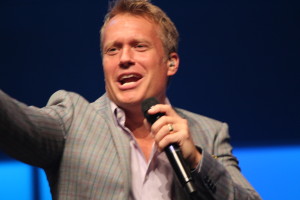 Once the audience was assured that worship was the focus of the event, Billingsley and the worship team broke into "Jesus, Only Jesus." This song was followed by dialogue that "Jesus is the only way, the only hope." Billingsley continued to invite any non-believers to a relationship with Jesus.
A crowd favorite at the Virginia church, "Only Boast" was performed next. Having brought a history of worship, the program moved into a section of songs of the Cross. "Mercy Tree" is a song that portrays the great cost of salvation. The song was accompanied with a video presentation pronouncing the truth that worship is about a relationship. The Christian deserves nothing, yet on that tree God revealed just how holy He is!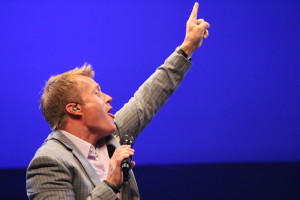 Worship was brought full circle as the entire room was filled with the melody of "Gloria" in a modern arrangement. A sign language interpretation of the lyrics was presented during the performance. Billingsley held nothing back as he brought the evening of worship to a full crescendo.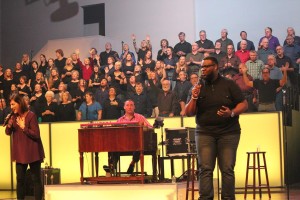 Prayer, in addition to music, is another of the Christian's arsenal of worship. Billingsley next took the opportunity to lead in prayer asking "God to help us worship you, to give you all we have." He further asked God for help in capturing scripture in music. This request was natural segue into "Ten Thousand Reasons."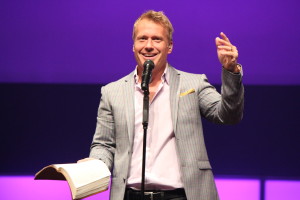 Quietly and joyfully, in closing, the congregation joined in a chorus of "Bless His Holy Name." Concluding in such a simple way was Billingsley's way of keeping the nights focus on Jesus, only Jesus!
For an inside look at the production, go to Charles Billingsley YouTube, Behind the Scenes recording: "Jesus, Only Jesus." The CD is now available. This music should be just what you need to get your worship on! For more information, visit http://charlesbillingsley.com/
For more concert reviews in the latest SGN Scoops visit https://www.sgnscoops.com/
Tags:
Candace Combs
,
Charles Billingsley
,
Christian artist
,
concert review
,
guy penrod
,
sgn scoops
Posted in
artists
,
concert reviews
,
sgn scoops magazine
,
special feature
|
Comments Off

on Concert Review: Charles Billingsley – Only Jesus
Written by SGN Scoops Staff on July 24, 2014 – 10:17 am -
July 11, 2014: A few hundred lucky people were in the presence of a gospel music legend. Mr. Michael English blessed our socks off in St. Joseph, Missouri as part of a series of upcoming concerts at Brookdale Presbyterian Church.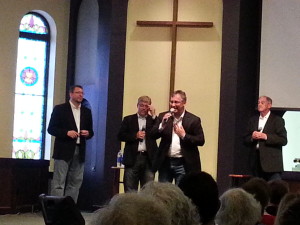 A local quartet, Soul Harvest, opened the concert with some great four-part harmony. Songs such as "I've Never Been This Homesick Before," "I Believe in a Hill Called Mt. Calvary," and "The Lighthouse" fed our desire for the classic Southern Gospel songs of yesteryear. Their rendition of a favorite by the Hoppers, "Jerusalem," brought the crowd to their feet. And I'm sure somewhere up above, George Younce and Glen Payne were singing along with Soul Harvest as they performed the acapella version of "Wonderful Grace of Jesus." These guys were wonderful and I personally am looking forward to hearing them at the next exciting concert in this series on August 23!
Next, the incredibly talented Steve Ladd took the stage. What a privilege to hear this talented artist belt out tunes such as "Everlasting God," "One More River To Cross," "Through It All," and "We Shall See the King." He also sang one of my favorite songs previously recorded by Michael English, "That's What Heaven Will Be Like." Steve's enthusiasm is contagious, and if he ever comes to your area, I would highly encourage you to get yourself to one of his concerts!
Michael English….what can I say. There are no words. He is an amazingly blessed vocalist and I don't feel like that description even remotely does justice to his talent. He started off with "I Don't Want To Get Adjusted," "Waking Up The Dawn," "Let's Make A Baby King," and "Great Day." Steve joined him in singing a toe-tapping, hand-clapping crowd favorite, "I'll Fly Away."
Michael talked about his father who recently passed away, and sang "Go Rest High On That Mountain" in his honor. He then went into an acapella version of "What A Day That Will Be," and I'm not sure there was a dry eye in the place. "Blessed Assurance," "In Christ Alone," "Molecule of Faith"….I know I'm missing some of the songs that were shared because I think we all were caught up in the moment. He ended the concert with what I like to call his "signature" song, "I Bowed On My Knees."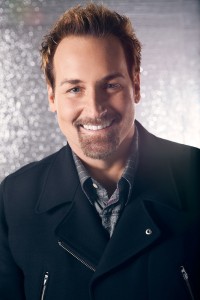 Michael shared his heart and he shared his testimony; he's been through trials that most of us cannot fathom. Yet, there he stood, still amazed by God's grace, still loving his Master, still praising God for bringing him through each circumstance, still professing his faith and his reliance on God to take him through each day. Michael is a living, breathing picture of God's grace. And Michael, if you are reading this, know that there are a bunch of people in this old town of St. Joseph, Missouri who love you, love your heart, and pray for you continually. You will always be welcomed back with open arms. What an impact this man has made on my life and the lives of hundreds of thousands of people around the world.
Have you attended any of concerts that have been offered the past couple of years in St. Joseph, Missouri yet? If you have, you can testify to the blessing you received each and every time you walked through the door. If you haven't, you're missing out big time, to put it bluntly. For this next upcoming concert (and believe me, you will not want to miss it!) you can check the Brookdale Presbyterian Church's website at www.brookdalechurch.com, and scroll down to News and Events. A very special thanks to Scott Peek, of Speek Ministries, for organizing and promoting these wonderful southern gospel concerts in Northwest Missouri.
Until next time, keep on keeping on!
By Sheri Witt
For more concert reviews and artist features, see the current SGN Scoops digital magazine on https://www.sgnscoops.com/
Tags:
Christian artists
,
concert review
,
Gospel concert
,
gospel music
,
Michael English
,
Missouri
,
Soul Harvest
,
Steve Ladd
Posted in
artists
,
concert reviews
|
Comments Off

on Michael English Concert Review
Written by Staff on June 18, 2014 – 11:06 am -
Legacy Five Quartet Concert Review
By Vivian Belknap 
Calvary Baptist Church in Grand Prairie, Texas was the location for great southern gospel music featuring Legacy Five Quartet on May 31, 2014.   The first song they did was "Great Day," followed by "Blood Washed Band," Scott Fowler reaching back to his days with The Cathedral Quartet, and finished that set with "Feelin' Fine."
Scott Fowler said they were happy to be in Texas, and said to baritone Scott Howard, "there's just something about Texas; you can eat barbeque outside of Texas…" and they looked at each other and said, "but it's not Texas barbeque."
Scott introduced their 'monster bass' singer, Matthew Fouch, 31 years old, and told him the older he gets the more monster bass he will become. Then Scott introduced Bob Wills and legendary bass singer Big John Hall who were in the audience, and told Matthew to not be nervous, even though John Hall was sitting on the front row. The next set of songs featured Matthew, and he said they specifically chose John Hall classics, "Great Is Thy Faithfulness", "How Big Is God" and "How Great Thou Art", which were all included in the "Great Medley", off their Great Day album.
Gus Gaches, tenor, was introduced from Santa Rosa, California, and it's been reported that he owns a suit that matches his surfboard; a comment that the audience really loved. Gus was featured on "I Stand Redeemed by the Blood of the Lamb."
Trey Ivey, the piano player and youngest member of Legacy Five was introduced. Trey was conservatory educated and loves classical music. We were treated to a wonderful sonata, followed by "Leaning on the Everlasting Arms." Both songs received rousing applause from the audience.
Scott then pulled out The Red Back Hymnal, turned to page 28, and they sang "A Grand and Glorious Feeling", with piano accompaniment only.   "After Awhile" was the next song and was also accompanied with piano only. The sound was incredible and loved by the audience.
The next song selection off their latest album, Great Day, was "He Is To Me", followed by "There's Just Something About That Name", and Scott asked the audience to sing along as we experienced a great time of worship. Scott said, "I'm going to be politically incorrect, but when we are around people who are not believers, we should ask the following questions: 'Do you know anyone born under the circumstances in which Jesus was born?' 'Do you know anyone who lived a sinless life?' ' Do you know anyone raised from the dead after three days?'" He opened the Bible to Luke 24 and began reading verse one through verse 12. The group followed this by singing "Christ Is Still the King," receiving a standing ovation.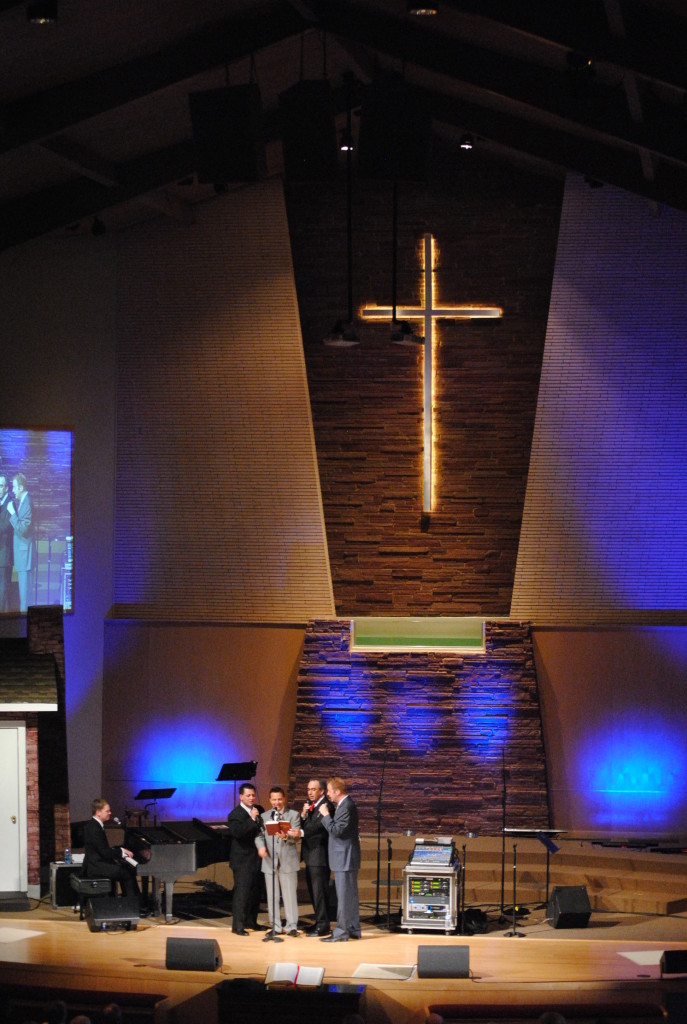 The night was complete with, "What A Happy Day", a medley of songs that includes, "What A Happy Day," "Everybody Will Be Happy Over There," "I'll Live In Glory By and By," "When We All Get To Heaven," "I'll Have a New Body," and "Everybody's Gonna Have A Wonderful Time Up There," from their album, Great Day.
It was a fantastic way to end a wonderful concert of worship and laughter, with encouraging words from these songs about the New Life we as Christians see now by faith but one day we will see with our own eyes.
When Legacy Five is in your area, you will be so blessed to see them in person not only for their fantastic music, but their colorful personalities. Visit them at www.legacyfive.com.
For more concert reviews, see the latest edition of SGN Scoops digital magazine at https://www.sgnscoops.com/2014/06/14/june-2014-sgnscoops-magazine/
Tags:
Christian Music
,
concert review
,
gospel music
,
Great Day
,
Hymns
,
Legacy 5
,
southern gospel
,
Vivian Belknap
Posted in
concert reviews
|
Comments Off

on It's Gonna Be A Great Day with Legacy 5
Written by SGN Scoops on July 15, 2011 – 11:07 am -

{Exclusive Concert Review by Angela Griffin}  Brian Free and Assurance gave a stellar performance last evening at Landrum First Baptist Church, in Landrum, SC. Upon arrival at 6:15, the church parking lots were full, and people we're beginning to park along the streets. Excitement was building. When service began at 7:00PM, it was standing room only.
Brian, Bill, Derrick, and Jeremy started the concert with their Acappella rendition of "Joyful, Joyful We Adore Thee." It was uplifting and the church rejoiced with a loud hand clap of praise.  For the next hour we worshipped with BFA as they sang; "Remind Me of the Cross,"  "Turn the Page," "Anything is Possible with God," "The Part Where You Come In," and "I Believe." Also captivating the audience, they sang few old favorites like "Just A Little Talk with Jesus" and "Glory Road."
Tags:
brian free
,
Brian Free & Assurance
,
concert review
,
daywind
,
Southern Gospel News
Posted in
exclusive report
|
Comments Off

on Exclusive Concert Review: Brian Free & Assurance