Written by Staff on April 11, 2017 – 7:17 am -
Recorded in 2005, the Rory Feek-co-produced album includes memories and stories from the singer and her family
NASHVILLE, Tenn. – April 7, 2017 — Recorded in 2005 and produced by her husband, Rory Feek, and Bill McDermott, GRAMMY®-winner Joey Feek's solo debut, If Not For You, is out today through Gaither Music Group/Farmhouse Recordings. The 12-song collection is also available in a special edition featuring a 48-page booklet of photos, memories and stories penned by Rory.
Joey Feek is widely known as one-half of country music duo Joey+Rory, who most recently won a GRAMMY® for their Hymns album in February. The couple captured the hearts of millions over the past few years as Rory chronicled their love story and Joey's cancer battle on his blog, This Life I Live, as well as their preparation for her passing in March 2016. But there's much more to the story: the couple met in the early 2000s, when Joey was still an aspiring country singer. They eventually fell in love, married and recorded Joey's debut album. The collection was released independently in 2005 and was made available at the duo's shows and on their website, years before they appeared on CMT's "Can You Duet" and began recording as a duo. This marks the first time the album will be widely available.
"When this album was recorded in 2005, Joey and I were still newlyweds, or at least we felt like we were. Though we had hopes for the record at the time, it wasn't meant to be, and so this collection of music set quietly on a shelf for the last ten years or so, waiting for the right time to come along, when maybe somehow, someone would care. A time like now," Rory said. "It is one of the great joys of my life to dust these songs off and bring life to them again. Not just the songs, but also the stories and the life of the special woman that these songs represent."
The songs on If Not For You and the lyrics speak volumes about the woman whose life touched the hearts of millions. As Rory explains in the booklet, the album is filled with songs that showcase the things that were most important to Joey. Starting with "Have I Told You Lately That I Love You," the song that brought Joey and Rory together, the album begins with a cameo from Joey's mother and father and closes with Joey and Rory's oldest daughter, Heidi, singing harmony on "Old Paint," which Roughstock featured earlier this week. Rolling Stone Country premiered "Nothing To Remember," the first song Joey and Rory wrote together in an early songwriting session in 2001, telling the story of a couple only able to be together in the short-term but thankful for the fleeting time they had. Originally called Strong Enough to Cry in 2005, the former title track, which premiered with The Boot, expresses Joey and Rory's views on how to make it through difficult times. Also making an appearance on the album is the original recording of "That's Important to Me," which would later be a charting single for Joey+Rory; "See You There," a tribute to her late brother, Justin, that premiered with Yahoo Music; and "Southern Girl," focusing on Joey's love for the South, which premiered with Taste of Country.
"This recording is, of course, a significant one for us," said Paul Sizelove, vice president of Gaither Music Group. "I grew up in the same hometown with Joey and watched she and her family love each other and the people along their paths. We all watched her move to Nashville to pursue her dreams. Things seemed to come full circle when, years later, our label was able to join hands with Joey and Rory along their recording journey. What a blessing it has been to be a part of their inspiring story. It is an honor to release this recording that captures so much of her heart and heritage and represents a dream of hers coming true."
After gaining attention as finalists on CMT's "Can You Duet" in 2008, Joey+Rory went on to release eight albums, winning a GRAMMY® Award for Best Roots Gospel Album for Hymns (Gaither Music Group/Farmhouse Recordings) in February. Recorded in hotel rooms as Joey received treatment, the album features songs of faith and was released in February 2016, a month before Joey passed away at age 40.
If Not For You is exclusively distributed by Capitol Christian Distribution and Universal Music. It will be available throughout general market stores and the Christian marketplace and through online retailers including iTunes, Amazon, Target, Walmart.com, crackerbarrel.com and gaither.com. The recording will also be available at Cracker Barrel Old Country Store®.
For a music preview of If Not For You, visit: https://www.youtube.com/watch?v=Arwg0AYtbfU For further information regarding Joey+Rory, visit www.thislifeilive.com or follow www.facebook.com/joeyandrory or Twitter @joeyandrory.
###
If Not For You Track Listing:
1. Intro (Have I Told You Lately That I Love You)
2. Strong Enough to Cry
3. That's Important to Me
4. When the Needle Hit the Vinyl
5. Nothing to Remember
6. The Cowboy's Mine
7. If Not for You
8. Southern Girl
9. Red
10. Like a Rodeo
11. See You There
12. Old Paint
(Produced by Rory Feek and Bill McDermott)
For more Gospel music news click here.
Tags:
christian country
,
Country
,
grammy
,
Joey feek
,
Joey+Rory
Posted in
announcements
,
artists
|
Comments Off

on Joey Feek's Solo Debut, If Not For You, Offers Insight Into Country Singer's Life
Written by SGN Scoops Staff on January 16, 2016 – 5:24 pm -
Franklin, TN – Mansion Entertainment launched the release of Crosby Lane's new video single, "Crucified", at the beginning of 2016 and National Music Video Outlets are beginning to add the video to select programs and video blocks. The first network on board in airing the new video release will be GAC (Great American Country). GAC will begin airing "Crucified" after January 24th. More network placements will be added and announced in the coming weeks.
"Crucified" is the first single and title song of the new Crosby Lane album released on iTunes on December 11th, 2015. The song was initially released to Country Radio Markets two weeks prior to the album release and immediately landed in PlayMPE's Country Weekly Top 20 Download Chart for the first two weeks indicating a strong interest in the single from Country Radio Programmers. Since the release of the single "Crucified" has been in rotation in County Radio markets from New York to Nebraska.
The new single will be released to Southern Gospel Radio, Moody Broadcasting Network and other Christian Radio Markets at the end of February as a follow up Crosby Lane's current radio single, "The Old Rugged Cross", which is currently in rotation and charting on many Christian Music playlists.
Crosby Lane is comprised of singer-songwriter Tonja Rose, multi-Dove nominated songwriter, singer and instrumentalist John Lemonis, and vocalist, instrumentalist and songwriter Michaela Lemonis. At their core, Crosby Lane is a group of talented songwriters who tour nationwide paying homage to some of the most-beloved hymns in America. Not only do they share a musical passion for these arrangements, but the group introduces audiences to many of the hardships, tragedies and stories that faced the lives of these great hymn writers and how those circumstances provided songs that are now woven into fabric of American Music History.
The "Crucified" video can be previewed on YouTube or for more information Facebook.com/TheMansionRecords.
Tags:
Country
,
Crosby Lane
,
GAC
Posted in
artists
|
Comments Off

on "Crucified" By Crosby Lane Added To GAC Line Up
Written by SGN Scoops Staff on December 29, 2015 – 9:53 pm -
Please pray for Craig Strickland , lead singer for
Country group, Backroad Anthem.
Craig and friend Chase Morland went duck hunting amid winter storm Goliath. After family and friends didn't hear from them, a search party began looking for the pair. Morland's body was discovered, but Craig is still missing.
Find More Here
Tags:
Country
,
Prayer
Posted in
artists
|
Comments Off

on Please pray for Craig Strickland
Written by SGN Scoops Staff on December 14, 2015 – 11:06 pm -
Nashville, Tenn.  – Country and bluegrass legend Ricky Skaggs will be featured on NBC's The Voice vocal competition, singing with one of the show's finalists, Emily Ann Roberts. Skaggs' duet with Roberts will air on Tuesday night, December 15 at 8 pm ET / 7 pm CT.
Roberts, hailing from Knoxville, Tenn., is one of Blake Shelton's two remaining team members and will be breaking out some country hits. She will be joined by Skaggs to sing his #1 country song, "Country Boy."
The Voice features the strongest vocalists from across the country who are invited to compete in this blockbuster vocal competition show's ninth season. Internationally acclaimed artist Gwen Stefani returns to join megastars Pharrell Williams, Adam Levine and Blake Shelton as celebrity musician coaches, while Carson Daly continues to serve as host. After many rounds of singing and voting, in the end, one contestant is named The Voice and receives the grand prize of a recording contract.
For more information, check out the story on E! News, HERE.
Tags:
Country
,
Ricky Skaggs
,
The Voice
Posted in
announcements
|
Comments Off

on RICKY SKAGGS SINGING DUET WITH NBC'S THE VOICE CONTESTANT, EMILY ANN ROBERTS ON TUES., DEC. 15
Written by SGN Scoops Staff on October 6, 2015 – 8:20 am -
Nashville, Tenn. – Country music legend Larry Gatlin spent some time with his longtime friend and presidential hopeful Donald Trump over the weekend. The Trump campaign tapped Larry and brothers Rudy and Steve to perform at his Nashville-area campaign stop on Saturday. Larry Gatlin also served as the event's MC.
In front of a packed house at The Factory in Franklin, Tennessee, Larry Gatlin & the Gatlin Brothers performed the national anthem along with several of their hit songs before the real estate mogul took the stage. Trump later called Larry back to the stage to give a little history on their friendship. Watch the video clip courtesy of The Tennessean HERE.
"I was the MC and the brothers and I sang at the Donald Trump event over the weekend in Nashville. It was good to see my old friend, Donald," says Larry. "I honored my commitment to Governor Bush and Governor Huckabee, also old friends, that I would not tell anybody who to vote for—I do not have the right to do that. I would advise everyone to do their homework. Listen, read, study, pray… then vote their hearts. GOD BLESS AMERICA!"
Tags:
Country
,
Larry Gatlin
Posted in
announcements
|
Comments Off

on DONALD TRUMP TAPS LARRY GATLIN & THE GATLIN BROTHERS FOR NASHVILLE-AREA CAMPAIGN STOP
Written by SGN Scoops Staff on June 17, 2015 – 1:52 pm -
Nashville, Tenn –  The Isaacs are frequent  performers at the Grand Ole Opry, but tonight takes on a very special meaning as they perform "The Three Bells" on the Opry stage. As a result of the success of the Isaacs re-recording of the song they have been asked to perform it tonight at the Opry as a tribute to Jim Ed Brown, who passed away just last Thursday, June 11th.
Very popular Gospel artists, The Isaacs, recently covered the classic Country tune "The Thee Bells" made popular by Country and Grand Ole Opry star Jim Ed Brown in the late 50s. The song has been a huge hit in the personal appearances of the Isaacs and especially at the Gaither Homecoming Concerts.
The Isaacs sang the time-honored hymn "It Is Well" at the Memorial service for Jim Ed Brown held at the Ryman Auditorium on Monday, June 15th. As covered by the newspaper, The Tennessean, other performers paying tribute to Mr. Brown included the Oak Ridge Boys, Vince Gill,  the Gatlin Brothers, and Lady Antebellum, and others, along with several speakers who shared their memories.
Lily Isaacs stated, "It was a great honor to be a part of the home going service of our dear friend Jim Ed Brown . He will be missed by all. He was an amazing human being. We are grateful that we got to know him."
To learn more about the Isaacs got to http://www.theisaacs.com or https://www.facebook.com/TheIsaacs or Twitter at https://twitter.com/IsaacsMusic .
If you are interested in booking the Isaacs go to the Harper Agency at www.harperagency.com or info@harperagency.com .
Tags:
Country
,
Ryman Auditorium
,
the isaacs
Posted in
announcements
|
Comments Off

on The Isaacs Invited To Honor Jim Ed Brown In Opry Appearance
Written by SGN Scoops Staff on October 28, 2014 – 12:07 pm -
NASHVILLE, Tenn.—October 28th, 2014—Academy of Country Music (ACM) Award-winning husband and wife country duo Joey+Rory have just released an all-new recording in partnership with Gaither Music Group.  Inspired by songs from their childhoods and music that helped make them kindred spirits, the couple has created Country Classics, A Tapestry of Our Musical Heritage (Gaither Music Group/Farm House Recordings), a collection of tunes that create a songbook of traditional American country music.
Available on both CD and DVD, the recording weaves more than a fabric of lyrics and chords.  "As a songwriter, these are all songs I wish I had written—songs that we are honored to not only sing, but to have the chance to try to 'make our own,'" describes Rory, known for hits he has written or co-written for Kenny Chesney, Blake Shelton, Randy Travis, Clay Walker and Collin Raye among others.
"I dedicated this record to my father, Robert Feek, who passed away in 1988…before I ever made my way to Nashville or heard one of my songs on the radio or played the Grand Ole Opry with my beautiful wife…he would've loved where his dream has led me.  And I believe he would've loved this record."
The record, produced by Rory, features songs such as "King of the Road," "Don't It Make My Brown Eyes Blue," "Paper Roses," "I Believe in You" and others including "Coat of Many Colors," one of the first songs Joey learned as a little girl.
"When I was about four years, old my mom and dad gave me a Dolly Parton cassette tape; and I took it upstairs and played it over and over again until I learned all of the words to 'Coat of Many Colors,' even though I didn't know how to read yet," she recalls.  "I'm so proud to finally get to record [this song] and many other songs that Rory and I loved and listened to when we were young…."
The two sweethearts shared stories behind these songs with gospel music legend, singer, songwriter and friend Bill Gaither on the Country Classics DVD. Taped outdoors on a sunny day at the Feek Farm south of Nashville, TN, the three talked about the couple's successful music career, their rich heritage of country music, details of what life is like on the farm and about Joey+Rory's year of both mountaintops and valleys.
In addition to recording the new CD and video, Joey+Rory gave birth to their baby girl, Indiana, who was diagnosed with Down's syndrome.  A couple of months later, just as they were growing accustomed to the joys of parenthood, Joey was diagnosed with cervical cancer, yet underwent a successful surgery to remove it.  A few months later, Rory's mother passed away.
"As God often reveals, what seemed like our biggest fears are [in the end] our greatest joys," commented Rory as he detailed how the tough days have actually made their lives more fulfilling over time—a fitting discovery for the couple whose signature song is "That's Important to Me."
"You know, the world is trying to figure out what's important in life," stated Gaither reflectively.  "We all do.  We're on this journey, and every day of our lives we gotta decide what's important to hang onto and what's important to let go."
Joey+Rory remind us of what's important to them along life's journey as they share their story and the songs on the new recording.  The release will be featured on tv networks including RFD, PBS, DISH TV, DIRECTV, TBN, Family Net, TNN, Airtime, CTN, The Walk TV (formerly Legacy), TCT and TLN and also in Canada on Vision TV, CTS, Grace TV and the Miracle Channel.  In addition, the DVD will be featured on Gaither TV (available on Roku, Google and the Internet).
The couple's hit tv series, "The Joey+Rory Show," filmed entirely on and around their farm, is one of the highest rated shows on the RFD-TV cable channel.
Country Classics, A Tapestry of Our Musical Heritage, is exclusively distributed by Capitol Christian Distribution and is available throughout general market stores and the Christian marketplace in addition to online retailers including iTunes, Amazon and www.gaither.com.  The audio recording is available at Cracker Barrel Old Country Store®.
Tags:
bill gaither
,
Coat of Many Colors
,
Country
,
Faith
,
Joey+Rory
Posted in
announcements
|
Comments Off

on Country Music Sweethearts Joey+Rory to Release All-new Country Recording
Written by SGN Scoops Staff on January 5, 2012 – 2:59 pm -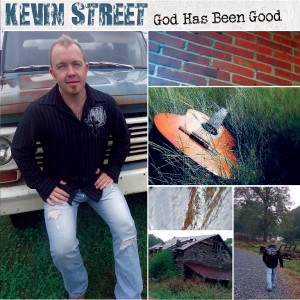 Bessemer City, NC (Son Sound Studios, Inc.) — Son Sound West Records is excited to announce the release of the first ever solo release by Kevin Street, of the Dove award Nominees, The Far City Boys. The recording, which is now available for digital download and direct from Son Sound, combines Country and Southern Gospel influences to produce a top-quality project that features the soon to be released single, "God Has Been Good."
"God's Still Been Good", produced by Street and Holly Robinson-Blanton, features songs penned by such wonderful writers as,Mike Upright, Greg Day, Sue Smith and many others.
"This project has been a long-time in coming, and I am thrilled to finally let folks hear it," shares Holly. "It really has a lot of Kevin's heart in it – I am sold out to what the songs speak to, and believe that we all need to hear these messages. Now we'll see what God's planning to do with it."
"God's Still Been Good" is available digitally at iTunes, cdbaby and other popular outlets as well as on www.sonsoundstudios.com. You may also call Son Sound direct at (704)868-4807. For more information on Son Sound Studios, visit sonsoundstudios.com. For more information on Kevin Street and The Far City Boys
visit farcityboysonline.com.
Tags:
Country
,
Greg Day
,
Holly Robinson-Blanton
,
southern gospel
,
Southern Gospel News
,
Sue Smith
,
The Far City Boys
Posted in
announcements
,
christian entertainment
,
Christian interest
|
Comments Off

on KEVIN STREET RELEASING SOLO RECORDING