Written by Staff on August 26, 2015 – 5:47 am -
(August 26, 2015) Scott Fowler of Legacy Five made this post on Facebook today:
Day three of major Legacy Five announcements.
It is with sadness that we have to let you know that our tenor, Gus Gaches will be departing Legacy Five after more than five and a half years with us.
Gus states that, "singing tenor in a southern gospel group is a very demanding job vocally. The reality is that it has become increasingly more rigorous for me over the past several months because of severe allergies and vocal fatigue. I have sought much assistance from doctors and voice teachers alike and cannot seem to find a lasting solution to these nagging vocal issues. When I started this Legacy Five season of my life, I thanked Scott Fowler for hiring me. I move into the next chapter of my life thanking Scott Fowler for allowing me to be a part of this great group for over five years. I also want to thank the Legacy Five Family, those who follow, love and support Legacy Five, for their love support and gifts to me and my family."
Scott Fowler says, "Everyone on this bus respects and appreciates Gus and his heart. He has been a great asset to the ministry of Legacy Five and he has been such an easy and delightful person to travel with. The only times that I ever saw Gus upset was anytime the Nashville Predators failed to advance in the play-offs….seriously…the guy never gets mad. Gus has a beautiful voice and we pray that with continued treatment and some time off, he will continue to sing in a less taxing capacity than this position demands. The voice is the one instrument that you cannot simply go to the store and purchase. As such, we all have to take great care of the one voice God has given us. Gus and his family are precious people and we wish them all the best as they enter the next season of their lives."
Gus will continue to travel with Legacy Five for a yet to be determined amount of time while Legacy Five begins the search for the tenor that will replace him. Please keep the Gaches family in your prayers as they seek God in this new season of their lives, and please pray for Legacy Five, as they seek God's provision for the right person to minister with them.
If you are interested in auditioning for Legacy Five, you may contact Scott Fowler at scottfowler@legacyfive.com
In Day One of big announcements, Scott Fowler said they have acquired two new team members. The first one to be introduced was David Keel, Legacy Five's new driver.
Yesterday, Fowler reported that they have hired a new sound person, Blake McAllister.
For new and information, visit SGN Scoops Facebook and website!
Tags:
facebook
,
gospel music
,
Gus Gaches
,
legacy five
,
Scott Fowler
,
sgn scoops
,
southern gospel
Posted in
announcements
,
artists
|
Comments Off

on Gus Gaches to leave Legacy Five
Written by SGN Scoops Staff on November 13, 2013 – 9:38 pm -
We are excited to present the November issue of SGNScoops Magazine! A picture is worth a thousand words, right? The cover this month captures the Spirit of this year's 2013 Creekside Gospel Music Convention! The spirit is certainly the spirit of Joy! The smiles almost tell it all, but catch the details of this year's event along with a listing of Diamond Award winners in this issue. Also, this month's issue is not the typical predominately Southern Gospel Music Magazine. We're just a bit on the COUNTRY side! This month, we're shining the spotlight on Christian Country like never before. Don't miss Rick Kiser's story, "Christian Country Gives Thanks," as well as features on Sharron Kay King, Steve Brown, Greg McDougal. This month also features Providence Quartet and Canaan's Crossing. Lorraine Walker and Rob Patz put together a fabulous Thanksgiving article allowing the Southern Gospel Community voice their gratitude. We all need our spirits boosted, so don't miss encouragement from Sherry Anne and Dr. Jeff Steele, and don't miss reading Lou Hildreth's special memories. A story on "Mary Anne Oglesby and The Veranda" is sure to warm hearts of families dealing with Alzheimer's and we hope will inspire other churches to care for the aged in their congregations. Award winning Songwriter, Belinda Smith shares her ministry and Ethan Whisnant shares his "Younger Perspective." Read about latest music, Christian Fitness, and more in this this well-crafted, beautifully designed online magazine. Remember, SGNScoops is digital and free! Please share with friends!
Tags:
Alzheimer
,
Belinda Smith
,
Canaan's Crossing
,
christian country
,
Christian Country Gives Thanks
,
Christian Fitness
,
Creekside Goispel Music Convention
,
Diamond Award winners
,
Dixie Phillips
,
Dr. Jeff Steele
,
Ethan Whisnant
,
facebook
,
gaither
,
Greg McDougal
,
Lorraine Walker
,
Lou Hildreth
,
Rhonda Frye
,
Rick Kiser
,
rob patz
,
SGNScoops Magazine
,
sharron kay king
,
Sherry Anne
,
southern gospel
,
Southern Gospel Music Magazine
,
Southern Gospel News
,
Steve Brown
,
Tina Wakefield
Posted in
announcements
,
diamond awards
,
sgn scoops magazine
|
Comments Off

on November 2013 SGNScoops Magazine
Written by SGN Scoops Staff on December 21, 2011 – 11:24 am -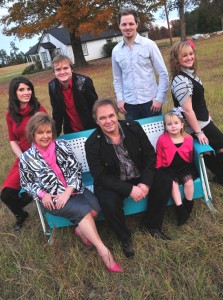 Nashville, TN  Jeff & Sheri Easter believe it's important to make and share good memories, and that's exactly what's happening right now at their official Facebook page! Jeff & Sheri are hosting the "Lifetime of Jeff & Sheri Easter Music Giveaway." Gospel music favorites Jeff and Sheri Easter want to give their fans the opportunity to share their favorite Christmas memory and a chance to win a 10 CD library of Jeff & Sheri's music spanning their career through the Facebook contest.
Sheri Easter says, "The special thing about Christmas is making lasting memories and spending time with loved ones. We want you to share your favorite Christmas memory with us and all our friends online and win something really cool in the process!"
To enter the contest, go to www.facebook.com/JeffAndSheriEaster and share your favorite Christmas memory underneath the video.  Then, invite your friends and family to visit the page and click "LIKE" under your memory. The story with the most "LIKES" will be the winner of the CD library. The contest started on December 6, 2011 and runs through December 31, 2011 at Midnight and is now open to all friends of Jeff & Sheri.
Log onto www.Facebook.com/JeffAndSheriEaster and don't forget to click the "LIKE" button!
Tags:
Christmas memory
,
facebook
,
Lifetime Of Jeff & Sheri Easter
,
sheri easter
Posted in
announcements
,
christian entertainment
|
Comments Off

on "Lifetime Of Jeff & Sheri Easter" Giveaway
Written by SGN Scoops on October 26, 2011 – 12:58 pm -
During the 2011 National Quartet Convention, Jason Crabb stopped by the SGNScoops booth for  interviews.  Be sure to watch the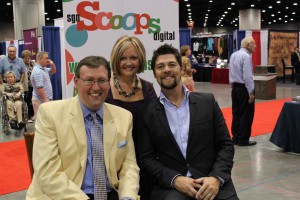 video with Rob Patz below and read the article in October's issue of SGNSCoops Magazine. Don't miss what Jason has to say about his new project, THE SONG LIVES ON.
During video  interview with SGNScoops, Rob Patz promised Jason that he would send new fans over to Jason's Facebook Page. We are true to our word, therefore we are asking our readers to "like" Jason Crabb!  He is just a few fans away from having 50K! Let's help him get there. After you "like" Jason, come on over and like us at our  SGNScoops Facebook page too!  And… suggest Jason and SGNScoops to all your friends!
Again, Thank you to Jason Crabb for a great interview!
Tags:
facebook
,
Jason Crabb
,
national Quartet Convention
,
Rhonda Frye
,
rob patz
,
sgnscoops
,
Southern Gospel Music
,
Southern Gospel News
,
The Song Lives On
Posted in
robtv
|
Comments Off

on Rob Patz Interviews Jason Crabb
Written by SGN Scoops on July 27, 2011 – 3:05 am -
RALEIGH, NC, July 26, 2011 /Christian Newswire/ — Mark D. Watt of M&B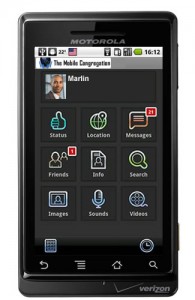 Media Group today announced the launching of The Mobile Congregation, a new mobile Android app project targeted towards congregations and faith based community outreach. Mr. Watt is seeking support and contributions fort his new project and is offering benefits in return.
The Mobile Congregation will feature a host of personal collaborative tools to keep your congregation connected, engaged and extend your outreach in real-time. Mr. Watt stated that technology has allowed the ministry to share the gospel locally and by going global utilizing smart-phones.
Here is a list of some of the many collaborative tools available in this mobile app:
Location based services
Email
Twitter enabled
Facebook enable
Audio/Video streaming
Create groups
Prayer request
Post sermons as a podcast for listening
Donations
Youtube
Mr. Watt states that this mobile app will offer a whole lot more features compared to the listed apps above. In addition, it is user friendly and customizable. When you are on the go no matter where you are, keep in touch with your congregation, listen to a sermon, post a prayer request or extend your faith based community outreach. An Iphone mobile app will follow the release of the Android version.
Tags:
Android app
,
facebook
,
i phhone
,
M&B Media Group
,
Mark D. Watt
,
mobile app
,
Mobile Congregations
,
mobile sermons
,
podcasts
,
twitter
,
youtube
Posted in
Christian interest
|
Comments Off

on M&B Media Announces the Launching of The Mobile Congregation App on the Android Platform