Written by SGN Scoops on August 10, 2011 – 9:37 am -
{Crescendo Gospel Music Management}  Frank Arnold is gearing up to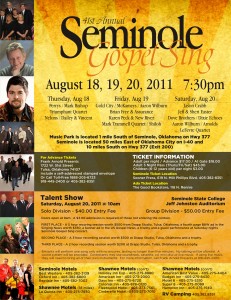 Present one of the South's largest annual gospel singings.  The concert makes its 41st return engagement to the Seminole Music Park August 18th, 19th and 20th. Experience three amazing nights, one amazing opportunity to recharge your spirit and renew your life, as eighteen of America's chart-topping, award-winning gospel music and entertainment legends take the stage!!  On Thursday, hear The Perrys, Mark Bishop, the Triumphant Quartet, Dailey and Vincent and the Nelons.  Return Friday for energized performances by Tim Riley and Gold City, the McKameys, Brian Free and Assurance, Karen Peck and New River,  the Mark Trammell Quartet and Shiloh.  Complete your amazing musical weekend on Saturday starting at 10:00 a.m. with the talent contest at the Jeff Johnston Auditorium at Seminole State College, open to individuals and groups;  it's your chance to win recording sessions, a guest appearance at Saturday night's show, and much more!  On Saturday night, thrill to the  inspiring sounds of Jason Crabb, Jeff and Sheri Easter, the Dove Brothers, the Dixie Echoes, the LeFevre Quartet and The Arnolds. Laugh master Christian comedian Aaron Wilburn promises to keep your sides splitting  on Friday and Saturday. All shows start at 7:30 p.m.  Tickets are $17 in advance, $18 at the door.  Three-night adult passes are only $45. Children 6-12 are admitted for only $3.
  For tickets and information, phone toll-free 1-888-205-6723 or (918) 445-2400.    Or, purchase your tickets in person at  Sooner Press in Seminole or The Good Bookstore in Ada.
 
The 41st annual gospel sing in Seminole, Oklahoma promises to be a wonderful and memorable experience to any southern gospel music lover!  We suggest that you buy your tickets in advance due to the high volume we are experiencing in pre-sold tickets. Please contact us at 1-888-205-6723 to purchase your tickets today!!!
Tags:
aaron wilburn
,
brian free and assurance
,
Dailey and Vinent
,
Dixie Echoes
,
Frank Arnold
,
Jason Crabb
,
jeff and sheri easter
,
karen peck and new river
,
lefevre quartet
,
Mark Bishop
,
mark trammell quartet
,
Seminole Music Park
,
Semiole Gospel sing
,
Shiloh
,
southern gospel concerts
,
The Arnolds
,
The Dove Brothers
,
The Mckameys
,
the nelons
,
the perrys
,
Tim Riley Gold City
,
triumphant quartet
Posted in
announcements
|
Comments Off

on Frank Arnold Presents 41st Annual Gospel Sing In Seminole
Written by SGN Scoops Staff on January 28, 2011 – 5:55 pm -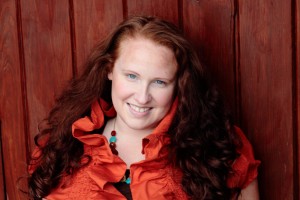 Singer/songwriter, Sheri LaFontaine is pleased to announce her first charting single on the Singing News Top 80. Her latest, New Every Morning is the first release from Sheri's new cd, Something More and has debuted at #65 for the month of March 2011.
The Something More project continues to display the range and versatility that has helped her win the hearts of her audiences for over 20 years. This dynamic album showcases not only her songwriting brilliance and captivating voice but also her love for God.
"I cried after getting the call that my song had hit the charts," she chuckles. "It may seem silly to some, but it really means the world to me that people are requesting it and the DJ's are playing it. I've been honored to see other artists climb the charts with songs that I've written, but this is truly overwhelming. Feeling so blessed right now."
Sheri began singing while traveling with her abundantly talented family, led by her father John LaFontaine, a minister for over 48 years.
In 1994 with Grammy nominated singer Jeff Easter on board as producer, she recorded her first solo project, Takin' My Place. "The first time I heard Sheri LaFontaine, I was so impressed that I called my wife, Sheri and said, 'You've got to hear this girl! She's unbelievably talented,'" stated Jeff.
Shortly thereafter, Sheri received a call from the top promoter in southern gospel, Frank Arnold and was asked to join his group, The Arnolds on the road. While touring with the Arnolds, the group had several songs to chart featuring LaFontaine's signature voice. When Nothing But a Miracle Will Do, I'm Glad and God's Still Faithful receive airplay to this day across the country.
After several years of traveling Sheri felt the Lord leading her to focus on her solo career and songwriting. In 2004 she signed a songwriting contract with one of the industry's top recording labels, Daywind Music. Sheri has written such charting singles as, While I Wait by LordSong, Everyday It Starts All Over Again by Three Bridges, All I Ever Need by the Crist family, Under the Circumstance by Misty Freeman and many more. For more information visit www.sherilafontaine.com
Tags:
Frank Arnold
,
Jeff Easter
,
Sheri LaFontaine
,
three bridges
Posted in
announcements
,
Christian interest
,
new music
|
Comments Off

on Sheri LaFontaine Hits the Charts