Written by Staff on June 18, 2015 – 7:34 am -
Marty Raybon is a true artist whose music has stood the test of time. Whether listeners have heard the Grammy-award winning tenor as a solo artist or as lead singer of the popular Country group Shenandoah, they have quickly learned that Raybon's heart and soul are poured out through his songs. Marty has enjoyed a long-lasting career in Country, Bluegrass, and Gospel music. Through all of his accomplishments, however, Marty will be the first to tell you where every good thing in his life comes from—and it's from the God who loves him.
Marty was born in Sanford, Florida, but he grew up in Jacksonville, Florida. He recalls growing up with his brothers and sister there. "It was a wonderful childhood. Music always filled our house. My brothers, Rick and Tim, and I sang together a lot, especially songs about being brothers. So we loved 'brother' acts, like The Osborne Brothers, Jim and Jesse. Our father, Kenneth, was a fiddle player and he taught us harmony parts. He was my biggest influence in music, not just because he knew how to make it work, but because he knew how to love it. He taught me how to love it."
Marty also recalls some of the biggest spiritual influences in his early years. "Billy Graham was the most soul-stirring spiritually. Also, my older sister, Kathy, has always walked very close to the Lord. She was such a wonderful example of how to be Christ-like."
Tags:
Christian artist
,
christian country
,
Christian Country Expo
,
Full Circle
,
gospel music
,
marty raybon
,
military heroes
,
Paige Givens
,
sgn scoops
,
Shenandoah
Posted in
artists
,
christian entertainment
,
Christian interest
,
sgn scoops magazine
|
Comments Off

on Marty Raybon: Every Good Thing
Written by Rhonda on September 13, 2010 – 3:25 am -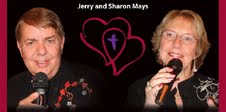 The 80th Annual Missouri/Mid-South Gospel Singing Convention will be held on Friday and Saturday, September 24 and 25, beginning at 5:30 p.m. each evening, at the Malden, MO Community Center located on Business Hwy 25, just south of Walmart in front of the School.  This will be the most exciting Convention ever with an awards ceremony honoring the founders; live broadcasts and interviews from KMHM Radio, 104.1 FM with radio personality, Gene Peacock serving as Master of Ceremonies for this legendary two-day event of gospel music.
            Over 22 groups and soloists will be taking the stage to include the following:  Heart to Heart, 2010 National GMA/IMMERSE Nashville Duet & Vocal Group of the Year and Featured Branson Artists; Tina Sadler, Double Dove Award Winner; Robert Penny of Branson, CGMA 2010 Male Vocalist of the Year; award winning area favorites Doug Thornton, Full Circle and The Bradfords; Heart and Soul; Tina Collins; Gloryland Quartet; Darrel & Kathy Hobbs; Heartland Quartet; Canaanland Gospel Singers; Dennis Baker; Eldon Wright; Mark Cave; Frank Wallace Trio; The Hutsons; Jennifer Krepps; Joyful Noise; Marvin and Karen Lawless; Southern Grace; Dayspring and Belinda (Hill) Venters.   
            This spectacular event is FREE and open to the public.  A love offering will be accepted each evening to offset event expenses.  Make plans to attend and bring your friends or church group for two evenings of gospel music shared by the Mid-West's Premier Gospel Artists.
This event is hosted by Heart to Heart and Doug Thornton.  Sound provided by Wil Thornton and stage manager, Nathan Martin.  For more information, call 417-576-5188 or 573-276-5827.
Tags:
Doug Thornton
,
Full Circle
,
Gloryland Quartet
,
Heart to Heart
,
KMHM Radio
,
Missouri Mid South Gospel Singing
,
Robert Penny
,
Tina Collins
,
Tina Sadler
Posted in
announcements
,
gospel events
|
Comments Off

on NEWS RELEASE 80TH ANNUAL MISSOURI/MID-SOUTH GOSPEL SINGING CONVENTION (MISSOURI AND ARKANSAS ARTISTS) SEPT. 24-25