Written by Staff on August 18, 2019 – 4:42 pm -
On Saturday, August 17, Laurel, Mississippi, was the site for a concert dubbed, "Road to Creekside." Featuring artists who are on the roster for Creekside Gospel Music Convention, a lot of great gospel music was thoroughly enjoyed by all who were in attendance.
Rob Patz was the emcee for the evening, bringing his own flare to the proceedings. Live and in concert were: the Bibletones, Hope's Journey, Eagle's Wings, Gloryland, Charlie Lucas, and Hunter May.
"The people of Mississippi are awesome," says Patz. "I had a great time. The music was terrific and the food was fantastic!"
Pictures shown were taken the night of the event.
For those wishing to see these artists live, as well as many others, Creekside Gospel Music Convention is slated for Oct. 27 – 31, 2019, at Pigeon Forge, Tennessee.
Held at the Smoky Mountain Convention Center, events each day include showcases, seminars, chapel, nightly special features, midnight prayer, and more.
New events this year include Christian Country at the Creek, Creekside Bluegrass, and Singing on the Square.
For VIP Tickets and accommodations, contact Rob Patz at 360-933-0741.
For more information please visit the Creekside Facebook page HERE or contact events@sgnscoops.com.
For more Gospel music features read the latest SGNScoops Magazine HERE.
Download SGNScoops Magazine In PDF
Here
Find SGNScoops Magazine On Facebook
Here
Listen To Todays Gospel Music
Here
Tags:
Bibletones
,
Charlie Lucas
,
Creekside Gospel Music Convention
,
Eagle's Wings
,
Gloryland
,
Hope's Journey
,
Hunter May
,
Road to Creekside
Posted in
artists
,
Christian interest
|
Comments Off

on Road to Creekside concert wrap
Written by Staff on March 29, 2019 – 3:46 pm -

Vernon Alabama's Gospel Music Weekend will be held Sept. 6 – 7, 2019 at the City Auditorium in downtown Vernon, Alabama. This family-friendly event is open to all ages and groups. Admission is free.
The weekend will feature multi-talented gospel artists showcasing a variety of musical styles, including Southern Gospel, Christian Country, and Bluegrass. Evening concerts begin at 6:00 p.m.
Many artists appearing are M.A.C. Records recording artists, including Jesse Reece, Jessica Horton, McKay Project, Carol Barham, Kenny Gardner, and Amy Richardson.
Also appearing are special guests the Bibletones, Eagle's Wings, Day Three, Chronicle, Hope's Journey,  The Riders, Gloryland, and Zion's Way.
In addition to the nightly concerts, this year there will be a Saturday afternoon showcase concert featuring various regional artists. Concessions will be available.
Artists interested in performing during the showcase are invited to call the promoter listed below.
General admission is free, however, VIP passes are available this year. VIP guests will receive special priority seating, a bag of merchandise, and a private meet and greet reception with the artists. VIP passes are only $25.
Artists wishing to participate in the showcase, or for more information and VIP passes, email info@macrecords.net or call 662.889.2829 . For more information about the artists, sponsors, hotel accommodations, and restaurants, visit facebook.com/macnightofworship/
Tags:
Amy Richardson
,
Bibletones
,
Carol Barham
,
Chronicle
,
Day Three
,
Eagle's Wings
,
Gloryland
,
Hope's Journey
,
Jesse Reece
,
Jessica Horton
,
Kenny Gardner
,
M.A.C. Records/Studio 115A
,
McKay Project
,
The Riders
,
Vernon Alabama's Gospel Music Weekend
,
Zions Way
Posted in
announcements
,
artists
|
Comments Off

on 2019 Vernon Alabama's Gospel Music Weekend
Written by Staff on July 1, 2018 – 4:35 pm -
Gloryland, known as Mississippi's favorite Southern gospel family, is celebrating the release of their first CD as a trio today.
Their new album, "Created To Fly," is now available on iTunes.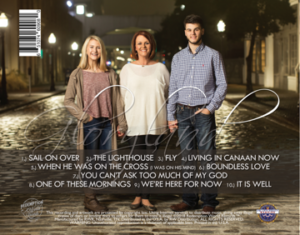 Click here to listen: https://geo.itunes.apple.com/us/album/created-to-fly/1401389017?app=itunes
More about Gloryland:
Gloryland is made up of Stephanie Reynaud and her two talented children.  Singing the Alto is teen sensation, Maggie Rose Reynaud and rounding out the trio is her brother, Reese Reynaud.  This family has been traveling and spreading the good new through song for more than 5 years.
In 2017, the group suffered one of the most devastating loses.  Founding member, father and grandfather, Charles Rushing, went home to be with the Lord just a few weeks before he was to be honored with the Mississippi Quartet Convention's most prestigious accolade "Life Time Achievement" Award.
Stephanie and her children accepted the award on Charles' behalf and a new vision and will to serve was birthed.  Their family legacy would continue, but this time as a trio.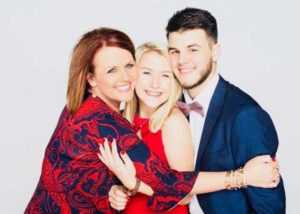 Gloryland, as they are now, just finished their debut album, landing a record contract with Redemption World Records in Nashville, TN produced by Grammy nominated Jonathan Goodwin.
​"Created to Fly," is a fitting title for the once beloved quartet, now turned trio.  They are soaring to new heights and landing themselves in the hearts of new audiences all over the Southeast.
Find out more about Gloryland here.
Read the June 2018 SGNScoops Magazine HERE.
Find SGNScoops Magazine On Facebook HERE
Download The PDF Version Of SGNScoops June 2018 Magazine HERE
Listen To The Best In Todays Gospel Music Online HERE
​
Tags:
Created to Fly
,
Gloryland
,
gospel music
Posted in
announcements
,
artists
|
Comments Off

on New Release from Gloryland