Written by Staff on March 11, 2020 – 7:20 am -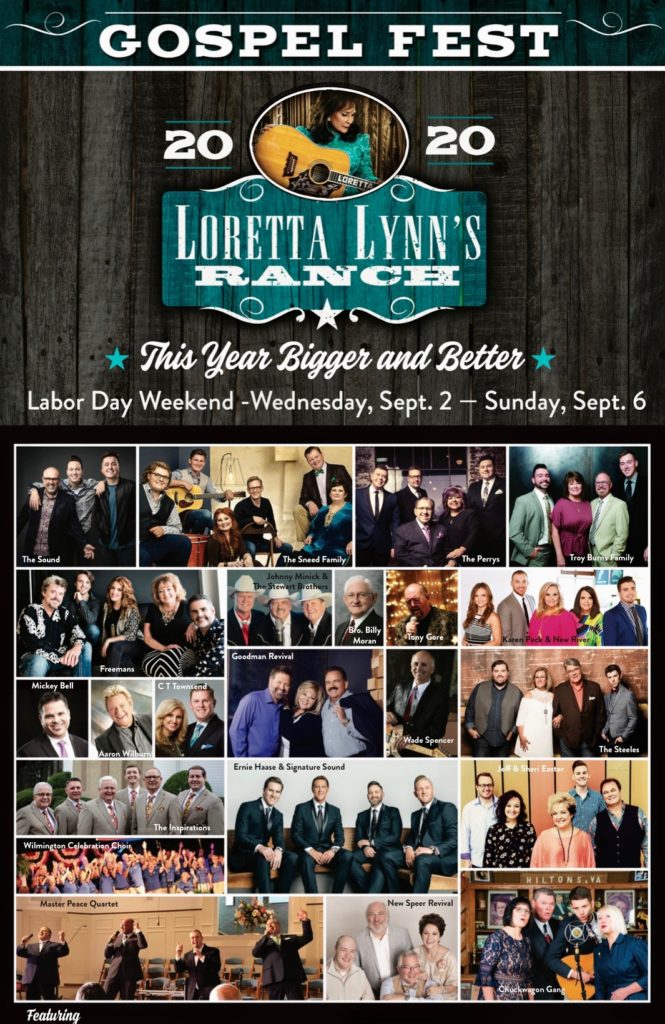 Glasgow, Kentucky (March 9, 2020) – The Sneed Family is excited to announce that the 2020 Gospel Festival at Loretta Lynn's Ranch is bigger and better! This year's Gospel Fest to be held in Hurricane Mills, Tenn., will begin on Wednesday and go through an expanded schedule on Sunday. The announcement was made today from The Sneed Family offices in Glasgow, Kent. The annual event attracts visitors from across the nation.
"The support of the fans is what keeps us growing! Those who attend have begun to look forward to returning year after year," said Jeff Sneed, spokesman for The Sneed Family. The Sneed Family serves as hosts of the Gospel Music Festival.
The Gospel Music Festival at Loretta Lynn's Ranch will feature family entertainment from beginning to end. Gospel music is scheduled as well as the Classic Car Festival, a Talent Search, a special Camp Meeting and an Arts and Crafts Fair.
"We are thrilled to see so much excitement for this year's Gospel Music Festival. In planning an event of this size, we want to keep growing," proclaimed Jeff Sneed.
The traditional Sing-along will be held on Wednesday as a free event. Everyone is invited to play an instrument along with the house band. On Thursday, the Gospel Fest Arts and Crafts show will be open with music from the stage from 2:00 – 9:00 p.m. Thursday's ticketed music performance will feature vintage Gospel Music including The Inspirations, The New Speer Family, Goodman Revival, Aaron Wilburn, and many more.
With the 2020 Gospel Fest in full swing, comedian Mickey Bell will emcee on Friday from 10:00 – 6:30 p.m. Guests with tickets will enjoy Ernie Haase and Signature Sound, Karen Peck and New River, The Chuck Wagon Gang, The Troy Burns Family, and The Freemans.
Beginning at 7:30 p.m., Evangelist C.T. Townsend will lead a full Camp Meetin' on the Ranch with no admission charge. Music will feature The Sneed Family and Tony Gore.
Visitors on Saturday will enjoy the Coal Miner's Car Show. The music from the stage will go from 10:00 a.m. until 10:00 p.m. The admission ticket for the day will bring Jeff and Sheri Easter, The Perrys, The Steeles, The Sound, Wilmington Celebration Choir, Johnny Minick and the Steward Brothers, Wade Spencer, and Master Peace Quartet. Tony Gore joins The Sneed Family, as part of the "Like Never Before" Tour. The Sneed Family, as hosts for the weekend, will perform at all programs.
As part of the expanded schedule, Sunday will be a full day of worship and activities. The morning begins with a Chapel Service lead by Brother Billy Moran. The 6th Annual Gospel Fest Talent Search kicks off at noon. Everyone is invited to watch artists compete for a Daywind Records recording package.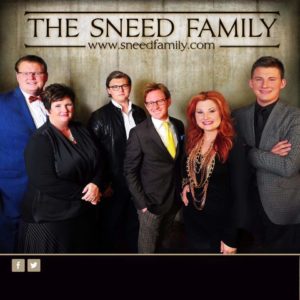 "This year's lineup will be bigger and better with the best of Gospel music. There will be a great mix of Bluegrass, Country, traditional Southern gospel, solid quartet singing and great comedy. The Loretta Lynn Ranch is the perfect location to bring music fans," Sneed added.
The Gospel Music Festival at the Loretta Lynn Ranch will be held in the pavilion at the ranch campgrounds. "We are honored that the Loretta Lynn Ranch again welcomes the return of Gospel Music," said Sneed.
For ticket information: www.ticketstorm.com or by calling 866-966-1777.  Craft vendors wanting to participate should call Jeff Sneed at 270-646-0354.
Loretta Lynn's Ranch is located off I-40 at Exit 143 in Hurricane Mills, TN. Camping is available by reservation. There are also area hotels nearby.
The Sneed Family is a favorite to their fans. They provide an honest worship experience while providing encouragement. Watch for them on stage as well as on television with their production of "Sneed Family Music." The program is seen in over one million homes each week. The Sneed Family brings music, and interviews from the best in Southern Gospel Music. The show is now available online.
For more information on The Sneed Family, visit sneedfamily.com
For more Gospel Music News, read the latest issue of the SGNScoops Magazine HERE.
Download SGNScoops Magazine PDF 
Here
Find SGNScoops Magazine On Facebook 
Here
Listen To Today's Gospel Music 
Here
Tags:
aaron wilburn
,
classic car festival
,
Goodman Revival
,
gospel festival
,
Loretta Lynn
,
Loretta Lynn's Ranch
,
New Speer Family
,
Snead family
,
Southern Gospel Music
Posted in
announcements
,
artists
|
Comments Off

on Gospel Music Festival at Loretta Lynn's Ranch Expands for 2020 Labor Day Weekend September 2 – September 6, 2020
Written by Staff on July 4, 2019 – 9:30 am -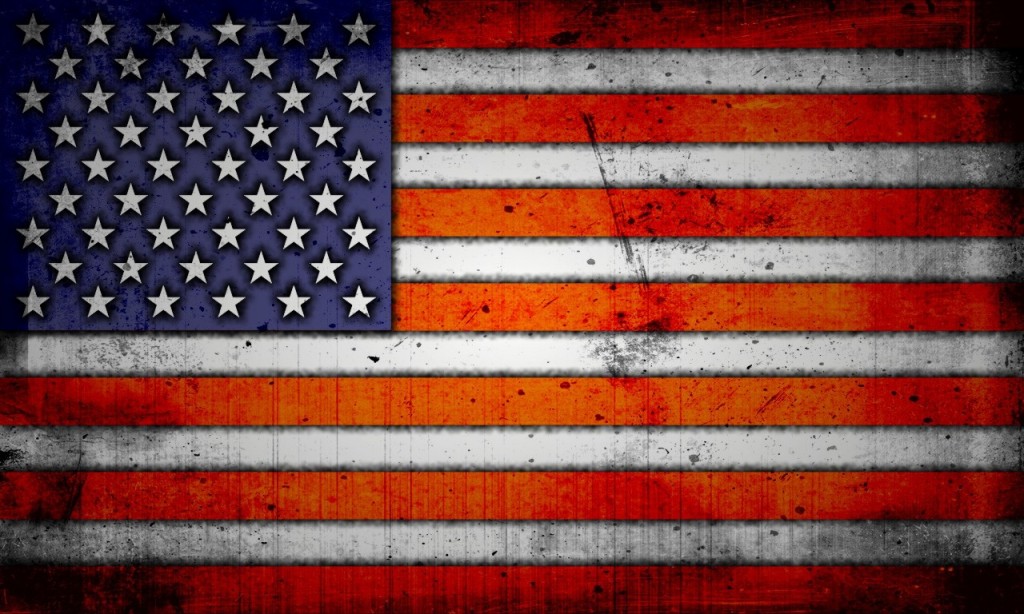 Gospel music artists across America are celebrating July 4th in many different ways. How are they celebrating independence day? Many are having a great time with family and friends enjoying this 4th of July. Others will be hard at work making sure there are great family-friendly events for listeners to enjoy.
Debbie Bennett says she will be with family. Vonda Armstrong says she will be swimming, cooking out, and watching a fireworks show with family.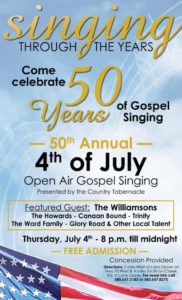 Jonathan Wilburn: Wilburn and Wilburn are headed to Somerset, Kentucky, for the big King Of Kings Radio 4th of July celebration with our friend Kevin Spencer! Free singing and fireworks!
Yvonne Dodrill of the Dodrill Family: Our church stakes out a large area on a hill at our local park. We all eat together and then watch the fireworks, which go off right above our heads! It's awesome! Our family looks forward to it every year.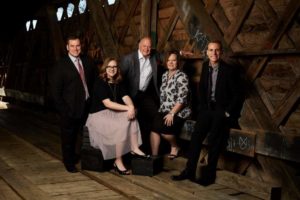 Donnie Williamson: 50th anniversary of this great event (in Lorne Grove) Honored to be a part! (See poster) (Free)
Scott Whitener of the Carolina Boys: Me and the boys are singing at the Fourth of July town festival in White Pine, Tennessee.
Jessica Horton: Cookout lunch with my family. To make it simple, we are doing "bring your own meat" for the grill and potluck sides to share.
David Greshem: I am singing in the annual 4th of July parade in Douglasville, Georgia. I will be riding a float right through the middle of town It will be exciting! God bless our country!
Tanya Goodman Sykes: Spending the afternoon with our dear friends Ken and Lisa and a passel of other folks.
Lottie Squires, of WCKB :I'll work until 5pm, because a radio station never closes…and then I'll go see the Down East Boys!
Chuck Day: Flying to Houston, Texas, to do a 4th of July show in Spring, Texas.
Wayne Shuford: Singing at a Peach Festival with Pine Ridge Boys…
Karen Connell of the Connells: Hannah & Heather are leading worship at church camp this week. Chris and I are headed there tomorrow (4th) for the holiday to visit old friends a bit and Chris will be preaching the evening sermon.
Faron Lewis: Enjoying a wonderful weekend in the great mountains and town of Pagosa Springs,Colorado;c , hiking, roastup some s'mores, enjoy some family fellowship and watch the firework show the town hosts. Has always been a family tradition!
Tammy Dunaway of the Dunaways: On the road ..
Bink Mooney: Promised Land Quartet is in concert. We are singing in the 53rd Annual Celebration of Freedom in Stanley, Virginia.
Paula McDougle: Purpose will be singing at our local "Jam on Sloss Lake." This is an all-day free event sponsored by our local officials.
Adam Dungey of Bros. 4: Hanging with family. Cooking, 4 wheeler riding.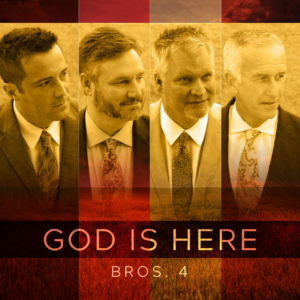 Bonita Eileen: Celebrating this beautiful country and my freedom to worship Jesus Christ with my family and friends not just on the 4th of July but everyday I live. Recovering from surgery and eating watermelon and grilled burgers with my kiddos.
Tim Griffin: Having a private sing along with The Griffins and The Bledsoes and a fish fry with about 30 guests at Myrtle Beach.
Rusty Rowan of Pardoned: Nashville with the wife and kids!
Debra Wilson of Eagle's Wings: Family. Probably some music. Eating.
Eric Baker: The Bakers will be singing an old fashioned tent revival in Cortland, N.Y. Starts tonight and goes thru Sunday.
Danny Daniels of Matchless Grace: We always try to go and see the fireworks. Our daughter Amanda was born on July 5th. When she was little, we could see the fireworks displays from 3 different cities right from our front lawn. We would tell Amanda "Everyone in the world was celebrating her Birthday." lol. Well she's still a Princess to us!
Dianne Wilkinson: I will be attending a family reunion in my hometown, Blytheville, Arkansas, of my mother's side of my family…the Hardins. This reunion has been continuous since my Great Grandparents' era. We are smaller in number, but still love to be together. Thankful for our Christian heritage.
Greg Sullivan: Fishing for the first time at Sam Rayburn Reservoir in Brookeland Texas with my wife Lisa and her older brother Foster.
Jim Visser: Spending some quality time camping with my family…. a much needed break!

Steve Dover of ClearVision Quartet: Smoking several racks of ribs and going to the Sand Mountain Potato Festival.
Todd Seaborg: Big Blessin is singing for the town of McLean, Miss.. We do a couple of hours of Gospel music before the fireworks show. This is our fifth year in a row.
Shelia Heil: Working at home.
Stephen Sigmon of Sounds of Jericho: Family time for sure…cooking…eating….fireworks in our neighborhood. Celebrating America….and how good God has been to her.
Jason Dyess: We always go to a friend's property and cookout all day, ride four wheelers, the kids slide down a redneck water slide. We close the day with a big fireworks show.
Tammy Norris: I'm sharing the Gospel of Jesus Christ at a July 4th singing in Williamsburg, Kentucky! Declaring my freedom through the blood of Jesus! What better way to celebrate? Hot dogs, sweet fellowship and praising our Lord!
Charlie Griffin: Singing and ministering in an annual Tennessee campmeeting.
Mark Mathes: BBQ, yard games and fireworks with family and friends.
Sara Lewis: Singing at the local Potato Festival and going to watch fireworks over the lake in Guntersville.
Vernon and Susan Gibbs of the Gibbs Family: Island Lake God and Country Day BBQ, July 4th day..Fireworks Extravaganza from barge in middle of island lake..The Gibbs Family along with other singers and also Murf the Surf..
Christie Hemphill: Watching fireworks!
Earl King: Singing at Foothills Gospel Music Park 2303 Prospect Road Carnesville, Georgia, 10:00 a.m. until 5:00 p.m.
Tom Walker of the Walkers: Staying at home, nursing my wife back to health after surgery.
Greg Inman: I'm in Washington, D.C. and I plan to attend the President's Speech at the Lincoln Memorial, as well as enjoy the flyovers of each branch of the military and then the D.C.fireworks. I not bragging but……wait, I am bragging. It's okay to be jealous.
Elaine Harcourt: Staying in where it's cool and watching some of my DVDs.
Edna Wright: Family outing and picnic at the Atlanta Zoo!
Brenda Ann Denney: I will be celebrating the 4th with my kids and grandkids in Los Angeles, California.
Don Paff: Getting together with friends to eat and play Canasta! Boys beat girls.
Donna Journey of the Journeys: Relaxing, cooking out at our fire pit and going to see fireworks in our hometown.
Kevin Lane and Bobby Hunter: Our group, Isaiah 61, will be singing in Irwinton, Georgia, under the fireworks display.
Harvey Madden: Cooking and out and going to enjoy my Independence Day celebration with my family and friends.
Jan Harbuck: Traveling to Branson, Missouri, to sing at Jammin' for Jesus! Celebrating Jesus and helping our veterans.
Brian Davis: Sleeping in 'til 5 a.m. or so….having a family picnic at my sister's house (less to clean up that way)… Relatives coming in from California, N.Y.C. and Texas.
Bruce Yates: Singing with Crystal Valley Trio at the Linton Freedom Festival in Linton, Indiana.
Angela Parker of Mercy Rain : My son will be playing trumpet with the Gilbert Marching Indians in the Gilbert Peach Festival Parade. After that we will spend time hanging out at the Gilbert Peach Festival, then we will spend the evening watching the fireworks that end the Gilbert Peach Festival. Can I type Gilbert Peach Festival enough?
Terry Kanipe of the Singing Epps Family: Hanging with family. Then going to church. And then find some fireworks to admire. Wanda Epps Kanipe loves fireworks!
Thank you to all those who let us know how they are planning on celebrating Independence Day. May all of our readers enjoy the 4th of July!
Tags:
Chuck Day
,
Dodrill Family
,
Dunaways
,
Eagle's Wings
,
Goodman Revival
,
Gospel music artists
,
Jonathan Wilburn
,
Pardoned
,
Southern Gospel Music
,
Williamsons
Posted in
announcements
,
artists
|
Comments Off

on Gospel Music Artists celebrate July 4th
Written by scoopsnews on November 10, 2018 – 2:38 pm -
Happy Saturday! Here's a Happy song by Goodman Revival. Tune in Monday, November 12th and catch them on the "Monday's With Mark Show..
 In the world of southern gospel music few names carry a more substantial legacy than Goodman.  Creativity, authenticity and a passion for sharing the good news of Jesus Christ have long been the cornerstones of the family's sound and messages. They remain the foundation for the next chapter in the group's illustrious history with the launch of Goodman Revival.
   Tanya Goodman Sykes, her husband, acclaimed producer Michael Sykes, and friend Johnny Minick, a gospel music veteran who performed for years with the Goodmans, once again propel the family name into the spotlight with the release of their debut album and DVD Songs in the Key of Happy (Gaither Music Group). The trio revives such Goodman classics as "I Wouldn't Take Nothing for My Journey Now," "Until You've Known the Love of God" and "Who Am I," breathing fresh life into songs that have defined the genre for decades.
   The decision to contribute a new chapter to the Goodman legacy evolved from a Sunday morning on stage at Minick's church. "Michael and I moved to Texas a few years ago; and when we moved back in 2012, we actually stayed with Johnny and his wife, Sherry, for three weeks while we were looking for a place. They were so generous to open up their beautiful home to us," Goodman Sykes recalls.  Minick pastors the River of Life Assembly of God Church in Smyrna, Tenn., and the three friends took the stage to sing one Sunday morning in a pivotal moment that would change their lives.
   "We had worked up 'Until You've Known the Love of God,' which is a song that my dad wrote in the 60s," Goodman Sykes says of her father, the legendary Rusty Goodman. "We sang it on Sunday morning and the clip of it ended up on YouTube. Unbeknownst to us, it started getting a lot of attention. The phone started ringing and people were wanting to book us. We went out and did a couple of concerts. We had a lot of fun. There was a groundswell of interest for us to do something to revisit this music that we grew up with that was so much a part of our heritage. It was just really organic the way it happened. One thing led to another and somebody said, 'You guys need to make a record.'"
   And so they did. The result is a finely crafted effort that is both a loving homage to the musical legacy that inspired each of them and a powerful look at a promising new trio's future. Goodman Sykes, a GRAMMY winner, has long been known as one of southern gospel's most compelling female vocalists. Her career began as a teenager performing with her father, Rusty, and her Aunt Vestal and Uncle Howard as part of the Happy Goodman Family. She graduated to a successful solo career and also spent time as a member of the female group Heirloom.
   Producing Heirloom's album won Michael the first of many GMA DOVE Awards as a producer. The North Carolina native had begun his career as a piano player.  He had met Tanya when he was playing for the Goodmans, and the couple married in 1983. Sykes has become one of the industry's most successful producers, working with the Oak Ridge Boys, the Gaither Vocal Band, Jeff & Sheri Easter, Russ Taff, the Martins and others. As a vocalist, he recorded with the trio Ponder, Sykes and Wright and released his first solo album in 2013.
    A native of Little Rock, Arkansas, Minick began his career performing in his father's gospel group, The Majestic Sounds. Rusty Goodman heard Minick and offered him a job playing piano with the Happy Goodman Family. He joined in 1975. Though he left a few years later to launch his own music ministry, Minick returned to performing with the Goodmans in 1990 when he, Howard and Vestal sang as a trio and became one of the most popular groups featured on Bill Gaither's successful Homecoming Series. Teaming with Tanya and Michael to launch Goodman Revival feels like a homecoming to Minick, and it's been a labor of love.
   "The Goodmans were a very powerful brand of gospel music," he says. "They were very unique and innovative and not to be duplicated. That was not our intention anyway. We just wanted to pay honor to the music that really has become the fabric of our lives. There are so many things that I've done subsequent from the time that I worked with them as a family group, and I've just built on that throughout my ministry."
   Minick is not the only one to continually feel the impact of this family's musical legacy.  The group traces its roots back to the 1940s when Howard Goodman and his sisters founded the fledgling ensemble.  Despite their meager lifestyle as children there was no shortage of joy and laughter, no matter the circumstance.  As a result, early on, friends and neighbors dubbed them the "happy" Goodman family. Later, brothers Sam, Bobby and Rusty joined in, as well as Howard's wife, Vestal. This lineup became firmly cemented in Gospel Music History as, "The Happy Goodman Family."
   The Goodmans' popularity grew; and in 1964, they became featured performers on "The Gospel Singing Jubilee," a groundbreaking television show that would run for more than two decades. After 10 years with "Jubilee," they launched their own successful TV show "The Happy Goodman Family Hour" and became a household name.
   In 1968, they won the very first GRAMMY® Award for Gospel Album by a Group for The Happy Gospel of the Happy Goodmans.  Widely considered pioneers in the southern gospel genre, the Goodmans scored 15 No. 1 hits and are known for such enduring classics as "Had It Not Been," "I Wouldn't Take Nothing for My Journey Now," "Who Am I" and numerous others many of which were penned by Rusty. They were inducted into the Gospel Music Hall of Fame in 1998.
   In recording Songs in the Key of Happy, the members of Goodman Revival honor that legacy and inspiration. "When we got around to picking out the music that we wanted to record, we went back to the very first of their recordings and found a group of songs there that we felt like we could put our fingerprints on and make them ours," Minick says.
   There was an excitement as the trio began imagining how they could put their own creative stamp on songs that held such precious memories for each of them. "We got together over at Johnny's house, and he has the entire discography of the Goodman family," Goodman Sykes recalls with a smile. "We just started making a list. Somebody would say, 'Well, I really like that one!' We'd add that one to the list. Somebody else would go, 'I really like that one!' We came up with a list of about twenty-something songs and we whittled on that."
   Nestled amongst such Goodman family gems as "I Hold a Clear Title to a Mansion," "Sweetest Song I Know," "What a Happy Time" and Tanya's stirring vocal on "What Heaven Means to Me," there's a new song that fits comfortably among some of the most compelling southern gospel songs of our generation. Minick was inspired to write "Settle the Score" after listening to a guest pastor at his church. "She discussed how sometimes believers settle for a little less than what they could hold out for," he explains. "The idea came to me, instead of settling for less, we need to settle the score. I thought about David and Goliath. I was sitting around talking to a friend of mine Tim Hill, who has been a very successful songwriter in gospel music and a preacher. We were sitting around talking, the way preachers usually do, about sermons and things like that and started to write this song. We finished it up in about an hour or so. It had that old, Goodman three-quarter time feel to it. I thought it might be a song we could do."
   Sykes admits it was fun yet challenging to reinvent the foot stomping "Sweetest Song I Know." "With all those moving parts, I was afraid I was going to end up in the fetal position over in the corner somewhere," he grins. "It freaked me out, but it was probably one of the most fun things we did on the album."
   Working together the threesome brought out the best in each other and in the songs. "There's a great balance here," Minick says. "One of the greatest things about Michael's ability is that he makes you want to do things. I probably sang some things that I might not have wanted to sing if I had been doing what I wanted to do, but he just pulls things out you wouldn't normally do. He wants you to try things that you wouldn't normally try. That worked to our advantage on this. We got a lot more energy out of it."
   When Tanya, Michael and Johnny performed at Minick's church that fateful Sunday morning they had no idea God was about to send them on an exciting new adventure—one that would both revive cherished memories and challenge them to write a new chapter in an already distinguished musical dynasty. They were definitely up to the task; and with one listen to Songs in the Key of Happy, it is obvious that this trio has honored a legacy with their immense talents and handled their heritage with care. "There is trust between the three of us," Goodman Sykes shares. "There is friendship. There is a wealth of shared experience. We all grew up in church 24-7, and this music has been a big part of all three of our lives. None of us planned this, but we're in a place in our lives where we walk through doors as they open."
   "We've not put our hand on the wheel," adds Minick. "Everything that has happened has happened because God has used other people to make it happen. This has been one of the most exciting things on a spiritual level.  I've always heard about God opening these doors, and He's done that for me all my life; but to see Him do something from the very beginning to where we are right now, knowing that we've done absolutely nothing to push any buttons or open any doors, has been an amazing ride. That's why I'm excited to be here because we don't know what's going to happen tomorrow. That's a neat place to be."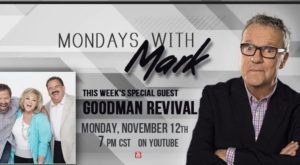 Watch Show HERE
Tags:
Goodman Revival
,
Mark Lowry
,
Mondays with Mark
Posted in
announcements
|
Comments Off

on Goodman Revival Sings "I Wouldn't Take Nothing For My Journey Now"
Written by Staff on March 1, 2018 – 12:22 pm -
Sure, it's a new year, and with a new year comes endless possibilities. Here's a few things that you may want to keep an eye on [in Gospel music] as we journey through 2018 …
The Hoppers have faced a series of challenges over the last couple of years, but it took many by surprise when Dean Hopper had two strokes in December of 2016. Then, when it appeared that he had recovered and was almost back to normal, Hopper suffered three more strokes in August. Hopefully, those medical hurdles are over, and the Hoppers can continue to produce great music, such as "Jesus the One," "Song of Moses," "If We Ever Gotta Look" and the title track off of their "Life Is Good" project … though one of the hidden gems from the project is the yet-to-be-released track No. 4, "Walk Two."
I'm looking forward to seeing what lies ahead for the LeFevre Quartet now that those fellas have joined the Daywind Music family. Already possessing a commercial sound, it will be interesting to see if being a part one of the elite record companies in the Southern gospel industry leads to even greater success at radio and in other avenues as well.
Cana's Voice burst on to the scene two years ago, featuring three dynamic vocalists in Doug Anderson (formerly of Ernie Haase and Signature Sound), TaRanda Beene (the Greenes) and Jody McBrayer (Avalon). Their debut project – "This Changes Everything" – contains hit songs "Heavenly Father" and "Jesus Never Fails." My only complaint … I didn't see Cana's Voice in concert in 2017, due in part to a limited touring schedule as a result of all three group members having their own solo ministries. However, the group has started off 2018 along with David Phelps on the Big Voice Tour. What am I hoping for in 2018 … for my ears and their voices to spend more quality time together in live concert settings.
Group changes are never easy. However, as we all know, they're inevitable. What a soulful asset that Ricky Braddy brought to the sound of Karen Peck and New River. I look forward to hearing the next male vocalist who comes on board with the uber-popular, award-winning trio, and I also look forward to seeing if the group can come close to producing a project that I dig as much as the Wayne Haun-produced "Hope For All Nations" ("Victory is Mine" and "I Know I'll Be There" are simply top-notch).
There's so many "good guys" in the Southern gospel industry, including Brian Lester, Susan Whisnant and Karen Peck Gooch to name just a few. Count Gary Casto among that contingent. Tribute Quartet's manager and lead singer seems to be one of the hardest-working individuals in Southern gospel music as he's involved in many different facets of the industry. With hard work comes reward, such as the group's 2017 Dove Award nominations for Album of the Year ("Here for You," produced by Haun) and Southern Gospel Recorded Song of the Year ("Never Forsaken"). What type of blessings does 2018 hold in store for a group that has risen to a point of being considered one of the top male quartet's in Southern gospel music? I can't wait to find out.
Speaking of personnel changes, I was listening to a Southern gospel radio station earlier in 2017 and heard a ballad that featured a voice that I was certain I recognized. It had to be Chris Jenkins. Well, it was. The Anchormen's "I Heard About a Man" had recently been released to radio and has since been spun many more times on the airwaves. Well, Jenkins recently returned to the Kingsmen. His strong, consistent tenor vocals are an asset to any group. It's sure to be a nice reunion for a group that has experienced significant success at radio with "Here I Stand Amazed" and "They Don't Know." Lot of fans will be looking forward to hearing Jenkins reunited with the rest of the Kingsmen.
Joseph Habedank has the ball rolling. After winning a Dove Award for Best Southern Gospel Album ("Resurrection," also produced by Haun) in October, Habedank has now been nominated for a GRAMMY Award for Best Gospel Roots Album. He's performed with Country Music icon Reba McEntire at the Dove Awards and is one of the few soloists selected to appear on the main stage at the National Quartet Convention. "Here He Comes" and "Just When You Thought" have been well-received releases from "Resurrection," following hit songs such as "Welcome Home," "Never No Never" and "Beauty of the Blood" off of his "Welcome Home" project. Can Habedank's impressive ascension continue at the same pace in 2018? (Side note … Who knows what Haun – who is up for three GRAMMY Awards – will produce this year).
The Nelons continue to see doors open for their ministry, recently being invited to perform in front of the Supreme Court of the United States at the live nativity and then attending the White House Christmas Party in Washington, D.C. Two months earlier, the group won a 2017 Dove Award for Bluegrass/Country/Roots Recorded Song of the Year ("When Grandpa Sang Amazing Grace"). They've recently released an Americana project, "The Americana Sessions".  I look forward to seeing how another year affects Autumn Nelon Clark, who has recently blossomed vocally and enhanced the Nelons' overall sound.
Can anybody deliver a ballad quite like the Collingsworth Family? They're class personified, and it just seems to be one hit after another … "When He Carries Me Away," "Gotta Get to Jesus," "You're About to Climb," "It Matters to the Master," "At Calvary," "Fear Not Tomorrow" … and a couple of my personal favorites in "Tell the Mountain" and "I Found It All." What's the next big showstopper?
Jason Crabb has a huge fan base. He also has a huge talent, being an elite vocalist and having developed into a great communicator of a lyric. Now, he's deeply delving into songwriting. Given Gerald Crabb's immense success as a writer, does the apple fall far from the tree? We'll get a glimpse over the next few months as some of his efforts will likely be unveiled.
The Guardians are a picture of consistency with Dean Hickman and Neil Uhrig, who were original members when the group formed in 1988. John Darin Rowsey joined the group in 2012, and now, the group has experienced great success in recent years, on the radio charts and on stages that the male trio has been invited to perform upon. I first heard their latest radio hit – "Present in the Presence of the King" – at Jackson Sings the Gospel last July in Jackson, Tenn., and immediately fell in love with it. It's no surprise that it was released to radio and has rapidly climbed up the charts. "Packin' Up," "It Ain't Gonna Worry Me Long," "Somebody Prays," "Shoutin' Sounds" and "Let the Healing Begin" are all popular requests for the Guardians. What's next for those guys? Stay tuned.
Southern gospel music fans adore the Mark Trammell Quartet, Greater Vision and Pat Barker. How then could they not love it when Greater Vision's Gerald Wolfe, Rodney Griffin and Chris Allman teamed up with Trammell and Barker to form the Second Half Quartet. The response they receive is always overwhelming. Surely, there has to be something new – well, possibly a new version of something old – coming from that ensemble soon, right? I won't be the only one looking forward to seeing what it will be.
And there's lots of groups that we're all constantly keeping an eye on. I'll look forward to seeing what Legacy Five, Goodman Revival, the Jim Brady Trio, Gold City, the Booth Brothers, Triumphant, Jeff and Sheri Easter, the Whisnants, Greater Vision, the Mark Trammell Trio and many others have in store this year. They're some of your favorites … and mine too. Here's to lots of great music and many memorable moments over these last 10 months of 2018.
By Craig Harris, writer and copy editor of SGNScoops Magazine
First published by SGNScoops Magazine in February 2018
You Can Download SGNScoops Magazine 
HERE
Find SGNScoops Magazine On Facebook 
HERE
Listen To The Best In Todays Gospel Music 
HERE
Tags:
Cana's Voice
,
Christian Music
,
collingsworth family
,
Craig Harris
,
Goodman Revival
,
gospel music
,
Guardians
,
hoppers
,
Kingsmen
Posted in
announcements
,
christian entertainment
,
Christian interest
|
Comments Off

on What I'm Looking For in 2018 in Gospel Music by Craig Harris
Written by SGN Scoops Staff on August 5, 2017 – 8:25 am -
NASHVILLE, Tenn. —Members of the award-winning trio Goodman Revival will soon release their sophomore album with Gaither Music Group.  Still Happy, scheduled to hit streets on August 25th, finds the group doing what their fans love best—recording new songs and putting their signature twist on some of the most popular hits originally performed by the Happy Goodman Family.
The "new-yet-established" group, a mainstay among the Gaither HOMECOMING family of artists, is made up of Tanya Goodman Sykes, Michael Sykes and Johnny Minick, each of whom is a seasoned Christian music veteran and former member of the Happy Goodman Family.  The three performers, hailing from Smyrna, TN, joined together in 2014 to perform and record as a trio, capturing the musical styles and heritage that have endeared them to countless people around the world.  That rich, musical inheritance remains evident on the upcoming Still Happy recording.
"We have been working on this release for about 18 months," described Tanya, a GRAMMY® Award winner.  "A year-and-a-half is long enough to have two babies!"  And actually, they almost did—grandbabies that is!  Minick's family added a granddaughter–their fourth grandchild; and Michael and Tanya had their first grandbaby this week, also a girl. 
"A lot has happened to us during that time," continued Tanya.  "We have enjoyed being in concert on the road and meeting with friends who are moved by our music.  We are loving our grandbabies.  I went through a battle with cancer.  Life has been 'happening' all around us—as it does for everyone—and we count ourselves blessed.  We are still grateful for this opportunity and still happy!"
Goodman Revival's fans are happy as well—so much so they named the group Favorite New Artist of the Year in 2016 at The Singing News Fan Awards, held in Pigeon Forge, TN.  Those fans will be anxious to hear Still Happy, which features such Goodman staples as "Had It Not Been," "The Lighthouse," "I'm Too Near Home," "When They Ring the Bells of Heaven," "The Answer's on the Way" and more, including their unique rendition of the Bill Gaither-penned classic "The Longer I Serve Him."  The songwriter credits for the all-new studio recording include such household names as Rusty Goodman, Aaron Wilburn, Phil Johnson, Joel Hemphill, Minick, Tim Hill, Ronnie Hinson, Sykes and Suzanne Jennings among others. 
Also included on the new release is "The Eastern Gate," which Minick describes as his all-time favorite Goodman song as it evokes memories from the '70s when he played piano for the Happy Goodman Family–Howard, Vestal, Rusty and Sam Goodman.  Another favorite tune of Minick's on the new release is the barnburner "When They Ring the Bells of Heaven."  "This song is kind of like riding a unicycle," laughed Tanya.  "If you fall off you might not get back on!"  Johnny agreed, "It's 70mph and a cloud of dust!"
Produced by the three group members, Still Happy follows the success of the group's debut CD and DVD, Songs in the Key of Happy, which debuted at #1 on the Nielsen SoundScan Southern Gospel chart and at #11 on the Contemporary Christian Music chart.  The trio, recently featured on the cover of The Singing News Magazine, garnered two 2015 GMA DOVE Award nominations for Southern Gospel Song of the Year ("What a Happy Time") and Southern Gospel Album of the Year.
Still Happy will be featured as part of a television special airing on DirecTV, Dish TV, RFD-TV, The Heartland Network, TBN, GaitherTV, FamilyNet, CTN, GMC, GMTN, Guardian, Liberty, TCT and TLN.  It will air in Canada on Vision TV, CTS, The Miracle Channel and Hope TV.  The project, recently highlighted via a Facebook LIVE event, will be promoted via Gaither Music Group's website, consumer catalog, digital assets, social media and YouTube channel.
The new recording will be exclusively distributed by Capitol Christian Music Group and Universal Music and will be available throughout general market stores and the Christian marketplace in addition to online retailers including iTunes, Amazon and www.gaither.com.
Tags:
Goodman Revival
,
Southern Gospel News
Posted in
announcements
|
Comments Off

on Goodman Revival: STILL HAPPY As They Release Sophomore Recording
Written by scoopsnews on October 3, 2016 – 8:29 am -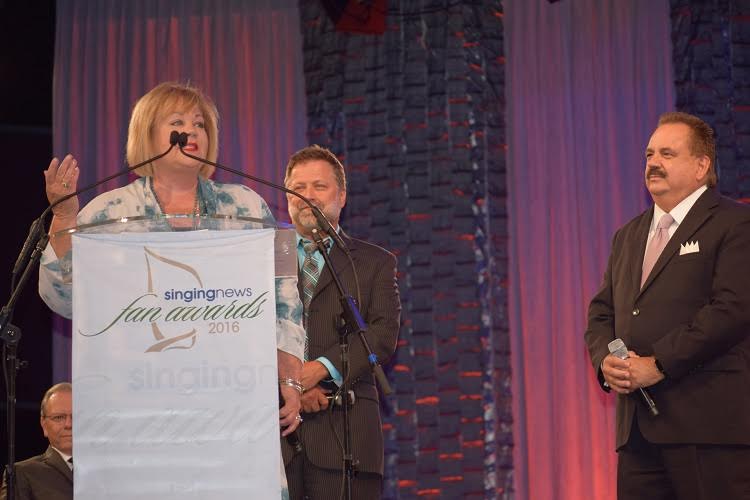 Goodman Revival Named Favorite New Artist in 2016 Singing News Fan Awards
 Nashville, Tennessee – Award-winning trio Goodman Revival added another award to its growing list of accomplishments as the trio of veterans won its first Singing News Fan Award this week. The seasoned talent in this group caused it to soar to the top of fans radars as they won the illustrious Favorite New Artist Award.
The Awards were presented on Wednesday, September 28, 2016 in conjunction with the National Quartet Convention held in Pigeon Forge, Tennessee. This phenomenal group performed during the program that afternoon.
Consisting of all former members of the The Happy Goodmans, this new group captures the spirit and expression of the latter group. When Goodman Revival hits the stage, instantly the excitement is stirring and you know that this will not just be a concert, but an experience.
Johnny Minick started with the The Happy Goodmans as a pianist and then moved on to vocalist when Sam Goodman passed away. Tanya Goodman Sykes, daughter of Rusty Goodman, cut her teeth on the Goodmans music, while Michael Sykes, Tanya's husband, played in The Happy Goodman band. All three members are Goodman family at heart.
Johnny Minick commented, "It is totally amazing to stand back and watch as God continues to pour His blessings on us as a group. He is opening doors we never imagined He would open."
Earlier this year, Goodman Revival was nominated for several Absolutely Gospel Music Awards and took home the coveted Ovation for Traditional Recording of the Year for its critically acclaimed Gaither Music Group debut Songs In the Key of Happy.
If you would like to interview Johnny Minick or Goodman Revival contact AG Publicity at 
info@agpublicity.com
.
Twitter Johnny at @JohnnyMinick .
Tags:
Goodman Revival
,
Johnny Minick
Posted in
announcements
|
Comments Off

on Exciting News For Goodman Revival
Written by Staff on June 13, 2016 – 1:41 pm -
All-Star Salute to Air on TBN

July 15, 2016
Les Beasley accepts the SGMG Harmony Honor in celebration of the Gospel Singing Jubilee on Tuesday, June 7, 2016 at Trinity Music City (TBN) in Nashville, TN. Photo by Chip Woods
(Nashville, TN) – The Southern Gospel Music Guild (SGMG) paid homage to Les Beasley and the Gospel Singing Jubilee at the 2016 SGMG Harmony Honors during an all-star salute on Tuesday, June 7, 2016.
The event, held at Trinity Music City in Hendersonville, TN, was hosted by Jason Crabb and Gerald Wolfe. Musical guests for the evening included Goodman Revival, The Nelons, Karen Peck & New River, LeFevre Quartet, Rambo McGuire, Ronny Hinson, Freedom Quartet, Three Bridges, Second-Half Quartet, Tribute Quartet, and the Inspirations. Additionally, Duane Allen (Oak Ridge Boys) and Willie Wynn (former tenor, Oak Ridge Boys) honored Beasley recounting personal stories and tributes.
Beasley, known for being the lead singer and manager for The Florida Boys, was also a pioneer in Gospel Music TV. Beasley produced the Gospel Singing Jubilee for over two decades. Under Beasley's direction, the popular television program aired on Sunday mornings in every major television market in the United States. Millions viewed the show every Sunday where the careers of many of Gospel Music's most loved artists were launched and some of the most beloved Gospel songs were introduced for the first time.
TBN – Trinity Broadcasting Network – will air the SGMG Harmony Honors during a special television broadcast on
July 15, 2016
.
For more Southern Gospel information click here.
Tags:
Freedom Quartet
,
Goodman Revival
,
Karen Peck & New River
,
lefevre quartet
,
Les Beasley
,
Rambo McGuire
,
ronny hinson
,
Second Half Quartet
,
the nelons
,
three bridges
,
Tribute Quartet
Posted in
announcements
,
artists
|
Comments Off

on 2016 SGMG HARMONY HONORS CELEBRATE LES BEASLEY AND THE GOSPEL SINGING JUBILEE 
Written by Staff on January 29, 2016 – 2:44 pm -
Nashville, Tennessee (January 29, 2016) Pastor, Singer, Songwriter, and Campmeeting speaker, Johnny Minick is known around the world for his singing and preaching, but also for his years spent with the Happy Goodman Family.
After two Doctorate Degrees the point has come in his career that he is ready to reach out a little further with his ministry. He chose AG Publicity to help him do that.
AG Publicity President, Deon Unthank stated, "I have known Johnny Minick for over 15 years, sitting under his ministry as Pastor, so it is a privilege to call him my friend. It is an even greater privilege to represent his total endeavor in reaching the world, whether it's his preaching and singing at campmeetings, singing on stage with Goodman Revival, or featured on a Gaither Homecoming video."
Johnny commented, "I'm very excited about signing with AG Publicity. I've been looking for a way to get the word out concerning all the doors that have been recently opened to me. This opportunity is one I'm truly looking forward to exploring."
If you would like to interview Johnny Minick contact AGPublicity at info@agpublicity.com.
Learn more about Johnny Minick Ministries at http://www.johnnyminick.com/ or on FaceBook at https://www.facebook.com/johnny.d.minick/.
Twitter Johnny at @JohnnyMinick .
####
About Johnny Minick
Johnny Minick was born and raised in Little Rock, Arkansas. He began his musical journey at the age of 3. Johnny's parents enrolled him in piano lessons at age 6 where he began to study to be a classical pianist. Those years of classical training gave Johnny an important foundation for the artistry he now enjoys. In his teens, Johnny followed a familiar path that many other classically trained musicians follow; the road to jazz.
In August of 1974, Johnny and his sweetheart, Sherry McDonald married. In the Summer of 1975, Johnny and Sherry packed up and moved to become a part of The Happy Goodman Family. The next few years made an indelible mark on Johnny's life and musical career. Even though he had founded River Of Life Church in 1992 in Smyrna, TN Johnny reunited with Howard & Vestal Goodman to revive the Happy Goodman brand. With the success of the Bill Gaither Homecoming videos and concerts, The Happy Goodmans found a platform to promote their music around the world. From 1995 through 2002, Johnny traveled 3 days a week singing to 1.3 million people per year attending their concerts from coast to coast and in Europe. At the same time, River Of Life continued growing and enjoying their new worship facility at their Sam Ridley Parkway location. The years with the Goodmans were productive and continues to bear fruit to this day. His relationship with Howard, Vestal, Rusty & Sam continued until their deaths.
In 2014, Johnny, Tanya Goodman Sykes and her husband Michael Sykes started singing together as Goodman Revival. In February of 2014 they went into the studio and recorded their debut project, "Songs In The Key Of Happy." Spring House Music heard the recording and leased the project to be distributed through the Gaither Music Network and in October 2014 a companion video was produced at the Gaither Studios in Alexandria, IN.
For or more news click here.
Tags:
Goodman Revival
,
Johnny Minick
,
southern gospel
Posted in
announcements
,
artists
|
Comments Off

on Johnny Minick Signs Agreement With AG Publicity
Written by Staff on January 21, 2016 – 9:45 am -
SGN Scoops wishes Rick Webb of the Rick Webb Family and Michael Sykes of the Goodman Revival a very very Happy Birthday today!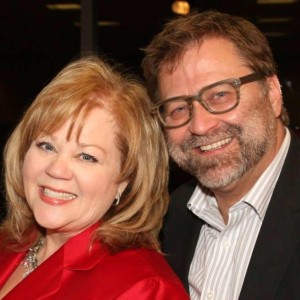 Michael Sykes is the husband of Tanya Goodman Sykes, and is a well-known vocalist, producer, and everything-about-music man. We are so happy that he and his wife and Johnny Minick brought back the sound of the Goodmans with their group, Goodman Revival! The group released its first album last year and the singles have been on the charts ever since! Email goodmanrevival@gmail.com ; Press contact cwinstead@springhillmusic.com
Rick Webb and the Rick Webb Family, consisting of his wife Phyllis, son Parker Webb and daughter Hannah Webb, has been singing for over 34 years. 15 recordings, many number one songs, and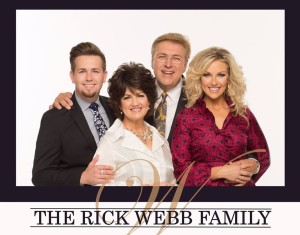 a sound that encompasses all generations, the Rick Webb Family continue to move to the forefront of the Christian music scene! Email RickWebbFamily@aol.com ; Press contact publicity@rickwebbfamily.com
Happy Birthday to these two fine gentlemen!
For more news click here.
Tags:
Goodman Revival
,
Michael Sykes
,
Rick Webb
,
Rick Webb Family
Posted in
announcements
,
artists
|
Comments Off

on Michael Sykes and Rick Webb Celebrate Birthdays!