Written by Staff on February 17, 2019 – 1:06 pm -
Jason Crabb and his wife, Shellye, were married 20 years ago. After two decades, they have grown a family, observed twenty Christmas Eves, developed a thriving career in Christian music, and celebrated many awards, including Grammy, Dove, and Diamond.
Jason, along with his brothers and sisters, still makes limited appearances as the Crabb Family, 22 years following their first appearance, and get together as a family as often as possible.
This artist knows that the best things in life are the things that last. Things like faith, love and family. And gatherings during one of the most holiest times of the Christian calendar.
"We really like to get together with family," says Jason about his Christmas traditions. "It's just family time. The perfect Christmas for me, would be to go back home to Kentucky and spend it with my family. To go to one of those little bitty Christmas plays that the kids do, in one of those little country churches that I grew up in. Watch Mary drop the baby Jesus doll in the manger scene. Those things you just never forget. You know, the main thing for me is Jesus and family during that time."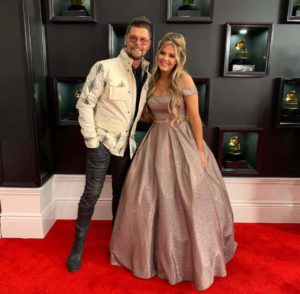 The Crabb family has been blessed with the ability to share their love for Jesus musically, and now Jason has started flexing his songwriting muscles on his latest award-winning release, "Unexpected." Not every song on this recording is one he has written, however.
"The best song always wins, doesn't matter if you wrote it or whoever else," Jason states. "But how can we get up and say 'this is me,' if we didn't have any part of the creation? I didn't think I had it in me to create it.
"So I've gotten wise," Jason grins. "I've got people around me to help me, you know, get with writers, to get with people that are a great help to put all the pieces together of what I want to say, to glue it all together, make a great piece of artwork. Instead of one holding the brush, there's three, and then the band comes along and there's numerous people.
Tags:
Christian Music
,
christmas
,
gospel music
,
Grammy award
,
Jason Crabb
,
Revival of Love
Posted in
Christian interest
,
sgn scoops magazine
|
Comments Off

on Jason Crabb: Praying for a Revival of Love
Written by Staff on September 16, 2018 – 3:22 pm -
The Collingsworth Family performed at Welch College's Celorio Hall, which is located in Gallatin, Tenn., on July 12. Craig Harris was on hand to capture images of the event.

More on the Collingsworth Family:
StowTown Records artist The Collingsworth Family was elated to earn their first GRAMMY® nomination for the upcoming  60th Annual GRAMMY Awards®. Their project, The Best of The Collingsworth Family – Volume 1, is nominated for Best Roots Gospel Album.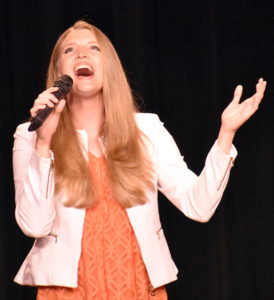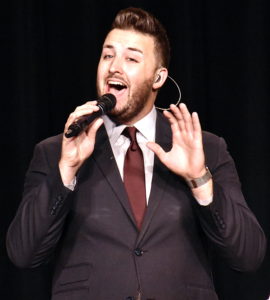 The Best of The Collingsworth Family – Volume 1 and Volume 2 are available at all digital and retail outlets.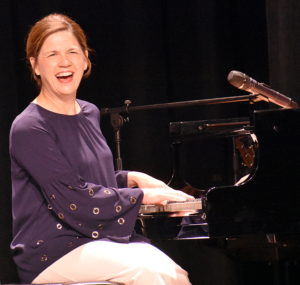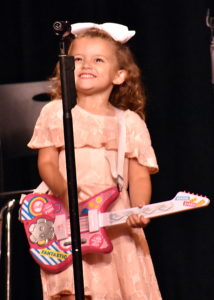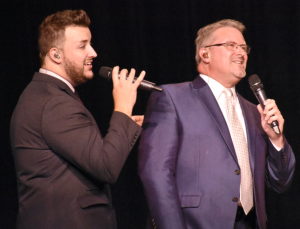 Also available at Christian music retail stores is their most recent release, That Day Is Coming, which is a live DVD recording that showcases the amazin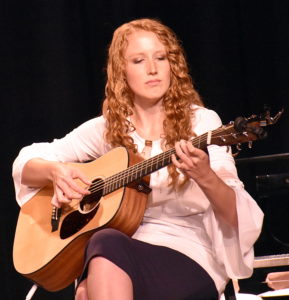 g talent and passion of The Collingsworth Family. All of these are distributed by Sony/Provident Distribution.
Read the full SGNScoops August  Magazine Here.
Download the PDF of SGNScoops Magazine HERE
Find SGNScoops On Facebook HERE
Listen To Today's Gospel Music Online HERE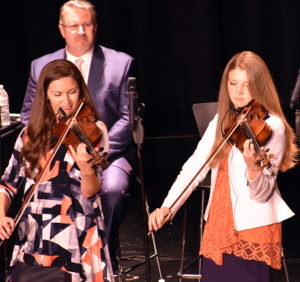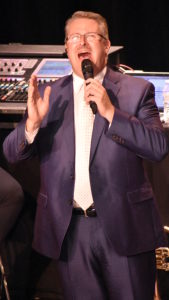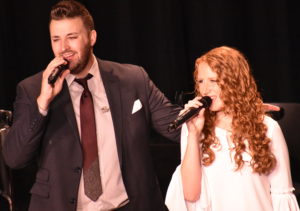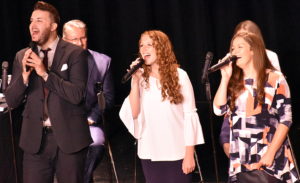 Tags:
collingsworth family
,
Craig Harris
,
Grammy award
,
Phil Collingsworth
,
StowTown Records
Posted in
announcements
,
artists
|
Comments Off

on Craig Harris catches the Collingsworth Family in concert
Written by Staff on February 26, 2018 – 1:16 pm -
Acclaimed Male Vocalist Captures Some of His Favorite Hymns on New Release
NASHVILLE, Tenn.—February 26th, 2018—GRAMMY® and GMA DOVE Award-winning recording artist Guy Penrod has just recorded an all-new collection of hymns entitled Blessed Assurance (Gaither Music Group/Servant Records). Produced by Penrod and Jonathan Crone, the audio recording, which released on Friday, features some of the most popular hymns of the church—classics that are also some of Penrod's personal favorites.
"It's with great excitement that I release my second album of hymns, Blessed Assurance," stated Penrod. "These are 12 more of my favorite hymns that express valuable truths about God's love and care for us. These musical arrangements were designed to invite listeners to sing along to these timeless lyrics of eternal hope, and I hope they will do just that and find refreshing and strength from these ageless hymns, just as I have."
Blessed Assurance, Penrod's seventh solo recording, contains "There Is Power in the Blood," "The Love of God," "In the Sweet By and By," "I Surrender All," "In the Garden," the title song and more, all of which showcase Penrod's signature personality; unmistakable, rich tones; and country-influenced style.
That style can be seen on TV as the recording is being advertised as part of a television special currently running on DISH TV, DirecTV, RFD-TV, Gaither Television Network, TBN, FamilyNet, CTN, GMC, GMTN, Guardian, Liberty, TCT and TLN. It is airing in Canada on Vision TV, CTS, The Miracle Channel and Hope TV. The new CD is being promoted via social media and will be positioned in retail/e-tail outlets everywhere in addition to the Gaither consumer catalog, and it will be featured on the "HOMECOMING Weekly" program on Sirius XM.
Singing hymns is not new for Penrod, whose CD and DVD LIVE Hymns & Worship (Gaither Music Group/Servant Records) claimed the No. 1 position on the Southern Gospel chart as well as the No. 2 position on the Contemporary Christian Music chart the week of its release, according to Nielsen SoundScan. The DVD landed at No. 1 on the Christian Music Video chart and at No. 1 on the Billboard Music Video chart. His Hymns recording (Gaither Music Group/ Servant Records) debuted at #1 on the Nielsen SoundScan Southern Gospel retail chart and became the top-selling southern gospel album of the year.
Blessed Assurance is distributed by Capitol Christian Music Distribution and Universal Music. It is available now at retail and digital outlets worldwide including iTunes, Amazon, www.gaither.com and www.guypenrod.com.
For a preview of the songs from Blessed Assurance visit: https://www.youtube.com/watch?v=PsE3cKFUEvc
For further information regarding Penrod visit www.guypenrod.com, connect at facebook.com/GuyPenrod or follow Guy on Twitter: @GuyPenrod.
Blessed Assurance CD Song Listing:
1. Blessed Assurance
2. Before the Throne of God Above
3. There Is Power in the Blood
4. The Love of God
5. In the Sweet By and By
6. Standing in the Need of Prayer
7. I Surrender All
8. My Jesus, I Love Thee
9. In the Garden
10. Draw Me Nearer
11. Day by Day
12. I Will Sing of My Redeemer
(Produced by Guy Penrod and Jonathan Crone)
ABOUT GUY PENROD
Guy Penrod is one of the most acclaimed male vocalists in Christian music. Known for his country styling and 14-year tenure with the Gaither Vocal Band, Penrod's music has been applauded in the gospel as well as country formats. He has appeared on stages ranging from "The Grand Ole Opry" and The Sydney Opera House to Carnegie Hall and has made numerous appearances on country recordings.
A vocal powerhouse, Penrod travels throughout the U.S. and abroad in addition to making multiple media appearances including RFD-TV's top-rated "Larry's Country Diner" and one of North America's most popular Christian television programs "100 Huntley Street." He hosts DayStar Television's Emmy Award-winning "Gospel Music Showcase" program.
Penrod's Hymns recording (Gaither Music Group/ Servant Records) debuted at #1 on the Nielsen SoundScan Southern Gospel retail chart and became the top-selling southern gospel album of 2012. His DVD The Best of Guy Penrod is certified platinum by the RIAA. In 2011 he became a Texas Gospel Music Hall of Fame inductee, and he was inducted alongside the Gaither Vocal Band into the Gospel Music Hall of Fame in 2014.
You Can Download SGNScoops Magazine 
HERE
Find SGNScoops Magazine On Facebook 
HERE
Listen To The Best In Todays Gospel Music 
HERE
Tags:
Blessed Assurance
,
Christian Music
,
Gaither Vocal Band
,
gospel music
,
Grammy award
,
guy penrod
,
Hymns
,
Texas Gospel Music Hall of Fame
Posted in
announcements
,
artists
|
Comments Off

on All-new Recording from GRAMMY® Award Winner GUY PENROD Offers Blessed Assurance Through Timeless Songs
Written by Staff on March 5, 2015 – 4:08 pm -
The release has already caught the attention of listeners and reviewers alike. Timothy Yap –

Hallels.com

– comments: "Rachel West Kramer has a penetrating soprano that has the ability to soar to the heights of Mt. Everest and camp there for an extended stay. But it's not just about vocal volume and heights. Even in her softer cadences, she has the ability to get beneath the skin of her notes and bring out raw emotions that we never thought existed. In short, Kramer is the singer's singer. If you are into vocalists who can sing (ala Celine Dion or Whitney Houston) and who are not afraid to shatter some glasses along the way, Kramer is simply sublime."

The ten-song release features beloved compositions of the Christian faith "Christ Arose The Victor," "I Walked Today Where Jesus Walked," "The Holy City," along with classic hymns "It Is Well With My Soul," "The Lord's Prayer," among others including an extremely stirring version of "How Great Thou Art."

"Rachel was such a joy to work with – maybe work isn't the right word," David Clydesdale commented. "Rachel is an inspiration and spiritually concerned to communicate with her listeners God's truths. I don't remember working with an artist before who cried during the recording of the orchestra. This was her dream, and it was happening and she was so gracious and thankful God had given her this moment. I KNOW you will be blessed, as I was!"

Rachel shares, "The idea for this album came while touring the Holy Land. It was my third tour there, but the first tour for most everyone else in our group. While making our way up to Jerusalem, as is tradition, everyone began singing the song, 'The Holy City.' There is rarely a dry eye when you experience this. I felt as if God said specifically to me, 'I want you to make music which tells My story and shows people the way to The Holy City (Heaven). The joys have been innumerable as we worked on this album. Working with David Clydesdale and his magnificent arrangements was a tremendous privilege. We have prayed our LORD will bless many lives through this powerful collection of songs."

Majestic Glory, 

produced by D. Scott Kramer for Electric Station Records, is available worldwide on iTunes, in select Christian retail stores and online at

www.TheKramersMusic.com

.

ABOUT RACHEL WEST KRAMER
Rachel West Kramer is a Christian Vocal Artist and Speaker. Rachel sings and speaks throughout the United States for various concerts, conferences, prayer breakfasts and women's events. She has recorded five full-length projects. Together with her husband, Scott and daughter Maria, they travel and share God's love and salvation through their family's music group, The Kramers.  Additionally for 20 years now, they host the popular RiverLife Gospel Music Cruises aboard the Spirit of Peoria Riverboat along Peoria's beautiful riverfront.  Each year, they host the Real Life: Real Joy Women's Day of Renewal, the Good News Music Radio Program & Concert Series as well as the annual Christmas Celebration Concert Series. Closest to their hearts are their two children, Maria (18) and Weston (16). Scott & Rachel are thankful for the gift of their son, Weston, who was diagnosed as having autism when he was two years old. The LORD has continued to bring much healing and progress in Weston's special life. As a wife, mother, friend and Christian artist, Rachel possesses a genuine love and compassion for others as she communicates so powerfully through song and spoken words. Her heart for the LORD and her steadfast walk with Him is evident as she proclaims His love and truth not only in her music but also in her everyday life.

Majestic Glory Track Listing:

Christ Arose The Victor
Morning Star
The Holy City
I Walked Today Where Jesus Walked
It Is Well With My Soul with Be Still, My Soul
New Jerusalem
How Great Thou Art
To The Cross
Battle Hymn of the Republic
The Lord's Prayer
Tags:
Christian Music
,
David T. Clydesdale
,
Dove Award
,
Good News Music Radio Program
,
gospel music
,
Grammy award
,
Rachel West Kramer
,
Real Life: Real Joy Women's Day of Renewal
,
The Kramers
Posted in
announcements
,
artists
|
Comments Off

on RACHEL WEST KRAMER PARTNERS WITH GRAMMY® WINNING DAVID T. CLYDESDALE FOR MAJESTIC GLORY, AVAILABLE NOW
Written by SGN Scoops Staff on June 8, 2012 – 1:13 pm -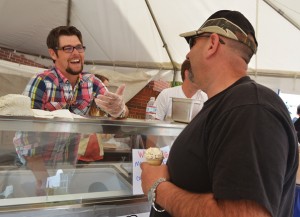 Nashville, TN – June 8, 2012 – Grammy award-winning vocalist, Jason Crabb, partnered with Denali Flavors, developers of the legendary Moose Tracks Ice Cream flavor and Purity Dairy to participate in the 10,000 Scoop Challenge to give away 10,000 scoops of Moose Tracks ice cream during the first day of the CMA Music Festival in Downtown Nashville, TN. Ten thousand scoops of Moose Tracks was given away on Thursday, June 7, 2012 at the First Baptist Church in Nashville, TN with "celebrity scoopers" Jason Crabb, Scott Hamilton (Olympic Gold Medalist Figure Skater), Rhonda Vincent (Award Winning Queen Of Bluegrass), The Roys, and others. For every scoop of ice cream, Denali Flavors donated $1 to Rocketown, a teen center started by Michael W. Smith, with a grand total of 10,000 scoops eaten and $10,000 raised! "We had a great time scooping ice cream," Jason Crabb said. "To be able to support Michael W. Smith and the work he does at Rocketown by giving away some free ice cream was a lot of fun! I was honored to be a part of the event today and I even ate some Moose Tracks myself!"
For more information on Jason Crabb, visit www.JasonCrabb.com, facebook.com/JasonCrabbMusic and twitter.com/JasonCrabbMusic. For more information on Moose Tracks Ice Cream, visit www.Facebook.com/MooseTracks. For more information on Rocketown, visit www.rocketown.com
Tags:
bluegrass
,
CMA Music Festival
,
Denali Flavors
,
First Baptist Church in Nashville
,
Grammy award
,
Jason Crabb
,
Michael W. Smith
,
Moose Tracks Ice Cream
,
Rhonda Vincent
,
Rocketown
,
Scott Hamilton
,
Southern Gospel News
,
The Roys
Posted in
christian entertainment
,
Christian interest
|
Comments Off

on Jason Crabb Partners with Denali's "Moose Tracks Ice Cream" and Purity Daries To Raise $10,000 For Michael W. Smith's Rocketown