Written by Staff on February 10, 2020 – 9:31 am -
In these few days leading up to Valentine's Day, we thought we would let you read some Sweetheart Stories of people you may know in gospel music who have met the one they have married for life.
Today we talk to Grant Gibson, of Karen Peck and New River, who recently married his sweetheart, Susanna. This is their story, in Grant's own words:
Thank you Grant, for sharing your story with us.
Has God brought a special someone to you? Let us know your sweetheart story and we may post it here! Send your story today to lorraine@sgnscoops.com
Tags:
gospel music
,
Grant Gibson
,
Karen Peck & New River
,
Love
,
Southern Gospel Music
,
Valentine's Day
Posted in
artists
,
Christian interest
|
Comments Off

on Sweetheart Stories: Susannah and Grant Gibson
Written by Staff on May 16, 2018 – 7:42 am -
Fayth Lore of the Lore Family is a writer for SGNScoops Magazine and often does our cover features. She has been working hard on the cover for the June 2018 edition and gives us a brief scoop on what it contains!
You may have heard that Karen Peck and New River recently underwent a personnel change. Their new vocalist is Grant Gibson, formerly of 11th Hour. Fayth went indepth with this congenial tenor and his new group. She will share all the minute details in the June edition of SGNScoops.
Be sure to watch for the June edition of SGNScoops Magazine.
READ The latest PDF Version Of SGNScoops Magazine here.
Download The latest PDF Version Of SGNScoops Magazine HERE
Find SGNScoops Magazine On Facebook HERE
Listen Online To The Best In Todays Gospel Music HERE
Tags:
Fayth Lore
,
gospel music
,
Grant Gibson
,
karen peck and new river
,
Kari Gooch
,
sgnscoops
Posted in
announcements
,
artists
|
Comments Off

on Fayth Lore announces June cover feature for SGNScoops featuring Karen Peck and New River
Written by Staff on March 27, 2018 – 10:37 am -
Arden, NC. (March 27, 2018) – Chart-topping trio 11th Hour announces the departure of Grant Gibson. Grant will be moving to Karen Peck and New River to fill the vacated
position of Ricky Braddy.
Amber Eppinette of 11th Hour states: "Of course, it's always hard to see someone go, especially when they have been here for five years. Grant became not only a friend but a brother to us. I along with Jaquita are thankful for the years shared with him. We bless him in this new season and journey."
Grant Gibson adds: "It's been an honor the past five years to be a part of 11th Hour. I've seen countless people come to Christ, watched the group rise to places it had never been, and made so many new friends. The Eppinette family have become an extended family, and I'm so grateful for the opportunities they've given me. Amber and Jaquita will always be sisters to me, and this transition won't change that. Life is full of seasons, and this season of my life is coming to an end. I ask that you continue to pray for 11th Hour and myself as we continue to seek God's will."
11th Hour will be auditioning to fill the lead vocal position starting immediately. Interested vocalists should send resume's to
11thhourgg@gmail.com to set up a time to audition. In the meantime, Logan Smith who is not a stranger to the Gospel music scene will be temporarily filling the dates with 11th Hour.
About Crossroads:
Crossroads is a market leader in the Southern Gospel, Bluegrass, and Americana fields. Established in 1993, following the combination of Horizon Music Group and Sonlite Records, Crossroads now operates several divisions including Crossroads Label Group (Horizon Records, Sonlite Records, Mountain Home Music, Skyland Records, Pisgah Ridge Records, Crossroads Records, and Organic Records), Crossroads Distribution, Crossroads Radio Promotions, Crossroads Publishing Group and Crossroads Recording Studios. Led by a strong executive team of Christian music and Bluegrass music veterans, Crossroads combines cutting-edge technology with creative innovation to connect fans with our artists' life-changing music.
Download The PDF Version Of SGNScoops Magazine HERE
Find SGNScoops Magazine On Facebook HERE
Listen Online To The Best In Todays Gospel Music HERE
Tags:
11th Hour
,
crossroads
,
Grant Gibson
,
karen peck and new river
,
Logan Smith
Posted in
announcements
,
artists
|
Comments Off

on 11th Hour looks for new member
Written by Staff on August 31, 2017 – 2:25 pm -
11th Hour member, Jaquita Lindsey, talks about the group's first visit north of the border.
11th Hour had the privilege in July of this year of being part of Canada's Gospel Music Celebration, held annually in Red Deer, Alta. This event is comparable to our National Quartet Convention that is held in Pigeon Forge, TN.
Many great groups were in attendance for this year's event, such as the Booth Brothers, Collingsworth family, Mark Trammell Quartet, Greater Vision, Triumphant Quartet and Legacy Five. We also had the opportunity to meet and hear a few Canadian groups.
Traveling to Canada was a first for Grant (Gibson), Amber (Eppinette) and I. We call Grant our world traveler, having visited about every state and several countries. But Red Deer was a first for us all. The people greeted us warmly and made us feel so special. Many friends came to our product table and wanted to put "faces to the voices they had been hearing on the radio".
Gerald Wolfe, of Greater Vision, emceed the nightly concerts. He also held one of his Hymn Sings on Friday afternoon. Second Half Quartet sang a few songs to open up the sing. Stan Whitmire graced us with his phenomenal piano skills for the sing-a-long. 11th Hour was asked to sing "Love of God," which Amber sang better than I had ever heard her. She laughed that it was because Stan was playing for her.
The only fun we had time for was Saturday morning when we spent a little time in downtown Calgary. Mark Trammell Quartet was in charge of Chapel that morning. Since we skipped it to "go have fun", his guys turned our backdrop upside down and rearranged our product table. We all had a good laugh about it.
We hope to get invited back in the future to Canada's Gospel Music Celebration. That trip was memorable for all three of us.
About 11th Hour
(http://11thhourgg.com/bio/, August 31, 2017)…In 2012, 11th Hour signed a recording contract with Crossroads Music Group. "The doors of opportunity that a recording contract opened up were incredible. We had a support that would help
us reach more and more people for the Kingdom," says Amber. And with that support, 11th Hour has done just that. They've had multiple Top 10 hits and been nominated for numerous awards in Southern Gospel music such as Trio of the Year and Album of the Year, while Amber was nominated for Soprano of the Year. In 2014, 11th Hour took home the Sunrise Award at the SGN Scoops Diamond Awards. "It has been such an honor receiving support from people you respect and admire," shares Amber. "God has so much more in store for us as we travel and bring glory to His name."There's so much more work to be done as these three continue to step out in faith. Amber, Grant, and Jaquita, are ready to go wherever the Lord opens doors, singing and proclaiming the good news of Jesus… Read more here. 
Read more about 11th Hour here.
Find more Gospel music news
here.
Find more features and stories about Gospel music in our
latest
SGNScoops Magazine.
Tags:
11th Hour
,
Amber Eppinette
,
booth brothers
,
collingsworth family
,
Grant Gibson
,
Greater Vision
,
Jaquita Lindsey
,
legacy five
,
mark trammell quartet
,
triumphant quartet
Posted in
artists
,
Christian interest
,
special feature
|
Comments Off

on 11th Hour experiences memorable first trip to Canada
Written by Staff on July 28, 2015 – 10:55 am -
By Marcie Gray
"While time marches on for a world in need of Jesus, you can find 11th hour using each moment for His glory." What a great introduction on the 11th Hour website for this Southern Gospel trio from Monroe, Louisiana! In 2007, at the tender age of 16, Amber Eppinette answered the call when she and a friend formed 11th Hour. Amber was at a revival when the Lord revealed to her that she was to take her music ministry on the road. Raised in a family full of preachers and singers, it was only natural that Amber felt comfortable when called to ministry.
Two years ago, Grant Gibson, from Jasper, Alabama departed Debra Perry and Jayden's Call to join 11th Hour as second tenor. Jaquita Lindsey completed 11th Hour by filling the alto position. Hailing from Camden, Arkansas, Jaquita was introduced to Amber by Nicole Watts Jenkins who was singing soprano for The Perrys at the time. Each member of 11th Hour brings significant vocal experience to the group, and the harmonies flow freely. Equipped with a unified mission, smooth harmony and cherished friendship, 11th Hour is blessed with a powerful ministry that spans the gap between generations.
11th Hour is gifted with a unique style, giving them a versatile approach to ministry. They are just as comfortable singing classic Southern Gospel music with friends like Greater Vision as they are leading worship for a youth camp, where they incorporate contemporary worship music into their repertoire.
Amber, Grant and Jaquita all agree that they are a very close-knit group of friends who enjoy spending time together, even when they're on the road between dates. When asked to share a memorable moment on tour, Grant said, "We were singing at a church one night and during our introductions, a gentleman walked up onto the stage and interrupted the concert, insisting that we sing, "Have A Little Talk With Jesus." We all just looked at each other, unsure of what was coming next, and before we knew it, the man ended up leading the entire congregation in the song.
"He was a veteran and had plenty of scars to show for it. He was pleased to share each scar with us at the product table, and if that wasn't disturbing enough, he proceeded to pop his fake eye out right there at the table, in front of everyone standing there! When you tour 230 dates per year, you're bound to run into some very interesting people, but that particular memory was one we will never forget!"
The group has been nominated in the Top 10 in the Singing News Fan Awards for "Favorite New Trio" for the past two years, and was awarded a Diamond Award in 2014 for "Favorite New Trio." "It's wonderful to be recognized by fans and friends who love your music, but it's not the glory and fame that keeps us going when we get discouraged," said Amber. "I'm always reminded by the Holy Spirit that this is a calling, not a job. Recently, God has shown me that when He places a call on a person's life, He doesn't take it away. We have a purpose to fulfill what God has set believers here to do, and even when we feel discouraged, we have to remember that our purpose and calling hasn't changed. When we stay focused on the calling even through challenging times is when we will start seeing souls saved and hearts turned toward Him, which is confirmation that we are doing what we are called to do!"
Jaquita shared, "I've been asked before why I won't sing secular music. My answer is simple. I would never use my talents for anything other than God's glory. I was raised by a family of ministers. My parents and grandparents are both in the ministry and I've been singing in church since I was eight years old. I can't imagine singing for any other reason but to use the talents God has given me to serve Him."
"Well, the girls got all spiritual," said Grant, "but I have something to add. This is fun! It's a calling, most definitely. That's where it starts and ends, but there's a lot of fun in the process and there is nothing else I could see myself doing. We all have a purpose in life. God gives each of us abilities and talents and I believe it's very foolish if you don't use them for the Lord, but we just have a blast together singing and meeting new people. It's different every time we get up on the stage."
Greg Bentley from Crossroads Entertainment shared, "Crossroads has had the privilege of working with 11th Hour since 2012. We always do our homework before we agree to talk with anyone about a label deal, and when we started digging into the background of this talented group of young people, we knew we wanted to take the next step. Working with them – from picking songs, doing the recording sessions, radio promotions and even publishing – we have found them to be steadfast and faithful in their goal of ministering through music. Now that we are starting on our third recording with them, (Steppin' Out released in 2012, Picture This released in 2014) we are even more convinced that Amber, Grant and Jaquita are more focused than ever on presenting 11th Hour in the best possible way.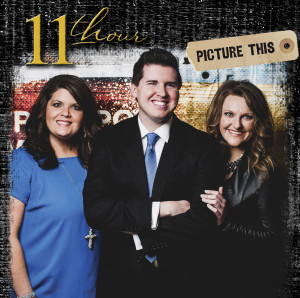 "Obviously, many fans and industry people are seeing what we see in them, as well. Their popularity continues to grow from album-to-album. We've already picked some great new songs for their new Sonlite Records release that they will be tracking in August, and expect this new 2016 release to take them even farther into the hearts and homes of Gospel music followers."
Every artist has someone they look up to and seek ministry advice from. 11th Hour is no exception. Amber said, "Karen Peck is one person who has always been there for me with open ears. She has been a huge source of encouragement and has literally watched me grow up through the years." Grant shared that Claude Hopper has been one of the biggest influences in his ministry life. "Claude has been around the block a few times and he has a whole lot of wisdom." For Jaquita, Kelly Bowling and Libby Perry have both had a big personal influence on her life in ministry. These strong influences come from common ground. Each one of these influences answered God's calling on their lives and have been faithful to serve Him in ministry for many years. That same legacy is what Amber, Grant and Jaquita hope to pass on to future generations of Christian artists.
There is one song that never fails to move the hearts of those who hear it, and that is "Adam's Fall," recorded in 2010 by 11th Hour on their Gather Round project. The most important message 11th Hour can carry to their audience is summed up in this song and the words simply speak for themselves:
"(Verse 1)
As I journeyed through His precious word,
I find where Adam fell and lost our souls,
As I turned another page, I find His blood shed,
For human race, and then I saw my own sin,
My condemnation, without Him,
Then I stood at Calvary's place, and that's where I found,
Amazing Grace
(Chorus)
I saw You nailed, to the tree,
Gave Your life freely, for unworthy me
Heaven's angels You did not call, rescued my soul,
From Adam's fall." – Written by Amber Eppinette (2007)
The territory is expanding for 11th Hour. Grant commented, "Within the next year, we hope to plan a trip out west and potentially overseas, as well. We are considering options and always setting new goals." The trio is excited about traveling to new places and singing where the Lord opens a door for them to go. "Concerts are a great way to network and make friends… whether it's a fan or another artist. We're just regular people and always trying to make new friends," said Grant.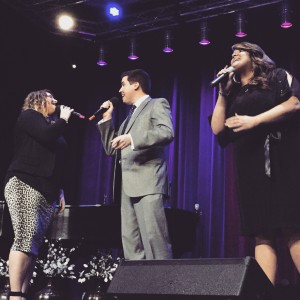 The Lord's call has been answered by three talented, young artists. They share the love of Christ with everyone they come into contact with, knowing that the return of Christ is imminent. Even their name seems to ask the question, "What are you waiting for?"
Find out more about 11th Hour by visiting their website: www.11thhourgospel.com. Look them up and help us express our appreciation to Amber, Grant and Jaquita, for taking the time to share the ministry of 11th Hour with the readers of SGN Scoops Magazine!
By Marcie Gray
First published by SGN Scoops magazine in June 2015. For current issues of SGN Scoops and more great artist features, visit the SGN Scoops mainpage.
Tags:
11th Hour
,
Amber Eppinette
,
gospel music
,
Grant Gibson
,
Jaquita Lindsey
,
Marcie Gray
,
sgn scoops
,
southern gospel
Posted in
announcements
,
artists
,
christian entertainment
,
Christian interest
,
sgn scoops magazine
|
Comments Off

on 11th Hour: What Are You Waiting For?
Written by SGN Scoops Staff on June 6, 2014 – 1:01 pm -
Arden, NC — PICTURE THIS (Sonlite Records) is the new release from 11th Hour. This powerhouse vocal trio brings to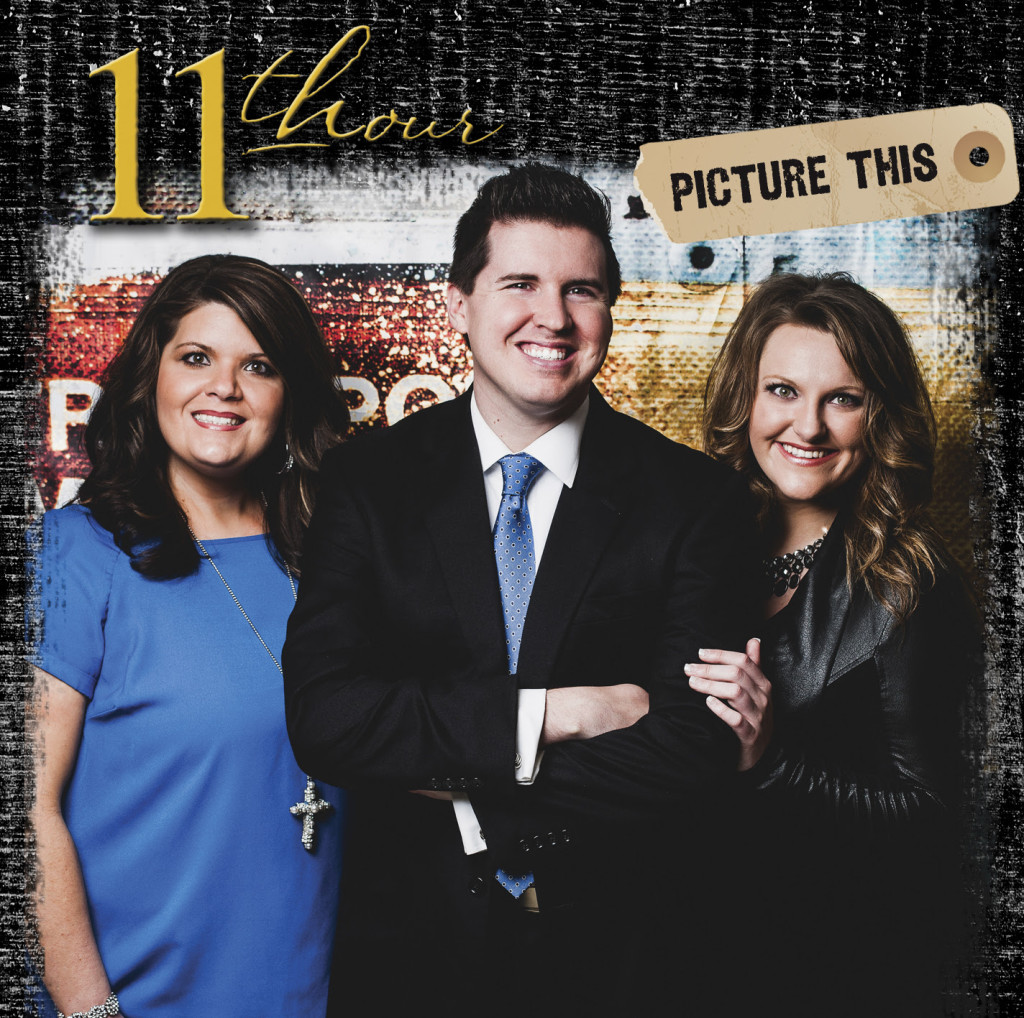 life incredible songs from award winning writers with stellar arrangements. The result is an inspiring musical experience from one of the most impressive new groups recording and performing today.
Amber Eppinette, Jaquita Lindsey, and Grant Gibson — collectively known as 11th Hour — bring heart and talent to heartfelt performances. They deliver on a variety of styles from big ballads like "How Will You Plead" to the soulful sound of "Jesus Is In The House" and driving sounds of "No Death."
Amber co-wrote the first single, "How Will You Plead," with acclaimed songwriter Dianne Wilkinson. Along with Dianne and Amber, award-winning writers such as Sandy Knight, Phil Cross, Rebecca Peck, Joseph Habedank and many others contribute to the album.
"We know what God has called us to do," Amber says of the messages in the songs on PICTURE THIS. "When you start talking about a person's feelings, really getting down to how they feel about something, it captivates the heart. When you're in a trying time in your life, and really hurting, and Christ comes along and captivates your heart, it's special."
Tags:
11th Hour
,
Amber Eppinette
,
Grant Gibson
,
Jaquita Lindsey
,
new music
,
Southern Gospel Music
,
Southern Gospel News
Posted in
announcements
|
Comments Off

on 11th Hour Releases New Album