Written by SGN Scoops Staff on June 29, 2015 – 7:57 pm -
The Covenant Agency was created to serve others with a promise!! God has given us a covenant by allowing us to work with some of the most talented gospel artists in The United States. By working together both The Covenant Agency and its gospel artists are on a mission to see others come to know Jesus Christ through testimony and their musical talents. We are blessed to work with some of the most ministry-minded artists anywhere.
Our Lord God Jehovah has granted The Covenant Agency to now work with a wonderful family from the state of Florida. We would like to announce that Great Day from Mount Dora Florida is now a part of our blessed family here at The Covenant Agency.
Bill Ferguson, owner of Great Day and William "Bill" Evilsizer, CEO of The Covenant Agency have worked together in the past where that relationship has blossomed into another Great Day for The Covenant Agency. We are so happy to bring Bill, Brenda, Lisa Ann, Sara Lynn and Steven Ferguson to our blessed family of gospel artists.
Tags:
Great Day
,
Jeff Stice
,
Southern Gospel News
Posted in
announcements
|
Comments Off

on GREAT DAY Reaches National Booking Agreement with THE COVENANT AGENCY!
Written by Staff on June 18, 2014 – 11:06 am -
Legacy Five Quartet Concert Review
By Vivian Belknap 
Calvary Baptist Church in Grand Prairie, Texas was the location for great southern gospel music featuring Legacy Five Quartet on May 31, 2014.   The first song they did was "Great Day," followed by "Blood Washed Band," Scott Fowler reaching back to his days with The Cathedral Quartet, and finished that set with "Feelin' Fine."
Scott Fowler said they were happy to be in Texas, and said to baritone Scott Howard, "there's just something about Texas; you can eat barbeque outside of Texas…" and they looked at each other and said, "but it's not Texas barbeque."
Scott introduced their 'monster bass' singer, Matthew Fouch, 31 years old, and told him the older he gets the more monster bass he will become. Then Scott introduced Bob Wills and legendary bass singer Big John Hall who were in the audience, and told Matthew to not be nervous, even though John Hall was sitting on the front row. The next set of songs featured Matthew, and he said they specifically chose John Hall classics, "Great Is Thy Faithfulness", "How Big Is God" and "How Great Thou Art", which were all included in the "Great Medley", off their Great Day album.
Gus Gaches, tenor, was introduced from Santa Rosa, California, and it's been reported that he owns a suit that matches his surfboard; a comment that the audience really loved. Gus was featured on "I Stand Redeemed by the Blood of the Lamb."
Trey Ivey, the piano player and youngest member of Legacy Five was introduced. Trey was conservatory educated and loves classical music. We were treated to a wonderful sonata, followed by "Leaning on the Everlasting Arms." Both songs received rousing applause from the audience.
Scott then pulled out The Red Back Hymnal, turned to page 28, and they sang "A Grand and Glorious Feeling", with piano accompaniment only.   "After Awhile" was the next song and was also accompanied with piano only. The sound was incredible and loved by the audience.
The next song selection off their latest album, Great Day, was "He Is To Me", followed by "There's Just Something About That Name", and Scott asked the audience to sing along as we experienced a great time of worship. Scott said, "I'm going to be politically incorrect, but when we are around people who are not believers, we should ask the following questions: 'Do you know anyone born under the circumstances in which Jesus was born?' 'Do you know anyone who lived a sinless life?' ' Do you know anyone raised from the dead after three days?'" He opened the Bible to Luke 24 and began reading verse one through verse 12. The group followed this by singing "Christ Is Still the King," receiving a standing ovation.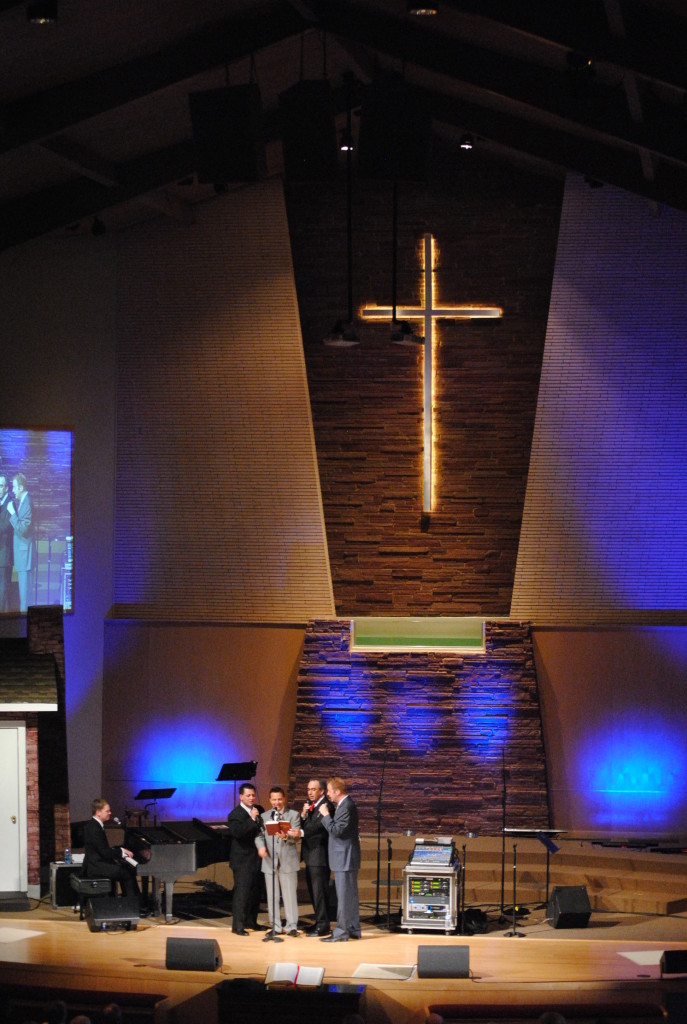 The night was complete with, "What A Happy Day", a medley of songs that includes, "What A Happy Day," "Everybody Will Be Happy Over There," "I'll Live In Glory By and By," "When We All Get To Heaven," "I'll Have a New Body," and "Everybody's Gonna Have A Wonderful Time Up There," from their album, Great Day.
It was a fantastic way to end a wonderful concert of worship and laughter, with encouraging words from these songs about the New Life we as Christians see now by faith but one day we will see with our own eyes.
When Legacy Five is in your area, you will be so blessed to see them in person not only for their fantastic music, but their colorful personalities. Visit them at www.legacyfive.com.
For more concert reviews, see the latest edition of SGN Scoops digital magazine at https://www.sgnscoops.com/2014/06/14/june-2014-sgnscoops-magazine/
Tags:
Christian Music
,
concert review
,
gospel music
,
Great Day
,
Hymns
,
Legacy 5
,
southern gospel
,
Vivian Belknap
Posted in
concert reviews
|
Comments Off

on It's Gonna Be A Great Day with Legacy 5
Written by SGN Scoops Staff on May 19, 2014 – 5:49 am -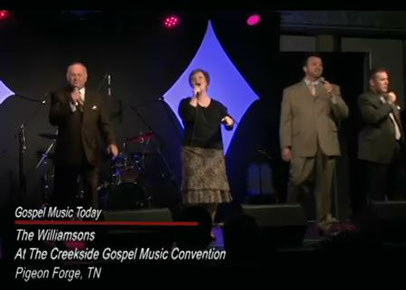 The members of Brian Free and Assurance are the guests on Gospel Music Today for the week of May 18. Ken and Jean Grady host southern gospel news and concert updates, the Feature Group is Abundance Quartet, and Jean reviews new recordings by Great Day and Forgiven Quartet. An article entitled "Married to the Music" is the subject of this week's Singing News Notes. The Mark Trammell Quartet sings, and the show includes exclusive video of Mark Robertson, recorded by Gospel Music Today's cameras at The Southern Gospel Worship Gathering, in Broken Arrow, OK, and a visit to the Gospel Music Today Archives for an exclusive concert video of The Williamsons at The Creekside Gospel Music Convention, in Pigeon Forge, TN.
The show is on KWHB TV47 in Oklahoma every Sunday at 4:30 PM, and on Roku on FFE TV Monday at 8:00 PM and AllNations TV Tuesday and Wednesday at 6:30 PM. Check local TV schedule for Beaumont, TX, Tyler, TX. Atlanta, TX, and Morrilton, AR.
The current edition of Gospel Music Today is online now at the Gospel Music Today website, www.gospelmusictoday.com
Tags:
brian free and assurance
,
Gospel Music Today
,
Great Day
,
Ken & Jean Grady
,
Southern Gospel News
,
The Williamsons
Posted in
video
|
Comments Off

on Gospel Music Today For May 19th On SGNScoops.com
Written by SGN Scoops Staff on January 15, 2014 – 3:06 pm -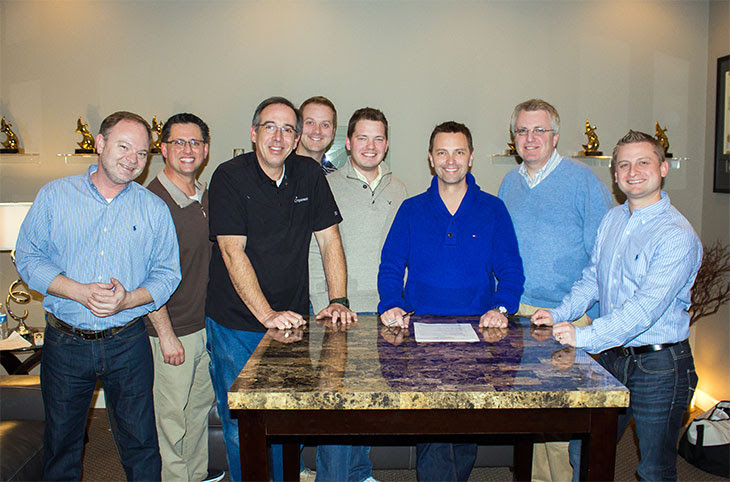 HENDERSONVILLE, TN – January 14, 2014 Multi-award-winning artist Legacy Five recently signed a long-term recording contract with Daywind Records.Daywind has been Legacy Five's home for the past decade, beginning with the group's "London" project.The group is putting the finishing touches on their latest recording, entitled "Great Day."The upcoming release is produced by Lari Goss, and it will release on March 25.
Legacy Five manager Scott Fowler stated, "We are thrilled to continue our partnership with Daywind.Daywind has an incredible roster of artists, and we consider it an honor to be a part of their family.We are very excited about the direction they are going.We feel like our fans are part of our team, too.Daywind is inviting our fans to choose the cover photo for our new CD, 'Great Day.'Fans can vote at http://legacyfive.wordpress.com/2014/01/13/choose-l5s-new-cd-cover/#comment-3168."
"Legacy Five is one of the premiere groups in Gospel music.This agreement will continue Daywind's successful partnership with Legacy Five for the foreseeable future," stated Daywind Vice President Scott Godsey.
In 2014, Legacy Five will celebrate its 14-year anniversary in Southern Gospel Music, having been formed by Roger Bennett and Scott Fowler, two of the members of the legendary Cathedral Quartet.The male quartet has been nominated for two Dove Awards and more than 75 Singing News Fan Awards."Great Day" comes to Legacy Five fans following its latest release, a "A Wonderful Life." "A Wonderful Life" included the successful singles "Ask Me Why," "Living In the Palace," and "I'm Still Amazed."
Daywind Records is home to a great roster of artists such as Brian Free and Assurance, Adam Crabb and Greater Vision.Daywind is distributed to retail through New Day Christian Distributors, Select O Hits, and all major digital outlets including iTunes. For more information, visit www.daywindrecords.com or contact Amanda Martin at publicity@daywind.com.
For more information on Legacy Five, please visit www.legacyfive.com.
Tags:
daywind
,
Great Day
,
Lari Goss
,
legacy five
,
Southern Gospel Music
,
Southern Gospel News
Posted in
announcements
|
Comments Off

on Legacy Five Signs Long-Term Recording Contract with Daywind Records
Written by SGN Scoops on January 5, 2014 – 7:55 pm -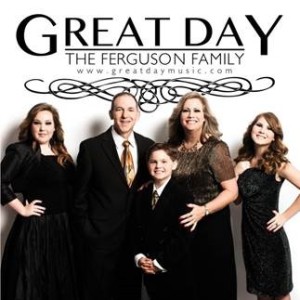 GREAT DAY releases their latest single to radio.  "FOURTH MAN," written by Tammie and Sarah Herring, from their latest project UNTIL THE DAY, landed at cut #1 on Patterson Promotions VOL 13.
Called into the ministry in 2005, Great Day has been traveling and ministering throughout the Southeast for the past 8 years.  Based in Central Florida, the group is made up of husband and wife Bill & Brenda Ferguson and their children, Lisa Ann, Sara Lynn, and Steven.
Chosen as a Top 20 artist at the NQC Regional stage, GREAT DAY sang their new single, FOURTH MAN, and made their NQC Main Stage this past year in Louisville KY. They have also been chosen as a Featured Artist to perform at NQC in Pigeon Forge, TN, 2014.
Their latest project is produced by the Multi-award-winning, Jeff Stice, pianist for Triumphant Quartet.  He comments, "Honestly, there is no better feeling than to hear a group sing and just know they're special! To hear them and think to yourself, "I'd love to hear them try this, or sing that, or do that this way," then actually get the opportunity to produce them. Such is the case with GREAT DAY! Bill and Brenda have such a wonderful blessing in their daughter Lisa. Never have I seen a young lady, her age, understand music the way she does. As a family, there is no better blend anywhere. Want some advice? Listen to this CD, Embrace this family, Tell people about them and a word to the really "wise" promoters out there, BOOK THEM!"
Great Day shares, "We hope that our ministry will not only reach the lost who do not know Jesus, but that it will also encourage those who are struggling, uplift those who are down, and create a joyful heart in all those we encounter."
Pauline, owner of Patterson Promotions, states, "I'm so proud to have this awesome group on our Vol.13 compilation, released to national and international radio this month.  I believe this song will bless the nation!"
Tags:
Great Day
,
Jeff Stice
,
Patterson promotions
,
Southern Gospel News
,
triumphant quartet
Posted in
announcements
|
Comments Off

on GREAT DAY RELEASES SINGLE TO RADIO!