Written by Staff on January 19, 2016 – 6:05 pm -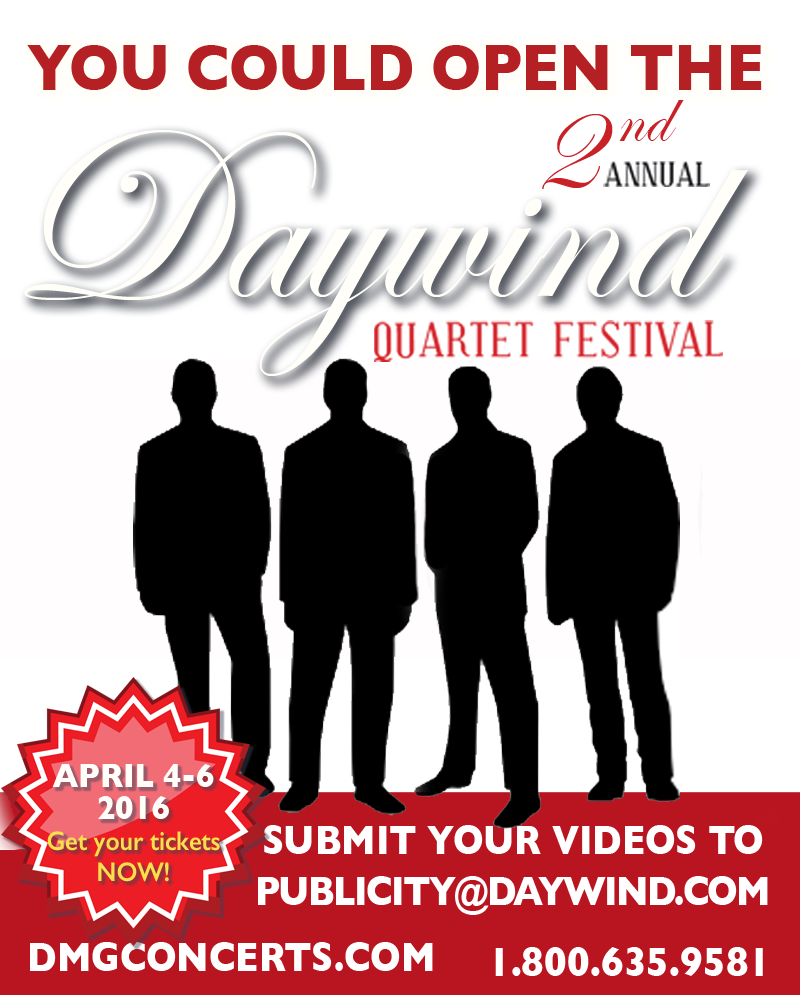 Hendersonville, TN (January 19th, 2016) –In celebration of the 2nd Annual Daywind Quartet Festival at The Greenbrier, Daywind Records is excited to announce the Quartet Talent Contest!
Daywind invites quartets from around the country to submit a video of an acappella performance of a public domain song (such as a hymn), up to 2 minutes in length, which Daywind will post onto its Daywind Records Facebook page. Quartets featured in the top five videos, as determined by number of Facebook likes, will be invited to perform at the Daywind Quartet Festival in April 2016! Attendees of the Quartet Festival will vote on their favorite quartet, and the winner will receive a 10-song soundtrack recording package from Daywind Studios.
To enter, send your video to publicity@daywind.com by February 5th, 2016. The videos will be posted onto Daywind's Facebook page on February 8th, 2016. Fans will have until February 26th to 'like' and 'share' their favorite video. The 'likes' will be totaled and winners announced on February 29th, 2016. The five top "like"-getting quartets will be invited to kick off the Daywind Quartet Festival at the Greenbrier on Monday, April 4th in White Sulphur Springs, WV, where attendees will vote on the top quartet from those performing to determine the winner of the recording package.
The Daywind Quartet Festival at the Greenbrier will be held on April 4-6, 2016, in White Sulphur Springs, WV. Held at the world-famous Greenbrier resort, the event 3-day event features Brian Free & Assurance, Legacy Five, Tribute, Triumphant, Blackwood Brothers, Ernie Haase & Signature Sound, Ball Brothers, Kingsmen, Inspirations, and the Guardians, as well as a presentation of the Quartet Night Across America production with the Gospel Greats' Paul Heil, scrap iron quartets and Q&A sessions with the artists.
The Greenbrier – which is an award-winning, four-star, luxury resort that is commonly referred to as "America's resort" – attempts to combine the graciousness of the past with the exceptional comforts of today. Guests have access to a multitude of amenities, including golf courses, carriage rides, horseback riding, a wide selection of dining options and tours of the historical bunker located on the grounds.
Tickets are available now, with seats starting at $80.
For more information on the Daywind Quartet Festival at the Greenbrier or to order tickets, visit www.dmgconcerts.com or call 1-800-635-9581.
For more news click here. 
Tags:
daywind
,
Greenbrier Quartet Festival
,
talent contest
Posted in
announcements
,
artists
|
Comments Off

on Daywind Records Announces Talent Contest In Anticipation of the Daywind Quartet Festival
Written by Staff on June 2, 2015 – 10:49 am -
By Candi Combs
Daywind Music Group Hosts Greenbrier Quartet Festival 2015
Amongst the snow-topped mountains of White Sulphar Springs,West Virginia, Daywind Music Group held the first Greenbrier Quartet Festival at the extraordinary Greenbrier Resort. The event drew attendees from New Jersey to Florida and even a few Canadians. This endeavor marked an inaugural attempt by Scott Godsey and Daywind to host a multi-day event at a luxury resort. This geographic location is very different from the typical Southern Gospel venues that fans are accustomed to attending.
The Greenbrier welcomed each person with a smile and a large sweet tea! From that point forward, everything was presented on a whole new level. Even the seats in the concert hall were velvet covered while multiple stations in the room held pitchers of ice-chilled water.
Tribute Quartet, led by Gary Casto, started off the first night with their usual flair and energetic music. The lively group performed many charting songs and favorites, including, "Homesick Angel" and "Good News From Jerusalem," featuring Josh Singletary. Read more »
Tags:
Blackwood Brothers Quartet
,
brian free
,
brian free and assurance
,
Candi Combs
,
Daniel Riley
,
daywind
,
Gary Casto
,
Gene McDonald
,
gold city
,
Greenbrier Quartet Festival
,
Jay Parrack
,
Josh Singletary
,
legacy five
,
Quartet Night Across America
,
Scott Fowler
,
Scott Godsey
,
Tribute
,
triumphant quartet
Posted in
announcements
,
christian entertainment
,
Christian interest
,
sgn scoops magazine
|
Comments Off

on Candi's Catch-ups: Greenbrier Quartet Festival
Written by Staff on March 6, 2015 – 8:22 am -

Hendersonville, Tenn. (March 5,2015) Daywind Music Group brings quartet music to the prestigious Greenbrier Resort on
March 9th-11th, 2015
. Quartet fans from across North America will gather in White Sulphur Springs, WV to take part of this three-day event.  The inaugural DMG Concerts event will feature performances from Legacy Five, Brian Free & Assurance, Tribute, and the Blackwood Brothers, as well as Gold City, Kingsmen, Triumphant Quartet and Guardians, and special appearances by Gene McDonald, Jay Parrack and Paul Heil from the Gospel Greats radio show. Fans will enjoy quartet music from the most awarded quartets on the road today, as well as impromptu scrap iron quartets, and the premier of Quartet Night Across America.​
The Greenbrier is an award-winning resort located in White Sulphur Springs, West Virginia. As a National Historic landmark, The Greenbrier's classic architecture, exquisite interior design, carefully sculpted landscape, impeccable service and outstanding amenities have hosted distinguished guests from around the world since 1778.For more information, call
1.800.635.9581
or visit 
dmgconcerts.com
, or click on the picture above.
Tags:
Blackwood Brothers
,
Brian Free & Assurance
,
Daywind Music Group
,
Gene McDonald
,
gold city
,
gospel greats
,
Greenbrier Quartet Festival
,
Guardians
,
Jay Parrack
,
Kingsmen
,
legacy five
,
Paul Heil
,
Tribute
,
triumphant quartet
Posted in
announcements
,
artists
|
Comments Off

on Greenbrier Quartet Festival: Daywind Music Group brings Quartet Music to the prestigious Greenbrier Resort