Written by Staff on August 2, 2020 – 6:52 am -
By Jantina Baksteen
For this edition of Beyond the Song, I got in contact with Sarah Davison of popular Christian Country and Gospel band, HighRoad. Other members include: Kristen Bearfield, Kinsey Rose, and Lauren Conklin.
Jantina Baksteen: Please introduce yourselves to the readers of SGNScoops.
Sarah Davison: My name is Sarah Davison and I am the leader of the group, High Road. We are based in Nashville and we play mandolin, fiddle, piano and guitar, and write gospel music. We love traveling and just getting to share Jesus with folks all over the world.
JB: When and how did the group HighRoad start?
SD: HighRoad was started several years ago just as a piano/fiddle duo playing hymns and it's grown today to include four of us! We just really enjoy getting to play music together.
JB: Next to singing, you all play a number of instruments. What instruments do you play?
SD: We all play different instruments and have so much fun. I play the piano and then dabble with other instruments like the dulcimer. Between us all, we have mandolin, fiddle, guitar, viola, and banjo.
JB: Do you all have musical backgrounds?
SD: We all grew up loving music and knew we wanted to pursue it from a young age. I grew up singing and playing old country and gospel and even ragtime with my dad, and my grandma taught me a lot of what I learned on the piano. I also took lessons before studying piano performance as my major at Belmont. Writing songs, singing, and playing has all been a part of our lives as long as we can remember.
JB: Who are your musical influences?
SD: My biggest music influences were the folks I was surrounded by as a youngster. My dad always was playing records in the house from the Nitty Gritty Dirt Band, Patty Loveless, and Ricky Skaggs. My great aunt and grandma would back up the Blackwoods in the 40s-50s when they came to KFNF Radio station in Shenandoah, Iowa to sing.  So grandma knew all the old hymns from the radio hymnal.
JB: Do your write all your music yourself?
SD: We write the majority of the songs ourselves, yes. Our latest album has ten songs and we wrote, or co-wrote, six of them. We had to include an old hymn because we just love the old songs a lot too!
JB: You have a recent song out called "Nothing At All." Please tell us about that.
SD: This song is about how everything in this world is just going to pass away in time, but Jesus is the same every day. You can fill your life with things that don't matter in the end – and its easy to do! But someday, all we are going to have is Jesus and He is what really matters in every part of our life!
JB: How does this message relate to you personally?
SD: I think sometimes I worry about what the future holds, and especially right now, we don't know what the next few months is going to look like. When is all the craziness going to be over? I don't have the answers, but Jesus does, and I know He has us all in the palm of His hand. So as long as we have Jesus we have hope!
JB: You have performed in many different places. Can you share something about that?
SD: We have loved getting to travel and meet people from all over the world. One of my favorite places to go is Norway, and Alaska, we plan on going back to both those places again this year. This will be our seventh year in Alaska, and we go up with the Baptist Mission Association and go play at church plants throughout the state. We have seen some gorgeous scenery up there!
JB: Do you have a personal testimony to share that could be of help to some one reading this?
SD: Right now, what the Lord has been teaching me most recently, is to trust His timing and His perfect plan. I tend to try to figure stuff out immediately and plan, and that's just not how He works!  Trusting God can be really tough sometimes but we have to lean on Him, and rest assured that His plan is good for us all!
JB: What encouraging message would you like to share now the whole world is in time of crisis through the Coronavirus?
SD: I think that right now is a time where God has really called His church to be the hands and feet of Christ. Just a few (months) ago, a tornado tore through my neighborhood in Nashville, and two weeks later all the dates got cancelled for many artists. We just have to remember that as long as we live on earth, its a fallen place and tough times are going to happen, but God is good, literally, all the time. We have been set apart and now is the time for the church to truly become the church without walls and a ceiling. God's people must reach out and show hurting people the love of God, so we can make a difference in a time when the people around us really need it the most. So go make someone's day a little brighter. Like the old hymn says, "Brighten the corner where you are!"
We hope you enjoy the song "Nothing at All" by HighRoad:
Thank you Sarah for sharing you ministry with SGNScoops. We pray that HighRoad will continue to be a  blessing.
You can find HighRoad on the web by following the links below:
https://www.facebook.com/HIGHROADNASH/
Did you know that you can receive the printed, full-color version of SGNScoops Magazine by subscription? Find out more 
HERE
.
Find SGNScoops Magazine On Facebook 
HERE.
You can download the latest edition of SGNScoops Magazine 
HERE.
Read the latest edition of SGNScoops Magazine online
HERE
.
Listen To Today's Gospel Music
HERE
Tags:
christian country
,
Coronavirus
,
gospel music
,
HighRoad
,
Kinsey Rose
,
Kristen Bearfield
,
Lauren Conklin
,
Sarah Davison
Posted in
artists
,
Beyond the Song
|
Comments Off

on Beyond the Song: HighRoad sings "Nothing At All"
Written by SGN Scoops Staff on November 16, 2019 – 8:39 am -
NASHVILLE, TN  —  Produced by multiple Grammy® nominee, Ben Isaacs, the debut self-titled album by HighRoad released today, packed full of beautifully written  songs sure to lift listeners' spirits. HighRoad, 2018's Singing News New Artist of the Year features Sarah Davidson (vocals and piano), Kristen Bearfield (mandolin, guitar, banjo, and vocals), Kinsey Rose (guitar and vocals), and Lauren Conklin (fiddle). This tremendously talented quartet, whose members have toured with George Jones and Mark Wills and backed up Jimmy Fortune and Bradley Walker on Gaither Homecoming videos, has certainly delivered their best album to date.
HighRoad is jam-packed with hit songs, from the Ralph Stanley classic "Two Coats" and Thomas Dorsey-penned standard "Precious Lord, Take My Hand" to future fan-favorites co-written by group members Davison, Rose, Bearfield, and Conklin, along with some of today's greatest composers including Michael Farren, Tony Wood, Kenna West, Devin McGlamery, and Nathan Woodard. Farren and Wood combined with Davidson to bring us "Nothing At All," HighRoad's first radio single off the album.
A cut that may well become the group's theme song is "High Road," written by Pete Sallis and Tia Sillers.  This is a triple-rarity of sorts, which may prompt fans to beg radio to play "High Road" by HighRoad from HighRoad.  The song has an incredibly uplifting feel, expressing perfectly the joy these gifted ladies bring to their ministry and this album.
The new album arrives on the heels of HighRoad's recent crossover success in the bluegrass genre. The band's 2019 single, "Heaven's Back Yard," from the hit bluegrass album Gonna Sing Gonna Shout reached the coveted #1 position on the Singing News National Bluegrass Gospel chart.  The album features HighRoad, along with Claire Lynch, the Cox Family, Marty Raybon, and many others.
With a packed national schedule and a brand new album to tour, don't miss the chance to see HighRoad in a city near you in the coming months.  It is a musical and inspirational experience.  For more information on HighRoad, visit highroadmusic.com.  The new album is available at a retailer near you and on all major digital subscription platforms.
Tags:
HighRoad
,
Southern Gospel News
Posted in
announcements
|
Comments Off

on HighRoad Releases Highly-Anticipated Debut Album on New Day Records
Written by SGN Scoops Staff on April 24, 2019 – 1:29 pm -
NASHVILLE, TN — 2018 New Artist of the Year, HighRoad, has signed an exclusive recording agreement with New Day Records, part of Daywind Music Group.
Made up of four immensely talented musicians, vocalists, and songwriters, HighRoad plans to release new music on the label in the fall of 2019. The group's leader, Sarah Davison, put together the highly-acclaimed, award-winning ensemble in 2010, which features Kristen Bearfield (mandolin, guitar, banjo and vocals), Kinsey Kapfhammer (guitar and vocals), and Lauren Conklin (fiddle).
HighRoad has already experienced a great deal of success, being named New Artist of the Year at the 2018 Singing News Fan Awards and Female Group of the Year at the 2016 Absolutely Gospel Music Awards.  They also won the 2018 Diamond Award for Country Gospel Song of the Year and have racked up two #1 singles on Southern Gospel radio.  The group is a staple performer at leading music events including Women of Joy, Gatlinburg Gathering, Singing In The Sun and the National Quartet Convention. HighRoad was part of the successful Girls and Guitars Tour in 2018 which paired them up with such artists as Karen Peck and New River, the Talleys and Emily Ann Roberts (the Voice). Group members have appeared on the Grand Ole Opry and Gaither Homecoming Videos and played with Bradley Walker, Jimmy Fortune, Vince Gill, Chris Young, and Mark Wills.  In 2018, they played on the Grand Ole Opry stage in Nashville, and had their first two number 1 singles on Southern Gospel Radio.
The multi-talented group received a great deal of record label attention and decided New Day Records.  "Joining the New Day Records team is a natural fit for myself and the girls," says Sarah Davidson. "We feel so honored that the Lord placed us with the team at New Day Records and Daywind Music Group."
"We have waited patiently for the right time to work with such an incredible group," added Scott Godsey, vice president and director of A&R for Daywind Music Group. "We are very excited about nurturing HighRoad in their career and working on the new record which will again pair the group with Grammy®-winning producer Ben Isaacs."
Tags:
HighRoad
,
Southern Gospel News
Posted in
announcements
|
Comments Off

on HighRoad Signs with New Day Records
Written by Staff on September 7, 2017 – 2:05 pm -
Glasgow, KY (September 5, 2017) – The Sneed Family is pleased to announce the 2017 Sneed Family Homecoming. The event on Fri. Sept. 8, 2017, will host Jimmy Fortune, HighRoad and The Sneed Family.
Jeff Sneed, The Sneed Family spokesman said, "We are thrilled to bring these groups to our local friends! This event is intentionally designed for any family who loves music and loves Kentucky. Most important to us, is that our guests hear the Gospel of Jesus."
"It is not often that Kentucky can enjoy a lineup like this," stated Caleb Cowan, of The Sneed Family who is married to the group's lead singer, Amanda Sneed Cowan.
The event will be held at 7:00 p.m. at the Cave City Convention Center in Cave City, KY. For convenience, tickets may be purchased by visiting cavecityconventioncenter.com or calling 270-773-3131.
Jimmy Fortune is best known for his 21 years as the tenor singer for The Statler Brothers. According to Fortune's web site, Jimmy and The Statler Brothers were inducted into the GMA (Gospel Music Association) Hall of Fame on October 29, 2007, and inducted into the CMA (Country Music Association) Hall of Fame in June 29, 2008.
After the Statler Brothers retired on October 26, 2002, Jimmy seized the opportunity to launch a solo career to share new music with his fans. His first solo CD, When One Door Closes, was released August 2003 on Audium/Koch. He released a gospel album, I Believe, in June 2005, a Christmas CD, Feels Like Christmas, in 2006, a live concert DVD in 2007 a country CD, "Windows" in 2009, "Lessons" in 2012, and "Hits and Hymns" CD and DVD through Spring House Productions in 2015. Jimmy is currently living in Nashville, writing, and touring.
An opportunity to see High Road is a special treat. The group makes appearances where they perform their special blend of progressive Bluegrass music. Their latest single and video can be seen regularly on the CMT network.
HighRoad will be performing live and featuring music from their latest project, "The News For Today." Ben Isaacs produced the project in Nashville.
The Sneed Family is a favorite to their southern Kentucky fans. They provide an honest worship experience while providing encouragement.
Watch for them on stage as well as on television with their production of "Sneed Family Music". The program is seen in over one million homes each week. The Sneed Family brings music, and interviews from the best in Southern Gospel Music. The show is now available online.
For more information on The Sneed Family, visit sneedfamily.com.
Read more Gospel music news 
here
.
Listen here to Gospel music online 
here
.
Tags:
gospel music
,
HighRoad
,
Jimmy Fortune
,
Sneed Family
Posted in
announcements
,
artists
|
Comments Off

on Sneed Family Homecoming Announced for September 8, 2017 Jimmy Fortune, HighRoad and The Sneed Family
Written by Staff on April 5, 2017 – 2:39 pm -
Nashville, Tenn. (April 4, 2017) Don't miss this Thursday morning, April 6th, Live performance on Channel 4 – Today In Nashville at 11AM, featuring the outstanding Country/Bluegrass sounds of HighRoad.
Tune in and tell your friends.
If you would like to interview HighRoad contact AG Publicity at info@agpublicity.com.
You can learn more about the group by going here.
Follow them on FaceBook here and Twitter here.
For booking click here.
####
About HighRoad
In a world where conformity is king and following the crowd is practically a survival instinct, the women of HighRoad, an award-winning Appalachian gospel group from Nashville who just happen to be the best of friends, too, have always preferred the road less traveled.
The group was awarded the 2015 AGM Female Group of the Year and worked with Grammy Award winning producer, Ben Isaacs.
And so it's fitting that the trio's album, which also features the girls' inventive instrumentation, would bear the same name. Filled with the beautiful, harmonic melodies and vocals that have been the group's hallmark, Sarah Davison, Kinsey Kapfhammer, and Kristen Bearfield, feel the songs from Somewhere I'm Going reflect their personal journey of being set apart.
HighRoad in SGNScoops Magazine
HighRoad was featured in the September 2016 issue of SGNScoops Magazine. Justin McLeod wrote: "Already a well-known hit in Bluegrass and Country Gospel circles, HighRoad is quickly gaining popularity and momentum in traditional Gospel circles. "We don't try to fit into any genre," group founder Sarah Davison says. "We just want to be HighRoad. We love Country, Bluegrass, Southern Gospel, and Country. We hope that listeners will hear all of those genres in our music!" For more from this feature, read the September 2016 issue of SGNScoops Magazine here. 
Erin Stevens interviewed HighRoad member Kristen Bearfield for her Younger Perspective column in the SGNScoops Magazine October 2016 issue. Here is a sample of their interview: "Erin: For those that don't know your miraculous story of healing, please share with the readers how the Lord touched your body. Kristen: Several years ago, I was in a terrible car accident that could have taken my life. During the wreck, I suffered a
severe neck injury that affected my spinal cord, and as a result, many doctors told me I would soon require wheelchair assistance and eventually be unable to walk. The neck injury also lead to my inability to sing and play instruments for a period of time. There were certainly days that I didn't understand why this was happening, but there was never a moment that I didn't feel God's hand on my life. In fact, I can honestly say that I physically felt God's arms wrap around me as my car flipped end over end through the air! I know undoubtedly He was there with me in that car, and I've never felt His presence more strongly than I did during that very moment…" For the rest of this interview with Kristen Bearfield, click on the October 2016 issue of SGNScoops Magazine here.
For more Gospel music news click here.
Tags:
Ben Isaacs
,
HighRoad
,
SGNScoops Magazine
,
Today In Nashville
Posted in
announcements
,
artists
|
Comments Off

on HighRoad on Today In Nashville, April 6 at 11a.m.
Written by scoopsnews on February 2, 2017 – 6:35 pm -
From Jeff Sneed:

We have a very special prayer request for someone that has grown dear to our heart, Ms Sarah Davison, Seth's girlfriend. On Tuesday she will have surgery to remove a tumor and we are in fervent prayer that the surgery will go smoothly. We are sharing this with you because we know many of you have been blessed by Sarah's friendship and touched by her music with High Road. We need your prayers! We believe in the Great Healer! There is power in unity and prayer. When God's people band together and sincerely pray heaven pays attention and the devil has to step aside. Pray that in our weakness we will be made strong! Pray that when the devil makes an attempt to destroy our faith and overwhelm us with fear and doubt that God will surround with his power and our faith will just increase. We are asking God to give us this victory. We need you! We are depending on you to help us carry this request to the throne room of God and encircle Sarah with a hedge of protection. Thank you in advance for your prayers, love, and support. We love you and appreciate you!

We at SGN Scoops are praying!
Tags:
HighRoad
,
Sarah Davison
Posted in
announcements
|
Comments Off

on Prayers for Sarah
Written by Staff on January 30, 2017 – 8:44 am -
Nashville, Tennessee  Ever popular female artists HIGHROAD will be performing on TBNs JUCE programming tomorrow evening at 8:30 PM EST with host artist Danny Gokey.
According to Wikipedia: JUCE TV is a youth-oriented Christian television network owned and operated by the Trinity Broadcasting Network. The network is aimed at teenagers and young adults between the ages of 13 and 30 years, and features music videos (similar to MTV, but with a Christian focus), Christian-themed entertainment and lifestyle programming, and some church services.
More about HIGHROAD from there website:
"What began as small gigs at county fairs and country churches has quickly become much more for Sarah and HighRoad. It's not just about the songwriting or the recording, the secret to the group's real-life harmony may well be found in their sisterhood. "A lot of people ask if we're a family group," Sarah says. "No, but honestly, when you're traveling that much with somebody, they become like family, so I would claim all of them as family."
HighRoad also considers their loyal fans—a rapidly growing base stretching clear across the country these days—as extended family. "I hope listeners really walk away and say, 'I feel like I know these girls, and I can relate to these songs,'" Sarah says. "My prayer as a songwriter and as an artist is that I'm just a vessel He can pour through."
Whether through story or song, the women of HighRoad are pressing on towards all God has called them to become. They are trusting He will make their paths straight as they submit to Him, and no matter what lies ahead, they'll be going wherever the high road leads."
For more Gospel music news click here. 
Tags:
Danny Gokey
,
HighRoad
,
JUCE TV
Posted in
announcements
,
artists
|
Comments Off

on Media Alert For HIGHROAD
Written by Staff on November 10, 2016 – 8:19 pm -
NASHVILLE, Tennessee (November 3, 2016) AG Publicity artists received some of the top honors last evening at the 2016 SGN Scoops Diamond Awards. The Annual Awards were held November 1, as a part of the Creekside Gospel Music Convention at the Smoky Mountain Convention Center in Pigeon Forge, Tennessee.
Dove Award-winning family group Karen Peck & New River took home two awards last night for Trio of the Year and Mixed Group of the Year. The Williamsons also were awarded two trophies for Favorite Song of the Year and Favorite Album of the Year (for "Shout" and Tell Somebody respectively).
Karen Peck of New River stated, "We are very honored to receive these amazing Diamond Awards. We want to thank all of you who voted for us. You all have been such a blessing to us over the past 25 years as KPNR. We work very hard to keep our ministry moving forward for the Lord. Your prayers and support are greatly appreciated. We also want to thank Rob Patz and his awesome team for their tireless efforts in keeping Southern Gospel Music in the forefront of the music world."
"Such an honor to be awarded with Album of the Year and Song of the Year at the 2016 Diamond Awards! Thank you Lord for this honor and thank you all for voting for us." an excited Donnie Williamson exclaimed.
Country/Bluegrass hybrid group HIGHROAD won the Diamond Award for Christian Country Group of the Year, while Jeff Stice won Instrumentalist of the Year.
Sarah Davison of HIGHROAD commented, "It was really inspiring to be surrounded last night by friends and artists who love Gospel music so much. We couldn't do it without the folks who voted for us and have prayed for us while we go out and travel and sing all the time. We are humbled by this honor and it's to God we give the Glory. I'm just thankful He gives us the songs to write and let's us do what we love to do."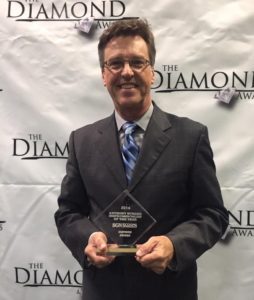 Jeff Stice said, "The Bible says if we delight in the Lord , He will give us the desires of our hearts…. but it amazes me that when we delight in the Lord those desires change. My desire? I just want to finish well, and be a vessel that glorifies God… I truly am speechless over this Diamond Award… I am honored that the voters have chosen me as Instrumentalist of the Year. My thanks to The Beckie Simmons agency for booking me, Daywind Records for signing me as an artist, AGP for being my publicist , my family for praying for me, the Nelons for believing in me and my wife, Stacey ( my gift from God)for loving and supporting me… Psalm 130:7 says: "Hope in the Lord , for in the Lord there is mercy, and with Him there is ABUNDANT REDEMPTION "
AGP President, Deon Unthank, stated, "We at AG Publicity are proud to represent some of the most talented artists in the Gospel Music industry. Congratulations to Karen Peck and New River, The Williamsons, HIGHROAD, and Jeff Stice. Your hard work is appreciated as indicated by these awards."
AG Publicity represents an award-winning roster of artists including Karen Peck & New River, The Williamsons, HIGHROAD, Jeff Stice, Michael English, The Browders, Wilburn & Wilburn, Johnny Minick with Goodman Revival, 11th HOUR, Steve Ladd, The Freemans, and more.
For more of the 2016 Diamond Award winners click here. 
Tags:
2016 Diamond Awards
,
HighRoad
,
Jeff Stice
,
Karen Peck & New River
,
sgnscoops
,
Williamsons
Posted in
announcements
,
artists
|
Comments Off

on AG Publicity Artists Shine at 2016 SGNScoops Diamond Awards
Written by Staff on November 10, 2016 – 4:58 pm -
Nashville, Tennessee (November 10, 2016) – Don't miss this week's exciting new Gospel Greats program with Paul Heil. The award winning program airs weekly on many stations across the nation. This week the program features a couple of AG Publicity Artists.
The Artist Spotlight visit on this program features the young ladies of HighRoad, with songs from their current CD called Somewhere I'm Going. You'll love their version of a familiar hymn as well as their brand new hymn-sounding song, "Christ My Hope, My Glory", on which they have a special guest vocalist, Jason Crabb. Also, please pay special attention to the song, "His Hand On Me," written by group member Kristen Bearfield as her testimony about how God miraculously saved her life. You'll enjoy the visit with HighRoad.
There will also be a special interview with 11th Hour group member, Amber Eppinette. Amber is always an interesting conversationalist. I'm sure she will have plenty to say about their CD What A Moment, as well as their numerous recent number one songs.
This is one program you do not want to miss. Paul Heil's THE GOSPEL GREATS program airs on great radio stations across America each week, as well as in Canada and elsewhere around the world.
If you're not aware of a local radio station carrying this program, please click here and enter your Zip code to find any station within 50 miles of you. Or check the Gospel Greats list of when to listen online.
If there is no station in your community carrying The Gospel Greats, your help in calling our program to the attention of an appropriate local station would be most appreciated. Paul Heil's THE GOSPEL GREATS Program P. O. Box 1372 Lancaster PA 17608-1372
Phone (717) 898-9100  Fax (717) 898-6600  paul@thegospelgreats.com
For more Gospel Music news click here.
Tags:
11th Hour
,
gospel greats
,
HighRoad
,
Paul Heil's Gospel Greats
Posted in
announcements
,
artists
|
Comments Off

on Tune In Alert! HighRoad and 11th Hour on Paul Heil's Gospel Greats
Written by scoopsnews on October 28, 2016 – 10:58 am -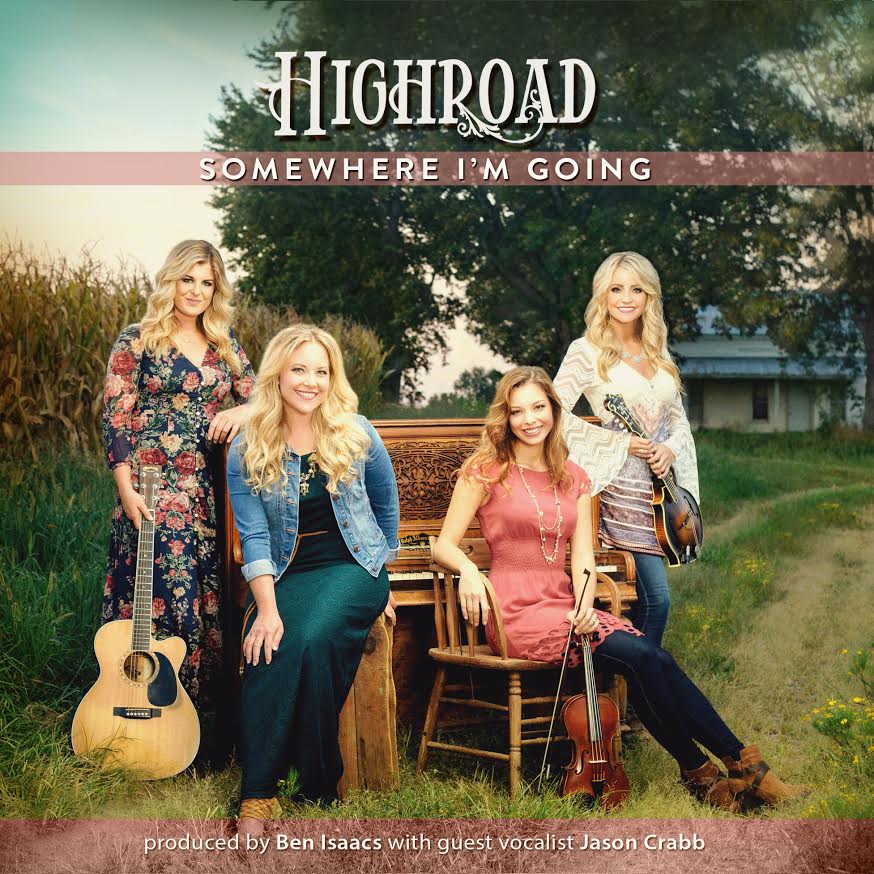 HIGHROAD's Somewhere I'm Going Now Available On iTunes and Other Online Outlets
Nashville, Tennessee (October 28, 2016)  AGM Award-winning country-bluegrass hybrid group HIGHROAD is pleased to announce the group's newest recording, Somewhere I'm Going, is officially available on iTunes and other major online outlets.
Sarah Davison, group keyboardist and vocalist stated, "Our goal is to make Christ known and to shed light in a dark world, so we are incredibly happy to offer our music now online, on iTunes, Amazon, and YouTube. We hope folks will enjoy it and share it with others."
Somewhere I'm Going, features favorite Gospel classics, including "Sweet By And By", "Till The Storm Passes By", "Squirrel Hunter", and "I'd Rather Have Jesus", as well as many songs written by group members Sarah Davison, Kinsey Kapfhammer,and Kristen Bearfield.
Somewhere I'm Going officially released this month on HIGHROAD's online store where you can order this new project as well as previously released CDs and other products the popular group carries.
View their iTunes Artist Page where you will find downloads to several of their latest recordings.
If you would like to interview HIGHROAD contact AG Publicity at info@agpublicity.com.
You can learn more about HIGHROAD by going to http://www.highroadmusic.com.
Follow them on FaceBook at https://m.facebook.com/HIGHROADNASH/ and Twitter at https://twitter.com/highroadmusic.
For booking contact highroadmusic@gmail.com.
Tags:
HighRoad
Posted in
announcements
|
Comments Off

on New Music From HighRoad