Written by Staff on June 17, 2020 – 7:00 am -
Entertainer/actor Randall Franks releases songs of hope and faith
Multiple music hall of famer and former network actor Randall Franks releases a new musical collection – "Faith Will See Us Through" to radio through AirPlay Direct and to fans through Nimbit.
"Recent events within the United States moved me to bring forward this collection of songs – 'Faith Will See Us Through' which I hope and pray may encourage, inspire, and share the promise that the world's darkness cannot destroy who we are within ourselves and within our larger American community," Franks said.
"Striving for great goals is not a thing of the past, hoping for better is not a thing of the past, caring for others is not a thing of the past, we are those who are supposed to strive, share, hope and care for one another with God's love within our hearts, His lessons on our lips, and His deeds moving our hands and our feet to encourage the world."
Franks, who was selected as the first 2020 AirPlay Direct Evolution Grant recipient, released "Faith Will See Us Through" to radio through AirPlay Direct on June 1 and it rose to #2 on the Americana Global Album Charts within a couple of days and has held a steady at #3 with project singles charting in the top 20 in bluegrass, Christian music and Americana.
Radio may find his new album at www.AirPlayDirect.com/RandallFranks-FaithWillSeeUsThrough/
"I am so honored that thousands of radio presenters are able to find my recordings through AirPlay Direct and so many are using the songs to uplift their audiences," Franks said. "Lynda and Robert Weingartz shared an amazing opportunity with me. Now, I am also pleased that folks who care about what I do are able to download their own copies of the songs."
The new album is available for fans at www.Nimbit.com/RandallFranks.
Included in the collection is a new version of his 1990 radio single "You Better Get Ready" that helped raise his "Handshakes and Smiles" album to the top of the Christian music charts. He also included a new version of his 2000 song "God's Children," and the solo performances of the new songs "There's More Room Outside Than In," "When You Come Again" written with three-time Dove nominee Mark Wheeler, and "Heaven's the Place to Be" with Darrin Chambers. He also offers new solo recordings of "Building on Sand," and "Medals for Mother," while welcoming talented musicians and singers on "Precious Memories," "How Great Thou Art," "Purple Robe," and "I'll Shout and Shine."
Joining him on various songs are the Watkins Family – Judy, Lorie and Todd; Mountain Cove Bluegrass Band leader Cody Harvey; pianist Ryan Stinson; guitarist Butch Lanham; Tim Owens of the Old Time Preachers Quartet with Journey On – Bob and Josh Jenkins; and musicians Blake Young, Bill Everett, Mark Bramlett, Bill Burdette, and the late Faye Lewis and Barney Miller.
The Share America Foundation, Inc. and Crimson Records release benefits the Pearl and Floyd Franks Scholarship encouraging Appalachian youth in music. Additional donations to the Pearl and Floyd Franks Scholarship may be made at www.ShareAmericaFoundation.org.
The Appalachian singer and fiddler is a member of America's Old Time Country Hall of Fame, as well as the Independent Country Music, Atlanta Country Music; and Chamber Business Person halls of fame and is an International Bluegrass Music Hall of Fame Legend.
Franks, who appeared as "Officer Randy Goode" of TV's "In the Heat of the Night," scored two # 1 AirPlay Direct Global Albums in 2019 – "Americana Youth of Southern Appalachia" and "Christmas Time's A Comin'." He also and charted nine catalog albums in various genres and all his radio music links are at his AirPlay Direct Music Page: AirPlayDirect.com/RandallFranks
For more information about Randall Franks, visit http://randallfranks.com/. Find the Encouragers book series and recent recordings here http://www.randallfranks.com/store/ or on https://www.amazon.com/Randall-Franks/. 
Radio may download his latest album and other music:
www.AirPlayDirect.com/RandallFranks
www.AirPlayDirect.com/RandallFranks-FaithWillSeeUsThrough/
www.AirPlayDirect.com/RandallFranks-AmericanaYouthofSouthernAppalachia
Links on the web:
http://www.randallfranks.com/store/
http://www.imdb.com/name/nm0291684/
https://www.youtube.com/channel/UCDHsC33yZsDsB8wA0WC5PVw
https://www.facebook.com/RandallFranksActorDirectorEntertainer/
https://twitter.com/RandallFranks
https://www.instagram.com/randallfranksactor/
https://www.reverbnation.com/randallfranks
https://en.wikipedia.org/wiki/Randall_Franks
Share America Foundation. Inc.
http://shareamericafoundation.org/
Did you know that you can receive the printed, full-color version of SGNScoops Magazine by subscription? Find out more 
HERE
.
Find SGNScoops Magazine On Facebook 
HERE.
You can download the latest edition of SGNScoops Magazine 
HERE.
Read the latest edition of SGNScoops Magazine online
HERE
.
Tags:
Air Play Direct
,
Faith
,
gospel music
,
Hope
,
Hymns
,
Randall Franks
,
Southern Gospel Music
Posted in
announcements
,
artists
|
Comments Off

on Entertainer/actor Randall Franks releases songs of hope and faith
Written by Staff on April 6, 2020 – 2:21 pm -
The coronavirus pandemic has become the central focus of the world. Millions of people are quarantined, businesses are closed, and many hospitals are overwhelmed. Healthcare workers, delivery drivers, supermarket employees, and many others are forced to work long hours. Ordinary life has taken a momentary detour as we seek to make sense of these uncertain times.

Many people are looking for answers concerning how they and their family can stay safe. Others are wondering when life will return to normal. Some individuals question why God would allow this crisis to affect millions of people.

As the entertainment, sports, and recreational venues gradually close their doors, I sense in my spirit that God is calling us to set our eyes on Him. Whether we realize it or not, there are many things in life that capture our attention, distracting us from worshiping the Lord. From job-related tasks to family responsibilities, along with recreational activities and other items on our to-do lists, it would likely surprise each one of us to know how little time we spend focused on our Heavenly Father.

Even now, God has used this widespread disruption to clear many of our schedules, yet we may still find ourselves mindlessly scrolling through social media timelines or binge-watching our favorite television shows. The news reports can even encompass our very being, causing us to miss His still, small voice. When we put anything, even our families, in a position above God, we disappoint Him. On the contrary, when we look to Him for guidance, He is always standing by to help us.

The Lord said, "'When I shut up the heavens so that there is no rain, or command locusts to devour the land or send a plague among my people, if my people, who are called by my name, will humble themselves and pray and seek my face and turn from their wicked ways, then I will hear from heaven, and I will forgive their sin and will heal their land.'" (2 Chron. 7:13-14 NIV). Although we may never know why God allowed coronavirus to impact the world, we can know with full assurance that He will help us through this calamity if we pray and worship Him.

Regrettably, many people in the world today never call on the name of the Lord. Some Christians and non-Christians alike are more concerned with materialistic things than they are spiritual matters. Rather than being humble, they flaunt their wealth, their careers, their families, and any other prideful thing they consider important. Additionally, countless people in the world today engage in immoral behavior. From sexual immorality to murdering newborn babies, this world is on a downward spiral as they continually convey their absolute hatred and disobedience toward God.

Until we change our ways, we will not see a change. This not only applies to the literal act of social distancing, but also to the spiritual act of surrendering to God. We must all take the first step, which is to repent and to humble ourselves before the Lord. God's Word says, "Humble yourselves before the Lord, and he will lift you up" (James 4:10 NIV). He wants to help us and to encourage us, if we will yield our lives to Him.

Without question, we must all turn our eyes to the Lord. He will forgive our sins and heal our nations, if we humble ourselves, pray to Him, seek His face, and turn from our wicked ways (2. Chron. 7:14). I pray we can all let go of our worldly ways, and focus on the One who created us. God deserves all of the glory. Let us seek His face as we put our trust in Jesus Christ alone. He is the only One who can truly heal our land.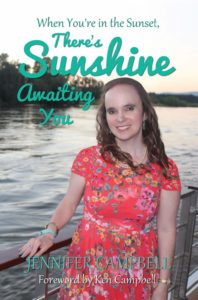 Author's Note: I am continually praying for everyone affected by this pandemic. It would be my honor to pray for you as well. If you have a prayer request, please email me at jennifer@jennifercampbell.net. May the Lord strengthen you and be your comfort during these difficult times.
By Jennifer Campbell
More about Jennifer:
Jennifer knows that God has a dream for her life. Whether she is on stage singing solo, singing with her dad as a duet, speaking at churches and other locations around the globe, or teaching English Language Arts at Suwannee Middle School, she knows God will always guide her footsteps in everything she does. She is grateful for the talents God has given her and she strives to use them for His glory every single day. God has blessed her with the ability to play the piano and drums. She has served as a Group Leader for Women of Faith as well.
Jennifer is a prolific writer, penning songs, writing an inspirational blog, and serving as a Feature Writer for SGN Scoops Digital Magazine, the first all digital Southern Gospel music magazine. She has written for SGN Scoops for over 20 years, including features on The Brooklyn Tabernacle Choir, Bill Gaither, Janet Paschal, Goodman Revival, Karen Peck and New River, The Whisnants, Canton Junction, The Hoppers, and many others. She was also honored to be able to write special tributes to Lari Goss and LaBreeska Hemphill.
Jennifer recently published her first book, an inspirational autobiography titled, When You're in the Sunset, There's Sunshine Awaiting You, which she hopes will inspire others through its message of hope. You can read a complimentary chapter by clicking this link, and you can also purchase a copy on Amazon. Already working on her second book, it is her prayer that God will give her the opportunity to publish many more books in His timing.
In addition, she has a food and travel blog at www.jennifersjourneys.net, where she featured William Jack Degel of Uncle Jack's Steakhouse and the Food Network show Restaurant Stakeout. Jennifer would love to have her own food and travel show one day.
(Excerpt from Jennifer Campbell's biography: http://www.jennifercampbell.net/biography.htm )
Did you know that you can receive the printed, full-color version of SGNScoops Magazine by subscription? Find out more 
HERE
.
Find SGNScoops Magazine On Facebook 
HERE.
You can download the latest edition of SGNScoops Magazine 
HERE.
Read the latest edition of SGNScoops Magazine online
HERE.
Tags:
COVID-19
,
Doubt
,
God
,
Hope
,
Jennifer Campbell
,
Jesus
,
Pray
,
worship
Posted in
Christian interest
,
Devotionals
|
Comments Off

on Jennifer Campbell: Hope in times of Misgivings and Doubt
Written by Staff on August 20, 2019 – 12:57 pm -
2019 August SGNScoops: Publishers Point by Rob Patz
Jeremiah 29:11 "For I know the plans I have for you," declares the Lord, "plans to prosper you and not to harm you, plans to give you hope and a future." (NIV) 
How many times have you read that scripture and wondered, "God, if you have a plan for me, why am I right here, right now?" If you read the context of this scripture, you'll realize it was not written in a time of great prosperity or joy. In fact, the people of Israel were being oppressed right in that era.
I truly believe that this scripture is meant to encourage us. It is meant to tell us that even if you're right now in a place that you don't feel you're prospering, I truly believe, it's more of a promise that maybe not now, but maybe tomorrow, or over the next few days, weeks, or months, that God is making your paths straight. He is putting together everything that you need, even in times of struggle. 
I also believe the scripture is meant to remind us to live in peace, knowing that God has everything in his control. For me, it is difficult at times to let go of all of the problems of the day and realize that God is in control, that he has seen this day before I even got here. I struggle with that. There are times where I want to micromanage God. 
Have you ever been there? Have you ever wanted to help God along and tell him, "This is how we should do it"? As I get older, I realize, if I rest in the moment, even if the moment isn't perfect, and allow God to unfold his blessing in front of me, I will be in a much better place, than trying to micromanage what God really has for me.
I love the last word in the scripture verse above: "future." So many of us live much of our life by getting down in the present, that we don't take time to really think about the future. We don't even pray about things that are long-term future, instead of short term goals. I'm guilty of this. I will pray for the things of this week or this month, but I forget the long-term things that I need to bring to the Lord, that I need for him to be able to hear my plea. 
This week, I challenge you to start writing out your prayers; write out your weekly prayers, write out your monthly prayers, and write out a yearly prayer, something for which you want to set a goal. Then, we as a community of believers can look back on in August 2020, and say, "This is something that God and I talked about for this year and it has finally come to pass." I know that right now your situation might not be what you wanted for today, but hold on because of what the above Scripture says. I truly believe that God has a plan for your future.
Hey, we are less than three months away from Creekside 2019. There are so many things that are going to be happening this year at Creekside as well as prior to the event. You are not going to want to miss this year. It is going to be a life-changing week and I want you to be there. Call me at 360-933-0741 for more information, or email me at rob@sgnscoops.com and we will get you all set up. Join us, Oct. 27 –  31, for Creekside 2019.
Until next month, this is the Publisher's Point.
By Rob Patz
First published in the August 2109 edition of SGNScoops Magazine.
For more Gospel music features read the latest SGNScoops Magazine HERE.
Download SGNScoops Magazine In PDF
Here
Find SGNScoops Magazine On Facebook
Here
Listen To Todays Gospel Music
Here
Tags:
Bible
,
future
,
God
,
Hope
,
Jesus
,
Publisher's Point
,
rob patz
,
SGNScoops Magazine
Posted in
sgn scoops magazine
,
special feature
|
Comments Off

on Rob Patz: God has a plan even now
Written by scoopsnews on December 29, 2018 – 10:34 am -
Without hope we can literally become sick. Sick in our minds and souls. This sickness can lead to discouragement, depression, and the feeling of hopelessness. How do we find hope? Where do we look for it? 
Our HOPE is found in Jesus!
Hope takes Faith!
Here's Gold City…..
Tags:
All My Hope
,
Gold City Quartet
,
Hope
,
Weekend word
Posted in
announcements
|
Comments Off

on Weekend Word- Hope Takes Faith