Written by Staff on October 31, 2018 – 10:56 am -
On Wednesday, October 10, 2018, Hurricane Michael made landfall in Mexico Beach, Florida with sustained winds of 155 miles per hour. With winds that strong, that made it nearly a Category 5. Michael is one of the strongest storms to ever hit the American mainland.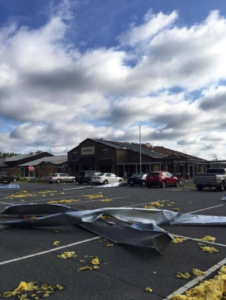 Utter devastation was left over after Michael was gone. When you see the graphic pictures you see homes and businesses completely engulfed by water. From the pictures and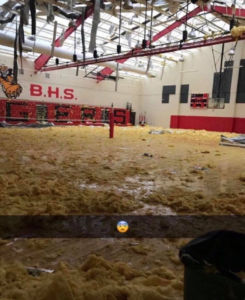 newscasts, you can see towns completely wiped out. Michael didn't discriminate. Michael took everything in its path and didn't think twice about who or what was affected.
I personally can attest to the tragedy that has been seen on the news. My own hometown was hit directly by Michael. Not only my hometown but my dad's hometown also was hit hard. Marianna, Cottondale and Panama City all were my stomping grounds when I grew up, and all saw Michael's wrath.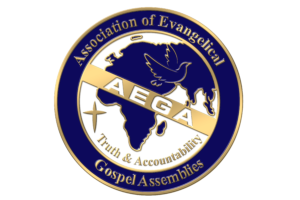 All of the residents said they would definitely evacuate next time. It was a terrifying experience for them all as they waited all night for the storm to pass not knowing what they would be left with when it was over.
Our small, quaint towns of Cottondale and Marianna will never look the same. Today, I have a sister whose home is destroyed. Her daughter's family also lived with them and she had two babies with one on the way. So I know firsthand about the struggles going on in the aftermath of Hurricane Michael.
Fortunately, there are caring people that are willing to go out of their way to help. Organizations like the Association of Evangelical Gospel Assemblies (AEGA) are taking donations. They are then dispersing one-hundred percent (100%) of the donations given to those in need because of Hurricane Michael.
AEGA states, "There are untold billions of dollars in damage. There are dozens of lost lives and thousands of people from the Gulf Coast, the Florida Panhandle, southwest Georgia, and southeast Alabama have been displaced. Many homes have been lost and there are still people without everyday essentials as of October 22, 2018.
Together, the AEGA leadership along with the AEGA Southeast Regional Bishop and Area Coordinators will identify specific needs and disperse the funds raised to make sure the relief gets directly to those in need. One-hundred percent (100%) of all funds given for the Hurricane Michael Relief Fund will be dispersed to those in need. AEGA nor its partners retain any portion of the funds for administrative costs or other expenses."
The Association of Evangelical Gospel Assemblies, Inc. (AEGA Ministries International) was founded in 1976 and is a non-denominational ministerial fellowship headquartered in Monroe, Louisiana. Our vision is for soul winning, church planting, missions, and Christian education. Today AEGA is a respected Association with several divisions having ministers and churches in over sixty countries.
From the beginning, AEGA has been committed to mission work throughout the world. Projects include church planting, developing Bible schools, disaster relief, feeding the poor, sponsoring needy children, an annual Christmas Box delivery, and a dynamic medical mission outreach. The AEGA World Missions Department has always shown great compassion and has been instrumental in sending millions of dollars in medicines and supplies around the world. Thousands of souls have been touched and brought into the Kingdom through this outreach alone.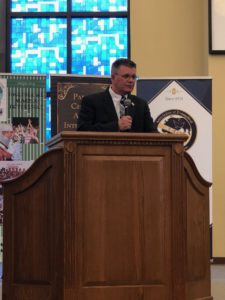 With organizations like AEGA, it's possible for communities to come together and rebuild. I don't know what my hometown would do without the willingness of organizations such as AEGA. My hometown is working hard to make life normal again, whatever their new normal will be for the moment.
"I would like to personally thank all who give toward this tremendous need. In times like these, we must come together not only to pray but to put feet to our prayers. I know there are many organizations helping during this time, but it is not enough, more is needed. The devastation is so large it will take years to rebuild, but lives will be changed forever. You can be part of putting a smile back on someone's face when they feel all hope is gone by showing God's love through a helping hand." says Dr. Jan Harbuck, AEGA Vice-President/Board Member, Monroe, Louisiana.
My family and friends are all thankful for people like Dr. Jan Harbuck who are willing to "show God's love with a helping hand." She's willing to go that extra mile for someone in need. I could never thank her enough for being a willing servant for Christ. It's in our hour of need that we really see Christ extended in His children. We need to be an example for those that don't know Him and be His hand extended. We should open our hearts to those in need.
 AEGA Minister, Rev. Adam Davis of Adam Davis Ministries, Dothan, Alab., states: "As a former police officer I have seen many things and the devastation of this hurricane surely is at the top of the list.  Any amount given helps because we are better together! We are stronger together! We can help represent the hands and feet of Christ, the goodness of the Father to a hurting people. In the midst of terrible tragedy, the MASTER remains. It isn't the PRESENCE of the storm that proves or disproves HIM; it's the fact that, THROUGH HIM and BY HIM ALONE we RISE ABOVE IT. After the storm; He is the power to rebuild, the power to sustain, the strength to continue. He is the PERPETUAL PEACE we seek".
We can be stronger after the storm if we stick together and help each other out. Lend a hand once in a while. If you see your brother or sister struggling, give them a hand to help them up. We need to stop kicking each other while we are down. It's in our struggles that we find His presence more abundant. It's in those times that He's usually carrying us, and we don't even realize it. I myself find it difficult to see until the struggle is over. Then when I look back, I can say, "Oh, yes! There you were Lord! You were there all along! Thank you for that!"
AEGA South East Regional Bishop Rev. Ricky Martin, Pastor of Sanctuary of Praise Church, in Dothan, Alab., describes his thoughts: "I woke up this morning beside my beautiful wife. I was able to take a warm shower, then fix breakfast and then get ready to go to the store to work. As I walked out of my home I noticed how hot and humid it already was. I immediately thought about the thousands who will be gearing up to go work on someone else property even though they need to be working on theirs. I thought about the humidity and how with very little effort they would be soaking wet. I thought about all the sorrow, discouragement and hopelessness they will see today. Then I thought how pleased our heavenly Father must be to see his church working together to help their fellow man. These folks don't ask if you're Baptist, Methodist, and Pentecostal or even if you know Jesus at all. They don't care that you are white, black and brown. They don't care where you come from. Today it won't even matter whether you go for Alabama, Auburn, Florida State or any other team. Today we are all on one team, united under one goal and that's to get our neighbors back to some kind of a regular life again. I won't argue whether God brought Michael or not, but I know He definitely will use it for His glory. If you can't work then give."
You can help. Any amount given helps because we are better together! We are stronger together! We can help represent the hands and feet of Christ, the goodness of the Father to a hurting people. I have personally spoken to those that have lost everything because of Hurricane Michael. Every time I see the pictures of my hometown destroyed, the tears come creeping back. It hurts that I'm not there helping them clean up, but this is a way that I can help. This is a way that we can ALL help. If you can't help restore power, cut up trees that have fallen on houses or pass out water and food; then give.
People's lives have been forever changed, however, with organizations like AEGA lending a helping hand, moving on goes a little bit faster. In order for that to take place people like you have to give. You can click here to give. Imagine if it were your home or your parents home that was demolished. Wouldn't you want someone to lend that hand and have a loving heart? I choose to believe that there are angels around us, and AEGA has proven that to be true. My personal thanks to AEGA and their staff for all that they are doing. You are appreciated by this writer.
***AEGA Fellowship www.aega.org offers ministerial credentials, chaplain endorsement for Military, VA, hospital and Federal Prisons. We offer subordinates status for the 501(c)(3) tax-exempt status under our group exemption to Churches, Evangelistic Ministries, Missionary Organizations, Counseling Centers, Music & Worship Ministries, Christian Schools, and Bible Colleges through the AEGA Fellowship and our group that cover non-church ministries Paragon Christian Alliance Int'l, Inc. AEGA also established a cowboy church fellowship call ICCAN – International Cowboy Church Alliance Network.
By Angela Parker
Special to SGNScoops website
Read the latest online edition of SGNScoops Magazine HERE
Download The PDF Version Of SGNScoops Magazine HERE
Find SGNScoops Magazine On Facebook HERE
Tags:
AEGA
,
Association For Christian Retail
,
Hurricane Michael
,
RELIEF
Posted in
announcements
,
artists
|
Comments Off

on Angels in the Aftermath: Responding to Hurricane Michael
Written by Staff on October 20, 2018 – 7:43 pm -
Pigeon Forge, Tenn. (October 20th, 2018) — Creekside Gospel Music Convention has often given its audience a chance to give back to the community during Christian music festival. This year, Creekside is asking those who make the trek to Pigeon Forge, Tenn., for the four-day event Oct. 28 – Nov. 1, to think of their neighbors when they pack their suitcases.
By now everyone has heard the accounts, and viewed the photographs, of the devastation that Hurricane Michael left in its wake as it cut a swath through the coastal towns of the Florida Panhandle and the Gulf Coast.
Angela Parker, of gospel artists Mercy Rain, grew up in one of the hard-hit areas of Florida, and is spearheading efforts to gather toiletries from the concert goers at Creekside. Items will then be shipped to the areas of need. Creekside attendees are asked to bring small items for donation to drop off at containers that will be available at each entrance.
"I just wanted to help them all and this is a way to help," says Parker.
Suggested items include:
Food — small packages whenever possible, non-perishable.  Examples:
Doritos

Nature Valley Granola Bars

Crystal Light drink mix

Lance  Toast Chee  Peanut Butter Crackers

Apple Sauce packs

Lays Chips

Mac and Cheese

Cookies

Anything  light-weight and boxed that can be mailed easily
Toiletries – personal sizes wherever possible. Examples:
Toilet Paper

Toothpaste

Toothbrushes

Soap

Hand Sanitizer

Paper Plates

Paper Towels

Deodorant

Tampons & Pads

Tissue

Clorox wipes

Baby wipes

Diapers

Formula (powder mix)

Chapstick

Sunscreen

Hand Lotion

Shampoo

Conditioner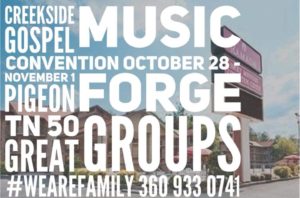 ***Remember: Everything is going to be shipped, so the items need to be light-weight and easy to mail.
Rob Patz, director of Creekside, says, "I'm excited about Angela's suggestion of this Hurricane Michael Relief Collection. It seems like a great way to give back to areas that have been hit so hard by the hurricane. I love it when our artists and audience can join together in reaching out a hand to others. In my opinion, it just confirms the fact that #WeAreFamily."
For more information on this Hurricane Michael relief collection, please contact Angela Parker at angelamparker77@gmail.com.
Creekside Gospel Music Convention is a four-day event held annually at Pigeon Forge, Tenn., at the Smoky Mountain Convention Center. Daytime showcases, evening concerts, midnight prayer and special events are held daily. Come and experience the preaching of CT Townsend. Dr Jerry Goff will be honoring Arthur Rice of the Kingdom Heirs, and the 2018 Diamond Awards will also be held during this week of gospel music. For more information on Creekside, contact Creekside director, Rob Patz, at rob@sgnscoops.com.
Come to Creekside and discover why we say #WeAreFamily.
Tags:
2018 Creekside Gospel Music Convention
,
Angela Parker
,
Christian Music
,
gospel music
,
Hurricane Michael
,
Mercy Rain
,
rob patz
Posted in
announcements
,
causes
,
Christian interest
|
Comments Off

on Creekside Audience Asked to Give Back to Hurricane Michael Relief Collection
Written by Staff on October 16, 2018 – 11:54 am -
Hurricane Michael brought much devastation to the panhandle of Florida, especially to the northwest coastal towns like Mexico Beach and Panama City. We have readership in that area, and so many of you from across the country and in other countries have asked how to send aid quickly, directly and securely. We believe the Convoy of Hope, already in the area now, is a great resource for aid to those affected by the hurricane.
On their website, Convoy of Hope states: "As a faith-based, nonprofit organization, Convoy of Hope has helped more than 100 million people throughout the world by sharing food, water, emergency supplies, agricultural know-how and opportunities that empower people to live independent lives free from poverty, disease and hunger." They have shown up-to-date relief efforts on their site, and their latest statement gives a current view of aid to the needy.
OCTOBER 16, 2018 | 12:25 P.M. SPRINGFIELD, MO.  Convoy of Hope is responding in full force to help communities affected by Hurricane Michael. Since the storm made landfall, we've distributed more than 300,000 pounds of product to 15,000 individuals from our central distribution hub in Marianna, Florida.
Using drive-thru distribution, Convoy staff and volunteers are serving families and individuals with water, food, ice, hygiene kits, and other disaster relief supplies. Mobile distribution has also begun, and we've delivered supplies in 18 surrounding communities.
We are currently moving our distribution hub in Marianna from Walmart to Rivertown Community Church. The move allows Convoy to set up a more permanent location and will provide us with 15,000 square feet of warehouse space for product.
The pictures posted of Marianna, Florida, were sent from Angela Marie Parker who grew up there and who still has family in the area, many who are needing immediate aid. Parker is like many of our readers, feeling helpless because she is too far away to assist those that are in need.
"The Gibbs Family is generously helping out my niece. She has 2 babies and one on the way. So they are helping get her babies supplies," says Parker. "I feel out of sorts not being there helping them all. My hometown will never be the same."
Parker has also added to her personal Facebook page about other companies assisting the devasted, including Tyson Foods, who posted today about their activities:
CALLAWAY, Fla. (WMBB) – A food giant (Tyson Foods) is doing its part to help disaster relief efforts in Florida. The company is going to be serving meals to the Callaway community recovering from Hurricane Michael. This is all part of Tyson's "Meals That Matter" disaster relief program. The company will be serving food and water starting at 10 a.m. Tuesday in the Callaway Walmart parking lot. See more here.
Panama City Toyota is hosting a cookout today from 12-5. They will have enough food to feed 5000 people.
Parker notes that Alford workers, lineman, phone workers, any kind of workers in the community of Alford, we are feeding people at 7 am, 12 pm, and 5 pm. Limited supplies to give out. All churches and all businesses we are desperate for supplies. Call Mary 8505268734. HELP US.
Parker is posting more information as she collects it from various areas. Follow her facebook page here.
Patrick Drummond, Sr., of the Drummond Family, a gospel music group from Chipley, Fla., posted the following:
I keep getting asked what's needed in these hard-hit areas of Michael. These items are needed badly.
1. Baby formula- both premixed in individual
Bottles as well as powder and we got the AR and the gentlease and the regular because I know some babies have special needs. 
2. Baby wipes-tons both for babies and mommies. I know water and showers aren't easily accessible now. 
3. Diapers and pull-ups of every single size. 
4. Tons of toothbrushes and tubes of toothpaste.
5. Tons of deodorant.
6. Dry shampoo
7. Sunscreen
8. Chapstick
9. Tampons/feminine products
10. Bars of soap
11. Women's underwear 
12. 6-12 months boys clothing
13. Crystal light and Koolaid individual powder packets for water flavoring 
14. Kid's board games
15. Tons of adult Tylenol and ibuprofen 
16. First aid kits
17. Boxes of band-aids
18. Kids Tylenol and ibuprofen 
19. Tubes of Neosporin 
20. Lotion
21. Mouthwash
22. Kids snacks/mini boxes of cereal 
23. Water
24. Food 
25. Chain Saw Gas
26. Bar oil
27. 50/50 oil for saws
Staging at: Fountain's Victory Tabernacle 
18801 US 231
Fountain, Florida
Patrick's wife, Michelle, posted a picture of her area, also seen here.
Do you want to be the hands and feet of Jesus? Wherever and whoever you choose to help survive the aftermath of Hurricane Michael, we hope you are able to do so, and that you also pray for those who try to get on with life after the disaster. Thanks. SGNScoops.
Tags:
convoy of hope
,
Florida
,
God
,
humanitarian aid
,
hurricane assistance
,
Hurricane Michael
,
Jesus
Posted in
announcements
,
Christian interest
,
exclusive report
|
Comments Off

on Convoy of Hope at work in devastated Florida after Hurricane Michael
Written by Staff on October 10, 2018 – 11:33 am -
Hurricane Michael has made landfall in Florida and SGNScoops is praying for those who are in its path.
The Weather  Channel recently posted:
Hurricane Michael made landfall as a catastrophic, unprecedented Category 4 storm on the Florida Panhandle with a life-threatening storm surge and over 100 mph winds possible not just near the coast, but also inland that could leave some areas without power for over a week.
Michael made landfall near Mexico Beach, Florida, around 12:30 p.m. CDT with maximum sustained winds of 155 mph and a minimum pressure of 919 millibars.
For a full report go here
SGNScoops encourages our readers to pray for the protection of all those in the path of this storm.
Tags:
Florida
,
Hurricane Michael
,
sgnscoops
Posted in
announcements
|
Comments Off

on Praying for those in the path of Hurricane Michael