Written by Staff on November 21, 2016 – 8:20 am -
A personal message from Bryan Hutson of Soul'd Out Quartet:
I want to thank everyone who has embraced me and my family over these last nearly 24 years in full time gospel music.
For sometime now, I have felt God's leading into a different avenue of ministry. To be transparent, I am not completely sure what avenue that is but God always reveals Himself in His timing. I am sure though that the time has come to make a change.
I've had the privilege to work with some of the best men in the Southern Gospel industry. I value my time with "The Heartland Boys", to my nearly 10 years with "The Kingsmen". I also have had the
privilege to minister next to Dusty Barrett, Matt Fouch, Ian Owens, Michael Howard and Zach Lloyd [Soul'd Out Quartet].
My hope for the future is to continue to minister/sing in whatever form that becomes in an environment that is passionate about reaching lost people and helping others grow in their walk with The Lord. I remain passionate about encouraging men to be men of integrity and
fighting for their marriage and family.
From now until the New Year, I will be ministering with my wife, Yvonne, on select dates that can be found on our Facebook page Rescue
Me Ministries or Friends of Bryan Hutson.
Our family covets your prayers during this season of change.
In May of 2004, in answer to God's call on his life, Matt Rankin of Georgetown, Ohio started a journey to find men of kindred spirits and equal yoking to partner with him in a mission to fulfill that calling by evangelizing God's word through song. Now, in 2013, Matt's calling and dream have been realized in Soul'd Out Quartet. Soul'd Out Quartet, which is comprised of Dusty Barrett (tenor), Bryan Hutson (lead), Matt Rankin (baritone), Ian Owens (bass), and Michael Howard (pianist), is not only a vocal group continuing the heritage of Southern Gospel music, but is also and foremost a ministry team answering God's call as stated in Ephesians: He gave some apostles, and some prophets, and some evangelists, and some pastors, and teachers; for the perfecting of the saints, for the work of the ministry, for the edifying of the body of Christ. (Ephesians 4:11-13 KJV)
In this spirit, Soul'd Out Quartet travels the country with a mission of evangelism and discipleship to not only win souls for Christ by telling the world "what the world doesn't know", but also to further strengthen and encourage God's people to be the salt and light to the world and ambassadors for Christ, that we are each called to be and to exhort God's people to be servants with hearts on fire! [http://www.souldoutquartet.com/about-soqt ; November 21, 2016]
Tags:
Bryan Hutson
,
Dusty Barrett
,
Heartland Boys
,
Ian Owens
,
Kingsmen
,
Matt Fouch
,
Michael Howard
,
Rescue Me Ministries
,
soul'd out quartet
,
Zach Lloyd
Posted in
announcements
,
artists
|
Comments Off

on Bryan Hutson leaves Soul'd Out Quartet
Written by SGN Scoops on September 16, 2013 – 8:04 am -
Urgent Prayer Request-
This morning, our bass singer, Ian Owens, rushed his wife; Megan to the hospital. Megan had a brain aneurysm and doctors will performing emergency surgery very soon.
She is at UK Hospital in Lexington, KY.
They have 3 small children. Their youngest Piper is 4 months old.
Please pray. We will update when we know more.
Thank you.
Bryan Hutson
Tags:
Ian Owens
,
soul'd out quartet
Posted in
announcements
|
Comments Off

on Urgent Prayer Request From Bryan Hutson
Written by SGN Scoops Staff on October 23, 2012 – 1:40 pm -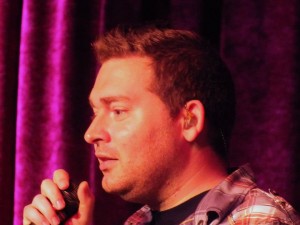 Since the departure of long time bass singer Matt Fouch, in mid August, Soul'd Out Quartet has been diligently seeking God and following his leading in the attempt to find the right person to be our bass singer. Despite having met many great people through the audition process, we (the men of Soul'd Out) had made the decision to remain a trio unless God provided the absolute right fit for our team and ministry.
Soul'd Out Quartet is thrilled to announce that God has provided us with the right bass singer!! We are so excited to have Ian Owens joining the Soul'd Out family! You may have heard Ian's name before as the bass singer for Gospel Quartets such as "The Imperials" and "Ernie Haase and Signature Sound". Ian has 12 years of full time ministry in gospel music and we are so pleased that this chapter of our lives brings us together to proclaim the Good News!! Ian's first appearance with Soul'd Out will
be on November 9th, 2012. We ask for your prayers for both Ian and the current Soul'd Out members as we transition into this new and very exciting time. God has great things in store for this ministry! Come and see us when we are in your area and welcome Ian aboard! Dusty, Michael, Bryan, Rick and Matt.
From: Ian Owens
"After spending a weekend on the road with Soul'd Out Quartet, I know beyond a shadow of a doubt that joining their team is God's will for my life. I am very excited to have the opportunity to spread the Word of God with such strong men of faith and integrity! Matt, Bryan, Dusty, and Michael all have such a sincere and earnest desire to see souls won and lives changed. I absolutely can not wait to be "pounding the pavement" with these awesome men! However…..I'm scared I may not be much of a bass singer for them if I'm always hoarse from laughing at them! They're funny!!"
Ian
Tags:
Ernie Hasse And Signature Sound
,
Faith
,
Ian Owens
,
soul'd out quartet
,
southern gospel concerts
,
Southern Gospel News
Posted in
announcements
|
Comments Off

on Soul'd Out Quartet Adds Ian Owens As New Bass
Written by SGN Scoops on October 1, 2012 – 5:13 pm -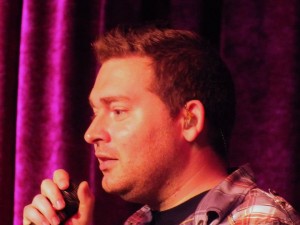 Letter From Ernie Haase-
Dear Friends,
For the past two years the EHSS team and fans have been enriched by the voice and personality of Ian Owens. Ian has announced that he will be pursuing other interests (both musical and personal) and we fully support him and wish him great success. Ian's last date with EHSS will be October 13th, 2012 in Sunnyvale, TX. Come out and support Ian and plea
se pray for Ian and his wife Megan as they follow this new path.
We will miss Ian dearly. He is a funny, FUNNY man who has become a great friend and that will never change. We will update you at a later date with all information concerning Ian and his plans.
Our new bass singer is a young man you are going to love. His name is Paul Harkey. We will fill you in on all of his information soon. Pray for EHSS as we navigate through this transition time.
Sincerely,
Ernie
Tags:
EH&SS
,
Ernie Haase
,
ernie haase and signature sound
,
Ian Owens
,
Paul Harkey
Posted in
announcements
|
Comments Off

on Ian Ownens Resigns From EHSS
Written by SGN Scoops Staff on January 18, 2011 – 12:05 pm -
NASHVILLE, TN (January 17, 2011) – Tim Duncan, bass vocalist of Ernie Haase and Signature Sound, is stepping

down after eight years with the quartet.
Tim states: "After 8 years of service to Ernie Haase & Signature Sound I have been feeling in my heart that my time has come to an end. I'm sad on one hand yet excited on the other hand. Ernie & the boys are like brothers and always will be. I covet your prayers."
Ernie Haase states: "I realize changes are inevitable, it always brings a challenge as well as new opportunity. We will always be grateful for Tim's contribution to the group over these past years. We love Tim and wish him and his family great success."
Ian Owens will replace Tim Duncan. His first date with the group will be January 21 in Portland OR.
Tags:
Ernie Haase
,
Ernie Haase & Signature Sound
,
Ian Owens
,
Tim Duncan
Posted in
announcements
,
artists
,
breaking news
|
Comments Off

on Ernie Haase & Signature Sound Announce Departure of Tim Duncan