Written by Staff on June 10, 2020 – 1:47 pm -
SGMRadio.com and the Memphis Quartet Show are pleased to present a new online concert series, live on Facebook, featuring music and live chat with all your favourite gospel music quartets.
Beginning June 17, and running through June 20, Jack Armstrong will host this live radio event from the SGMRadio.com online radio studios. He will play music from the artists listed for each evening at the Memphis Quartet Show. Artists and MQS board members will be appearing in the chat room to talk with fans.
"The Memphis Quartet Show is one of my favorite events that The Bibletones do all year," says  Armstrong. "I, like many people, will miss being in The Cannon Center, June 17 – 20, hearing some of the best quartets in Southern gospel music. SGMRadio is proud to have the Memphis Quartet Show lineup on each night and do a Facebook live event on the SGMRadio FB page, with many artists joining in each night. I am looking forward to seeing you each night."
Artists that were previously scheduled to appear at the Memphis Quartet Show 2020 include: Legacy Five, Dixie Echoes, Kingsmen, Dove Brothers, Bibletones, Inspirations, Guardians, Blackwood Brothers, Mark Trammell Quartet, Old Paths, Diplomats, Lefevre Quartet, Primitive Quartet, Gold City, Triumphant, Ernie Haase and Signature Sound, Second Half Quartet, and the legendary Fairfield Four.
These concert events will begin at 6:00 p.m. (CST) every evening on SGMRadio.com and also on Facebook live at facebook.com/SGMRadio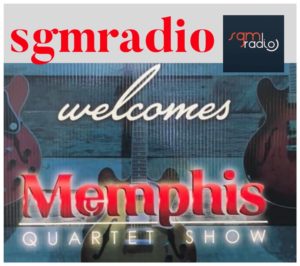 Gospel music fans who have been missing their favorite concert events will enjoy hearing music from these exceptional quartets, as well chatting with their favorite artists, from the comfort of their own homes. No lineups, no uncomfortable seats.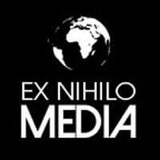 Quartet fans, please note that the line up from 2020 will be the same for Memphis Quartet Show 2021. For more information and tickets for MQS 2021, go to quartetshow.com.
Did you know that you can receive the printed, full-color version of SGNScoops Magazine by subscription? Find out more 
HERE
.
Find SGNScoops Magazine On Facebook 
HERE.
You can download the latest edition of SGNScoops Magazine 
HERE.
Read the latest edition of SGNScoops Magazine online
HERE
.
Listen To Today's Gospel Music
HERE
Tags:
Facebook Live
,
gospel music
,
Jack Armstrong
,
Memphis Quartet Show
,
Quartet Music
,
SGMRadio
,
Southern Gospel Music
Posted in
announcements
,
artists
|
Comments Off

on Memphis Quartet Show online free concert series on SGMRadio.com
Written by scoopsnews on April 21, 2020 – 5:47 pm -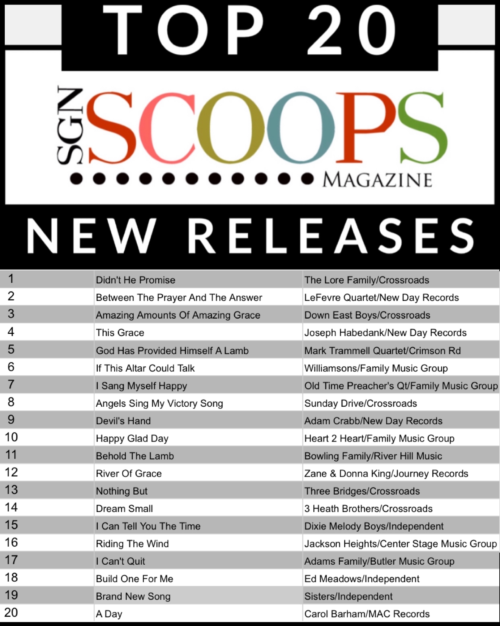 These are The SGN SCOOPS TOP 20 NEW Releases as picked by the SGN SCOOPS
Reporting Stations this month.
A Special Radio Show will air on SGM RADIO this week, Thursday at 6:00 PM CST.
Tune in to hear the Top 20 songs with Host, Jack Armstrong.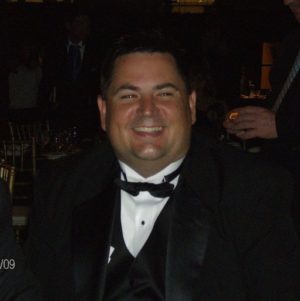 Listen to SGM RADIO  HERE
Tags:
Jack Armstrong
,
New Releases
,
sgm radio
,
sgn scoops magazine
Posted in
announcements
|
Comments Off

on Top 20 New Release Show to Air on SGMRADIO This Week…. You are invited to tune in!
Written by Staff on February 13, 2020 – 8:57 am -
Tomorrow is Valentine's Day and we are happy to present another love story in our series of Sweetheart Stories. For many years, the gospel music community had known Vonda Easley as the vivacious blonde southern belle with a big smile and country drawl. However, behind the smile was a lifetime of challenges and mountains that she had overcome. She was a single mom with two grown children, who had their own families and lives. Vonda is hard-working and generous, humorous and full of faith in a God who cares. Yet, she realized a couple of years ago that something was missing. Here's Vonda to tell her story:
I must have said it over a thousand times, "It just isn't in the cards for me to find someone that loves me enough to let me be me." And I usually followed that statement up with, "They would want me to leave my home, and I will not ever do that."
I met Jack Armstrong at a Bill Bailey Event in Bonifay, Florida. I remember thinking that he was one of the friendliest people I had ever met, but the last thing I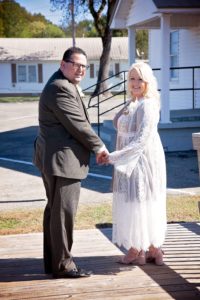 was looking for at a gospel concert was romance. I was there to hear my kids, Josh and Ashley Franks, sing and cover the event for SGNScoops Magazine. However, my daughter and Penny Shelnut (Scoot's wife) were at Ashley's booth, already playing matchmaker. When they suggested we go out to eat after the concert, I was quick to let Ashley know that I knew what they were doing, and I was not interested. I told her there was something messed up with your child having to get you a date!
As the concert went on, Jack talked to me a little about radio promotion, and when I got home, he called and hired Hey Ya'll Media, my radio promotions company, to work radio for his group, The Bibletones. (I often tease him that he married me so he wouldn't have to pay me anymore.)
I believe that God set up a divine appointment for me that night to meet Jack. It still amazes me today how much he is like my Daddy. I felt safe when I was with my Dad, and I feel safe when I am with Jack. He makes me want to be a better person, and he supports me in all that I do.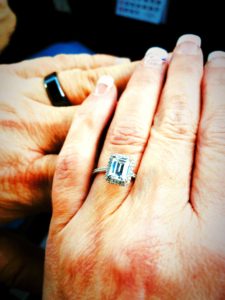 True Love is unconditional. There are no expectations set. To love unconditional is difficult, and most people aren't good at that. But true love really does love without trying to change the other person. I love you, Jack Armstrong. Thank you for loving me and letting me be me. And by the way, Home is wherever you are…….. V
Vonda and Jack Armstrong, III,  were married on October 21, 2018, at her daughter's church, People's Tabernacle Church, Savannah, Tennessee, and officiated by her son-in-law, Josh Franks. Standing up with the couple were Vonda's grandchildren, Priscilla and Eli Franks. The couple fits together like hand-in-glove and Jack's laidback personality complements Vonda's vivacity.
Do you have a Sweetheart Story to share? Write to me at lorraine@sgnscoops.com.
Be sure to let everyone you love know how much you care this Valentine's Day. And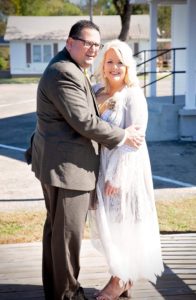 remember, God loved you enough to send Jesus Christ, his only son, to die on a cross so that he might have a relationship with you. Jesus went willingly because he knew it was the only way to bring you into his love. Please accept that love today. Want to know more? Write to me!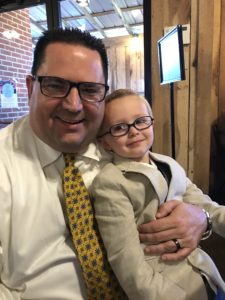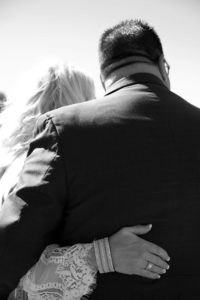 Tags:
Ashley Franks
,
God's love
,
gospel music
,
Jack Armstrong
,
Jesus Christ
,
Josh Franks
,
Sweetheart
,
Valentine's Day
,
Vonda Armstrong
,
Vonda Easley Armstrong
Posted in
artists
,
Christian interest
|
Comments Off

on Sweetheart Stories: Jack and Vonda Armstrong
Written by Staff on July 1, 2019 – 2:58 pm -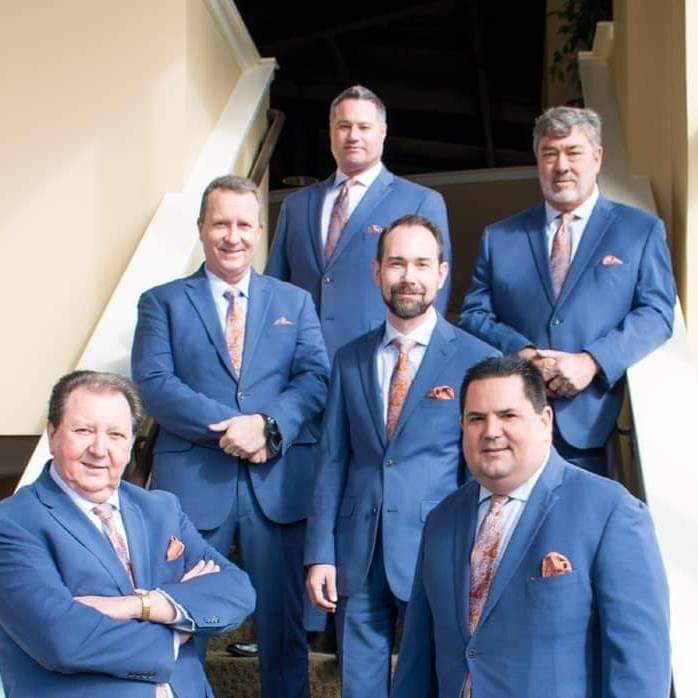 BibletonesFor this edition of the Beyond the Song article,  Jantina de-Haan Baksteen reached out to The Bibletones to talk about their radio release entitled, "That's Why His Grace is Amazing."
The current lineup of this male quartet is: Glen Floyd – bass, Jack Armstrong – baritone, Jamie May – lead, Danny Jackson – tenor, Andrew Ishee – piano, Ken Keyes – bass guitar.
Jantina: I interviewed Jack Armstrong and asked him these questions:
1. Can you introduce the group?
Jack: Bibletones are Mississippi's oldest quartet, founded in 1957, in  Lumberton, Miss., by Ward and Irene Hurt. We have been blessed to continue our ministry for 62 years now.
2. The Bibletones have a song on radio, "That's Why His Grace is Amazing to Me." Can you tell the readers of SGNScoops more about this song? Who is the writer?
Jack: "That's Why His Grace is Amazing," was written by a lady from Gautier, Miss., named Dianne McVey.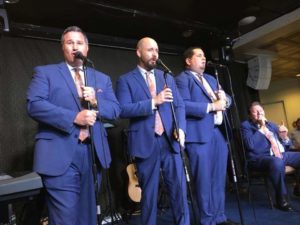 3. What does the message mean to you personally?
Jack: The group recorded that song originally back in the mid-eighties and when we were looking for songs for our "60 Years Strong" project, that one was definitely one we wanted to record again.
4. What is the message you want to share to the crowd?
Jack: The message of the song is timeless. Just ask yourself this question: Where would you be without the amazing grace of our God? Thankfully, we will never have to find out the answer to that question because He is always with us and will never forsake us.
5. What lies ahead for The Bibletones?
Jack:  We are finishing up a new project entitled, "Southern Style." Our first single is a great toe tapping quartet song called, "Beautiful City," written by Ashley Franks. It is our prayer that this song will bless many.
Thank you Jack for a look inside of The Bibletones. May God bless the group with many more years on the road, spreading the gospel on every corner.
We hope you enjoy this presentation:
Find out more about the Bibletones HERE.
Read the June SGNScoops Magazine Online HERE
Download June SGNScoops Magazine On PDF
HERE
Find SGNScoops Magazine On Facebook
HERE
Listen To Todays Gospel Music
HERE
Tags:
Beyond the Song
,
gospel music
,
Jack Armstrong
,
Quartet Music
,
The Bibletones
Posted in
artists
,
Beyond the Song
|
Comments Off

on Beyond the Song: The Bibletones sing "That's Why His Grace is Amazing"
Written by scoopsnews on December 20, 2018 – 3:30 am -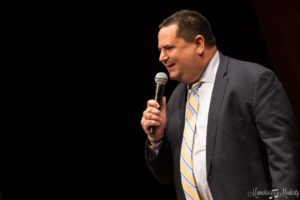 December is a time for sharing. At Christmas, we (Christians) celebrate The Greatest Gift of All, Jesus Christ.
Over the next few weeks we will be talking with many industry leaders, artists, pastors, promoters, etc. and asking them questions.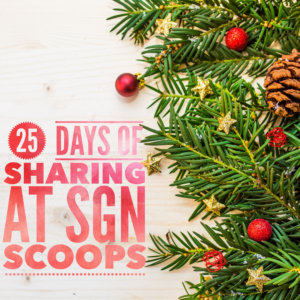 Yes 
Question #19 goes to Jack Armstrong of The Bibletones.
Jack,
The Bibletones is the oldest quartet in Mississippi. We are starting to hear more about the group these days with charting songs and recent performance at The Memphis Quartet Show.
For some of our readers that may not be familiar with the heritage of the group, Can you tell us as much Bibletones history as you can in 10 seconds or less?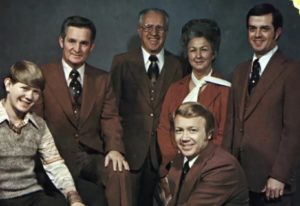 The Bibletones (earlier years)
Tags:
Jack Armstrong
,
The Bibletones
Posted in
announcements
|
Comments Off

on "25 Days of Sharing"- Jack Armstrong
Written by scoopsnews on October 2, 2018 – 11:42 am -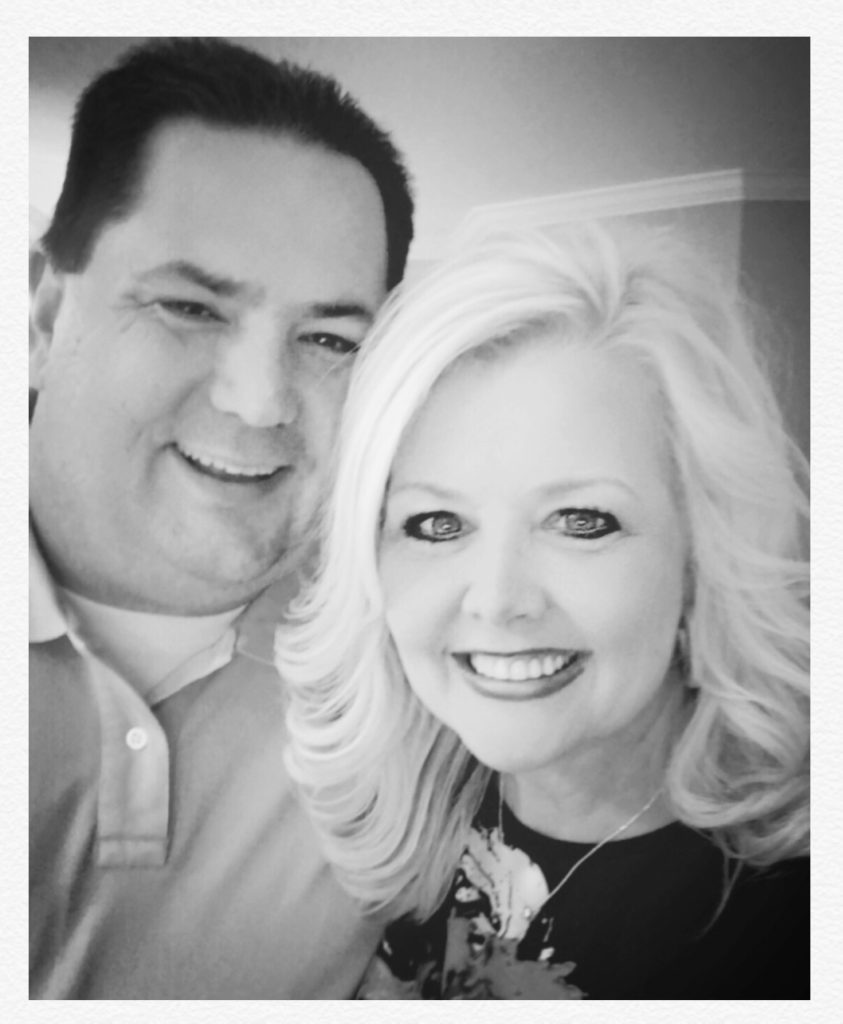 Vonda Kay Easley & Jack Armstrong, III will be married on Sunday, October Twenty- First Two Thousand Eighteen at People's Tabernacle Church, 64 Airways Blvd , Savannah, Tennessee. Pastor Josh Franks will officiate the wedding. The wedding will take place immediately after the morning service. Everyone is invited to attend. 
Wedding

 

reception will take place on November 30th , 6:00 PM at

 

"Old School Antiques" located at 47 Barfield School Drive in Lineville, Alabama. If you would like to celebrate this happy occasion with us, Please RSVP: Tajuana Gossage

 

– (256)-239-2168 or Paula Hendrick 256- (256) 405-8091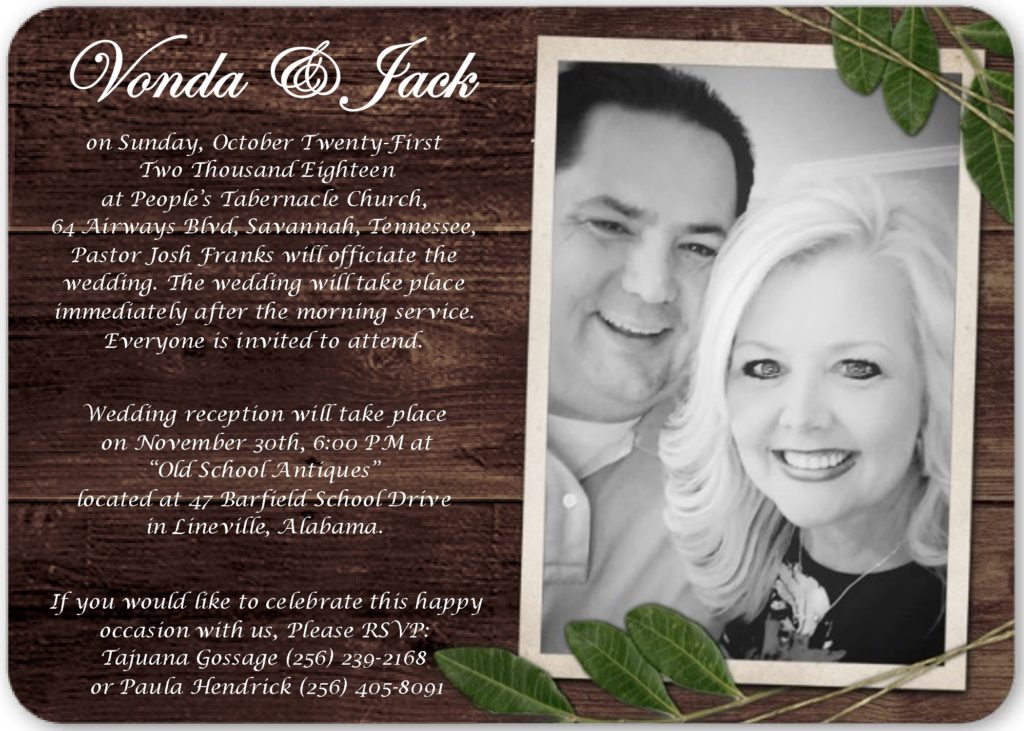 Tags:
Bibletones
,
Hope's Journey and SGN Scoops
,
Jack Armstrong
,
Strictly Southern with Vonda Easley
,
Vonda Easley
Posted in
announcements
|
Comments Off

on Congratulations to Vonda Easley and Jack Armstrong