Written by SGN Scoops on October 1, 2012 – 3:03 am -
{EHA-Nashville, TN} Jimmy Blackwood, son of beloved James Blackwood, recently  announced his retirement from many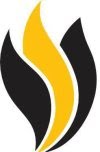 years on the road with the famous Blackwood Brothers. Jimmy announces that he will only be doing one "Farewell" performance in  Rogers, AR on October 13 at The Shindig. Besides the Blackwood Brothers, the concert will feature the Oak Ridge Boys and Dailey and Vincent. All groups  will be singing songs from their latest released Gospel albums.
The Shindig
is a fundraiser for the I'll Fly Away Foundation and will celebrate I'll Fly Away's 80th birthday. All ticket sales will  benefit the foundation's music eduction program. This program teaches young people about America's musical heritage through school workshops. The I'll Fly Away Foundation has partnered with the Gibson Foundation in its mission. Gibson will be providing an Epiphone guitar to each school that is involved in the  I'll Fly Away Foundation program. The Gibson Guitar Bus will also be at The Shindig and will open for free tours before the show. The concert is slated for Saturday, October 13, 2012, 7:00 pm at the John Q Hammons Center at 3303 Pinnacle Hills Parkway in Rogers, Arkansas. Three phenomenal artists/groups will perform together for a one-time-only gathering. Featured will be multi-platinum and Grammy-winning recording artist, The Oak Ridge Boys, along with Dailey & Vincent and the Blackwood Brothers Quartet.
Advance tickets: Artist Circle ($50), Gold Seating ($40), and Silver Seating ($30) All tickets are non-refundable. All seats are reserved. Tickets are $5 more the day of show. For tickets to I'll Fly Away's 80th birthday and Jimmy Blackwood's final and "Farewell" performance call  888-462-6718 or visit www.illflyawayfoundation.org 
Tags:
Blackwood Brothers Quartet
,
dailey & vincent
,
Gibson Foundation
,
I'll fly away foundation
,
James Blackwood
,
Jimmy Blackwood
,
Southern Gospel News
,
The Oak Ridge Boys
Posted in
announcements
,
gospel events
|
Comments Off

on Jimmy Blackwood Retires, Farewell Performance Slated for Brumley "Shindig"
Written by Rhonda on August 22, 2010 – 1:16 pm -
(On-site Exclusive Report- Rhonda Frye)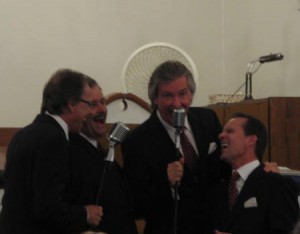 The Gospel Music Industry is celebrating 100 years of Gospel Music.  The legendary Blackwood Brothers Quartet has been singing nearly 75 of those 100 years! The quartet was established in 1934 with brothers Roy, Doyle, James and Roy's son RW.  From 1950, James Blackwood carried on the tradition of singing the gospel until he went home to be with the Lord in 2002.  Jimmy (James Jr) has extended and sustained the family's legend since 1969. Currently, the quartet consists of Jimmy Blackwood, Wayne Little, Randy Byrd and Billy Blackwood- with Mike Hammontree as the pianist.  Using the word "successful" to describe the history of the Blackwood Brothers musical career is an understatement.  The Blackwood Brothers Quartet's music has been heard around the world and back earning many honors including prestigious Grammy and Dove Awards.  
    On August 20, 2010, Newnan Springs United Methodist Church, of Rossville, GA opened it's doors to the community for a memorable evening with the Blackwood Brothers Quartet. Gospel Music fans flooded the church until there was standing room only.  After a brief introduction, the quartet huddled around 2 microphones and charmed the audience with memories of years passed by singing old favorites with just piano accompaniment.  Several selections from their latest album- "The Song Will Go On"- including the spiritual "Everyday will be Sunday By and By" were loved and well received.  The harmonious blend of voices and beautiful music was beyond uplifting.
 The Blackwood Brothers Quartet stirred a response in several ways.  Tears were wiped and a faint "congregational choir" could be heard during familiar songs such as "The Lighthouse" but tears were shed from hearty laughter throughout the evening as well. It is evident that each member of the Quartet possess a transparent and witty sense of humor making themselves irresistible to love by the audience.  The Blackwood Brothers Quartet displayed their 
fun-loving
personalities by telling jokes and especially by putting on a competitive "bass-tenor" show down during "Just A Little Talk With Jesus."  Perhaps one of the most fun highlights of the evening was when pianist Mike Hammontree made his way to the stage to give an incredible Johnny Cash impersonation by singing "Daddy Sang Bass."  Overall- if one word could sum up the evening, it would have to be "Joy." Genuine love for God, each other, gospel music and for the audience seemed to have leaked from the legendary Blackwood Brothers Quartet leaving the little town of Rossville, GA filled with immense joy for weeks to come.
To learn about the incredible history of the Blackwood Brothers Quartet, how to purchase music- including their latest album "The Song Will Go On" or for concert locations, visit
http://www.blackwoodbrothers.com/index.html
Tags:
Billy Blackwood
,
Blackwood Brothers Quartet
,
Jimmy Blackwood
,
Mike Hammontree
,
Randy Byrd
,
Wayne Little
Posted in
exclusive report
|
Comments Off

on Legendary Blackwood Brothers Quartet Performs In Rossville GA