Written by SGN Scoops Staff on June 15, 2018 – 9:41 am -
Nashville, TN  – StowTown Records recording artist Jonathan Taylor of The Taylors has announced his engagement to Lynsey Vicars. The two are planning a small wedding next April in Tennessee.
Jonathan and Lynsey met after a Taylors concert in Bristol, VA.  "God has finally sent me the woman I've been waiting for my entire life," Jonathan shares. "I knew at the first moment I saw her that there was something special about Lynsey. The more that I've had the chance to know her and see her heart, the more I know that she's the woman that God has created for me. I can't wait to spend the rest of my life with Lynsey – she's everything I've ever prayed for!"
Jonathan is busy touring with his brother and sister following the recent release of their new project, Faithful Again. Their summer and fall tour schedule is packed with dates all across the U.S. Faithful Again is distributed by Sony/Provident Distribution and available worldwide at your local retail store and online.
Tags:
Jonathan Taylor
,
Southern Gospel News
Posted in
announcements
|
Comments Off

on StowTown Records Announces the Engagement of Jonathan Taylor
Written by Staff on July 14, 2015 – 2:51 pm -
By Justin Gilmore
It is quite clear that Jesus is living in the hearts of these four talented siblings. The Taylors are an award winning mixed quartet hailing from North Carolina, made up of group members Jonathan, Chris, Suzanne and Leslie. True to the call, the Taylors, formed in 2006, continue to release quality recordings featuring their signature four-part family harmonies and the powerful message of Jesus Christ.


From humble beginnings in the heart of North Carolina, this family group has stayed true to their roots and training in classic Southern Gospel singing. Suzanne said this about the group's early days: "We were not raised on Southern Gospel music; however, a group came to our church in 2005 and told us about the Steve Hurst School of Music in Nashville, TN. In 2006, we started singing some old Gospel songs in our church and some other local churches. We went to the School soon after that and met a lot of great people. Through dedication and the Lord opening a lot of doors, we were blessed to start singing Gospel music."
Suzanne went on to say: "We started singing together in 2006. We competed in some state singings and opened up for a couple of country shows in nearby towns. Our first out of state concert was in South Carolina and we took our parents minivan. Later on, as dates picked up and we started singing more, we found a 15-passenger van that fit our needs. In 2008, we competed in the talent search at NQC. We were honored to win and sing on the Main Stage that year."
​The group has received even greater national attention in recent years due to signing with Ernie Haase's Stow Town Records in 2014. Suzanne, speaking on behalf of the quartet, says the people at Stow Town, "have been so kind to us and really make us feel a part of the Stow Town family." The group's label debut release Measure of Grace (2014) showcases their powerhouse vocals and their ability to beautifully deliver the message. This landmark recording features songs including: "Heaven Is Ready (And Waiting For Me)," "I'm Committed To You Lord," "Measure Of Grace," and more.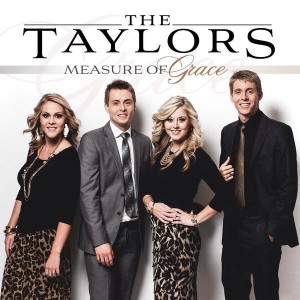 This project is a great balance of traditional and progressive style Gospel. Suzanne said, "We released "Measure of Grace" last summer. We recorded the CD with Wayne Haun. He is an incredible producer and we loved working with him. This is our first project with a majority of original songs. We had wanted to do a CD like this for a long time, so the songs on this album are meant to be an encouragement. All of the songs talk about what Heaven is going to be like, but they also talk about the mercy God gave each of us as sinners and what it means to be saved by Him."
​This group is a great representation of the future of Southern Gospel Music in that they bring a fresh youthful energy to these classic songs. When asked about the group dynamics, Suzanne said the following: "The Taylors are a brother-sister quartet. Jonathan is the oldest brother and manages the group. Christopher and I are in the middle, and we are twins. Leslie is the youngest member of the group."
​Jonathan, the eldest of the siblings in the group, sings lead and brings a powerful yet tender vocal to the mix. Chris Taylor, twin brother of Suzanne, sings the bass part. Though he does not rattle the subwoofers, he provides the anchor for the quartet's great harmonies and blends well with his siblings. Suzanne Taylor Hise lends her beautiful alto to the group adding another part to the family harmony. Leslie Taylor Perkins adds her soaring soprano vocals to round out the group. She took a brief leave from the group in 2012 during which Lindsey Graham filled the soprano position, but returned the following year. Perkins welcomed a son Isaiah last year with husband and occasional bass vocalist with the group, Aaron Perkins. Aaron has performed with the group on select dates, since his marriage to Leslie, lending his rich bass voice to the stellar mixed quartet.
​The Taylors have been nominated and won numerous awards including: First Place Family Group, NC Singing Convention, and First Place Mixed Quartet, NC Singing Convention in 2007, Grand Champions at the NC Singing Convention, and Talent Showcase Champions at the National Quartet Convention in 2008. In addition, the group has been nominated for Horizon Group of the Year in the Singing News in 2010, 2011, and 2012. Most recently, The Taylors won Favorite New Mixed Group at the Singing News Fan Awards.
​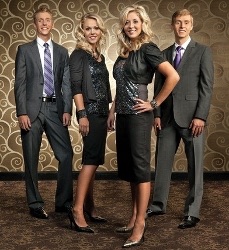 This young quartet has had many amazing experiences in their years of singing Gospel music. They have participated in many missions trips, performed on several television programs, and toured all over the world. When asked about which was the most memorable Hise said, "The most memorable moment of our years in gospel music is when we were singing in Alabama one night. The stage we were singing on had hard wood floors instead of carpet. We all started to walk down the steps to greet the crowd and Leslie's feet slipped right out from under her. Half of the audience gasped and half of the audience laughed. It was quite a moment." It is crazy moments like this that make it exciting for the group.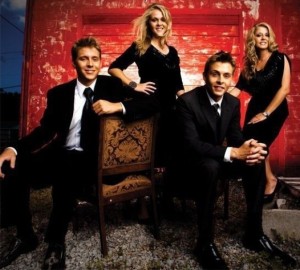 ​It is now 2015 and this incredible ministry driven family shows no signs of slowing down. The future is bright for these four as they plan to record a new DVD and CD soon and will continue to perform to crowds all over the country. Hise says, "Our mission statement is that we want the world to see Jesus lives in us. That is why our mom wrote our song, "I Want The World To See, Jesus Lives In Me". We hope that through our ministry, people's lives would be changed and that they would leave our concerts encouraged and uplifted. Jesus is our Savior and we want everyone to know him as his or her personal Savior. We would hope that everyone reading this knows Jesus as their Savior, but if they don't here's how they can pray a short but sincere prayer like this, "Dear Jesus, please forgive me for my sins. Thank you for loving me and dying on the cross to pay for my sins. Lord, I ask that you come into my heart and save me. Amen"."​
I want the world to see Jesus lives in me! What a great statement! As I said before, Jesus lives in the hearts of the Taylor siblings without a doubt!
For more on the Taylors visit their website.
By Justin Gilmore
First published by SGN Scoops in May 2015.
For current issues visit the SGN Scoops mainpage.
​
​
​
Tags:
Jonathan Taylor
,
Justin Gilmore
,
Leslie Taylor
,
sgn scoops
,
Suzanne Taylor Hise
,
The Taylos
Posted in
announcements
,
artists
,
guest
,
sgn scoops magazine
|
Comments Off

on Jesus Lives In Me: A Spotlight on The Taylors
Written by Staff on June 12, 2014 – 8:53 am -
Young Artist Spotlight
By Rebecca Little Burke
Some people come into your life for a short season. Others come into your life and take up residence. You know the kind…they become your lifelong friends. This month's Young Artist Spotlight happens to be one of those lifelong friends of mine. In 2006 my path crossed with a young man in college at Campbell University.   Little did I know that he and his siblings would become some of my dearest friends. Honestly, a much better description would be 'family'.   In my opinion, he is one of the finest young men in our industry. His walk matches his talk, and at the age of 27 he gives himself tirelessly for the cause of Christ. I am so excited to introduce to you all the lead singer of The Taylors, Mr. Jonathan Taylor.
RLB: Tell us a little about you and your family. How did you get started in Southern Gospel music?
JT: I grew up as a preacher's kid in a small country church in North Carolina. I came from a large family of four brothers and two sisters, so there was never a dull moment growing up!   I come from a strong Christian heritage and I honestly don't remember a time when I didn't love the Lord. I remember giving my heart to Christ at VBS when I was seven years old and it's the best decision I ever made.
Mom has always led the music at our church and had us singing in her choir since we were old enough to start talking. I sang just about every Sunday at church. When someone suggested I attend the Steve Hurst School of Music in Nashville, I jumped on the opportunity. That was nine years ago and I have been hooked on Gospel Music since! I went back home and talked my younger siblings into starting a quartet, and the rest is history.
RLB: When you're not out on the road, where can we find you?
JT: When I'm not on the road, you can find me in the great outdoors. I love fishing, kayaking, hiking, and camping. I also love to travel and see new places. Every year I make plans to visit a different country. God created such a beautiful world, and I'd like to see as much of it as I can!
RLB: Since I know you are quite the traveler, tell everyone about your trips. What has been your favorite one?
JT: My favorite trip has been to Alaska. My family went three years ago, and there is so much to see there. We drive all over the state and saw Denali National Park, glaciers, and a lot of other cool things.   My favorite thing about the trip was going salmon fishing. The river was beautiful, and we caught a ton of fish. After we got off the boat, we went straight back to the cabin to grill our catch. It was the best salmon I've ever had!
RLB: Many of our readers may remember the earthquake and tsunami that hit Japan in 2011. What they may not know is that you and your sisters were visiting Japan when it hit. Tell us about that experience.
JT: My two sisters and I found ourselves in Japan three years ago when the tsunami and earthquake devastated the northern part of the country. We had planned to visit that area close to earthquake, but God changed our plans at the last minute. Instead, we traveled in the opposite direction. We were on Mount Fuji when the earthquake hit. We felt the ground move, and buses began to sway back and forth in the parking lot where we had stopped. It took us 14 hours to get back to the city, and our parents had no idea if we were dead our alive. We finally made contact and we had an emotional reunion on the phone.
When we finally got through to the airport, we were amazed that there were only three seats left on the only flight back to the US.   God orchestrated it all in a way that only He could. He sent us help through strangers who took us all the way to the airport and gave us their spots in the long lines so that we wouldn't miss our flight. God heard the cries of His children and took care of us, and my faith was strongly impacted on that day in 2011.
RLB: What are some of your goals in the coming years?
JT: Ministry-wise, our goal has always been to see people come to know Christ at our concerts. I suppose that my biggest goal for the coming years is that God would open doors for us to minister in places that would have the greatest impact on The Kingdom. Sure, it's nice to sing in churches with large crowds, but I'm not just talking about numbers. I want to see lives changed, including my own. Sometimes that means going places that are out of our comfort zone, which leads me to my personal goal: to continue to trust God wherever he may take us.
RLB: Who are some of the people you look up to in our industry? Why?
JT: Because we started traveling and singing at such a young age, I value the advice of people who have spent their entire lives in the industry. First on the list would be Mike Wheeler from Kankakee, IL. Mike and his family have promoted concerts for over 26 years and he has been gracious enough to promote our family over the last few years. Tracy Stuffle and Jeff Easter have also been encouragers of our ministry. Over the years, those two guys have given some great advice!
RLB: What advice do you have for other young people in the SG industry or aspiring to be in it?
JT: My advice to younger singers in our industry would be to avoid comparing your ministry to the ministries of other singers and groups.   If God has called you to sing, just sing. Don't worry about trying to measure up to the standards of this industry, because God's standards are the only thing that matter. He wants your best, but that doesn't mean you will always be the best. God has humbled me so many times over the last eight years when He has moved in services where I thought I did my worst.   God loves a willing heart, and He tells us that in our weakness, He is made strong. Don't get discouraged when you see other singers on bigger platforms. God has ordained you to share your gift with the audience that He has provided.   Don't forget that He has a plan, and He knows what's best.
RLB: What is the Lord currently teaching you?
JT: I know this seems strange, but the Lord is teaching me to have more confidence. I'm a type-A perfectionist, and I have always been driven to do my best. The motivation to try to be perfect is unrealistic most of the time, and God has been teaching me to stop worrying about it so much. God doesn't need me to hit every note, and He doesn't need me to always be the best emcee…He only needs me to make myself available for His purpose. I'm learning that if I trust Him completely, He can do great things through me even when I feel like I haven't measured up.
Fortunately the Lord uses us in spite of us. We will never see perfection on this side of Heaven, but somehow through His mercy and grace, He uses imperfect people to accomplish His perfect plan! What a good God He is! Thank you Jonathan for sharing your heart and ministry with us!
For more information about the ministry of The Taylors, visit http://www.thetaylorsmusic.com/home.
Facebook: https://www.facebook.com/thetaylorsmusic
Twitter: @thetaylorsmusic
Written by Rebecca Little Burke. First published May 2014 by SGM Radio Website
For current features on SGM Radio website, visit http://www.sgmradio.com/
Photos courtesy of Jonathan Taylor
Tags:
Christian music artist
,
gospel music
,
Jonathan Taylor
,
Rebecca Little Burke
,
sgm radio
,
SGM Radio website
,
The Taylors
Posted in
SGM Radio
|
Comments Off

on Jonathan Taylor of The Taylors