Written by SGN Scoops on May 4, 2012 – 2:44 pm -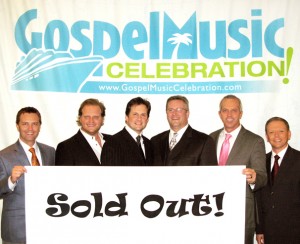 Nashville TN – (May 4, 2012) Landon Beene of IMC Management and Concerts has officially announced that theGospel Music Celebration™ Cruise to the Eastern Caribbean is SOLD OUT! Organizers have opened a waiting list for the cruise which is set for January 19-26, 2013.
"We are thrilled and can't wait to head out on the ship with all our friends who have signed up to join us," Landon Beene said. "We've built a different cruise model with a limited slot of artists so that music lovers get to hear more of their favorites and get more interaction with those artists. Our cruise is designed to be a "celebration" on sea, a chance to enjoy each other. I feel like this is the primary reason our first time Caribbean destination has sold out so quickly. This fact, added with a 5-Star first class cruise line, makes for a GREAT combination. Our passengers LOVE the fact we are on a conservative cruiseline such as Holland America and when they leave our cruise they're already on the phone inviting friends to come back with them on a future trip! That is exciting!"
Artist Scott Fowler of Legacy Five commented: "I have been singing gospel music for 23 years and have probably been on around 35 cruises in that time. IMC and Inspiration Cruises consistently give exceptional service at a great value and put us on the best luxury vessels in the fleet. They present THE BEST that gospel music has to offer and put together unique programming on board. When you add it all up, the choice is clear – if you want the best Gospel Music Cruise experience anywhere, IMC Gospel Music Celebration™ Cruises are IT!"
On each cruise, guests enjoy intimate times of relationship building with the artists, chapel and testimony services, The "Not-So-Newlywed" Game featuring artists and their spouses, Hymn Sings, Sunday Morning Church services and of course, nightly concerts.
Although this Caribbean Cruise itinerary is SOLD OUT, a waiting list has been opened and cruise bookings are now being accepted for the ALASKAN Gospel Music Celebration™ Cruise from July 14-21, 2013 embarking from Seattle, WA. The Alaskan cruise will feature The Booth Brothers, The Collingsworth Family, Legacy Five, Ken Davis, Liberty Quartet, TaRanda Greene, Freedom Singers and more.
For more information, visit http://www.GospelMusicCelebration.com or http://www.IMCconcerts.com.
Photo: L-R: Scott Fowler, Landon Beene, Michael Booth, Phillip Collingsworth, Eric Bennett, and Gerald Wolfe
Tags:
booth brothers
,
collingsworth family
,
freedom singers
,
Gospel Cruises
,
judy nelon group
,
legacy five
,
Liberty Quartet
,
Scott Fowler
,
Southern Gospel News
,
Taranda Greene
Posted in
announcements
,
christian entertainment
,
Christian interest
,
gospel events
|
Comments Off

on Gospel Music Celebration™ Cruise to Eastern Carribbean is SOLD OUT Waiting List now Open
Written by SGN Scoops on July 21, 2011 – 12:30 pm -
NASHVILLE, TENN. (July 21, 2011) – The HARMONY HONORS were presented at TBN's Music City Auditorium on Monday, July 18 with a night of exciting performances and special presentations to distinguished honorees CLAUDE AND CONNIE HOPPER and JEFF AND SHERI EASTER. The ninth annual event was presented by the Southern Gospel Music Guild and hosted by Grammy® Award-winning vocalist JASON CRABB. The evening featured an all star line-up of musical performances and appearances by THE BOWLING FAMILY, THE HOPPERS, JEFF & SHERI EASTER, KAREN PECK & NEW RIVER, KEVIN WILLIAMS, LEGACY FIVE, LES BEASLEY, THE MARTINS, THE NELONS, TRIUMPHANT QUARTET and SGMG PRESIDENT CLARKE BEASLEY.
Special Harmony Honor presentations were made to Claude and Connie Hopper, celebrating 50 years of marriage and music ministry, and Jeff and Sheri Easter, celebrating 25 years of marriage and music ministry. These special tributes were highlighted by video tributes from friends including BILL GAITHER, MARK LOWRY, and THE BOOTH BROTHERS.
SGMG President Clarke Beasley stated: "The entire SGMG (Southern Gospel Music Guild) was thrilled with the Harmony Honors presentation, and those who attended were really treated to an example of our music at its finest as the performances were strong and the production was first class. We felt it really made a strong statement about the level of talent with which our music is blessed, and we are eager for the response the telecast will receive."
TBN will broadcast The Harmony Honors on FRIDAY, JULY 22, 2011 at 9 PM CST/10 PM EST.
Viewers are encouraged to email comments@tbn.org to thank them for airing the show.
For more information, visit www.SGMG.org.
Tags:
bill gaither
,
Clarke Beasely
,
Claude Hopper
,
harmony honors
,
Jason Crabb
,
Jeff & Sheri Easter
,
judy nelon group
,
Karen Peck & New River
,
Kevin Williams
,
legacy five
,
Les Beasley
,
Mark Lowry
,
TBM Music city Auditorium
,
the booth brothers
,
The Bowling Family
,
The Hoppers
,
The Martins
,
the nelons
,
triumphant quartet
Posted in
announcements
|
Comments Off

on TUNE-IN: JASON CRABB hosts HARMONY HONORS
Written by Rhonda on October 28, 2010 – 5:42 am -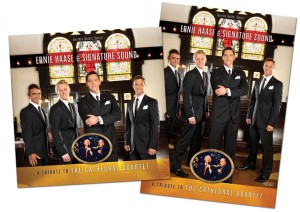 Be sure to read our interview with Ernie Haase & Signature Sound in the October issue of SGN Scoops!
NASHVILLE, Tenn. – October 26, 2010 – Gaither Music Group is pleased to announce the release of Ernie Haase & Signature Sound: A Tribute to the Cathedral Quartet available now on CD and DVD.
Ernie Haase & Signature Sound give new appreciation to some of the greatest quartet favorites every written in this DVD and CD, honoring the songs and legacy of the quartet that inspired their own genesis as a group. With a breathtaking set, an electrifying audience of supporters, an inspiring line-up of Cathedrals favorites, plus vintage photos, footage and memories of The Cathedrals, Ernie Haase & Signature Sound keep those great memories alive and offer their gratitude for the indelible mark their heroes made on Gospel music.
Ernie Haase comments, "It is no secret that I love The Cathedral Quartet. As a young teenager, I had a poster of them on my wall right next to my favorite sports' icons. George and Glen; their music changed and formed my life." Ernie continues, "To have been part of George and Glen's history and to have been there for their last ten years was nothing less than 'epic' for me. Now, ten years after The Cathedrals' retirement, we are blessed to pay tribute and bring the music of The Cathedrals to a new generation."
Members of the Payne family, the Younce family and Roger Bennett's family added a very special element to the evening, simply by their presence, and Bill Gaither and Squire Parsons also joined the celebration to honor their good friends.
"There are few artists in history who were better examples to follow than George Younce and Glen Payne" says Bill Gaither. "When they founded The Cathedrals, they started more than a great quartet; they modeled character, team spirit and countless other qualities that young groups could learn from.  I know Ernie's early years as a young artist singing with The Cathedrals helped shape his worldview and his vision as an artist, and it is wonderful to see Ernie Haase and Signature Sound honor the spiritual and musical legacy of The Cathedrals so beautifully.  This is a wonderful celebration."
This DVD and CD release features Ernie Haase & Signature Sound at their very finest. Ernie Haase & Signature Sound: A Tribute to the Cathedral Quartet, is distributed through EMI CMG Distribution, and is available online at gaither.com, ErnieHaase.com, iTunes and Amazon.com among others, and in retail stores where Christian music is sold.
About Ernie Haase & Signature Sound:
Combining 21st century ideas with the timeless quality of great quartets from the 1950s, this Grammy-nominated, Dove award winning group has broken the traditional mold of gospel quartets. With their unconventional approach to communicating the Good News, Ernie Haase & Signature Sound (EHSS) are blazing a trail through the heart of Gospel music with groundbreaking originality.
The group's founder and leader, Ernie Haase, got his start in Gospel music as a long-time member of the renowned Cathedral Quartet, and his roots are deeply planted in the rich legacy of music that is both meaningful and thoroughly entertaining. After the Cathedrals bid farewell to their five-decade run in the music industry, Ernie put all his great training to work when he formed, Ernie Haase & Signature Sound.  With chart-topping DVDs and audio releases, the group's success continues to gain momentum with each new release.
For more information regarding Ernie Haase & Signature Sound, visit www.ErnieHaase.com.
Tags:
aaron crisler
,
cathedral quartet
,
emi cmg distribution
,
ernie haase and signature sound
,
Gaither Music Group
,
judy nelon group
Posted in
new music
|
Comments Off

on Gaither Music Group and Ernie Haase & Signature Sound Honor The Cathedral Quartet With New Release