Written by Staff on July 7, 2019 – 10:20 am -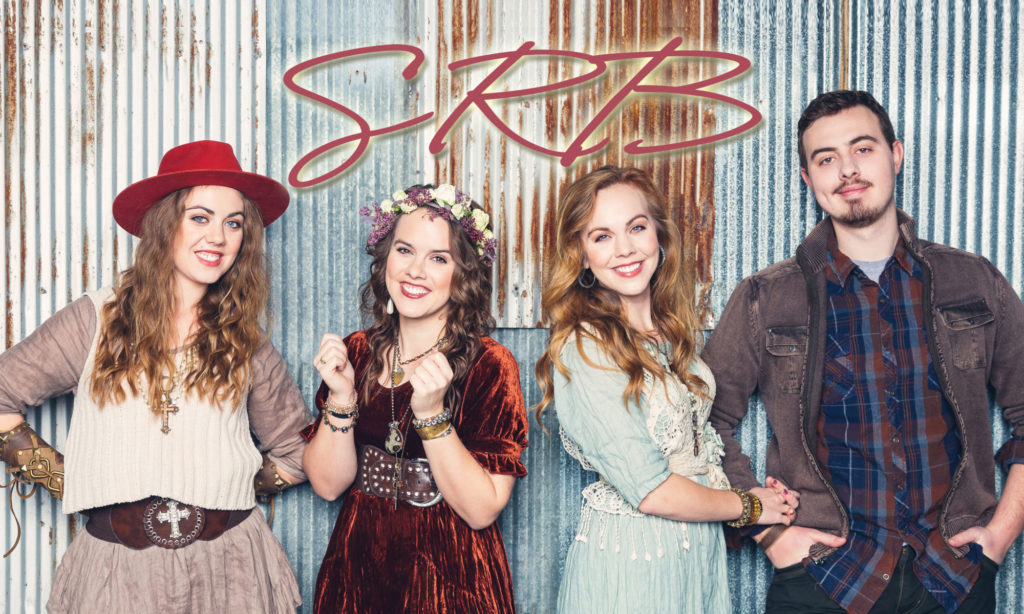 Sarah Reith of Southern Raised is the first in a new series featuring younger artists in Southern, Bluegrass and Country gospel music. We hope you enjoy the journey as we travel into the lives and hearts of the new generation of gospel artists.
Southern Raised call themselves a Christian acoustic band and their sound certainly crisscrosses over all types of music, hitting Southern and Bluegrass a little more often than others, but you can hear a lot of influences in their style. The Ozark mountains cast their shadow as well as the infiltration of a Celtic resonance. The sibling harmony is sweet and the instrumentation is adept.
The members of Southern Raised are all close in age, but among family members Lindsay, Sarah, Emily, and Matt Reith, Sarah was chosen for this feature. She is the second oldest of the four, and has been nominated for her excellent vocals and banjo picking. Since the group started in 2007, they have all received several nominations for songs, vocals and instrumentation, and Sarah plays a major part in this groups' popularity.
Justin McLeod: What was the first musical instrument that you learned to play?
Sarah Reith: I was eight years old when my older sister started piano lessons. She took them for a couple of weeks and of course 'lil sis wanted to take lessons if big sis was, so I started piano as my first instrument.
JM: What instruments do you currently play?
SR: I play banjo, piano, violin and a little guitar, but my true love is banjo.
JM: What are the positive things about being part of Southern Raised and what are the challenges?
SR: I love the opportunities we've had to meet so many sweet loving people and the friendships we've made over the years. One of the more difficult moments behind the scenes is the all-night drives we occasionally have to do to make it to our next venue. Our bus is currently out of commission, so sleeping in a vehicle all night while someone is driving can be interesting. But the hardest part is being away from my fiancé and not getting to see him as often.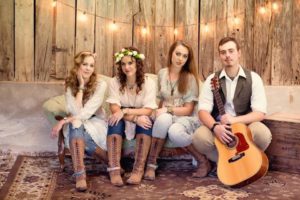 JM: What is it like to travel with family?
SR: I love traveling with my siblings. We were raised to be best friends and we truly all are best of friends. They're wonderful people to work with, and to do what you love with the people you love is great. Sometimes it can be challenging, working up new arrangements and ideas with siblings, since growing up we've all had the same musical influences so we end up having the same ideas. So we try to think out of the box and be creative.
JM: What song do you like the most, out of all the Southern Raised tunes?
SR: One of my favorite songs we sing is an original one that Lindsay co wrote, called "Letting Go." The message in that song really ministers and speaks to my heart every time I sing it. It's so encouraging that we can let go of the hardships, difficulties, trials or whatever it is we are holding onto and know that God will lead, that he never fails us and we can fully and completely trust him.
JM: Is there a song you've always wanted to record but never have?
SR: I've always wanted to do a hymns project. Some of my favorites are "Blessed Assurance," "I Love to Tell the Story," "Rock of Ages," and my very favorite hymn is, "It Is Well With My Soul." My fiancé just surprised me for Valentine's Day and taught himself the right hand on the piano and played "It Is Well With My Soul." It was so special. (Editor's Note: Congratulations to Sarah and David Noland who got married in April!)
JM: If you could create a perfect musical group, who would be in it?
SR: I would put my musical inspirations together in a band: Alison Krauss, Jens Kruger, Mark Hall, and my arranger would be John Williams, he's so phenomenal.
JM: What do you enjoy doing in your spare time?
SR: I love to read; you just can't beat a good book snuggled up by the fire. I enjoy watercolor painting, quilting, sewing, kayaking, and hiking. Within the last year it's changed to spending any spare time with a very special someone.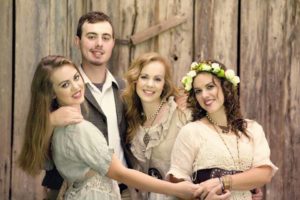 JM: What is your favorite scripture verse?
SR: My favorite verse is Psalms 66:16 "Come and hear, all ye that fear God, and I will declare what he hath done for my soul." This became my verse after we started ministering through singing. This is why we do what we do, to declare what mercy and grace God has bestowed upon each one of us. It's a joy to "declare" it through singing.
JM: Can you describe a typical Southern Raised concert for our readers?
SR: We would love to see each one who is reading this at a Southern Raised concert down the road sometime. We have a wonderful time praising God together. We mix in our classical background with our current music and style. We're also doing some songs off a new table project that is Americana in flavor. A couple of my favorites are an Armed Force patriotic medley we do and the lyrics to "Heaven's Shore" to the familiar melody of "Shenandoah."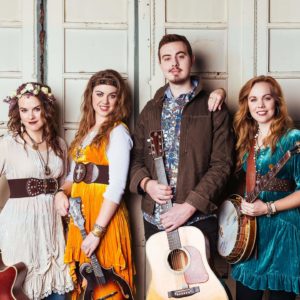 JM: Do you have a dream you'd like to share?
SR: Yes. I have always loved old cars and trucks. It has been my dream for years to one day own one. My ultimate dream one is a 1950's baby blue truck. I'll just keep dreaming!
A special thank you to Sarah Reith of Southern Raised for candid and personal responses. For more information on Southern Raised, you can find them online at southernraisedbluegrass.com.
By Justin McLeod and Lorraine Walker
Justin McLeod is a regular writer for SGNScoops Magazine.
First published by SGNScoops Magazine in May 2019.
Read the June SGNScoops Magazine Online HERE
Download June SGNScoops Magazine On PDF
HERE
Find SGNScoops Magazine On Facebook
HERE
Listen To Todays Gospel Music
HERE
Tags:
Americana
,
Bluegrass Gospel
,
Bluegrass gospel concerts
,
gospel music
,
Justin McLeod
,
Sarah Reith
,
Southern Raised
,
Southern Raised Band
Posted in
artists
,
sgn scoops magazine
|
Comments Off

on Sarah Reith of Southern Raised Band
Written by Staff on September 1, 2018 – 12:12 pm -
Just As I Am: An Introspective by Justin McLeod
The words of a song can be a lot of things: A comfort when one is hurting, or a pick-me-up when one is sad. But even greater is the role that a song can play in the salvation experience.
While the bible, the infallible word of God, clearly lays out the path to salvation, many times a song can be heard along the sinner's path to saving grace. Sometimes serving as the tool to prick the sinner's heart, sometimes the fertilization of a gospel seed already sown, or the catalyst to the final harvest of a soul won to Christ: the power of a song cannot be underestimated.
"Just As I Am" is perhaps the most well-known invitational hymn in the Christian church. Made especially famous in the mid-1900's as the altar call for many a Billy Graham crusade, this hymn is still sung across the nation and the world on a regular basis even today. An 1835 composition from the pen of Charlotte Elliott, the lyrics of this song are simple, yet incredibly profound.
The first verse of the hymn reads:
Just as I am – without one plea,
But that Thy blood was shed for me,
And that Thou bidst me come to Thee,
-O Lamb of God, I come!
The hymn begins with an incredible truth and a basic tenant of the Christian faith – to approach our heavenly Father for salvation, we don't have to put on a facade or dress a certain way, either literally or figuratively. We are to come to him in whatever messy, rotten, downtrodden shape in which we find ourselves.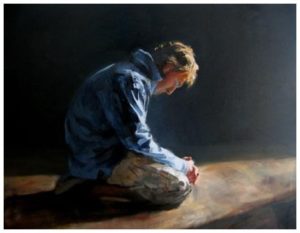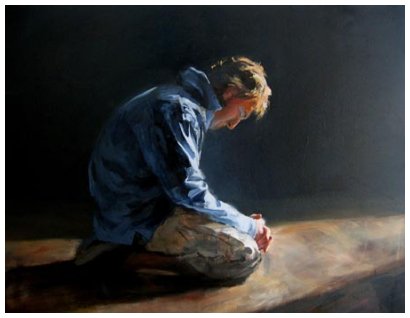 Imagine you are the defendant in a courtroom and the judge asks, "How do you plead?" This is, in essence, the situation in which a sinner finds himself. Yet, instead of answering "guilty," the blood of Jesus that was shed is your plea bargain; the judge bangs his gavel and cries "innocent – set free!"
Not only can we cast appearances aside, but we can offer no defense, no plea. None but the crimson red blood that flowed from the cross.
The hymn's second verse:
Just as I am – and waiting not
To rid my soul of one dark blot,
To Thee, whose blood can cleanse each spot,
-O Lamb of God, I come!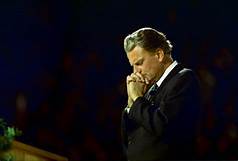 One thing that I personally love about this hymn is that each verse starts off with a reminder that no false appearance, no put-on airs are necessary to meet the Savior. In this verse, the author speaks of the dark blot of sin and its stain on the sinner's soul. But praise the Lord for waiting not, rushing to the feet of Jesus to claim the sacrifice of that very blood, the blood of Jesus that was shed to cleanse every spot of sin from blackest night to be as white as snow.
Just as I am – though toss'd about
With many a conflict, many a doubt,
Fightings and fears within, without,
-O Lamb of God, I come!
It can be incredibly difficult at times, especially in the middle of a circumstance or heartache, to turn to Jesus. Though tossed about, in any and every circumstance, the path to him is as simple as ever. Through conflicts, doubts, even deepest, darkest fears, the path to Jesus never changes – it is simply our view of that path that can become skewed.
Just as I am – poor, wretched, blind;
Sight, riches, healing of the mind,
Yea, all I need, in Thee to find,
-O Lamb of God, I come!
Another incredible reminder that any and all are welcome in the Savior's arms. Regardless of financial status, social standing, or even a physical disability, anyone and everyone can come to Jesus. The new testament's 10 lepers were considered social outcasts, and yet Jesus not only spoke to them, he healed them. No matter what ailment affects us – whether physical, social, or something other – the answer, the solution, the cure is only found in one place.
Just as I am – Thou wilt receive,
Wilt welcome, pardon, cleanse, relieve;
Because Thy promise I believe,
-O Lamb of God, I come!
This is one of the most marvelous lyrics in post-biblical hymn-writing. It takes one simple decision, one belief, one ounce of faith in the Savior and he will receive us, welcome us, pardon us, cleanse us, and relieve us of every one of sin's stains. He will receive us with no plea, without any line of defense but the blood of Jesus. Welcome us right this moment, without a single, solitary delay. Pardon us of the dark blots of sin. Cleanse us through that very same blood. Relieve us of conflicts and doubts, of fightings and fears, of ailments and wretchedness.
And all, simply, because Thy promise I believe.
By Justin McLeod
Justin McLeod is a regular writer for SGNScoops Magazine.
Read the full SGNScoops August  Magazine Here.
Download the PDF of SGNScoops Magazine HERE
Find SGNScoops On Facebook HERE
Listen To Today's Gospel Music Online HERE
Tags:
altar call
,
Billy Graham.
,
Christian life
,
Jesus
,
Just As I Am
,
Justin McLeod
,
salvation
Posted in
Christian interest
,
sgn scoops magazine
|
Comments Off

on Just As I Am with Justin McLeod
Written by Staff on February 1, 2017 – 10:16 am -
By Justin McLeod
The Inspirations from Bryson City, North Carolina are one of the industry's most storied groups. Southern Gospel legends from Archie Watkins to Mike Holcomb have begun and made their careers in the group's traditional, four-part quartet style.
While not quite the College that the Dixie Melody Boys have, this group has also seen several groups spurn from its wake. Many on the group's lengthy list of alumni can be seen in other quartets and mixed groups across the country, many of which have made a sustained impact on Southern Gospel music. One of the newest in this long line is the Georgia-based Saving Grace Trio.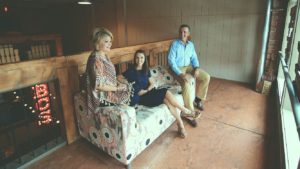 Led by former Inspirations baritone Melton Campbell, this mixed trio has already gained fans thanks to their tight harmonies and, despite their recent beginnings, a sound reminiscent of a group that has been around for years.
The group is made up of Campbell, who sings a lead/baritone hybrid that could be comparable to Soul'd Out Quartet's Matt Rankin; Blair Campbell, Melton's 17-year-old daughter, sings the alto part, while Terri Cook sings the soprano line.
Melton Campbell spent an off-and-on 15-year time span on the road with the Inspirations, ultimately coming off the road in 2015 in order to spend more time with his family. During his time on the road with Martin Cook's bunch, Melton helped make popular songs like the powerful ballad "I'm Not Ashamed." "[During] the 15 years that I spent with the Inspirations, I enjoyed getting to sing with my lifelong heroes," Melton shares. "… I made many friends and lifelong connections throughout the 15 years and got to see so many different places and let's not forget all the wonderful fans that I got to meet, many of which turned into great friends."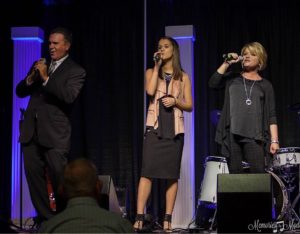 Saving Grace's inception can be credited, in short, to "a dad and a dream". When Melton left the full-time traveling schedule of the Inspirations to spend more time at home as a father, Blair gave her dad a "condition" — that they got to sing together, and thus the idea for Saving Grace Trio was born.
"The biggest compliment for a parent is for their children to do something that they [themselves] love to do," Melton shares. "Blair has been listening to Southern Gospel music since she was a baby… her dream for many years has been to sing. When I came off the road in 2015, I was coming home to be a part of my kid's life and be around more than I [had been]… At that time, Wilburn and Wilburn had a song out called "Shoulders." It really ministered to me and let me know that I am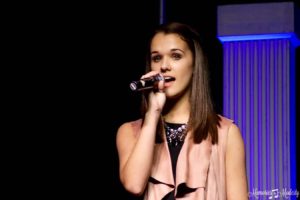 right where I need to be. It's time for me to take the back seat and be 'shoulders' for my daughter's dream to come true."
Blair, while still just the tender age of 17, has already drawn comparisons to some of the industry's top young stars, including Lauren Talley, who she also coincidentally calls one of her own 'inspirations' in music. She shares, "It is such a blessing to be able to sing with my dad. It's always been a dream of mine to be able to stand on stage and sing with him. I thank God everyday for giving me the ability to sing and to share His word [along] with people that I love."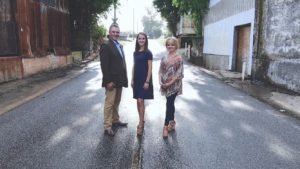 Though Melton shares that he, as a natural baritone, is singing significantly higher than during his days with the Inspirations, the group's really high notes are anchored by Terri Cook, a family friend and a veteran vocalist. Terri and Melton had previously sung together, and when they needed a high-note-hitter to fill out the trio, she was the first call. "God's timing is always perfect!" Terri shares. "Little did I know that the trials I was going to face was God preparing me for this ministry."
Already becoming known for their vocal abilities as well as their tight, family-like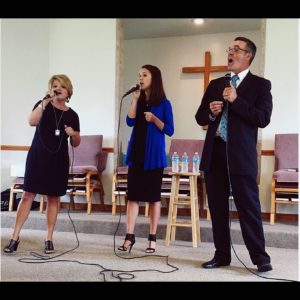 harmonies, expect to hear much more from Saving Grace Trio, including from their new CD, which was just recorded and will be released soon.
By Justin McLeod
First published by SGNScoops Magazine, November 2016
For more on Saving Grace Trio click here.
For more Gospel music news click here.
Tags:
Blair Campbell
,
Justin McLeod
,
Melton Campbell
,
Saving Grace Trio
,
SGNScoops Magazine
,
Terri Cook
Posted in
artists
,
sgn scoops magazine
,
special feature
|
Comments Off

on Saving Grace: Former Inspiration Leads New Mixed Trio