Written by Staff on December 30, 2015 – 7:45 am -
Nashville, TN (December 30, 2015) – Dean Newkirk announces today that his debut solo project "Hope Found" has been released. The project was completely funded through friends and family who had complete confidence that Newkirk had found the right combination for this breakthrough endeavor.
Joining Newkirk at the production reins of the 12 song record were three award winning powerhouses including Kevin Ward, Michael Sykes and the late Lari Goss. Their collaborative efforts engaged various musical genres with one clear message of the Gospel that hope can be found in Christ.
Producer Kevin Ward comments: "I knew from talking to Dean that this would be a 'dream' project for him. The goals that he had for this project were nothing short of inspiring."
Featured guests include the country super group Restless Heart, the sweet soprano vocals of Katy Peach and the stellar accapella ensemble Voices of Lee. "It was an honor for me to work with the entire team involved. It's my prayer that the songs and message would be a source of encouragement and hope as we follow Christ," Newkirk explained.
"Hope Found" features a perfect blend of Southern Gospel, inspirational, country and more. With soaring melodies and powerful lyrics this authentic work includes songs penned by Newkirk as well as songs from the finest and most respected writers in the industry. Writers Marty Funderburk, Joel Lindsey, Sue C. Smith, Rebecca J. Peck, Lanny Wolfe, Melodie Tunney, Wayne Haun, Dwight Liles and Bill & Gloria Gaither are among those contributing to the project.
From the Gaither favorite, "Plenty Of Room In The Family", to the stirringly orchestrated Christian power ballad, "Undivided", to the soulful gospel original "Draw Me Nearer", "Hope Found" features newly arranged classics and brand new tunes alike.
Dean Newkirk is a gifted musician and communicator who uses his warm tenor vocals and piano talents to share the Gospel as a worship leader and songwriter.
To order physical CDs of "Hope Found" visit: DeanNewkirk.com
"Hope Found" can be purchased from the following digital outlets:
iTunes: bit.ly/HopeFound
Google Play: bit.ly/HopeFoundGooglePlay
Tidal: bit.ly/HopeFoundTidal
LIKE Dean Newkirk Music on Facebook: Facebook.com/DeanNewkirkMusic
FOLLOW Dean Newkirk on Twitter: Twitter.com/DeanNewkirk
For more news visit SGN Scoops on Facebook.
Tags:
Dean Newkirk
,
Lari Goss
,
Michael Sykes
Posted in
announcements
,
artists
|
Comments Off

on Dean Newkirk debuts new project
Written by Staff on March 9, 2015 – 1:48 pm -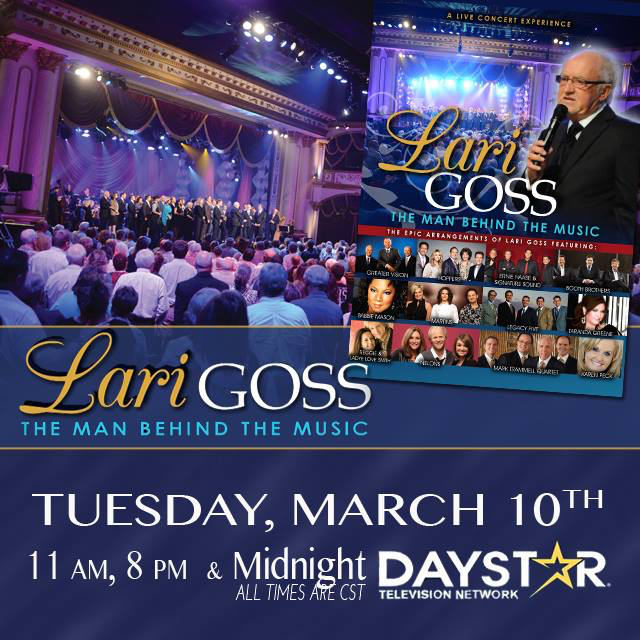 This One-Hour TV Special is hosted by Jim Brady and Gerald Wolfe, and honors the life and music of Lari Goss, who passed away in January of this year.
Jim and Gerald share personal stories about Lari and his lasting impact on Gospel Music.  Lari's career spanned more than five decades, and many of your all-time favorite Gospel songs were influenced by "the man behind the music"… Lari Goss.
The TV Special features songs from a 2-Hour DVD called "Lari Goss: The Man Behind The Music."  Featured Artists include Greater Vision, The Booth Brothers, The Mark Trammell Quartet, Legacy Five, The Nelons, Jim & Melissa Brady, The Hoppers, Taranda Greene, and more, accompanied by Lari Goss on piano, and the famous Nashville String Machine Orchestra.  One of the highlights of the Show is the reunion of former Cathedral Quartet members Scott Fowler, Ernie Haase, Mark Trammell, and Gerald Wolfe, for a live performance of the Gospel Classic, "Champion Of Love."  This live performance was the inspiration for the current "Cathedrals Family Reunion" Events.
This very special television event will be broadcast
Tuesday March 10
at the following times:
Eastern Time Zone:
Noon
,
9pm
, &
1am
Central Time Zone:
11am
,
8pm
, &
Midnight
Mountain Time Zone:
10am
,
7pm
, &
11pm
Pacific Time Zone:
9am
,
6pm
, &
10pm
DirecTV Channel 369
Dish Network Channel 263
Check your local Guide for the Cable Channel in your area. (Your Channel Guide may list the program as the "Marcus & Joni Show.")
After you watch the program, we hope you will take a moment to send an email to Daystar to thank them for airing this special program, and encourage them to continue to air similar programs in the future.  You can contact Daystar by clicking on the photo at the top of this email, or you can click 
HERE.
(*Please don't call Daystar's toll-free phone number to comment on the program.  They need to keep their phone lines available for prayer requests, and for those seeking spiritual help.)
If you enjoy the TV program, and would like to see the entire 2-Hour Concert, you can order a DVD HERE.
Tags:
daystar
,
Gerald Wolfe
,
Greater Vision
,
Jim & Melissa Brady
,
Jim Brady
,
Lari Goss
,
legacy five
,
Taranda Greene
,
the booth brothers
,
The Hoppers
,
The Mark Trammell Quartet
,
the nelons
Posted in
announcements
,
artists
,
christian entertainment
,
Christian interest
|
Comments Off

on Tune In Alert: Lari Goss – The Man Behind The Music
Written by SGN Scoops Staff on February 5, 2015 – 7:06 pm -
It's February and time to grab your coffee, snuggle up by the fire and read all the great stories in this edition of SGNScoops Magazine. We know we have enough captivating features to keep you reading until you are warm and toasty!
Our cover feature celebrates the life of Lari Goss. If you didn't know the extent of Goss' accomplishments, I know that this feature by Jennifer Campbell will enlighten you. If you knew and loved this gentleman, we hope that we have done his life justice.
Some of the other artists and Gospel music notables highlighted this month include Matt Felts and the Lesters, Austin Whisnant, the Revelation Trio, the Hall Sisters, Higher Hope and Les Butler. Our feature writers have done a wonderful job! I hope you will find these great folks on Facebook and show them some love (but not in a creepy way!)…
I had a good interview with Wilburn and Wilburn and talked with them about their music and their family lives. We talked about love and relationships, in honor of Valentine's Day. You will also find interesting features from the Brooklyn Tabernacle Church and from Lynn Mills our Event Planner. Dean Adkins highlights Church Quartets. Visiting with us in our Pastors Corner is Ed Smith, with a great article on the purpose of music in the life of a Christian.
The Southern Gospel DJ's play such a large part in our music, that we are happy to salute a new one every month. Vonda Easley shines the spotlight on ReJeana Leeth, who has a great story that you need to read.
Thanks to all of you who read SGN Scoops and pass it along to others. The best way to let us know you like us is to share this issue with five of your social media friends. You can download the February SGN Scoops
Find SGNScoops Magazine On Facebook
Here
Find SGNScoops Magazine On Twitter
Here
Tags:
Lari Goss
,
SGNScoops Magazine
,
Southern Gospel Music
,
Southern Gospel News
Posted in
announcements
|
Comments Off

on February 2015 SGNScoops Magazine
Written by Staff on January 15, 2015 – 11:43 am -
Lari Goss, native of Cartersville, Georgia, passed away on January 10, 2015 at the age of 69. Most recently residing in Brentwood, Tennessee, Goss is survived by his wife Carolyn, sons Benjamin (B.J.) (Julie) Goss, Nicholas (RaeAnna) Goss, Jonathan Goss and Cameron Goss; brother, Roni (Linda) Goss; grandchildren, Samantha, Joseph, Alexandria, Christian and Eva Mae Goss.
Funeral services for Goss were held on Thursday, January 15 at Brentwood Baptist Church. Many of his friends from the music industry and across the country were there to give tribute, along with officiating Pastors Jim Cymbala and Stan Mitchell.
Goss was well known as arranger, producer, writer, orchestrator, keyboardist and musical genius in all areas of the Christian and secular music world. He began his career in the Goss Brothers and continued in music for over 60 years. Multi-award winner, including  a Grammy award, several Doves and an induction into the Gospel Music Hall of Fame, this gentleman's resume includes the Brooklyn Tabernacle Choir, Christ Church Choir, many symphonies, orchestras, and artists world-wide. Goss was also an ordained minister.
Lari Goss will be mourned by many throughout the music industry and by all whose lives have been touched by the music that Lari Goss molded into artistry. Many of Lari's friends have already expressed their condolences and memories on social media, but some have shared them with SGN Scoops:
Rodney Griffin: 
How do I sum up in one paragraph the influence Lari had on our music?  It's impossible.  Looking back at all the "hits" he arranged over the years..70's, 80's, 90's 'til today, it's hard to see where his influence starts…and ends.  I look at it this way…if you remember a song that you fell in love with, he probably produced it.  Way beyond his years, even as a young teenager, he was writing orchestrations.  He was not just filling in the parts, but mapping out those lush chords of transition that revealed the "heart" of the song.  If you met him, you'd understand.  His soft spoken demeanor, and friendliness to all reflected his heart.  My greatest memory will be watching him create a "mood" with one of my songs on the piano…knowing he was hearing the full orchestration in his mind.  His eyes would leak as he'd say, "I think this is going to be good."  What an understatement!  We're blessed every night as we sing along with tracks he created.  Genius.  Just enough power in the track, and just enough melodic calmness…kinda like God…always including His power, yet always reminding us of His quiet assurance.  Lari listened to God…obviously.  Let's pray for the Lord to fill the huge void left with Lari's home going with another creator who will closely listen to God every time he sits down at the piano…and live for Him every time he stands up.
Kelly Nelon Clark:
Words can't express the hurt and sadness over the loss of our friend Lari Goss. I have spent a lifetime with him, from The LeFevres till now and love him like family. The very first time I went into the studio at LeFevre Sound I was terrified but Lari and the Goss brothers made me feel so at home. It was always my dream to have him work with us so Amber could work with him and be a part of that genius mind of his. He did that on The A Capella Sessions. He is irreplaceable! I always said if you can't sing with Lari you can't sing! Heaven is singing loudly now!
Tags:
Christian Music
,
Dove Award
,
gospel music
,
grammy
,
Kelly Nelon Clark
,
Lari Goss
,
Rodney Griffin
Posted in
announcements
,
artists
|
Comments Off

on Friends Remember Lari Goss
Written by SGN Scoops Staff on May 22, 2014 – 1:44 pm -
NASHVILLE, Tenn.—GRAMMY®-nominated and multi-DOVE Award-winning family trio The Martins have just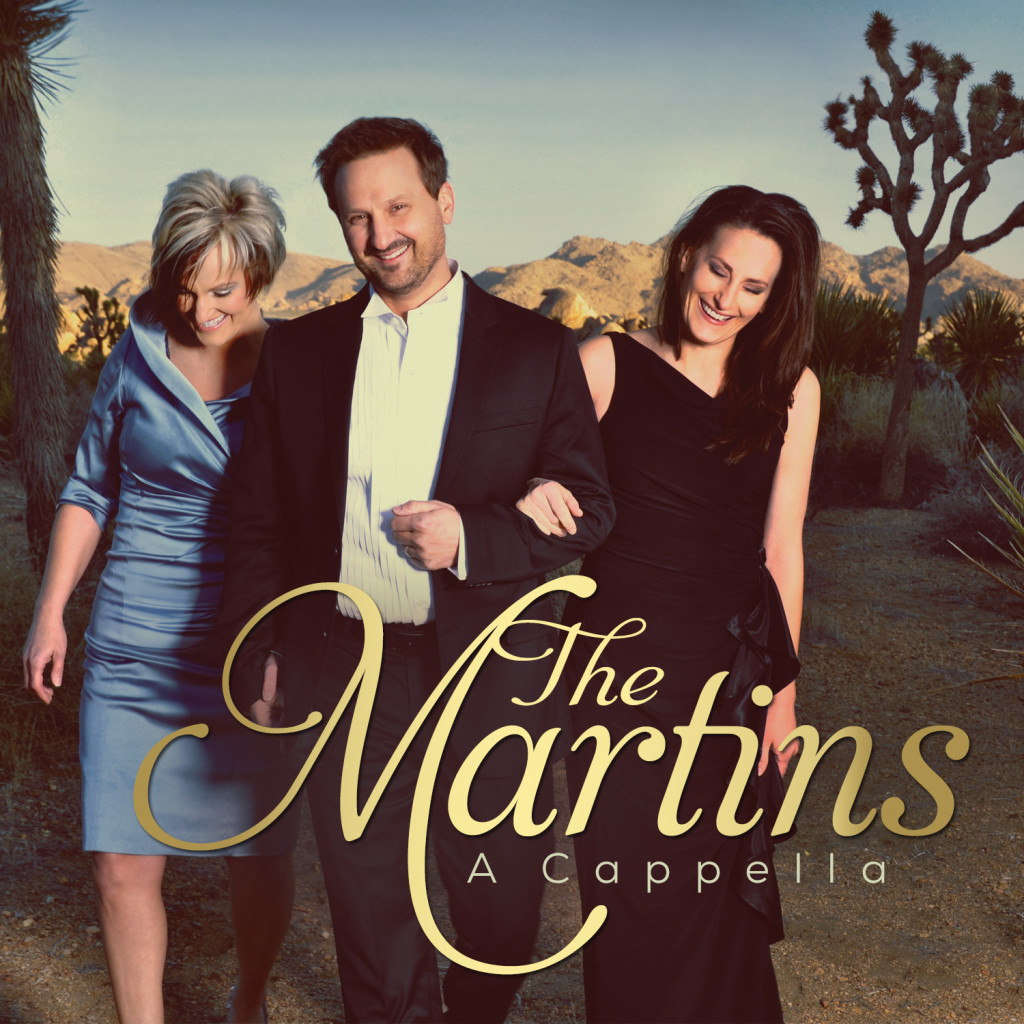 completed an all-new release—their first a cappella recording in over 15 years—entitled A Cappella (Gaither Music Group). Known far and wide for their impeccable, tight family blend, siblings Joyce, Jonathan and Judy have put together a collection they describe as "the hardest thing they have ever recorded."
"A cappella music is the purest form of vocal music to us," adds Jonathan. "It keeps you on your toes and makes you sing better. To perform it live you have to be on your 'A game.' To attempt it is humbling; to accomplish it is exciting and rewarding."
"We've been singing a cappella music professionally for 20 years," describes Joyce. "It's something we are known for, so we honestly felt like, 'Hey, we've got this. It's what we do, and we are putting together a great team of producers and arrangers. We just gotta do what they tell us to do.' However, it was the hardest thing I've ever done in my life! It made me realize I've got so much to learn and areas in which to grow. We found it very daunting at times…but now that it is finished I'm so proud of it!"
Part of the musical growth and complex arrangements stemmed from working with acclaimed performers, arrangers and producers Michael English, Lari Goss, David Phelps and Matthew Holt.
English, who produced all but one song on the new release, has been a longtime friend and advocate of The Martins. "One of my favorite things about Michael is that he is a great teacher," explains Judy. "He doesn't just tell you how to sing a part of a song; he helps you sing better in general. He forces you to be better through the process."
"This was the first time Michael had ever produced an a cappella record," adds Joyce. "He was a little nervous, and he was growing at the same time we were growing. He has been a part of our career for so many years. We would not be The Martins we are today if it weren't for Michael."
The Martins began giving credit to Lari Goss over 15 years ago when he produced and arranged their landmark recording An A Cappella Hymns Collection. He was back around the table with the trio to arrange several songs on this all-new release including a cover of "The Prayer."
"This song has always been done as a duet," describes Jonathan. "We weren't sure if we could make the arrangement into one to fit a trio. We knew that if anybody could Lari Goss could do it. He said, 'I don't know if we can do that as a trio,' so we moved on to other songs. Then during a break he started playing 'The Prayer' on piano. All of our ears perked up. He said, 'Give me just a minute. Let's try this.' It began to work and come together. It is one of my favorite accomplishments of the project."
Other accomplishments vary from hymns the trio has known since their childhoods ("Fairest Lord Jesus," "Praise to the Lord") and old "spirituals" ("When I Go Away") to mainstream pop crossover songs ("You'll Never Walk Alone," "The Prayer") and even a little "Reggae style" mixed into an arrangement ("Three Little Birds"). It showcases the group's heralded ability to transcend musical styles, appease their fan base and weave in some of their personal favorites.
"It was Michael's idea to bring David and Matthew into the studio," Joyce recalls. "We were looking for something stylistically different. When there's not any music to accompany you, you want something there to make the songs sound different. It's easier to do that with musicians, but in this case we wanted to do a different thing with arrangements; so we brought them in, and as they say the rest is history."
"We still love our previous a cappella music like 'The Doxology' and 'Riverside Medley,'" Judy assures. "We're always going to do those. We wanted to add some new songs to our repertoire, and we hope that our audiences will embrace these new songs as well."
"This new music is something that has challenged us beyond our expectations," says Joyce. "We had to work harder than ever and strive for the excellence that we believe God expects from us. We were raised with that work ethic, and we believe that God expects us to never stop striving or stop growing and to be the best we can be. We want to honor Him every time we go into the studio or onto the stage."
In addition to their own concert appearances, the trio is currently hitting stages alongside singer/songwriter/comedian Mark Lowry on the Music and Madness Tour. Additionally, they are featured on select Gaither HOMECOMING Tour dates. Their national and international exposure continues to grow as A Cappella will receive prime placement in retail outlets and will air as part of a special TV offer on Dish TV, DirecTV, AT&T Uverse, GaitherTV, TBN, RFD, FamilyNet, CTN, GMC, GMTN, Guardian, Liberty, TCT and TLN. It will also air in Canada on Vision TV, CTS, The Miracle Channel and Hope TV.
Distributed by Capitol Christian Distribution, the new release will available at retail and digital outlets worldwide including iTunes, Amazon and www.gaither.com and www.martinsonline.com.
To keep up with the latest happenings with The Martins, visit www.martinsonline.com, connect with them at facebook.com/martinsonline or follow them on Twitter: @martinsonline.
Tags:
david phelps
,
gaither
,
Lari Goss
,
Michael English
,
Southern Gospel Music
,
Southern Gospel News
,
The Martins
Posted in
announcements
|
Comments Off

on The Award-winning Martins Deliver First A Cappella Recording in More Than a Decade
Written by Staff on May 16, 2014 – 8:34 am -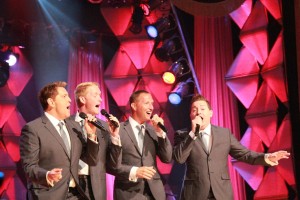 By Charlie Sexton
The timpani drum roll indicated that a magical night was just about to begin.   The capacity crowd burst into applause as the majestic sound of The Nashville String Machine Orchestra filled the Trinity Music City Auditorium in Hendersonville, Tennessee on a rainy Monday evening, July 9, 2012.   Just as the music hit it's crescendo, The Maestro, Lari Goss, strolled across the stage, and took his place at the 9 ft. Concert Grand Piano. When his nimble fingers caressed the ivory keys of the massive instrument, everyone in attendance knew for a fact that the magic had most definitely begun.
For the next three hours, the very elite of the Southern Gospel Music community paid homage to a humble, diminutive man who, when seated at a keyboard, is bigger than life!
The emcee for the evening was none other than Mr. Gerald Wolfe, Lari's Number One Fan, and close friend. He kept the banter conversational, and informative, yet took the audience on a journey of passion, purpose and perfection – the hallmarks of this legendary "man behind the music."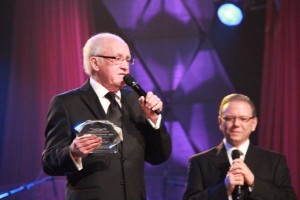 From humble beginnings in the quaint, rural town of Cartersville, Georgia, Mr. Goss began singing and playing Gospel Music with his brothers, James and Roni. Often considered lightyears ahead of their time, The Goss Brothers just did things a little different. They carved out a niche that is still the benchmark by which many of today's current groups are measured. Lari has since become a much sought after producer, and regularly finds himself doing intricate arrangements featuring world-renowned orchestras all over the world.
The concert line-up read like a virtual "Who's Who of Gospel Music." Groups like The Booth Brothers, The Hoppers, Greater Vision, The Mark Trammell Quartet, Legacy Five, The Nelons, Ernie Haase & Signature Sound, and The Martins, along with soloists such as TaRanda Greene, Babbie Mason and Charlotte Richie each shared songs that were arranged or produced by Mr. Goss. Many other great talents, such as Karen Peck, Reggie and Ladye Love Smith, Bradley Knight, and the Christ Church Singers graced the stage during this star-studded gala event.
Of course, no party is complete without surprises, and this evening was no exception. There were some heartfelt video tribute segments from Bill Gaither, Larnelle Harris and Jim Cymbala, pastor of the famous Brooklyn Tabernacle in New York. The audience was chock full of "movers and shakers" from the world of Gospel Music, as well. A few notables were Dusty Wells, Judy Nelon, Rhonda Frye, Jim Murray, Donnie Sumner, Wayne Haun, Joel Lindsey and Dr. Jerry Goff. Last, but certainly not least, were many of Lari's family members, including his lovely wife, Carolyn, and his brother, Roni.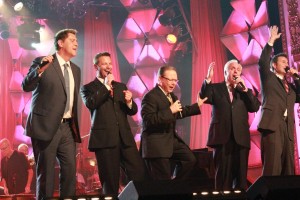 Clarke Beasley, Executive Director of The National Quartet Convention presented Mr. Goss with a lifetime achievement award. Upon accepting this, Lari gave a tearful testimony to the faithfulness of God, the ultimate Giver of Music.
Finally, a mass choir, comprised of all the artists who had performed, was assembled, and the evening concluded with a moving rendition of "Statement Of Faith."   For an encore, they sang "We Shall Wear A Robe And Crown."
After the final note had been sung, and the lid of the piano closed, a lengthy time of fellowship ensued as folks from as far away as New Zealand surrounded the stage just to get a handshake, a hug, or a photo opportunity with this beloved man… Lari Goss… The Man Behind The Music.
First Published August 2012 in SGN Scoops digital magazine. Written by Charlie Sexton.
Tags:
Charlie Sexton
,
Lari Goss
,
sgn scoops magazine
,
southern gospel
Posted in
announcements
|
Comments Off

on Lari Goss…. The Man Behind The Music
Written by SGN Scoops Staff on January 15, 2014 – 3:06 pm -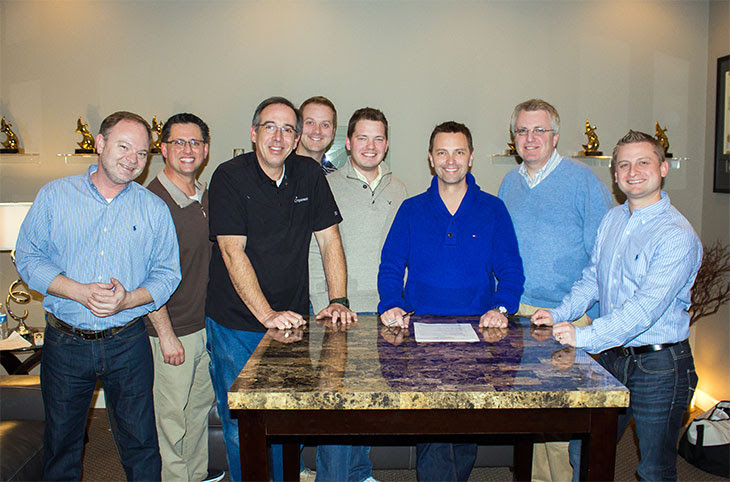 HENDERSONVILLE, TN – January 14, 2014 Multi-award-winning artist Legacy Five recently signed a long-term recording contract with Daywind Records.Daywind has been Legacy Five's home for the past decade, beginning with the group's "London" project.The group is putting the finishing touches on their latest recording, entitled "Great Day."The upcoming release is produced by Lari Goss, and it will release on March 25.
Legacy Five manager Scott Fowler stated, "We are thrilled to continue our partnership with Daywind.Daywind has an incredible roster of artists, and we consider it an honor to be a part of their family.We are very excited about the direction they are going.We feel like our fans are part of our team, too.Daywind is inviting our fans to choose the cover photo for our new CD, 'Great Day.'Fans can vote at http://legacyfive.wordpress.com/2014/01/13/choose-l5s-new-cd-cover/#comment-3168."
"Legacy Five is one of the premiere groups in Gospel music.This agreement will continue Daywind's successful partnership with Legacy Five for the foreseeable future," stated Daywind Vice President Scott Godsey.
In 2014, Legacy Five will celebrate its 14-year anniversary in Southern Gospel Music, having been formed by Roger Bennett and Scott Fowler, two of the members of the legendary Cathedral Quartet.The male quartet has been nominated for two Dove Awards and more than 75 Singing News Fan Awards."Great Day" comes to Legacy Five fans following its latest release, a "A Wonderful Life." "A Wonderful Life" included the successful singles "Ask Me Why," "Living In the Palace," and "I'm Still Amazed."
Daywind Records is home to a great roster of artists such as Brian Free and Assurance, Adam Crabb and Greater Vision.Daywind is distributed to retail through New Day Christian Distributors, Select O Hits, and all major digital outlets including iTunes. For more information, visit www.daywindrecords.com or contact Amanda Martin at publicity@daywind.com.
For more information on Legacy Five, please visit www.legacyfive.com.
Tags:
daywind
,
Great Day
,
Lari Goss
,
legacy five
,
Southern Gospel Music
,
Southern Gospel News
Posted in
announcements
|
Comments Off

on Legacy Five Signs Long-Term Recording Contract with Daywind Records
Written by SGN Scoops Staff on December 17, 2013 – 2:13 pm -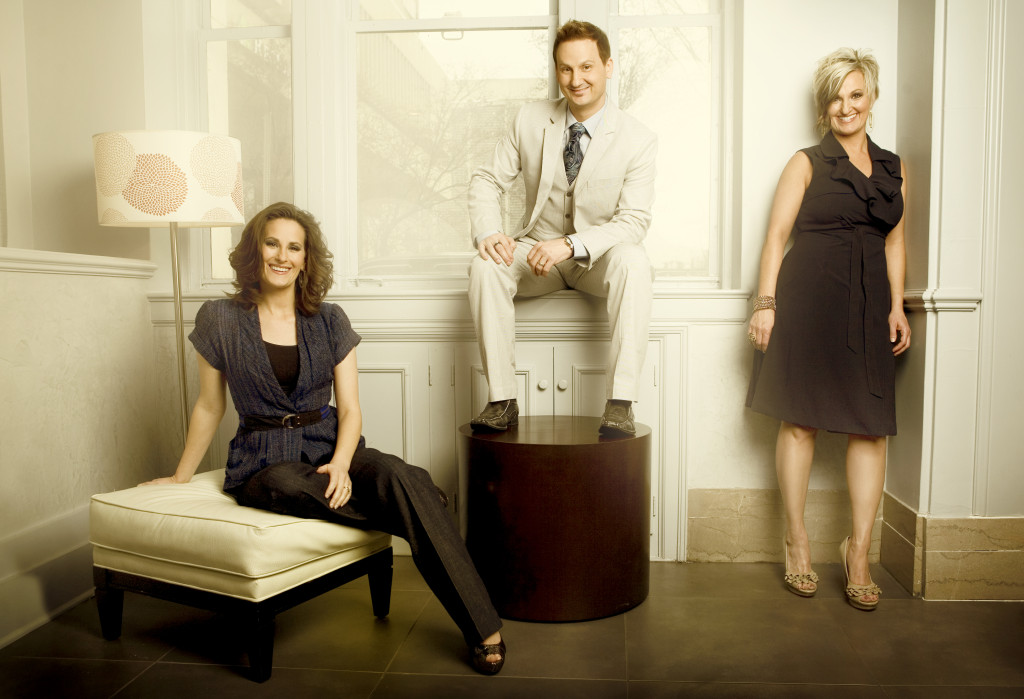 The Martins can attest to absence making the heart grow fonder. The siblings are currently more
active than they've been since the group returned to the Southern Gospel Music scene and during their
four-year absence from 2002-2006, they may have learned more about ministering to people than they
knew before their hiatus.
"It meant more when we came back," Joyce Martin Sanders said. "It was renewed and refreshed.
We realized how much we missed it."
The group has considerably more concert appearances than it has since its return, and its fan base
has welcomed the trio back with open arms."It's a natural process in some ways," Judy Martin Hess
said. "By the time we were starting to get back on the road, some people were just realizing we were
off the road. Getting that big wheel turning again has just taken time."
Sanders added, "It was scary. We didn't know people would care. We knew the joy in our hearts,
of what God had done in our family … it was something we wanted to sing about, but we didn't know
people would care. It's been refreshing. We feel like it has encouraged people."
Those blessings came about after what the group members call a successful step back."I found
myself for the first 10 months working with my in-laws, preparing rental properties in the Des Moines
(Iowa) area," Jonathan Martin said. "It was somewhat depressing. I began to look at the families living in those homes. When I left there, their refrigerator worked, but they really just needed somebody to come in and smile and say, 'I'm so sorry it broke.' You realize they're going to eat a warm meal tonight, because we fixed those things up. I realized that God was smiling on me, because I hadn't sung a note. I realized that God didn't love me because I sang with my sisters."
Sanders can relate to her brother's revelation."I found out personally how much I depended on what
I did for a living and my ministry to be my Christianity," Sanders said. "I had to find a way to love God and please God without having that in my life."
The layoff had its benefit from a performance standpoint as well."The biggest thing for me looking
back, for me, it helped me to find confidence as a singer, as a performer and as an individual too," Hess said. "I mainly viewed myself as the harmony singer and a back-up singer. Us coming off the road kind of forced my hand. Joyce already had that. For Jonathan and I both, it made us stronger individually, which made us stronger as a group."
Both Hess and Martin made solo appearances during the group's time off of the road. The siblings have considerable distance between them now though as Hess resides in Columbus, Ga., with her five
children. Sanders has two children and lives in Nashville, Tenn., and Martin resides in Des Moines
with his wife and six children.
"It's like a family reunion every night," Sanders said. "The travel is difficult. Jonathan's wife (Dara) takes care of our travel arrangements."The moms and dads who stay at home with kids are unsung
heroes, as are the extended family members. God called us to do it, and He called our spouses and the
people who surround our children to do that also." Hess added, "Thankfully, we have families who are like that."
Despite their understanding and willingness, that doesn't make leaving home in order to go perform
easy at times. "For the most part, my children never cry and say, 'please don't leave,'" Martin said.
"(Recently), my seven-year-old (Emilia) said, 'I don't want to let go' (before he was leaving for a
concert appearance the next morning). That's hard. Yet, she never cried. I said, 'I have to go. I have to pack.' She went to bed, and she was fine."But it lets you realize that it's hard on them. It makes it hard on me."
Sanders added, "We are conscious of the need for family time."
While the group is enjoying what it is experiencing in the present, they also are quick to highlight
some memorable moments from years past."The most surreal moment was when we sang at the Billy
Graham Crusade," Sanders said. "It was in Nashville, but we sang one with Vestal (Goodman). You
see it on television your entire life, but it wasn't the part of me singing there. It was being a part of that program and seeing with my own eyes people coming to the altar. That's still one of the most amazing moments of my life."
Martin added, "The first (memorable moment) would be those first few years in the Gaither thing, to
have such surreal moments of realizing who you were singing with on a nightly basis. The second one
is the period of time we've had the last three or four years back on the road. The family relationship and singing relationship is better than it's ever been."
The group performs at almost all of the Gaither-affiliated events, and Brian Hudson of Showcase
Management is responsible for the group's calendar being increasingly occupied. The Martins will
make more than 50 appearances this year, the most since its return to the scene.
"We depend on him (Hudson) so much," Sanders said. "He has beautifully seized the opportunities
that God has placed in front of us." Read more »
Tags:
Count Your Blessings
,
Craig Harris
,
Faith
,
gaither
,
jonathan martin
,
Lari Goss
,
Michael English
,
southern gospel
,
Southern Gospel News
,
The Martins
Posted in
artists
,
exclusive report
,
sgn scoops magazine
,
special feature
|
Comments Off

on Martins Storm Back On To The Scene By Craig Harris
Written by SGN Scoops on September 7, 2012 – 5:53 am -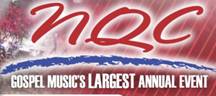 Louisville, KY
– The 55th Annual National Quartet Convention officially kicks off on Sunday evening in Louisville at the Kentucky Fair & Expo Center. The event is expected to bring more than 40,000 people to the city for Southern Gospel Music's largest event. A Sunday evening concert serves as the official kick-off for the week, as The Hoppers, The Booth Brothers and Greater Vision will be featured in a 6:00pm concert in East Hall.
This year's Convention, which runs from September 9 through 15, features the best recording artists in the world of traditional, harmony-oriented Southern Gospel Music. This year over 500 exhibitors will be on display in an exposition spanning 175,000 square feet on the grounds of the KFEC.
Throughout the week-long event, attendees will enjoy great music from early morning through late night. One of the many highlights of this year's Convention will include the return of the Male Quartet Night on Wednesday evening. Over the years the National Quartet Convention has grown to encompasses duets, trios, quartets and even choirs; however, the Convention returns to its roots on Wednesday evening when the evening line-up in Freedom Hall will feature the four-part harmony of many of Gospel music's most prominent quartets.
On Wednesday, multi-award winning recording artist Marty Raybon and Full Circle will headline the bluegrass Gospel music that will be featured during the Bluegrass Pickin Jamboree. Legendary singer/songwriter and multi-Grammy winning recording artist, Bill Gaither will appear on the stage in Freedom Hall multiple times throughout the week, as he will again host the Gaither Vocal Band Reunion, reuniting members of his multi-award winning vocal group, honoring the group's 30-year history. Present Gaither Vocal Band members will also take to the stage in Freedom Hall on Friday during the evening program. Gaither will also host the Friday afternoon Sing-Along, featuring a 100-voice plus choir of Gospel music legends and popular newcomers. On Saturday afternoon, multiple grand pianos will fill the stage in Freedom Hall during the Parade of Pianos Showcase featuring Gospel Music's favorite pianists, performing individually and together. Also on Saturday, several of the most popular Christian artists will pay tribute to one of the industry's greatest producers, Lari Goss, as they celebrate the Man Behind The Music.
In addition to the great music featured during daily and evening concerts, the event will also feature prominent keynote speakers, including Dr David Jeremiah, who will be featured on Friday morning in the East Hall of the KFEC.
Seats for all Showcases and evening concerts are available by calling
800-846-8499
and will also be available beginning Sunday in the North Wing Lobby of the Kenturcky Fair & Expo Center. A complete schedule of events set to take place during the 2012 National Quartet Convention, including performers and speakers scheduled to appear, may be obtained online at
www.nqconline.com
.
Tags:
booth brothers
,
David Jeremiah
,
Greater Vision
,
hoppers
,
kentucky expo center
,
Lari Goss
,
lousiville
,
national Quartet Convention
,
southern gospel concerts
,
Southern Gospel Music
,
Southern Gospel News
,
Southern Gospel Quartets
Posted in
announcements
|
Comments Off

on NATIONAL QUARTET CONVENTION KICKS OFF SUNDAY IN LOUISVILLE
Written by SGN Scoops Staff on August 8, 2012 – 9:10 pm -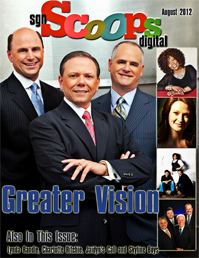 We're serving up another sizzling hot summer issue! This packed August edition unveils the list of the 2012 Diamond Awards Nominees! Also this month, Lorraine Walker, Sandi Duncan Clark, Jennifer Campbell, Charlie Sexton and Laura Kennedy presents the latest happenings in the ministries of Greater Vision, Charlotte Ritchie, Lynda Randle, The Skyline Boys, Jeff Steele and Jaidyn's Call. Look behind the music with Rob Estep as he talks with Ben Storie, and focus on the young with Victoria Shirey as she shines the spotlight on Rebecca Reynolds. Don't miss Rob Patz' Publisher's Point and enjoy a Media Minute with him along with Sylvia Green. Charlie Sexton covers the Lari Goss Celebration and Rhonda Frye catches up with Union Street, Roy Webb and Bruce Taliaferro on the road. Lou Wills Hildreth shares legendary memories, John Mathis Jr. offers a word of encouragement and Laurrette Willis' reminds us to eat healthy! Jeff Hawes shares memories from his home town, and special guest writer, AJ RINALDI offers post-trauma faith sharing tips. We also share our excitement regarding 2 major upcoming events: The National Quartet Convention and Creekside Gospel Music Convention! See what songs are topping the charts and who is releasing new music in this all-digital, all free August Edition! And… Share with your friends!
Download The Magazine Here
Tags:
AJ RINALDI
,
Ben Storie
,
Bruce Taliaferro
,
Charlie Sexton
,
Charlotte Ritchie
,
Greater Vision
,
Jaidyns Call
,
jeff hawes
,
Jeff Steele
,
Jennifer Campbell
,
Lari Goss
,
Lorraine Walker
,
Lou Wills Hildreth
,
LYNDA RANDLE
,
national Quartet Convention
,
Rebecca Reynolds
,
Rob Estep
,
rob patz
,
roy webb
,
Sandi Duncan Clark
,
Sylvia Green
,
The Skyline Boys
,
Union Street
,
Victoria Shirey
Posted in
announcements
,
sgn scoops magazine
|
Comments Off

on August 2012 SGNScoops Magazine