Written by Staff on August 6, 2020 – 6:28 am -
Songwriters Lee Black, Jason Cox, and John Darin Rowsey Honored
NASHVILLE, TN (AUGUST 3, 2020) — Daywind Music Publishing is celebrating its songwriters, Lee Black, Jason Cox, and John Darin Rowsey, who were recognized for writing on some of the  most performed songs in Christian music last year. BMI, one of the largest performing rights organizations which collect royalties from radio, television, and other performances, honored the three writers at the 2020 BMI Christian Awards celebration, announced online this year on BMI.com.
To honor the achievements of these Christian songwriters and more, BMI created a webpage where fans could watch special video messages and performances, listen to award-winning music, and learn more about their favorite songwriters.
Daywind Music Publishing's catalog, Christian Taylor Music, and its exclusive songwriters Lee Black, Jason Cox, and John Darin Rowsey, were among those honored by BMI for some of Christian music's top played songs on radio. Lee Black co-wrote "Sun's Gonna Come Up." Performed by the LeFevre Quartet, the song hit #1 on the Singing News Southern Gospel l radio chart in November, 2018. Jason Cox co-wrote "Even Me," performed by Triumphant Quartet, which reached the top of the Singing News chart in July, 2019. And Rowsey penned "Woke Up This Morning" performed by The Guardians.
Daywind Music Publishing is home to an award-winning roster of writers including Lee Black, Riley Harrison Clark, Jason Cox, Gerald Crabb, Janice Crow, Marty Funderburk, Mike Harland, Joseph Habedank, Devin McGlamery, Tim Lovelace, Karen Peck, John Darin Rowsey, Belinda Smith, Sue Smith, Aaron Wilburn, Diane Wilkinson, Nathan Woodard and Hunter Leath. Daywind Music Publishing is a subsidiary of Daywind Music Group, one of the premier labels in Christian music.
Did you know that you can receive the printed, full-color version of SGNScoops Magazine by subscription? Find out more 
HERE
.
Find SGNScoops Magazine On Facebook 
HERE.
You can download the latest edition of SGNScoops Magazine 
HERE.
Read the latest edition of SGNScoops Magazine online
HERE
.
Listen To Today's Gospel Music
HERE
Tags:
Christian Music
,
Daywind Music Group
,
gospel music
,
Jason Cox
,
John Darin Rowsey
,
Lee Black
,
Southern Gospel Music
Posted in
announcements
,
artists
|
Comments Off

on Daywind Music Publishing Celebrates 2020 BMI Recognition
Written by Staff on January 30, 2020 – 2:57 pm -
Legacy Five Turns 20
At 20 years of age, the teenager becomes a young adult. The brain is still developing, but otherwise, most human beings are physiologically mature by this age. Gospel quartet Legacy Five enters this age of maturity in January 2020 and is fully embracing this by the release of "Pure Love," a dynamic re-awakening of the powerful Legacy Five sound first heard in their unofficial debut at the National Quartet Convention in September 1999. Scott Fowler, at the helm, is deftly guiding his group into their adulthood, with Josh Townsend, Matt Fouch, and newcomers Lee Black and Bryan Walker.
Who Fowler is now, is the result of God working in his life, bringing him into contact with Roger Bennett to form Legacy Five, and prior to that, leading him into ministry with the Cathedrals to sing with Bennett, Ernie Haase, and legends Glen Payne and George Younce. It was the Cathedrals that ignited Fowler's desire to sing. From that time to this, God has been fulfilling Fowler's dreams in a way even he could not imagine.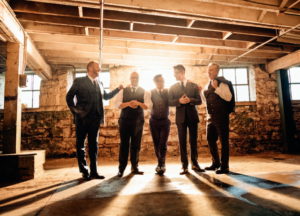 "I have been blessed to sing in a lot of amazing places in my 31 years (of professional gospel singing)," says Fowler. "I've sung at many of the churches in America that people would say are important to sing at. We have had United States Congressman and Senators in our audience over the course of 20 years. I have personally sung at a Billy Graham Crusade, in Cleveland, Ohio, where 70,000 people were packed in the Cleveland stadium."
Fowler relates a particularly poignant memory, "Legacy Five saying on the (Ground Zero) Observation Platform, the day it was dedicated in New York City, just weeks after 911. There was still smoke rising from the site and we stood on the Observation Platform (as) it was dedicated by Rudy Giuliani and we sang the national anthem." 
With all of these remarkable experiences, certain blessings stand out to the owner of Legacy Five.
"I had a husband and wife approach me in the lobby and tell me that they had been married for 46 years, and that they had decided to separate and dissolve their marriage," Fowler recalls. "She and he both informed me that evening, with tears in their eyes, that after being at our concert, they had decided not to do that and were going to get the help that they needed in their marriage. And what I love about the gospel is, whether it is presented in music or any other package, we didn't sing one song or say one word that night about how God can restore marriages. And yet he somehow was able to convey that message to that couple that night. And the amazing thing is, that he was able to convey a totally different message, concerning a totally different need, to two totally different people the same night. I love hearing those individual stories from people about what God does for them through our music."
God has worked through Legacy Five many times to change hearts.
"I think about the young lady a few years ago who came to us after the concert, weeping, saying that her life was a mess and that she had decided to take her life this very week," Fowler recalls. "But after being at our concert and hearing the message, she was given a new sense of hope."
Reminiscences over the life of Legacy Five would not be complete without talking about the group's co-founder Roger Bennett, who passed away March 17, 2007.
"I feel like I learned a lot from Roger," says Fowler. "A couple of things that I learned from him were, how possible it was to have a great attitude in the midst of great distress and difficulty.  Roger endured three bone marrow transplants and countless chemotherapy treatments, and I can probably count on one hand the number of days that I feel like he was living defeated that day. He was extraordinarily resilient and optimistic and positive and happy and joyful. He was always, always, always laughing."
"He taught me to be honest and transparent with myself and others.  He was a remarkable man. He was my best friend. And I still miss him fiercely," declares Fowler.
Frank Seamans was the tenor with the quartet when Bennett passed. He shares a great memory from this pivotal moment in the history of Legacy Five.
"When we lost Roger Bennett to cancer in 2007, we had no idea how to move forward," Seamans shares. "We were simply trusting God to help us and he certainly did. The first concert date after Roger's death was quite a challenge. How do we start? What do we say? What do we sing? How do we address our loss on stage? These were all questions we couldn't answer, but we prayed before going out and just asked God to lead us. We didn't have a plan, but we decided to sing three of our standards without saying a word and then see where God takes it from there. As we sang those first three songs, we noticed an adorable and very exuberant couple in their late 80's, sitting in the first row, clapping and singing along with every word. They were such an encouragement to us with their enthusiasm and sweet disposition. We stopped after those three songs and addressed the gentleman: 'Thank you so much for your enthusiasm, sir. You are such a blessing to us tonight. How many years have you two been married?' 
"'He grinned and answered, 'We're not married, we're on a date.' The whole place erupted in laughter, and the rest of the concert was so light and fun, we never had to think about any of those questions," Seamans concludes. "God knew exactly what we needed that night and we believe He placed that little couple on the front row just for us."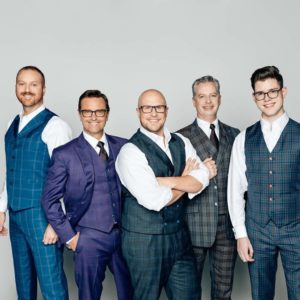 Laughter is something everyone needs and Fowler and his group often deliver that during their performance. Tim Parton learned this during his time as pianist for the quartet.
"Scott Fowler taught me about having fun on stage, and when I have fun, the audience can too," says Parton. "Scott also taught me that nothing happens by accident; you only see results when you've planned for results. Scott is a machine, but you'd never know it because he makes it look like he's just having a good time."
"Be who you are, there's an audience for almost everyone," Parton continues. "Enjoy the journey, support your friends, love people, love God. Fall, get back up. And forgive. "
"I had a super time with L5 and I don't think I ever laughed so hard than when I was on stage with them and Scott Howard forgot his words and made up an entire verse without skipping a beat," laughs Parton. "I couldn't see the piano keys for the tears."
As Parton recalls, the gang was full of hijinks, and even the boss wasn't exempt from the jokes.
"I recall hiding in Fowler's closet after a concert and waiting until he changed clothes to scare the daylights out of him," says Parton. "But one never does anything to Scott without him returning the favor, so I kept the shenanigans to a respectful level."
Parton concludes his recollections with this comment: "Being with L5 was such a super time  in my professional life when all heck was falling apart at home. So grateful for Scott, Glenn Dustin, Scott Howard, Frank Seamans, and Gary Buckner. We were Legacy Five."
Tags:
Bryan Walker
,
Josh Townsend
,
Lee Black
,
legacy five
,
Matt Fouch
,
Scott Fowler
Posted in
Christian interest
,
sgn scoops magazine
|
Comments Off

on Legacy Five: "What Kind Of Man" is Scott Fowler?
Written by Staff on July 27, 2019 – 5:26 am -
Lee Black of Legacy Five has just mourned the loss of his father. Now he is also grieving the loss of his mother.
Lee posted this last night on his Facebook page:
Grieving in a social media world is weird; and I always find it a little awkward when people post the fresh, raw stuff. And, yet, here I go… mainly because I want to honor two great people. I lost my father less than a month ago. And last night my mother also completed her earthly journey. Both of them… gone within a month of each other. I am at once heartbroken and grateful that her battle with this horrible disease of dementia is over. It was clear several days ago that Mama's time here was coming to close, but I made the decision to keep my obligations this weekend with the thought, "This is what she and daddy would've wanted." I'm grateful to the L5 guys for support as the tears have spilled over several times.
Today I have felt the tether of this world a little looser. And I have read the beautiful words of Ecclesiastes 12 several times: "Remember your creator in the days of your youth, before the days of trouble come… remember Him before the silver cord is severed, and the golden bowl is broken, before the pitcher is shattered at the spring, and the wheel is broken at the well, and the dust returns to the ground it came from, and the spirit returns to God who gave it." I'm grateful they did remember their Creator. And then they remembered Him to five kids who remembered Him to their kids who are now remembering Him to their kids! What a legacy! I'm proud to have been Nell and Pete's boy. I love you both and miss you terribly.
Please pray for Lee Black and his family as they grieve.
Tags:
Christian
,
Gospel
,
Grief
,
Lee Black
,
legacy five
Posted in
announcements
,
artists
|
Comments Off

on Pray for Lee Black of Legacy Five
Written by Staff on January 10, 2017 – 1:21 pm -
Hendersonville, TN – Daywind Music Publishing has added songwriter Janice Crow to its ever-growing family of award-winning talent.
A regular attendee of Sue Smith's Write About Jesus conference, Janice Crow burst onto the scene approximately six years ago when she won the writing competition that led to a variety of open doors within the songwriting community.  Those opportunities included song pitches to prominent music publishers, as well as co-writes with some of the leading writers in the genre.  A writing session with Lee Black and Sue Smith led to the creation of a choral anthem entitled "The Name," as well as the song "Amazing God," that would go unrecorded for several years.  In 2015, the song found a home with Triumphant Quartet, who took it to #1 on the Singing News Chart, and was awarded Song of the Year by the Singing News Fan Awards.  With her increasing momentum, Janice was a natural fit into the Daywind roster of exclusive staff writers.  To bring the story full circle, she signed her contract with Daywind Music Publishing during Write About Jesus, exactly six years after she won the songwriting contest.
"Janice Crow has a natural talent for writing a unique idea set to a commercial tune, and her persistence in developing that talent into a craft is most impressive," shares Rick Shelton, VP of Daywind Publishing.  "We are so excited to commit our service to Janice and her songs as she joins our publishing family."
In addition to Janice Crow, Daywind Music Publishing has signed songwriting agreements with a number of talented writers this year, including Lee Black, Tim Lovelace, Devin McGlamery and Brandon Sharp.  Award-winning writers Dianne Wilkinson, Sue C. Smith, John Rowsey and Belinda Smith have all extended their relationship with DMP.
Daywind Music Publishing services an impressive roster of acclaimed songwriters including Lee Black, Matthew Browder, Jason Clark, Jason Cox, Janice Crow, Aaron and Amanda Crabb, Adam Crabb, Gerald Crabb, Chris Cron, Ricky Free, Marty Funderburk, Karen Peck Gooch, Joseph Habedank, Tim Lovelace, Devin McGlamery, Kyla Rowland, John Darin Rowsey, Brandon Sharp, Belinda Smith, Sue C. Smith, Aaron Wilburn and Dianne Wilkinson.
For more information, visit Daywind on Facebook or by email.
For more Gospel music news click here.
Tags:
daywind
,
Daywind Music Publishing
,
Devin McGlamery
,
Janice Crow
,
Lee Black
,
Tim Lovelace
Posted in
announcements
,
artists
|
Comments Off

on Daywind Music Publishing Continues To Expand Roster
Written by SGN Scoops Staff on February 4, 2016 – 8:42 am -
Hendersonville, TN  – Daywind Music Publishing is proud to announce the addition of Lee Black to its growing family of songwriters.  With cuts by groups such as Brian Free & Assurance, the Talleys, the Freemans, Wilburn & Wilburn, among others, and numerous Dove, Singing News and BMI Awards and nominations, Lee Black consistently produces top-notch music and has become a widely recognized name in Southern Gospel music today.
Lee Black shares, "To say I am excited to begin writing for Daywind Music Publishing is an understatement. Rick Shelton, Chad Green, Joe Dan Cornett, and this staff of writers are the best in the business; and I am grateful for the opportunity to join their team. Most folks probably don't remember that I wrote for DMP back in the late '90s. So in a way, this feels like coming back home. I am beyond thrilled to be a part of the Daywind family again and looking forward to the days ahead!"
"Lee Black and Daywind Publishing have enjoyed an informal relationship for many years that has produced really wonderful results," adds Rick Shelton, VP of Daywind Publishing. "His songwriting ability is renowned amoung his peers, esteemed by the artists and appreciated by the fans. We are honored to deepen our commitment to support Lee's talent and we could not be more thrilled that he has chosen to officially join the Daywind family."
Daywind Music Publishing services an impressive roster of acclaimed songwriters including Jason Cox, Gerald Crabb, Chris Cron, Michael Fordinal, Ricky Free, Marty Funderburk, Joseph Habedank, Scott Inman, Justin Kintzel, Aaron Rice, Kyla Rowland, John Darin Rowsey, Belinda Smith, Brandon Sharp, Sue Smith, Sam Tinnesz, Aaron Wilburn and Dianne Wilkinson.
For more information, visit facebook.com/daywindpublishing or info@daywindpublishing.com.
Tags:
Lee Black
,
Southern Gospel News
Posted in
announcements
|
Comments Off

on Lee Black Signs With Daywind Music Publishing
Written by SGN Scoops Staff on October 9, 2014 – 8:34 am -
Nashville, TN (October 9, 2014) – Powerhouse Christian music artist, Mercy's Well, was the featured group this past weekend on the highly-acclaimed syndicated Gospel music radio show, The Gospel Greats.
Gospel Greats radio host, Paul Heil, interviewed the group and featured many new songs from their brand new album entitled TODAY.  Heil included the title cut of the new album, "Today," written by the album's producer Donna King. He went on to feature several more, including a song that is being noted as a potential classic in the Southern Gospel music genre, "Trade This Valley For A Mountain." That song was written by award-winning songwriter, Wayne Haun, along with the talented Lyn Rowell.
The debut single from the record, "I Wanna Hear The Gospel," written by outstanding writers, Lee Black and Gina Boe, arrived at Christian radio nationwide about 3 weeks ago and it's taking off with record speed.
Brad Strider of Mercy's Well expresses, "We couldn't be more thrilled with what God is doing in our ministry and through this new music.  This album has been a long time in the making.  We hadn't released a mainline project in several years. With that, we really took our time and put a lot of prayer into the decisions on each and every song.  While we love to have chart-topping songs, like "More Like Jesus, Less Like Me," from our last album, our focus remains on what these songs do to minister to the hearts of people who hear them, either in person or on awesome radio shows like the Gospel Greats."
The new album is available digitally on iTunes and other digital download sites.  It is also available for purchase on Mercy's Well's website, 
mercyswell.com
, or, at
Springside.com
. NOTE: In celebration of the recent featured artist show, you can order the album on Springside at 20% off for a limited time.
Tags:
Lee Black
,
mercy's well
,
Paul Heil
,
Southern Gospel Music
,
Southern Gospel News
,
The Gospel Greats
Posted in
announcements
|
Comments Off

on Mercy's Well Featured On The Gospel Greats
Written by SGN Scoops Staff on July 30, 2014 – 8:35 am -
Mercy's Bridge Releases their much anticipated debut full length album. With 12 songs by writers such as Ricky Free, Gerald Crabb, Lee Black, Ben Storie and more.. This album takes you on a musical journey that deals with love, loss, overcoming and the beauty that awaits us in heaven.  The album is available on ITunes, Google Play, rdio and online at www.mercysbridgetrio.net
Tags:
Ben Storie
,
gerald crabb
,
Lee Black
,
Mercy's Bridge
,
Ricky Free
,
Southern Gospel Music
,
Southern Gospel News
Posted in
announcements
|
Comments Off

on New Music From Mercy's Bridge
Written by SGN Scoops on February 3, 2014 – 7:12 am -
HIXSON, Tenn. (Jan. 31, 2014) – Dynamic vocal trio the Pelfreys have released their first single, entitled "Glorious," to Southern Gospel radio. It's the group's first release since they reformed following Jerry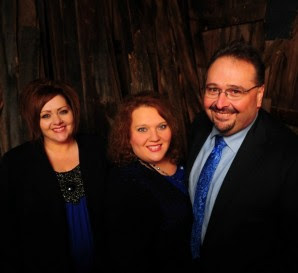 Pelfrey's departure from the award-winning Gold City quartet in October. Pelfrey was featured on Gold City's hit single "Lord of Life," which reached the No. 2 position on the Singing News Magazine Top-80 Chart in November of 2012.
"Glorious" is an up-beat, high-energy single that was produced by David Staton and written by Staton, Kenna West and Lee Black. "Glorious" is the first release from the Pelfreys' upcoming project, "Who Is Jesus To You?"
"We just want people to catch on to the fact of who Jesus is," Jerry Pelfrey – the group's manager – explained. "There was a huge fad of What What Would Jesus Do over the past few years. Our question is, how are you going to know what He would do unless you know who He is? We want this song to point people to Him and to get to know Him more."
The Pelfreys are comprised of lead singer Jerry Pelfrey, Jerry's wife and alto singer Mikki Johnson Pelfrey and Jerry's sister and soprano singer Kim Pelfrey VanHoozier.
Positive responses are already flooding in regarding "Glorious." "It sounds awesome," Randy Catoe – the general manager of WSTS 100.9 The Cross in Fairmont N.C. – emphasized. "I love the fact that the song is God-glorifying and Christ-exalting." WSTS 100.9 The Cross on-air personality Brandon "Monk" Boone added, "I absolutely love the song. The harmonies are incredibly tight with a complex arrangement. It is a spot-on radio single if I've ever heard one. If I turn that on, I'm locking in. It uplifts and honors God."
Staton is producing "Who Is Jesus To You?" It is targeted for a spring release. "Glorious" was sent to all Southern Gospel-charting radio stations in January. It is on Staton's RPM Compilation, Volume 1. "This song fulfills our mission," Jerry Pelfrey pointed out. "It reminds us that He is our Glorious Risen Savior and Victorious Mighty King."
The Pelfreys have performed with the same vocal configuration that the group had when the trio last toured together, in 2008.
For more information on the distribution of the "Glorious," Staton can be contacted by e-mailing davidstationmusic@gmail.com or by visiting www.davidstaton.com.
For more information on the Pelfreys, for information in regard to the release of the single or for booking information, visit the group's web site at www.thepelfreysonline.com or e-mail jerrywpelfrey@yahoo.com.
Tags:
Glorious
,
Jerry Pelfrey
,
Kenna West
,
Kim Pelfrey Van Hoozier
,
Lee Black
,
Mikki Johnson Pelfrey
,
Southern Gospel News
,
The Pelfreys
,
WSTS
Posted in
announcements
|
Comments Off

on The Pelfreys Distribute Debut Single, "Glorious," To Radio
Written by SGN Scoops Staff on October 20, 2013 – 4:07 pm -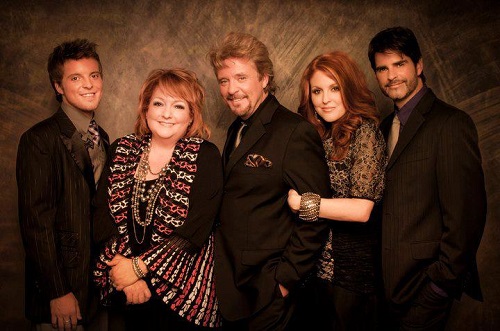 Nashville, TN Renowned family group, the Freemans, have come to an agreement with AG Publicity to assist them in the promotion of their new CD 'Voice In The Desert' as well as representing them as an important voice in the world of Gospel music.
Pamela Unthank of AG Publicity stated "When I heard them sing 'Voice In the Desert' at the AGM Awards Celebration I not only loved the song, but loved the conviction in Chris' presentation. I am thrilled to have the opportunity to work in helping to promote a group and a CD that has personally touched me."
"Voice In The Desert", written by Kenna West, Lee Black and Jason Cox, is not only the title song, but the first single from the project. Writer Kenna West said "I have been a fan of The Freemans for many years, so to hear them sing 'Voice In The Desert' is such a thrill." West continued "I recently heard them sing it live, and the powerhouse vocals of Chris were absolutely explosive. Everyone in the building was on their feet."
This project has some great new songs as well as a couple of classics in the old Imperials tune "Water Grave", sang by the youngsters Caylon "Cage" Freeman and Misty Freeman Callaway and "John The Revelator" performed by the Queen of Gospel Music herself, Chris Freeman.
Darrell Freeman commented "We have known the Unthanks many years and are confident they will work exceptionally hard to make sure Gospel music fans will know what is happening with the Freemans"
The Freemans are an exciting Gospel group made up of family members Chris and Darrell Freeman, son Caylon and daughter Misty. as well as Darrell's cousin Joe Freeman. Their close family harmony and emotional presentations bring them new fans everywhere they sing.
Tags:
Kenna West
,
Lee Black
,
Southern Gospel Music
,
Southern Gospel News
,
the freemans
Posted in
announcements
|
Comments Off

on Freemans Enter Agreement With AG Publicity
Written by SGN Scoops on October 1, 2013 – 12:12 pm -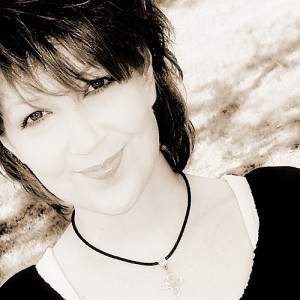 Nashville, TN (October 1, 2013) Award winning singer/songwriter Kenna Turner West, five-time Dove Award nominee and three-time SGM/AGM songwriter of the year has signed with an agreement with AG Publicity. Kenna is nominated for 2 Doves this year for the song "I'm Learning" by Aaron and Amanda Crabb, which was co-written with Lee Black and Michael Fordinal. It has been nominated in two categories, Song of the Year and Country Song.
Deon Unthank, AG Publicity President said "A songwriter with Kenna's abilities only comes around every decade or so. I am excited to represent a songwriter of her caliber."
Kenna was also a co-writer of the current hit single, "Revival", by Karen Peck and New River along with writers, Karen Peck Gooch and Don Polythress.
Karen Peck Gooch said of Kenna's songwriting, "She just seemed to know exactly what I wanted to convey in this song even before I could clearly articulate it myself. She was able to pick up on the style of music I had in my heart and help me to put the thoughts on paper in the perfect flow."
Kenna stated "This is a very exciting time for us. Our ministry is continuing to grow, in part because of the visibility that the songs have brought to the other aspects of what we do. I am thrilled to have AG Publicity helping us get the word out about all that God is doing, both in and through us."
To learn more about the ministry of Kenna Turner West or to book an event, visit her website www.KennaTurnerWest.com or https://www.facebook.com/kenna.t.west .
You can reach Kenna by e-mail at booking@westhouseonline.com .
Tags:
Aaron and Amanda Crabb
,
Don Polythress
,
Dove Awards
,
karen peck and new river
,
Kenna Turner West
,
Lee Black
,
Southern Gospel News
Posted in
announcements
|
Comments Off

on Kenna Turner West Signs Agreement With AG Publicity