Written by Staff on September 19, 2019 – 9:39 am -
Sevierville, Tenn. – JP Miller is celebrating his 20th year in the Southern Gospel music industry this year. JP shared, "Delight in the Lord and He will give you the desires of your heart. (Psalm 37:4) That verse is my life song, and I'm so thankful that I've been given the privilege of singing His praises and working in an industry with such a rich heritage. My prayer is that I'll be able to continue doing so until I take my final breath, honoring the Lord every step of the way."
It all began 20 years ago when a young college graduate left his hometown of Clarksburg, West Virginia, said goodbye to his family and moved to Pigeon Forge, Tennessee to work at the Southern Gospel Music Association (SGMA) Hall of Fame and Museum. JP Miller plunged head-first into the world of Southern Gospel music and all of the wonders it held.
His dear friend and mentor, Lou Wills Hildreth welcomed him into the world of television when she asked him to host the Inside Gospel show on the Gospel Music Television network. JP is one of the rare individuals who has worked in both the artist and industry side of the music industry, supporting the preservation of Southern Gospel music history and promoting its future. His music career began with a successful trio called First Love out of Nashville, Tennessee. In 2007, he launched his solo ministry. Still heavily involved in the SGMA, JP stays busy with his solo concert tour schedule and emcees events and conferences for various industry events. Through it all, his desire is to use his time and talents for the glory of God.
For the last eight years, JP has traveled the United States and overseas, singing and sharing his passion for the Lord and hosting his weekly radio/television show, the Smoky Mountain Gospel Jubilee (www.smokymountaingospeljubilee.com). His new album will be released in a concert on October 7, 2019 at the Ogle Furniture Outlet in Sevierville, TN at 6:00pm. Mixed and mastered by Arthur Rice of the Kingdom Heirs, the album is called Something Old, Something New, and has favorites that span the decades on it. Arthur shared, "It was great fun going back and revisiting some of the great songs we've done together through the years!"
Learn more about JP Miller Ministries at:  www.jpmillerministries.com and be sure to like his Facebook page @jpmillerministries to learn Southern Gospel news you'll want to be a part of. 
For more Gospel music features, read the latest SGNScoops Magazine HERE.
Download SGNScoops Magazine In PDF 
Here
Find SGNScoops Magazine On Facebook 
Here
Listen To Todays Gospel Music Here
Tags:
gospel music
,
JP Miller
,
Lou Hildreth
,
Southern Gospel Music
Posted in
announcements
,
artists
|
Comments Off

on JP MILLER CELEBRATES 20 YEARS IN GOSPEL MUSIC
Written by Staff on February 28, 2019 – 12:59 pm -
Mt. Pleasant, TX (February 28, 2019) – Heaven received another incredible saint this morning. Lou Wills Hildreth is now in the arms of Jesus, just two months and two days after the love of her life, Howard Hildreth passed away. Howard and Lou celebrated 72 years of marriage last November. Lou lived a dynamic life serving the Lord faithfully in the southern gospel music industry and her family was gathered by her side as she was ushered into heaven.
Lou Wills was born on July 13, 1928. She began her career at a very young age, singing with her father and siblings in The Wills Family. In 1946, while attending college, Lou worked as a cashier at a theater. Howard happened to have just returned from serving in the military and resumed his position as Assistant Manager. It was love at first sight, and they were married less than a year later. Lou's contribution to the Southern Gospel music industry were immeasurable. If she wasn't singing or writing music, she was hosting a television show or appearing in a Gaither Homecoming video. She was the first woman to own and operate a talent agency, booking artist such as Mark Lowry, The Hemphills, Gary McSpadden and many other well-known artists. She was co-owner of Sword and Shield Recording and Publishing Company. Her hall of fame inductions and recognition on earth are plentiful, but none of them compare to the rewards she is receiving in heaven. Her kindness was overwhelming and her intelligence and business ethic were a direct reflection of her commitment to serve the Lord with integrity.
JP Miller shared, "Lou Hildreth was my mentor. She was such an inspiration, a pioneer in the industry and the epitome of professionalism. She was the same person on stage when we were co-hosting television together as she was sitting across the table from me, giving me wise advice and Godly wisdom that I rely on even now. She will be sorely missed by her family and friends all over the world, but we have no doubt that she is right where she longed to be, sitting at the feet of Jesus and reunited with her biggest supporter, Howard."
Lou was preceded in death by her husband, Howard and is survived by their children, David Hildreth, MD (Terri) and Kathryn Mumaw (Michael); and four grandchildren, Phillip White, Patrick Hildreth, Sean Hildreth and Megan Hildreth.
The family is in the process of making arrangements for her celebration of life service, which will be announced soon.
Lou and Howard were an incredible team in the southern gospel music industry and will be remembered fondly by all who were blessed to know them. Well done, good and faithful servants… well done!
Media contact: Marcie Gray – (865) 804-8200
publicity@marciegmanagement.com
Industry Professional Contact:
JP Miller (Appointed Industry Representative by Family) – (865) 654-7878
Insidegospel1@msn.com
Tags:
gospel music
,
JP Miller
,
Lou Hildreth
Posted in
announcements
,
artists
|
Comments Off

on JP Miller: INDUSTRY PIONEER LOU HILDRETH PASSES AWAY
Written by Staff on February 28, 2019 – 9:18 am -
SGNScoops has learned of the passing of Lou Wills Hildreth this morning. She joined her beloved husband Howard, who passed in December.
Lou was a friend to many of us at SGNScoops, and wrote regularly for the magazine up until a short time ago. She was a legend in gospel music, and known by many in other types of music.
Lou was inducted into the SGMA Hall of Fame in 2007. She was a member of the famous Wills family who sang for many years and brought gospel music into many different areas. Lou was also known for promoting concerts as well as many artists. She hosted several gospel music programs with JP Miller for many years.
Many people recognized Lou by her signature red curls, her big wide smile, and her sparkling eyes. I recognized her by her genuine love for people. She cared about those she met, and was encouraging to all.
Our prayers and sympathy go to the family of Lou Wills Hildreth. No details of services are known at this time.
Tags:
gospel music
,
JP Miller
,
Lou Hildreth
,
Lou Wills Hildreth
,
Wills Family
Posted in
announcements
,
artists
|
Comments Off

on Pray for the family of Lou Wills Hildreth
Written by SGN Scoops Staff on May 15, 2017 – 8:36 am -
Lou Wills Hildreth is the guest on Gospel Music Today for the week of May 14. Ken and Jean Grady host southern gospel news and concert updates. The Feature Group is The Victory Trio, and Jean reviews new recordings by Nikki Headley and The Joylanders.  An article from Christian Voice magazine is the subject of this week's News Notes. The show features  exclusive concert video of Faith's Journey, recorded by Gospel Music Today's cameras in Springfield, MO, and a visit to the Gospel Music Today Archives for an exclusive video of 4 His Love Quartet, recorded by Gospel Music Today's cameras in Broken Arrow, OK.
The show is on KWHB TV47 in Oklahoma every
Sunday
at
4:30 PM
, and on Roku on FFE TV
Monday
at
8:00 PM
and AllNations TV
Tuesday
and
Wednesday
at
6:30 PM
.. Check local TV schedule for Phenix City, AL, Pontotoc, MS, Beaumont, TX, Tyler, TX. Atlanta, TX, Morrilton, AR, Bruce, MS, and West Plains, MO. The current edition of Gospel Music Today is online now at the Gospel Music Today website, 
http://www.gospelmusictoday.com/
Tags:
Gospel Music Today
,
Lou Hildreth
Posted in
artists
|
Comments Off

on Lou Hildreth On Gospel Music Today
Written by scoopsnews on July 14, 2016 – 5:38 am -
It's Throwback Thursday….
Watch this video back stage at a former Dimond Awards with our precious friend, Lou Hildreth….
Tags:
Lou Hildreth
Posted in
announcements
|
Comments Off

on Throwback Thursday- Lou Wills Hildreth❤️
Written by Staff on April 21, 2015 – 6:03 pm -
By Sheri LaFontaine
We've heard it said that blondes have more fun, but there is a group of gingers that will tell you a very different story. According to a Clairol Color Attitude survey, 71% of redheads think that the word "bold" best describes them, which is 24 points ahead of blonds. This certainly makes sense, being that redheads are known for their fiery passion.
​Just like Little Orphan Annie, Opie Taylor, Lucy, Prince Harry and Reba, our Southern Gospel industry has experienced many carrot-tops in the spotlight. From the ultimate Irish tenor, Larry Ford, to the living legend, Lou Hildreth, no one can deny the talent that comes with those orange locks.
Scientists say that red hair and blue eyes are the rarest combination in the world, which makes Olivia Collingsworth a unique beauty.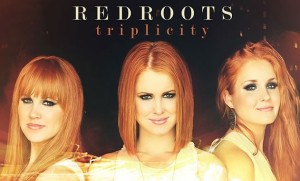 Sheri: Where did your red hair come from?
Olivia: My red hair actually came from my great Grandpa. After I was born my parents could not figure out where it came from, because nobody in our family had red hair except for one of my cousins and she got it from a different side of her family. My parents had only seen black and white photos of my dad's Grandpa, but one day they saw one in color and realized he had red hair. Kinda put two and two together!
Sheri: Do you like it?
Olivia: Since I was little, I never really minded my red hair! I always kinda liked being different than everyone else!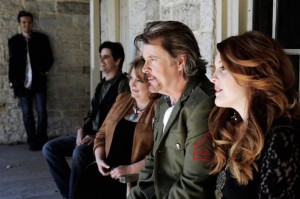 Moving from one baby of a talented family to another. Miss Kennedy Hayes of the Mylon Hayes Family is winning the hearts of audiences across the country. Born on October 31st, she truly is the perfect little pumpkin.
Sheri: What's the best part of having red hair?
Kennedy: The best part about being a redhead is that it is rare! And to have brown eyes is unique, and it's how God made me! Sometimes I wish I didn't have red hair when people ask if I have a temper to go with it.
Sheri: Have you ever been made fun of because of your hair?
Kennedy: Since I am home-schooled, I have never been teased, unless you count my brothers. When I was maybe four years old, we were walking on the beach and a lady asked my mom if she colored my hair! Wow…some people can ask funny questions!
We couldn't possibly write an article like this without speaking to the amazing tenor with the bushy red mustache, Larry Ford.
Sheri: Are you actually Irish?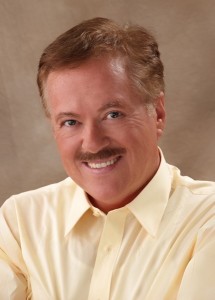 Larry: Yes, I am very Irish. My dad's family is, of course, Fords. My mom's family is Kennedy.
Sheri: Have you ever been to Ireland?
Larry: Our first trip to Ireland was in 1995 and it was really a homecoming for me.
Sheri: Is there a downside to being a true redhead?
Larry: Along with the red hair there's often a tendency to have really white skin that doesn't much like the sun. I've always had a "farmer's tan" and more freckles on my left arm (driving with the window rolled down) than my right arm. One time I was at a church in the Florida Keys. On Saturday the pastor and I went out to snorkel and catch lobster. Always mindful of how easily I burn, I applied Bullfrog sunscreen to my face, neck and arms. We probably spent two or three hours out on the water. Later that afternoon, I felt a burning sensation. The two or three inch strip between where my swim shorts and T-shirt did not meet, was cooked. Also, the backs of my knees were cooked. I couldn't even bend my legs to walk. I was walking stiff legged when I walked into church the next morning. Note to self: ALWAYS take the time to apply sunscreen to every area that might even possibly be exposed to Florida sun. If you don't, it can be extremely painful and dangerous for your skin. However, the lobster was really good.
Next we spoke with the triplets that named their group after the hue of their beautiful hair.
Sheri: So, how do you like having/being Red Roots?
Red Roots: We love being redheads because it makes us different in a lot of ways. We aren't crazy about the sunburns but everything else is all right.
Sheri: Where did you get it from?
Red Roots: We got our red hair from our mom and she said that when she was young, people used to tease her about being red headed by saying a funny phrase. "I'd rather be dead than red on the head."
Poor Momma Red Roots.
Josh Singletary is one of the brightest people in the business today. And I'm not just talking about his hair.
Sheri: What are some of the things you hear a lot from the fans?
Josh: I'm constantly asked if I color it. And the red hair confirms to people that I'm from Ireland, even though they know tons of redheads that live down the street that are as redneck as they come.
Sheri: Any perks that come with having orange hair?
Josh: Well, regardless of the hundreds of folks in line for the ride, my youth director never had any trouble at theme parks, knowing where we were in the line for a roller coaster. And he seemed to ALWAYS know when MY turn on the roller coaster was done!
A true sweetheart in this industry is the beautiful, Misty Freeman.
Sheri: Do you have any Irish in you?
Misty: I'm a mutt so I'm sure there is Irish in there somewhere.
Sheri: So how has life been for you, as a redhead?
Misty: Growing up, it was never popular to have red hair. Only older people thought it was pretty. But as a teenager I started loving it. I felt different but in a good way. My husband jokingly says he married me in spite of my red hair. When our daughter was born I just knew she'd have red hair. It was the first thing I asked the nurse "does she have red hair?" To which she sternly replied, " She's healthy!" She had pretty dark brown hair! Which Bryce was happy about.
Fast forward two years, I'm having my son and never ever thought I'd have a redheaded son. But the first thing I hear is Reba Rambo in the delivery room saying, "look at that red hair!"
They showed him to me and his hair was bright orange and all I could do was giggle!! What a fun surprise. We definitely get a lot of attention with those red curls but we've also had a lot of negative comments too. One man in line with us one day said, "poor little guy having to grow up with that hair". I hope he grows up to love his.
Sheri: Where did you get it from?
Misty: I get it from both sides of the family. My mom had red hair and my dad did when he was a baby. I have aunts and cousins that are redheads too. The older I get the more I love it!
Only 1-2% of the world's population are natural redheads. Although parting the red hair can hardly be compared to parting the Red Sea, it is still a rare and extraordinary miracle of God. Some could call it luck, but I think that Joel Hemphill said it best when he penned the song, "Don't Call Me Lucky, Call Me Blessed."
Tags:
josh singltary
,
Lou Hildreth
,
Misty Freeman
,
Olivia Collingsworth
,
Red heads
,
Red Roots
,
Sheri LaFontaine
,
southern gospel
Posted in
announcements
,
christian entertainment
,
Christian interest
|
Comments Off

on The Luck of the Red Head in Southern Gospel
Written by SGN Scoops Staff on October 11, 2014 – 9:38 am -
The air is cooler and the leaves are changing color, so it's a great time to fall into a new issue of SGN Scoops. This month we have lots of great reading for you!
There are only a few days left before we enter Pigeon Forge Tennessee to begin the 2014 edition of Creekside Gospel Music Convention. We can't wait to see all of you and hear all of the great music from our wonderful artists.
Monday
night we are planning a great bash with Little Willie Wynn and all of his friends. He is our cover artist for the October edition of Scoops. We hope you enjoy his story written by Dixie Phillips.
Dixie also features the great family ministry of the McKameys. The Mark Dubbeld Family is featured by Paige Givens. We also feature Gold City Quartet and the East Ridge Boys, Joseph Habedank, Josh Parker, Eric Dunson and Reynold Rutledge.
Dan Duncan tells us about the  Christian country artist Mike Manuel. Dean Atkins has some great anecdotes about The Product Table.
We feature pictures and scoops from past events like the Gospel Music Picnic at Silver Dollar City and the National Quartet Convention. New music for October is presented by Sandi Duncan Clark, as well as a new fitness feature by Laurette Willis.
Be sure to catch the DJ Spotlight as well as the Creekside Update. Don't miss our regular columns by writers Lou Hildreth, David Staton,Jeff Steele, Sherry Anne, and Kelly Nelon Clark.
All this and so much more in the October edition of SGN Scoops! Do not miss the 2014 Creekside Gospel Music Convention and the  2014 Diamond Awards,
November 3 to 6
, at Pigeon Forge. See you there!
Tags:
Creekside Gospel Music Convention
,
David Staton
,
East Ridge Boys
,
Eric Dunson
,
gold city
,
Jeff Steele
,
Joseph Habedank
,
Josh Parker
,
Kelly Nelon Clark
,
Lou Hildreth
,
McKameys
,
Sherry Anne
,
the Mark Dubbeld Family
,
Willie Wynn
Posted in
sgn scoops magazine
|
Comments Off

on October 2014 SGNScoops Magazine
Written by Staff on October 1, 2014 – 7:28 am -
The annual Diamond Awards recognize the best in Southern, Country and Bluegrass Christian music and are hosted by SGNScoops digital magazine and Coastal Media Group.
This year's Diamond Awards will be held at Creekside Gospel Music Convention at Pigeon Forge on November 3rd through 6th.
This year we again welcome Channel 57 WATC Atlanta as they cover the Diamond Awards for airing on both TV and internet at a later date. We also welcome Meagan Pledger who will be doing extensive Social Media coverage for the entire Creekside event.
Be sure to get your free tickets to the 2014 Creekside Gospel Music Convention HERE
SGN Scoops would like you to meet our top-five finalists for each category of the 2014 Diamond Awards. Today's category is the 2014 Mixed Group Of The Year, which entails a group of any number with both male and female members. Last year's winner was The Isaacs.
2014 Diamond Award Top Five Nominees for Mixed Group Of The Year are:
Jeff and Sheri Easter
Karen Peck and New River
The Hoppers
The Collingsworth Family
The Perrys
Join us for the 2014 Diamond Awards and the entire Creekside event. For more information and for tickets, click here
Tags:
2014 Diamond Awards
,
Channel 57
,
Christian Music
,
Creekside Gospel Music Convention
,
diamond awards
,
gospel music
,
jeff and sheri easter
,
JP Miller
,
karen peck and new river
,
Lou Hildreth
,
The Collingsworth Family
,
The Hoppers
,
the isaacs
,
the perrys
,
WATV
Posted in
announcements
,
artists
,
sgn scoops magazine
|
Comments Off

on Getting To Know The Diamond Award Nominees
Written by Staff on August 20, 2014 – 2:55 pm -
SGN Scoops writer and Gaither homecoming favorite, Lou Wills Hildreth, is currently recovering at home following ankle surgery. Lou is under the care of her husband Howard, their son Dr. David Hildreth and daughter Kathryn Mumaw.
Lou is well known in Southern Gospel and is recognized as a member of both the GMA and Southern Gospel Music Association's Halls of Fame.
Please join us in praying for Lou's healing. She would love to hear from all who are praying for her. Please write to Lou at PO Box 271106,  Houston TX 77277. Email can be sent to gosplvideo@aol.com.
We look forward to welcoming Lou back to Creekside Gospel Music Convention in November for her "Lou Hildreth Honors." We trust that all of her friends will join her for that event. For more information, visit http://www.creeksidegospelmusicconvention.com/
Tags:
gma
,
hall of fame
,
Houston Texas
,
Lou Hildreth
,
sgn scoops
,
southern gospel
Posted in
announcements
,
artists
|
Comments Off

on Lou Hildreth Recovering From Surgery
Written by SGN Scoops Staff on May 26, 2014 – 9:24 am -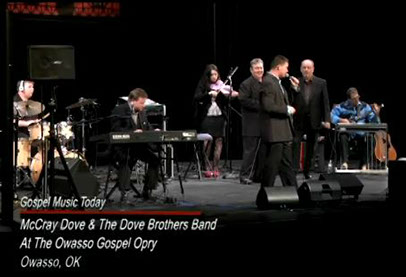 Lou Wills Hildreth is the guest on Gospel Music Today for the week of May 25. Ken and Jean Grady host southern gospel news and concert updates, the Feature Group is The Social Security Boys, and Jean reviews a new recording by Down Home. An article about Dianne Wilkinson is the subject of this week's Singing News Notes. The Songfellows Quartet sings, and the show includes exclusive video of McCray Dove and The Dove Brothers Band, recorded by Gospel Music Today's cameras at The Owasso Gospel Opry, in Owasso, OK, and a visit to the Gospel Music Today Archives for an exclusive concert video of Declaration at the Southern Gospel Worship Gathering, in Broken Arrow, OK.
Tags:
Dove Brothers Band
,
Gospel Music Today
,
Ken & Jean Grady
,
Lou Hildreth
,
Southern Gospel News
Posted in
video
|
Comments Off

on Gospel Music Today For May 26th On SGNScoops.com