Written by Staff on August 31, 2015 – 8:45 am -
The walk of faith is a long, winding, consistent road for the Christian. Sometimes we worry, sometimes we struggle to gather courage to tell a friend or co-worker about Jesus and sometimes…we even doubt our own salvation. It takes faith to overcome each concern, and that's something the Whisnants know all about, so they titled their 2015 release: Walk of Faith.
"It kind of summarizes our whole ministry really," says Jeff Whisnant. "You don't stay in ministry as long as we do without having a whole lot of faith."
Walk of Faith released July 21st and I had an opportunity to sit down with Jeff, Susan and Aaron to talk about the project. They shared their favorite songs, why they picked them and how they spent extra time on the production to make it their best yet. If one thing is certain, The Whisnants believe that these new songs are going to make a great impact on believers and they are excited to get it in the hands of the general public.
When I asked the group how they selected the title Walk of Faith, Susan answered, "Marsha Henry wrote a song called, "It's a Walk of Faith." When we were deciding about a title to this project we took a week of thinking and making notes. We decided on Walk of Faith because it summarizes the whole project. The songs are about not worrying, telling someone about Christ and holding on to grace. The whole CD is about the Christian's walk of faith."
"It's a Walk of Faith," isn't the only tune about faith on the project. The Whisnants' current single, "Worry Ends Where Faith Begins," follows along the same theme. "It is a simple song," Susan goes on. "We talk faith, we talk big, but we all tend to worry. We all tend to sit up at night trying to figure out how we are going to fix things. That's what this song is about." Aaron Hise adds, "At some point in your life you've worried about something; whether it's finances, family, health issues. I know I have. It's definitely a song that will speak to anybody."
In addition to those faith songs, Susan explains how they believe the whole project will make an impact on the children of God. "This project is very much our heart," she begins. "It's going to help people. If you're worried – we have a song for that. If you doubt your salvation – we have a song for it. I don't like to sing fluff songs, but songs that are going to help people; this project has nailed it in every facet."
One such song Susan sings is called, "Saved Is All You Have To Be." Susan explains, "You know how somebody knows they need to tell their friend about the Lord but they say, 'I need my pastor to go talk to them and tell them about Jesus,' or, 'I wish somebody would tell my friend about Jesus…' This song says: saved is all you have to be to go and tell the news. It doesn't take degrees or grand philosophies to give a testimony. You may think you're not the one to share salvation's plan, but certain words are not the key. God will give you what you need."
Another song from this project with a strong lyric is "Holding On To Grace." Susan tells us about the message. "A lot of people believe that they can be good enough: not drink, not cuss, not hang out with folks who do, but keep their marriage intact instead. They think that if they're good people, that will get them to heaven and it has nothing to do with it. It's a deep song that may hit a nerve." Aaron interjects, "I don't know if it's a song we'll sing every night, but if we need it, it's there."
Jeff tells us about his favorite song. "It's a catchy song that has a play on words, it's called 'A Grave Mistake.' The song talks about how those who nailed Jesus to the cross thought they won. Satan thought he won the victory, but when Jesus came out of the grave they realized they made a grave mistake."
Producing a CD with thought out arrangements and a deep theme takes time. "We spent four months on this project," Susan shares, "I feel like we worked hard on this project, more than any other one."
Jeff adds, "It's a good mix; we have medium, slow, fast songs and ballads. Trey Ivey (of Legacy Five) produced this project and it's the first main line project he's worked on. We also worked with Cliff Duren from Brentwood Baptist, who wrote orchestration for eight of our songs. We have a choir on two songs as well." Concerning the style, Aaron says, "As a listener, it's Whisnants. We've not changed. It's not anything new or different; it's truly Whisnant songs, same message and material."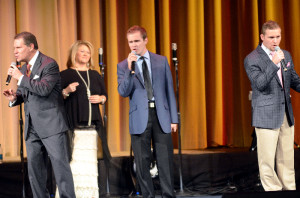 "To me, the combination of good songs and the production we spent on it, I think it's made for a great record," says Jeff. "We're excited about it and we hope the people like it as much as we do." Susan interjects, "Every song will touch you. It's very similar to More Than Enough, which has the "Potter's Hand" and "All Is Well." If they love that, they're gonna love this. It's straight up and down Whisnants; but to me, it's a step above anything we've ever done."
Faith encompasses so many different areas of our Christian lives. When it comes to summing it up; the Whisnants took 12 songs and did it in 43 minutes on this new project. After listening to Jeff, Susan and Aaron talk about these songs and how much the lyrics mean to them, I believe this project will have a powerful effect on every life that pauses and listens to the messages therein. Twelve songs, eight orchestrations, and four months of hard work…it's a walk of faith.
For more information about Walk of Faith, visit the Whisnants website: www.whisnants.com.
By Lynn Mills
First published by SGN Scoops in August 2015. For current issues of SGN Scoops digital magazine, visit the SGN Scoops mainpage.
Tags:
gospel music
,
Lynn Mills
,
New CD Review
,
sgn scoops
,
southern gospel
,
Walk of Faith
,
Whisnants
Posted in
announcements
,
artists
,
christian entertainment
,
Christian interest
,
new music
,
sgn scoops magazine
|
Comments Off

on The Whisnants' Walk Of Faith: New Release Review by Lynn Mills
Written by SGN Scoops Staff on November 15, 2014 – 7:14 am -
It's November and we are thrilled to present the latest edition of SGNScoops for you to read and enjoy. Creekside Gospel Music Convention was a blast and we have lots of pictorial coverage in these pages, as well as on the fabulous front cover. Inside we have an update on the event with a list of the Diamond Award winners and so much more. We say an extra thank you to all of those who went above and beyond to help make Creekside the best ever. If we were to make a list, we might leave someone out, so to each and every one of you: we are so grateful to have you as part of our team.
Thanks to our artists for brightening our pages this month! Featured guests for November are: Soul'd Out, Tim Parton, Melanie Walker, the LeFevre Quartet, Triumphant, Hannah Webb, Canaan's Crossing, Sherry Anne, the Jordan Family, Quinton Mills and DJ Ron Foster.
Thanksgiving is quickly approaching and you will find several articles with different views on this holiday. We appreciate all of our artists for contributing what they are thankful for and also their favorite holiday food!
Our monthly devotional writers are back with more insights, as well as a new column entitled "Pastor's Corner". This month we welcome Music Pastor, Terry Snyder.
Since this is the month of giving thanks, we would like to thank all of our current authors that spend so much of their time and talents on SGN Scoops. Special thanks to Candi Combs, Chris Clay, Craig Harris, Dan Duncan, Dean Adkins, Dixie Phillips, Erin Stevens, Hannah Webb, Jennifer Campbell, Laura Kennedy, Lynn Mills, Marcie Gray, Paige Givens, Scott Rhoades, Tina Wakefield, Robert York, Sandi Duncan Clark and Vonda Easley. There are others who contribute in other ways and we are thankful to you as well: Vivian Belknap, Michelle Drummond and Bev Byrd.
We so appreciate all of our columnists, including Lou Wills Hildreth, David Staton, Laurette Willis, Jeff Steele, Kelly Nelon Clark and Sherry Anne.
SGN Scoops would look really dull without the artistic team of Stephanie Kelley and Staci and Pete Schwager. Joan Walker makes sure all of our i's are dotted and our t's are crossed. Lorraine Walker as acting editor pulls it all together. And of course, SGN Scoops' Publisher Rob Patz keeps us all focused and enthusiastic about the future of the magazine. And SGN Scoops would not exist without our founder, Dr. Allen Smith.
Above all we give thanks to our Lord Jesus Christ, for Whom we give our gifts and to Whom we give all praise and thanksgiving.
Happy Thanksgiving!
Tags:
Candi Combs
,
Chris Clay
,
Craig Harris
,
Creekside Gospel Music Convention
,
Dan Duncan
,
Dean Adkins
,
diamond awards
,
Dixie Phillips
,
Erin Stevens
,
Hannah Webb
,
Jennifer Campbell
,
Laura Kennedy
,
Lynn Mills
,
Marcie Gray
,
Paige Givens
,
Robert York
,
Sandi Duncan Clar
,
Scott Rhoades
,
SGNScoops Magazine
,
Tina Wakefield
,
Vonda Easley
Posted in
announcements
,
sgn scoops magazine
|
Comments Off

on November 2014 SGNScoops Magazine