Written by Staff on October 19, 2015 – 6:02 pm -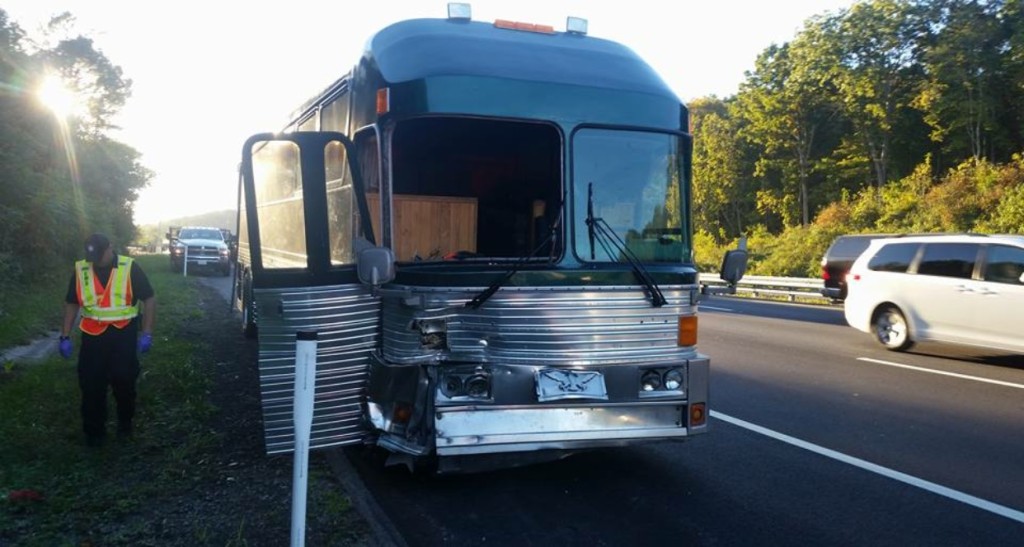 After their bus crash last week, Majesty III has posted on their Facebook page a way for everyone to help them recover.
On October 18, Majesty III posted:
PLEASE HELP US BY SHARING THIS POST
Thankful to the many of you who have asked, and here is the avenue that a friend of MAJESTY III set up to help us. We are not begging nor do we want to pressure anyone, however we are by grateful the help that Gods people offer. No donation is to small or large to be helpful. All donations are tax deductible. Click HERE to go to Go Fund Me.If you have any questions, feel free to call Warren Finney's cellphone at 870-831-0815.
For artist news and information go to SGN Scoops Facebook page and LIKE us.
Tags:
bus accident
,
Go Fund Me
,
gospel music
,
Majesty III
Posted in
announcements
,
artists
|
Comments Off

on Majesty III Needs You
Written by Staff on October 17, 2015 – 5:21 am -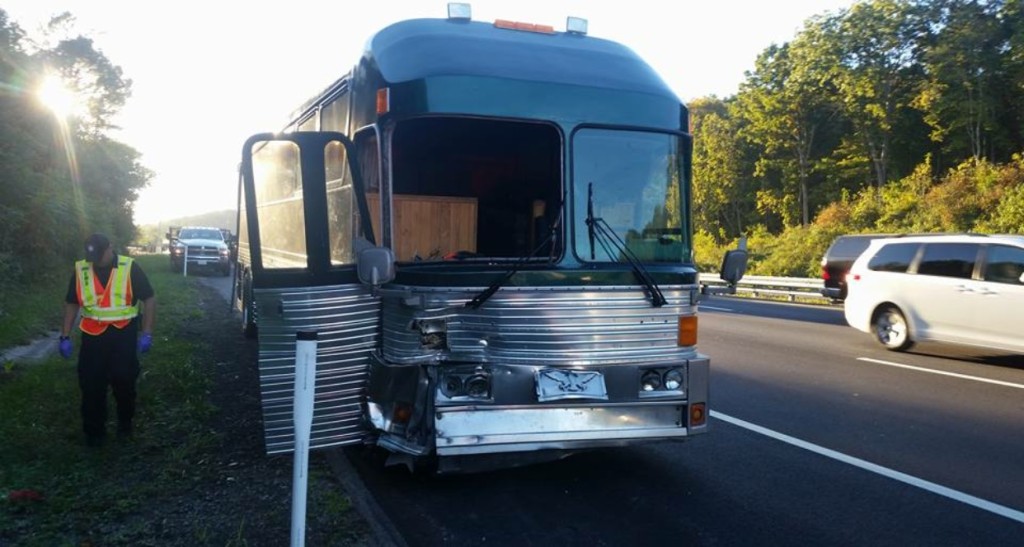 Please continue to pray and support Majesty III
Warren Finney posted today on Facebook:
"Wow where do I begin? First let me say a huge thanks to God for keeping His hand on us today, and that everything is as well as it is with us.
This afternoon around 6pm we were involved in a very serious bus accident, on I 40 just west of Knoxville, TN.
We were eastbound and had crested a hill, only to see traffic scrambling to stop for a accident happening ahead of us. Eighteen wheelers and cars where taking the shoulder of the road, and we were trapped in the middle lane of a three lane section of I 40. With nowhere to go I locked up the brakes, even pulled the park air brake lock valve, but traffic was right there. With no time to stop from running 65 mph down the interstate. With no where to go with out harming people lanes on either side of us, if we swerved, we wound up hitting the back end of a truck pulling a equipment trailer. Believe me we were calling on the Precious Name of Jesus!!!
Before everything was over, there was several accidents all around us.
Thanks to God, absolutely no one on our bus was even scratched or injured, thankfully the people in the truck we hit was not injured at all either…."
Read the rest of Warren Finney's post here. 
For more Southern Gospel news read the SGN Scoops Facebook page. 
Tags:
Bus Crash
,
Majesty III
,
Prayer
,
southern gospel
Posted in
announcements
,
artists
|
Comments Off

on Update on Majesty III Bus Crash
Written by Staff on October 16, 2015 – 4:13 pm -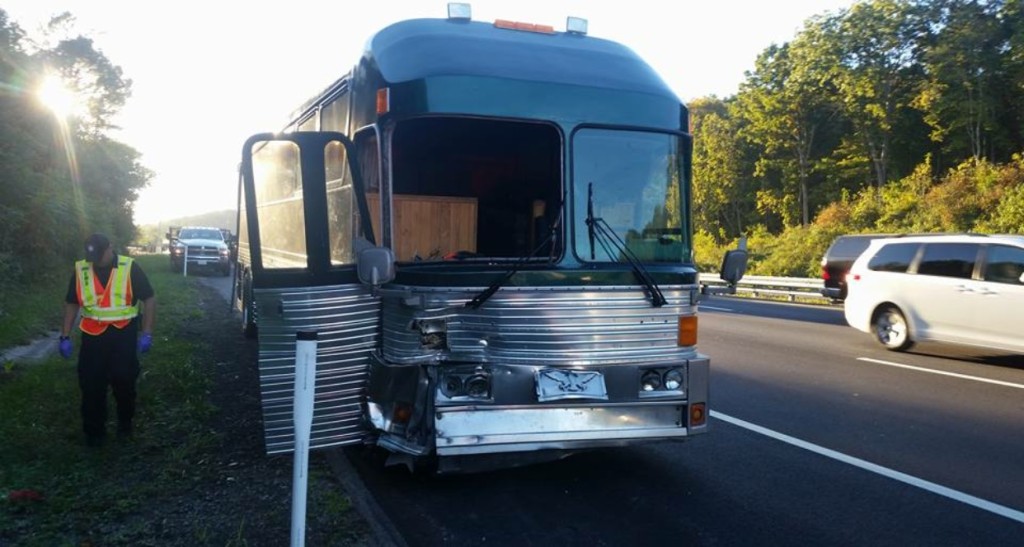 Message received from Warren Finney:
Please pray for Majesty III. We have just had a serious accident on I 40 close to Knoxville TN and totalled out our tour bus.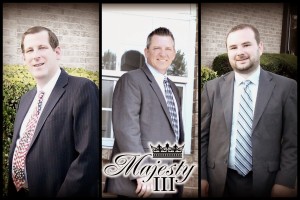 We need a miracle.
Please pray for Majesty III.
Find your Southern Gospel news on Facebook here.
Tags:
accident
,
Majesty III
,
Prayer
,
southern gospel
Posted in
announcements
,
artists
|
Comments Off

on Majesty III News: Please Pray and Share
Written by Staff on March 17, 2015 – 12:32 pm -
The Ozark Gospel Music Convention 2015 in Branson, Missouri, will be held at the Stone Castle Hotel and Conference Center on May 4th through 6th.
Some of the artists that will be appearing include: The Williamsons, His Love, Ava Kasich, Faith's Journey, Majesty III, Lindsay Huggins, The Ascension Quartet, Broken Vessels, Hope's Journey, Lineage of David and many more.
For more information visit the OGMC Website HERE or call (417) 425-7856
Tags:
Ava Kasich
,
Broken Vessels
,
Faith's Journey
,
gospel music
,
His Love
,
Hope's Journey
,
Lindsay Huggins
,
Lineage of David
,
Majesty III
,
Ozark Gospel Music Convention 2015
,
southern gospel
,
The Ascension Quartet
,
The Williamsons
Posted in
announcements
,
artists
,
gospel events
|
Comments Off

on Ozark Gospel Music Convention 2015 Coming to Branson MO
Written by Staff on May 29, 2014 – 9:00 am -
The North Louisiana Quartet Convention, nestled in beautiful North Louisiana and as some would say "Duck Dynasty Country," started with a vision from Brother David Estep. He envisioned an annual event where groups would gather and sing Southern Gospel music lifting up the name of Jesus. Since then, his vision has become reality as groups gather every year, this year making six consecutive years, becoming an event that groups look forward to with anticipation.
The Convention has been held at First Baptist Church of Swartz in Swartz,
Louisiana, since 2009. FBC of Swartz has been the kind lenders of their facility since the event began. The NLQC starts on Friday night at 6:00 pm, then after all groups are finished performing they go into the reception hall to eat food that has been prepared by many church members. Brother David's father and mother and David's wife Carol Estep contribute much to the preparation of the food. On Saturday, the groups sing again at 2:00 pm. Following this, groups go to the reception hall for the largest meal of the event, Louisiana cuisine; usually Red Beans and Rice prepared by David's parents, Chicken and Sausage Gumbo prepared by Mr. Al Drummond, and Crawfish. As some Louisianan's would say "bon appetite" meaning "I wish you a hearty appetite".
The convention ends with a grand finale on Saturday evening. The groups wait anxiously knowing this will be their last set of the event. This year's groups were Heaven Bound from Sikes, La., The Camerons from Sumrall, Misissippi, The Riders from Lumberton, Ms.- theridersministries.com, Majesty III from Crossett, Arkansas – majestyIII.com, Southern Revelation from Monroe, La.- southernrevelationgospel.com, Sanctuary Quartet from Delhi, La.- sanctuaryquartet.com, Brothers In Christ from Monroe, La.- bncministries.com, Chronicle from Holden, La.-chroniclegospelgroup.com and host group New Liberty Quartet from Swartz, La.- newlibertyquartet.com.
The groups display their product, giving listeners an opportunity to purchase their music if so desired. David Estep, Bass Singer for host group "New Liberty Quartet" and the originator of NLQC loves this event and desires for it to be the best that it can be. He will listen to demos and consider new groups for this event. For group consideration, please contact David Estep (318) 366-5252. There are no admission fees to the event, thanks to many sponsors who contribute. A love offering is taken.
Article written by Missy Kinchen of Chronicle
Tags:
Brothers In Christ
,
Chronicle
,
David Estep
,
heaven bound
,
Majesty III
,
Missy Kinchen
,
New Liberty Quartet
,
North Louisiana Quartet Convention
,
Sanctuary Quartet
,
Southern Revelation
,
The Camerons
,
The Riders
Posted in
concert reviews
|
Comments Off

on North Louisiana Quartet Convention